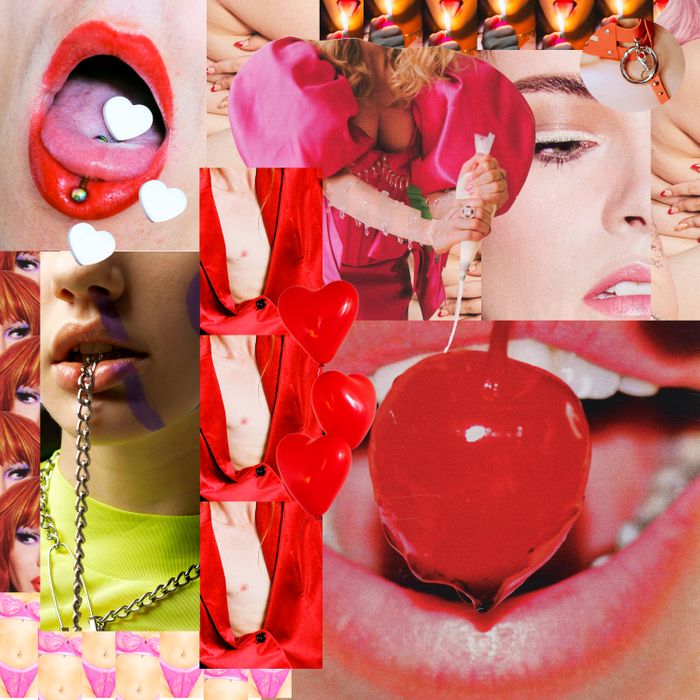 Illustration: Marylu E. Herrera
New York Magazine's Sex Diaries series asks anonymous city dwellers to record a week in their sex lives — with comic, tragic, often sexy, and always revealing results. The column, which began in 2007, is the basis of a new docuseries on HBO.
This week, a man in a long-term, monogamous relationship questions what his dancer boyfriend has really been up to: 44, in a relationship, New York.
DAY ONE
4 a.m. I can't sleep. I'm tempted to check my boyfriend's phone while he's sleeping, but it would just feel like a bad scene from a bad movie. All to say, the reason I can't sleep is because I suspect he's been cheating on me. We've been together for 14 years. Unlike the stereotypical gay male couple, we are monogamous. I am not interested in nonmonogamy, and I've never cheated on him. But lately something's up. I know it in my gut.
9 a.m. A lousy night's sleep, but at least I'm ordering in a yummy breakfast along with coffee. One perk of my job is I can order food off Seamless and it goes right to my work account. I'm a celebrity publicist. It's a really fun job that I can't say much about because I'm sworn to confidentiality. Also, I mostly work from home. The guy who owns my company retreated to Hawaii during COVID so if he doesn't have to come in, we don't have to come in. But it means tons and tons and tons of Zooms, too.
10 a.m. My boyfriend comes back from the gym. He kisses me and goes to shower. The reason I feel weird about things is that his sex drive is way down — normally he'd come home from the gym and fuck me. It was not on the menu today. He's also been going out a lot more at night, and he's had a few recent nights that just didn't add up. He's a dancer on Broadway and his schedule is very routine and regimented, and something feels out of whack. He's in a new show, with a new cast, and I'm just very nervous he's met someone else. I haven't said anything yet … just collecting info right now.
3 p.m. I'm Zoom delirious. I go on a walk. My boyfriend is at work. We live in Chelsea and I used to get hit on all the time, but I stopped paying attention years ago. Today I let myself look at the men around me. I let myself wonder if I should fuck someone else. It's never crossed my mind, which is hard to believe, but my boyfriend and I have such a good sex life (until now) and have been best friends (until now, maybe) that I've just been so fulfilled and happy (until now).
4 p.m. Come home and immediately jerk off. I think about a glory hole I once read about. I think about someone being rough with me. I think about getting gagged by a cock. And then I finish and log onto another fuckin' Zoom.
8 p.m. I order dinner and watch TV. I'm used to nights alone. I've always loved my nights alone. Right now my mind is racing and I'm this close to logging into my boyfriend's computer. I don't know his password, but it might be easy to figure out. I hold back.
10 p.m. Lights out. Hoping my anxiety allows me to sleep a few winks.
DAY TWO
8 a.m. I am spending the day doing press with a client. These days are all-consuming, and I welcome the distraction.
11 a.m. My client keeps talking about a sex party they're invited to. They're afraid to get spotted there but also really curious about going. This makes me curious about going. I ask if I can get an invite and my client says she thinks "it's mostly for straights." I'll pass on that, but it makes me start to wonder what's out there … what have I been missing? Why is the thought of my boyfriend cheating on me actually making me feel horny in such an unexpected way?
5 p.m. This is my lunch break. Welcome to Hollywood.
9 p.m. I get home from work. I'm tired and order in some dinner. There's a note from my boyfriend that says something like, "Love you, baby. Miss your face." Sweet … but why does he only miss my face? What about my ass?
10 p.m. I crawl into bed wanting to look up gay sex parties — fine, the exact thing I'm curious about is a gnarly gay gang bang. See, I'm losing it! But sadly I am too tired to reach for my phone.
DAY THREE
7 a.m. I'm awake and my boyfriend is asleep next to me. I curl into him, and when I touch him, he's hard. I try to seduce him but he's really tired and tells me I need to go brush my teeth. This is a very unusual response for him. He is normally always DTF. I feel insecure about my morning breath. What the fuck is happening here? How am I in my mid-40s and feeling insecure about anything? When I go back to the bed, he's clearly fast asleep.
8 a.m. On my way out the door, I go back into the bedroom and kiss him good-bye. He gives me a huge bear hug. I try to parlay that into something more but I cannot be late for work, and he's not that into it, so I just leave.
12 p.m. Cruising this press junket. I'm not as hot as I once was. I'm losing my hair, and I never work out. People used to say I looked like gay Ben Affleck, but now I'm not sure that's a good thing.
3 p.m. I text my boyfriend about dinner tonight. It's his day off. He suggests a local place and we make a plan. Feels pretty normal.
6 p.m. This day is dragging on and on. My client wants me to get her a reservation at Polo Bar. It's not that easy, and I'm trying to pull strings. Meanwhile, I'd love to go to Polo Bar myself. The last time I went there with my boyfriend, we brought a little blow and he railed me in the bathroom. It's not usually that crazy for us, but I'm telling you, we're typically a fun, funny, happy couple!
8 p.m. Finally at a candlelit table at a local rustic trattoria with my man. After a glass of wine, I plainly ask him, "What is up with you?" He looks at me blankly. He says he has no idea what I'm talking about. We both drink more wine and start eating. But I can't let it go. I'm like, "You never want to fuck anymore. Is it an age thing, or … ?" He says it's the new gig and that he's simply tired. I can't tell if he's lying.
9:30 p.m. We are home and fucking. It's not particularly good or bad. If I had to be paranoid, I would say he's fucking me to pretend we're all normal. I come from a very repressed family where we don't talk about things and we sweep everything under the rug, so as I get moderately pounded by my boyfriend I wonder if that is what is happening now.
DAY FOUR
8 a.m. I wake up and go under the sheets to blow him. This is really embarrassing, but when I'm down there, he also farts. I'm laughing so hard that I can't really continue. I can't say this is the first time it's happened, either! Blow job was a flop.
9 a.m. I'm working, and he's working out at a local gym.
12 p.m. I decide to prep for dinner while I'm on a Zoom. Camera is off. I used to cook a lot more for us, and it was a special thing we did. Great meals, great wine, great bone sessions (I know no one says that anymore, but I'm a gay from the '90s and kinda love it).
3 p.m. My boyfriend is at work and I decide now is the time to look into sex parties. I don't even know where to look. Craigslist? I search up and down but get distracted by (1) porn (and then jerking off) and (2) a few great-looking recipes that might work with my entrée for tonight. Only I would start off looking for a gang bang and wind up with a salad niçoise.
10:30 p.m. My boyfriend gets home really late, but dinner is waiting. And a candle. And wine. We feel pretty normal tonight. My mind is at ease. We fuck in bed and everything feels great.
2 a.m. My boyfriend's phone is going off. He silences it on his side of the bed. That's so strange. It's literally never happened before. He says it's just a spam call, but I smell trouble. It's really weird. Now I can't sleep.
DAY FIVE
7 a.m. I'm full psycho and sleep deprived right now. I make my boyfriend show me his phone. He won't comply. I say I want to see the spam number. I admit that I'm acting crazy but that I still need to see the spam number. He won't show me shit. Now I'm spiraling.
7:30 a.m. The worst part is I have to run to a work breakfast and can't deal with any of this right now. My boyfriend is ignoring me completely and telling me I've lost my mind. But mind you, he still won't show me the fucking phone.
11:30 a.m. I hate this work event and I'm just miserable right now.
2 p.m. My boyfriend texts that he thinks we need couples therapy. I tell him I agree. But I have this giant pit in my stomach about why he initiated that. It can't just be from today. Is this his way of breaking the news to me that he's found someone else? With a therapist present? My mind is spinning out of control.
6 p.m. Home from work and text him asking if he has any therapists in mind. He doesn't write back. He's performing tonight so I can't read too much into that.
11 p.m. Still hasn't written me back.
11:30 p.m. Still isn't home.
12 a.m. I take a very strong sleep gummy and hope to get some rest.
DAY SIX
7 a.m. We are awake. Neither of us has work today. There's tension. "Just tell me … are you seeing someone else?" I say. Our coffee has not brewed. We both agree to talk about it in five minutes, with coffee in us.
9 a.m. The short version of the story is he swears he's not seeing anybody but he does not like being policed by me. He says I'm clingy and frankly it makes him want to fuck someone else, but no, there is no one else. I honestly don't know if I can believe him. Are we supposed to listen to our female intuitions?? My intuition is screaming nothing good!
3 p.m. We finally watch Bros, exhausted by ourselves. We both feel bad that we didn't see it in theaters. I know some of those actors and text a few about how much I loved it. Then I feel guilty because it means I waited this long to see it. Oh well, I'm only human.
6 p.m. We make cocktails and fool around a little. My boyfriend knows when to turn the charm on, and he's playing me like a fiddle tonight. I almost forget everything we're dealing with.
9 p.m. On the couch, I tell him we need to find a couples therapist. He takes my head and pushes it down on his cock (I like this move … he knows that). I blow him while he holds my head down and I'm gagging how I like it. When he comes, he says, "The problem is, I heard there's a shortage of couples therapists after the pandemic." Makes sense!
DAY SEVEN
9 a.m. He's off to work. They have a charity show today. We have a long embrace good-bye. I know my boyfriend, at least, feels we weathered the storm.
11 a.m. There is a part of me that still doesn't understand why he wouldn't show me his phone that night. I hope I can shake it off. I don't want to fight, and I definitely don't want to break up. I do still want to find that sex party, though. Maybe we can go together?
3 p.m. I text a friend about getting into the kink scene. Like, what's a first step for a nice, boring couple like us? He tells me, obviously, that I have to get on the apps. I don't want to do that. It seems like a gateway drug to a lot of bad things, and I'm trying to stabilize us right now.
5 p.m. I figure out what to cook for dinner and can't help but laugh that I'm making a fancy chicken recipe that I found while searching for dirty, raunchy sex.
Want to submit a sex diary? Email sexdiaries@nymag.com and tell us a little about yourself (and read our submission terms here.)