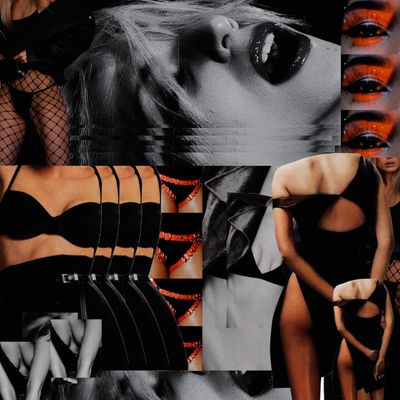 Illustration: Marylu E. Herrera
This week, a woman discovers her boyfriend is cheating on her and has to decide what to do next: 30, in a relationship, Queens.
DAY ONE
7 a.m. Four days ago, I found out my boyfriend, Trevor, was cheating on me, and my life fell apart. I wake up exhausted. I haven't been able to sleep because I'm so upset.
8 a.m. I walk around our empty apartment and get ready. Trevor and I live together, but when I found a sexy text on his phone that ended with "Happy Anni, baby!" I immediately kicked him out without asking any questions. He's been staying at his mother's. I'm still not ready to talk to him even though I want to know everything. We've been together for three years and have even talked about getting married. I am madly in love with him. I just don't know how my world could blow up like this …
9:30 a.m. At work. How I got here is a blur. I do office management for a veterinarian. There is always so much to do. My boss's business is doing really well but he needs to hire more help; I can't do it all. Especially not when I'm in such a bad emotional state.
1 p.m. "Can we please talk?" Trevor texts. He's been trying to see me and talk to me since all this came to a head a few days ago. I ignore him.
5:30 a.m. On the subway home, I scroll up and down this girl's Insta. Before I threw him out I made him tell me MG's real name — Maggie — and I found her online. If I look real closely, I see pictures and selfies where I can recognize Trevor's shadow. In one picture I see his shoes in the background. Once I texted him I saw the shoes, he knew he was caught. That's when he stopped lying, kind of. Though we still haven't really talked. I'm just too enraged.
9 p.m. Still I'm obsessively studying Maggie's social media, trying to put all the pieces together. I know the answer is to sit down and talk to Trevor but I have to steady myself first. My father was a cheater; I have no stomach for this shit. In fact, I can't even eat. I skip dinner.
10 p.m. Try to get myself to sleep knowing it will be another rough night.
DAY TWO
9:30 a.m. I'm at work. No breakfast.
11 a.m. My mom stops by the clinic. I told her Trevor cheated, but I haven't gotten into the details. She's always loved Trev and wants me to see him and get the facts. "Knowledge is power," she keeps saying. I know I need to see him but I'm scared and upset. I was very traumatized by my father's infidelity and how it hurt my mother (who eventually divorced him but never got over it emotionally). I just feel sick that I'm in her shoes now. At least we don't have kids.
3 p.m. Work is keeping me really busy, which is a blessing.
5 p.m. My boss gives me a holiday bonus … I think he knows I've been upset about something and told me "Christmas came early!" I'm really happy about it. The thing with kicking Trevor out is I have no idea how I'm going to pay rent without him. Again, we have a lot to talk about.
8 p.m. At dinner with my best friend. She says I need to reach out to MG. Before I even talk to Trevor, she thinks I should talk to MG and get the whole story, woman to woman.
9 p.m. I think I've had an entire bottle of wine.
9:30 p.m. I finally text Trevor back that he can come home tomorrow and get his stuff and we can talk. I know we both have Wednesdays off.
DAY THREE
9 a.m. I feel like shit. The alcohol fucked with my sleeping even more. And of course I'm nervous about today.
10 a.m. Shower and get myself ready. I want to look really hot and I also want to look really destroyed. I want him to desire me and I also want him to hate himself for how he's hurt me.
11 a.m. Waiting for him to get here, I make eggs and toast. I need food in me to be clear-headed and strong.
12 p.m. He's here. He tries to hug me. I'm cold and pull back but he smells so good and it's so hard to pull myself away from him. We always had an insane sex life. He's the best sex I've ever had and we normally have sex almost every night. I'm so pissed off right now but I am also surprised by how horny I feel too. I've never done "hate-fucking" before but part of me knows that's coming.
1 p.m. I make us coffee and we sit at our kitchen table. I tell him to confess everything, and I mean EVERYTHING. He starts from the beginning. He's a personal trainer, and Maggie was a client. It was a weird situation because of COVID and they were working out in her house, not her gym. (She's rich and has a yoga room in her apartment.) Eventually they started fucking after their sessions and then they started hanging out. He swears she's not his girlfriend and that it's very, very, very casual — which he says he knows is still not okay. I ask if it's over with Maggie and he says, "100 percent yes." As he's telling me everything, he's not crying, he's just being serious. He says he just wants to unpack everything and then move on with me, and with us.
4 p.m. He's still here. We're still talking. I've cycled through every emotion: shock, disgust, sadness. It's draining.
5 p.m. We move on to wine. I opened a chilled red wine because I'm so parched.
6 p.m. After two glasses of wine, we are making out and then having sex. I knew it would happen. I couldn't resist. It's like we're animals. It's incredibly passionate and emotional.
9 p.m. I tell him it's time to go back to his mother's. I need to process everything.
10 p.m. I lie in bed, just totally raw. I don't even know what to think about anything.
DAY FOUR
7 a.m. I realize that I forgot to ask Trevor if he'd ever cheated on me before. I text him the question.
9 a.m. Just as I get to work, he writes me back: Never!
10 a.m. I'm feeling a little better today. The sex helped. I keep thinking about it. I think I'm one of the few who actually thinks of her partner — and not someone else — when I have sex. To me, Trevor is the hottest guy alive and his dick is just magical.
1 p.m. My best friend texts me that I need to verify everything Trevor said with Maggie. Because if it's the truth, I can maybe work through it. But if he's still lying, about anything, then he's a vile person and a pathological liar.
3 p.m. The thought of DM'ing Maggie is making me feel like throwing up … I just don't know if I can do it. My best friend says she will DM her for me if that makes me feel better. She can mediate. I like the idea. It's still pretty nauseating to think about though. I tell her to give me another day or two.
7 p.m. Trevor is asking if he can come over and cook me dinner. He promises he won't sleep over. It takes a lot of discipline but I tell him, "Not tonight." I need him to know that none of this is a joke.
10:30 p.m. I masturbate and imagine Trevor fucking me while kissing me deeply.
DAY FIVE
9:30 a.m. I'm starving. That's a good sign. I get a couple bagel bites from Dunkin'. Feeling a bit more grounded today as I walk into work.
10:30 a.m. I decide that I'll let my friend reach out to Maggie and tell her about me and get the whole story. I call her and give her the green light. She loves this shit and is thrilled to play detective and get all the dirty details.
11:30 p.m. I'm on pins and needles wondering what's going on. I keep running to the bathroom. My stomach is in knots.
1 p.m. My friend is texting me that she'll call me after school (she's a teacher). She said she has updates. I'm dying.
2 p.m. I text Trevor that our rent is due and he says he'll pay it right away. Normally we split rent but I'm going to capitalize on the guilt he's feeling right now.
3:30 p.m. My friend calls and luckily it's quiet at work so I can talk. I can tell from the second she starts talking that it's bad. As far as Maggie knows, they're not over. I don't want to say too much more, but she was under the impression that he and I were in an open relationship and that he was essentially "on the market." To make it worse, Maggie was infuriated that my friend was involved and totally bugged out by the whole thing. Their conversation did not end well …
5 p.m. On the subway home, I just want to curl up and die. I want all of this to be over. It's so messy. It's so shady. I'm done.
8 p.m. I text Trevor to come over first thing tomorrow. I want to end this.
Afterward I'm in such a haze. I take a bath and then just look around our apartment, stunned by our life coming to an end. Eventually I get into our bed and fall asleep.
DAY SIX
10 a.m. Trevor is here. I tell him it's over. I don't even want to talk about Maggie. I just want to figure out our next steps.
I think he knew I asked him to come over so I could finally call it off. He always knew that cheating was a hardcore dealbreaker for me, given my family history. He wouldn't stop saying "I'm sorry" but he knew my mind was made up.
12 p.m. He's packing his stuff and I'm emailing with our landlord about options to break our lease. I can't afford this place by myself. I am also wondering if this is a good moment to rethink a bunch of things, like living in New York. I've always wanted to move to the West Coast.
4 p.m. We aren't really talking. He knows he's been caught on every level; I'm sure Maggie let him know my friend contacted her. He's busted in every direction. So he's pretty quiet. I'm looking at him and just crying. I'm going to miss him. I hate him but I'll always love him.
5 p.m. I'm just sobbing now. I know he's getting ready to leave. I'm crying my eyes out.
6 p.m. We start to hug good-bye and I know I want to have sex with him one last time. I'll never allow myself to see him or do this again, so I want some closure. I give him the signals that I want him and we start to make love.
8 p.m. We are naked in bed and having sex for the second time. I'm crying the whole way through but my body is aching with pleasure. It's so intense.
9 p.m. Trevor leaves and I just collapse into tears.
DAY SEVEN
9:30 a.m. No work today. I feel like a shell of myself.
10:45 p.m. My mom comes over and we go on a walk. Long walks always help, she reminds me. We hold hands and walk around with our coffees. She tells me things about my dad and his cheating that I never knew and we both cry about him, and life, and love. It's therapeutic. We both feel better at the end. I'm so thankful for my mom.
2 p.m. I don't feel compelled to text Trevor. I start looking online at other cities, real estate, jobs. I'm just giving myself permission to dream a little today.
3 p.m. My best friend wants to tell me more about her correspondence with Maggie but I shut it down. It's not my problem anymore. I don't want to talk about her. It feels dirty and I'm in a state of purification.
7 p.m. Dinner at home is quiet but oddly peaceful.
9 p.m. As I get ready for bed, I take a minute to mourn the sex I had with Trevor. That might be the hardest part to get over. But maybe I'll find hot sex again some day … and maybe it will be with someone who never lies to me.
Want to submit a sex diary? Email sexdiaries@nymag.com and tell us a little about yourself (and read our submission terms here.)