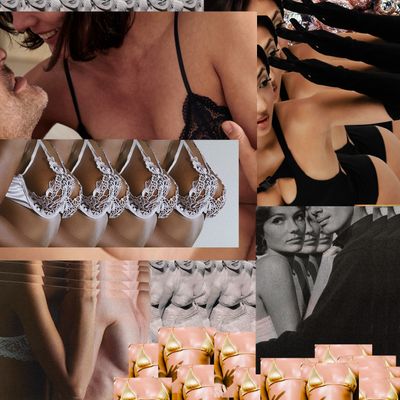 Illustration: by Marylu E. Herrera
This week, a married mom plans for a sexy night out with a man she has feelings for: 39, married, New York.
DAY ONE
8 a.m. Drop my three kids at three different schools. The mornings are fucking insane. My husband does the drop-off about half the time, but today he has a Zoom at 8:30 a.m. and it's cutting it too close. I can safely say this is my absolute least favorite time of the day.
8:45 a.m. I sit for a coffee and a pastry and dive into my emails and texts. I'm a stylist and do a lot of work on shoots. It's been a strange few years with COVID, but besides all the constant testing, things feel almost back to normal work-wise.
11 a.m. Send a bunch of emails, Slacks, and texts back about the shoots I have this week. And then I reward myself by opening an email from him. F has a big job at one of the companies that I often work with. He's older, has a wife, no kids, and a few homes around the country. We have been flirting for years now. I met him right after I had my second child and I was wearing her to a work shoot in a sling. He helped me so much that day, as I wrangled all my baby gear while trying to do my job gracefully. We developed a strong mutual respect for each other and became friends. Friends with off-the-charts sexual chemistry.
12:15 a.m. The email confirms our lunch meeting we've set for Wednesday. I haven't seen him since COVID started, but every few months we write emails and our emails are like novels, and they're brilliant, emotional, and just suggestive enough. We are very careful not to cross any lines, and our crush is unspoken, though we both know it's there — I mean, I assume he knows it's there?
2:30 p.m. The pickup part of my day begins. Again, hell, but by now I've accomplished some work, had some food and some alone time, and gained a little bit of balance.
5 p.m. I make some chicken curry recipe in the slow cooker. I'm fooling myself, as none of the kids will eat it and I'll wind up feeding all of them frozen chicken nuggets, but I try.
6 p.m. Family dinner. My husband and I drink some wine. The kids are little cuties. And next comes the grind of bedtime.
9 p.m. Tucked into my bed, as my husband finishes his workday from the kitchen table, I open the latest email from F. He's chosen a lunch spot that is conveniently attached to a hotel. I can't help but wonder what Wednesday will bring.
DAY TWO
9 a.m. One really fun part of my job is meeting young, new designers. This morning I'm having breakfast with one of them. My husband took the pickles to school, so that means I had a chance to shower and get dressed in a semi-stylish way.
10 a.m. The designer is super self-assured with a cool point of view — and I'm incredibly inspired by them. I don't worry about aging out of this field. I celebrate the youth that's coming into it.
1 p.m. Eating a quick lunch at a movie set. We're styling someone here who has a photo shoot later.
1:15 p.m. School nurse calls. One of my kids threw up. We're literally just about to get started here. I text my husband, and he's also in the middle of a work thing. I ask the nurse to keep my kid for a little longer (I know, I'm terrible). The nurse responds as if I'm a monster. This is when it's really brutal being a working mom. I text my husband that he has to get her; I absolutely can't, and he says he'll figure it out and not to worry.
That right there is a good example of why marriages have no sex appeal when you have young kids. It's just shit like that all the time. Drop-offs. Pickups. Throw ups. I love my husband, but the nature of our relationship is not sexy right now. It's survival. It's transactional. And it's often tense. In my heart, I know we will move on to another stage soon, something more romantic or heated perhaps, but that's where we are right now. Hence, the acceleration of flirting with F — and the whispers inside saying it's time to start sleeping with him already.
7 p.m. Home from a long workday. Now all three of my kids are throwing up. I'm going to have to cancel lunch with F tomorrow. No one is going to school.
9 p.m. I text him and he totally understands. He says we can meet up whenever I'm free next.
We have a very long night ahead.
DAY THREE
5 a.m. We've all been up all night. I think the worst is behind us, although I also have a feeling my husband and I will get the bug next. It usually works out that way.
10 a.m. It's actually kind of cozy; we're all laying around, watching family movies, having a sick day together.
12 p.m. I lock myself in my room to take a call and answer some emails.
12:30 p.m. Since my door is locked and they're all transfixed by a Disney movie, I quickly masturbate under my covers thinking about F fingering me under a table at lunch. It's really hot, and I decide to wear a skirt when we have our lunch date. I'd seriously like to bring this fantasy to life.
5 p.m. Make a homemade chicken soup.
7 p.m. Everyone is passed out asleep. We are in recovery mode.
DAY FOUR
8:30 a.m. I send two of my three kids back to school. My husband will have to stay home with the other one since I have a shoot.
9 a.m. My assistant is my savior and he shows up to the studio with everything and more. It's a very mainstream shoot, nothing too avant-garde or interesting, but I know we're going to kill it. Super-easy client, too.
1 p.m. Taking lunch. I tell F that I want to move our lunch date to a dinner date. I'm practically wet as I text him. I totally know what I'm getting myself into here.
I've been with my husband for ten years and I've never had an affair, but I've entertained the idea a few times. I've come close. I don't take it that seriously. And you can judge me for that if you want, but I know it's something I could handle and that it would not blow up my life or marriage in any way. To each their own.
3 p.m. F texts back with a new restaurant name and reservation time for tomorrow. This restaurant is not connected to a hotel, but I don't think much of that.
5 p.m. I'm home from work. It was an easy paycheck, if I'm being honest.
6 p.m. Leftover chicken soup for dinner.
9 p.m. Trying to go to sleep early so I look and feel good for tomorrow. My husband comes into bed and I know he wants sex, so we get into it. I like sex with my husband. It's always great. I just never really initiate it, and can take it or leave it on most nights.
DAY FIVE
7 a.m. My husband says he's achy and I'm going to seriously kill him if he gets this bug, or flu or whatever, next. I'm just kidding … I'll take care of him … but fuck, I don't want to bail on F again.
8:30 a.m. I get the kids off and come home and see my husband is asleep on the couch with a cover over himself. It looks like more than the average man-cold, but you never know with men.
12 p.m. Husband wakes up and says he's ill, and I remind him I have a work dinner tonight. Technically, seeing F does qualify as a work dinner. I'd probably even tell my husband who I was meeting with if he asked. He says he'll be fine by later on and to keep my plans.
6 p.m. After nursing my husband all day, and doing all the pickups, I'm not feeling all that inspired to go out.
7 p.m. Fatefully, F texts that he has last-minute work drama and can we please move it to tomorrow night. Such a blessing in disguise! It will be the weekend, which means I get a little relief with the kids (as my in-laws help on the weekends).
DAY SIX 
6 a.m. Remember when Saturdays meant sleeping late? Yeah.
10 a.m. The usual ballet–soccer–Whole Foods grind. My husband and I trade off on kids and errands. Divide and conquer.
12 p.m. My in-laws arrive so we can have a few hours off. We both need to get shit done. He has to get a haircut, and get his computer fixed, and a bunch of things like that. I need to get a ten-minute massage somewhere, return a bunch of shoes that don't fit any of my kids, and think about tonight.
4 p.m. We're back home. I remind my husband that my work thing was pushed to tonight, which sounds a little odd as I say it, because it's the weekend; but I have so many "work things" and dinners and events, it doesn't even strike him as odd.
7 p.m. Get the kids to bed, or at least into their beds, and start getting ready for dinner. I love dressing up and I love that I can play with my clothes again. I go with a black leather skirt (see, I remembered!) and silver heels.
7:35 p.m. Kiss my husband good night and tell him I'll be home in a few hours. He's watching a sports game and says I look great, but doesn't ask any other questions.
8:30 p.m. We meet at a restaurant that's dark and elegant. F looks great. He's gotten older since I last saw him. A little less hair; a little less athletic-looking, but he's super-handsome and dressed to kill. He's incredibly classy.
9 p.m. We're catching up. It feels friendly and not necessarily naughty. I don't know how to initiate anything, either. I'm a little out of practice … and honestly, I'm not sure how to read him right now.
10 p.m. After a third glass of incredibly good wine, I get up to use the bathroom and sort of swipe my hand against his neck as I pass him to go. It's like a little tickle. In the bathroom, I sort of feel nauseous about what I just did … for a lot of reasons. Am I being a terrible person? Am I potentially wrecking a work situation that's been great for me? Am I just drunk and acting trashy?
10:15 p.m. When I get to the table, he's paying the bill. "We should probably go," he says. He's looking at me longingly. I know he wants to fuck me, but he's also scared and doesn't want to act inappropriately. It's like neither of us know how to pull the trigger and we just want the other person to say, "It's okay … we can do this." But, ugh, I feel frozen. I say that he's right; it's late and we should go.
10:30 p.m. Waiting for our two Ubers, he gives me a hug good-bye. It's more than a hug. It's like the tightest, warmest, most charged hug ever. Our bodies are basically rubbing on each other, and I can say with certainty, it's super-arousing to both of us. And then we go our separate ways.
DAY SEVEN
9 a.m. My husband let me sleep in. I feel pretty hung-over, but I'm also now aching for this man more than ever.
10 a.m. I almost feel like I'd be better off just fucking him once, and getting it out of my system.
1 p.m. I debate texting or emailing F, but it's Sunday and I want to focus on my family and I also don't want to enhance whatever I'm feeling right now. I just want it all to pass.
5 p.m. We order in dinner and make a huge tent in the living room and eat dinner under our tent. It's a chaotic, exhausting, hung-over day but it's a good one.
8 p.m. I kiss my husband good night and tell him I'm too wiped out to watch TV with him. And then I take some melatonin and try to fall asleep.
Want to submit a sex diary? Email sexdiaries@nymag.com and tell us a little about yourself (and read our submission terms here.)