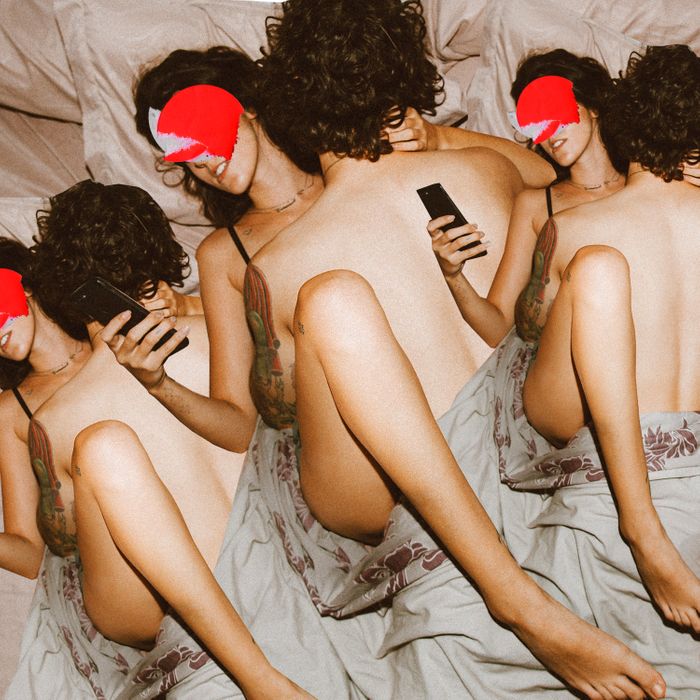 Illustration: Marylu E. Herrera
This week, a teacher distracts herself from bad news with an unreliable hookup and a man she hasn't totally gotten over: 26, single, Brooklyn.
DAY ONE
6:30 a.m. As a teacher, I am acutely aware of what day it is. The days of the week dictate which version of myself I am: teacher self or human self. My teacher-self lives until 4 p.m. on Friday when the human part that feels, laughs, dances comes alive. The fact it is only Thursday makes my head spin. If time were real, how could it move this slow? I just need the weekend. I just want to get laid.
12 p.m. I sip my fourth coffee of the day on my lunch break. There might be a teacher shortage, but there's not a K-cup one. My best friend and I go over my Hinge matches because as a single teacher the closest you get to intimacy during the week is the notification "you matched!"
1 p.m. While I look to the future, I also text my ex, M. We met in college, dated for five years until he unceremoniously broke up with me over FaceTime. We were always long distance and he basically said he fell out of love with me as time went on. Now, we have become modern pen pals: We text endlessly and talk on the phone regularly. He is just as present in my life as he was before we broke up.
We say we're just friends, but it feels like more than that. He is the only person I want to talk to all day. I don't know if he feels that way, but he texts me all day.
9 p.m. My phone rings and the screen lights up with the photo of my mother laughing when she got her first iPhone. It's an old photo but her playfulness in the picture makes me smile every time I see it. I get my zaniness from my mother.
But this phone call is not zany. My mom has cancer. The kind that won't kill her (we think) but the kind that needs radiation. She's going to begin treatments as soon as insurance approves it. She doesn't cry, falter, or show any sadness. Instead, she asks me not to tell my sister, who is stuck in a constant cycle of rejection from a bunch of medical schools. I say yes, and I know I'll keep saying yes to anything she needs.
11:30 p.m. Tossing and turning. Sleep seems to be evading me, even after an edible. I want to pick up the phone and call … I'm not sure who.
Suddenly, my phone lights up again. After a month of radio silence, my hookup buddy B sends me a text. "I've been thinking about you and your body, can I come over …" My sex drive is at a zero. I lock my phone and roll over.
DAY TWO
6:30 a.m. Fridays are great because my best friend and I get large Dunkin' coffees before work. I know I need some cheering up today. Teacher me can't show how sad human me is. I tell my best friend about my mom. She hugs me before we enter the building. I desperately hope that hug can hold me over until four.
9:30 a.m. Having a hard time concentrating on teaching today. Even the students can tell I'm not okay. I haven't told anyone besides my best friend so I just seem mopey. Saying it makes it feel real. My mom texts me about a PET scan. What does PET even stand for?
4 p.m. I'm now my human self. Safe in my bed with my roommate's dog (a good PET). I start to cry, so I call my ex and tell him the news. I feel better, but when he has to hang up, I feel alone again. I decide to start getting ready for the weekend. Any distraction is welcome.
7 p.m. Even my sadness can't stop me from carbonara. My best friend and roommate brought me out to our Italian spot. The waiter here knows us so he brings us out free limoncello with our pasta.
10 p.m. Espresso martini number four has me feeling a type of way. I think about my hookup buddy B's text. I respond, "Sorry for the late response, meet at mine?"
12 a.m. No text from B. Or my ex. I'm now on a gin-and-tonic. And feeling particularly ready to make out with someone at the bar. My eyes are on the man with the mustache.
12:45 a.m. Mustaches hurt to kiss. B must be busy tonight because there is still no text. What could have changed from last night to tonight?
2:30 a.m. I am home. Alone. But my phone lights up and my ex sends me a Spotify link. It's a SZA song, and I start to feel … something I shouldn't toward him. In multiple places. How can I feel so connected to someone miles away? Who is not mine to connect this way with? After a minute of thinking, I decide to give him a call. Rules be gone! We talk for hours …
DAY THREE
11 a.m. Even though I was on the phone with my ex until four, I still wake up before noon. I just want to sleep more. I check my phone and there it is: a 5 a.m. text from B. I roll over and try to sleep.
1 p.m. My roommate and best friend are each spending the day with their boyfriends, so I decide to Citi Bike to stop thinking and move around. Fall in New York is great. Fall in Prospect Park is even better. Good enough to forget about two dumb guys.
9 p.m. I meet up with some friends for margaritas and guacamole. A very drunk guy at the bar buys a round before yelling about his divorce. I don't think a free drink is worth this.
11 p.m. Margaritas also make me feel a type of way. My friends and I are still going strong, but some other urges I have are stronger. I decide to text B "hey." He responds immediately: "Where are you? I am calling an Uber."
12 a.m. At my place, waiting for B. When he gets here, I remember how comfortable he makes me feel. We've been hooking up for about nine months now and have really gotten to know each other. He knows about my job, my ex, my friends. We really get each other. We start to make out and I cannot wait to have sex with him.
We have a routine. We move to the bathroom and take a shower together. B hates feeling the night on him. I love the way it feels for him to touch me, everywhere.
He begins to apologize for being missing. I'm half listening to his winding apology as he begins to undress. Something about a girl he had been seeing, but it didn't work, and she was difficult to read. He never knew where they stood. Before we begin to touch, he asks me about my take on his situation. This is not abnormal for us. We might be hooking up, but we also are dating coaches for each other.
2 a.m. B just left. Things between us are over. I am so mad at him. The last two hours are replaying in my head. After we had sex, we started to talk and I told him about my mom. I started to cry a little and then he went silent. Then he accused me of sleeping with him when I was sad, and said I only text him when something is wrong in my life. I told him he did the same. He got his things and left. I don't get it. We were just hooking up: Why is he upset about the when of it all?
DAY FOUR
10 a.m. I wake up to a text from B: "Let's talk later." But instead of calling him, I call my ex. He knows how to cheer me up whenever anything happens.
12 p.m. I think Mercury must be in retrograde or something because my ex and I just decided to stop talking to each other. My conversation about B led into a longer conversation about how my ex and I act. We talk on the phone every other day, text all the time, confide in each other, send music to each other: It feels like we're dating but without the physical part. I would be more than happy to add that back in. He would not be. I told him that he doesn't recognize how his actions affect others. He agreed.
Then we agreed to stop talking. I can't handle this and talking to B. I delete B's message. I turn off my phone and decide to go to the park.
2 p.m. My roommate texts that she's making me dinner. My sad mood brights a little because there's nothing like her coconut curry chicken soup to make any night better.
8 p.m. Soup is a strong cure for sad Sundays. But hangxiety is stronger. I hide in the bathroom while I text my ex "I miss you." I text B "I'm sorry." Only my ex texts back. My loneliness creeps in again because I know I can't respond to him.
When I exit the bathroom, my roommate knows and just gives me a hug. We put on one of our favorite movies: cheesy, poorly written, and romantic. I delete the message to my ex.
DAY FIVE
6:30 a.m. Put on my favorite pants that work for both teacher me and human me. If you can't feel good, look good. I call my mom to check in. No cancer updates. She is in good spirits because she had a great weekend. She asks me how mine was. I say fine. I don't want her to worry when there are bigger issues in life.
12 p.m. Nothing can distract you from your personal life like the drama of children. Talking to them makes me feel so much better. Instead of working through lunch, I get dragged into a gossip session by one of my students. She tells me about how pre-teens date these days: by texting and then being too awkward to talk to each other in person about how they feel. I can't relate to this at all (or can I?)!
4 p.m. I meet a friend for an overpriced coffee. She is a social worker and can read people's energy instantly. She asks me what's wrong, and I tell her. However, instead of deep diving into my emotions, we just laugh. Laugh at all the bad stuff happening. Laugh at how what cheered me up the most is a classroom of 33 children.
7 p.m. It's Temptation Island time. My roommate and I congregate around the TV. I am grateful for her. She has been doing all my favorite things for me and I feel really cared for.
9 p.m. Decide to go to sleep early. I keep coughing and the last thing I want to be right now is sick.
DAY SIX
6:30 a.m. More tired than usual. Am I getting sick? I check my temperature: 97.1. Maybe I'm still hungover?
9 a.m. Okay, mercury is definitely in retrograde. I was exposed to COVID and I realize my tiredness and cough might be from something else. I leave school immediately and get a test.
12 p.m. Just left CityMD. My rapid test hasn't finished its results, but the doctor is confident it's negative.
1 p.m. I have COVID.
6 p.m. My body feels like it's been hit by a semitruck. I text all my recent close contacts. Surprisingly, I have a lot of people to text. I had been talking about how lonely I was, but in truth I have barely been alone. Maybe I just isolated myself in my own head?
DAY SEVEN
12 p.m. Wake up at noon. I roll over and check my phone to a bunch of texts. Everyone is checking in on me, sending me love.
2 p.m. My sister got into medical school. FINALLY. I'm so excited I end up texting my ex the good news because he asked for big life updates. He calls me and instantly we decide to start talking again. Just maybe with more boundaries.
4 p.m. My friends have sent me matzo-ball soup, Trader Joe's groceries, and many, many movie recommendations. I am alone, but seriously feeling less lonely.
6 p.m. B responds to my COVID text. He says something like, "Thanks for the heads-up … should I get tested?" Ugh. I don't want to keep talking to him. I delete the conversation — for good this time.
Want to submit a sex diary? Email sexdiaries@nymag.com and tell us a little about yourself (and read our submission terms here.)