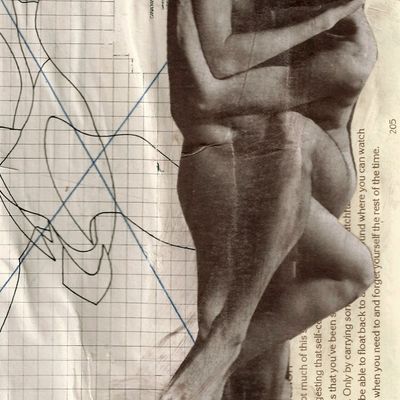 Photo-Illustration: James Gallagher
This week, a woman wishing she had someone at work to flirt with, and planning never to settle down. 42, single, Brooklyn. 
DAY ONE
6 a.m. My sister and her baby are staying with me. I hear my nephew wake up every morning around 6 a.m., and then I can't go back to sleep. Normally this would irritate me but my sister is splitting from her wife, and it's really messy, so I don't want to give her shit for anything right now.
10 a.m. By this point in the morning, I usually have my apartment to myself. The first thing I always do is masturbate. I'm kind of giving online porn a break, so I just close my eyes and imagine a raunchy threesome. I identify as queer and fantasize almost exclusively about women, but in real life, I prefer fucking men.
2 p.m. Speaking of fucking men, I finalize plans to meet up with X tonight. He's an actor and working in midtown right now, so we decide to get martinis at a swanky place nearby. There is something so stupid about going to midtown that it's almost kinky to me.
7 p.m. My sister gives me some fashion advice (she's a stylist) and I'm out the door to Times Square. I take a Citi Bike all the way from Downtown Brooklyn to 42nd Street.
8:30 p.m. A little sweaty, I wait for X at the bar. We've hooked up about four times before. He really is a bad-boy actor type. He's incredible in bed. I love fucking him and he's very funny and that's all I need from this one.
10 p.m. A little drunk, we're at X's apartment in the West Village. I tell him that I'm often craving his dick, so he bends me over and gives it to me. Our sex is amazing.
11 p.m. I get back on a Citi Bike and go home.
DAY TWO
9 a.m. For some reason with X, I never wake up feeling anxious or gross about any of it. My relationship with him feels pretty evolved. As I get older it's hard to find innately sexy men who are not broken or completely disgusting. I'm not saying they don't exist, but it's harder to find. I've chosen a life where I prefer to be single, and don't want to have kids, and I don't think that's so revolutionary — but it is hard to find more desirable people in my camp.
11 a.m. I work in production on a popular TV show that films in New York. I'm part of the crew; it's nothing glamorous. More physical than anything else. I have a really bad back so sometimes my job is literally excruciating, but other days it's very cool. Today we're shooting in Union Square. I'm excited to hit the farmers' market on my break.
8 p.m. I'm pretty beat when I get home and — not going to lie — happy to not have to play with a baby. My sister has a bottle of wine open and we sit on the couch to talk about life, love, and sex. Her wife cheated on her so she's dealing with all that. For me, I tried long-term monogamous relationships and they always went down in flames. I've sorta sworn off of them to protect myself I think. I'm very sexual and I'm in love with the city, so I like floating around and finding romance and sex where I can. I'm glad my sister doesn't judge me for any of it.
9:30 p.m. We both fall asleep early.
DAY THREE
9 a.m. Same long, tiring shoot day. No one on this crew is sexy to me. I always prefer to have someone to flirt with — makes the day go by faster. I once had this thing going on with one of the sound guys and I was wet all day on set. We ended up having drinks after the show wrapped, and of course, we fucked each other's brains out, and then all his allure was gone and I couldn't stand him.
12 p.m. I remind myself to start going to Pilates and acupuncture to keep my body fit for this line of work. I'm achey!
5 p.m. We're filming near one of my exes. This one wanted to get married and settle down and do the whole thing, and I don't know why, but it all made me feel super anxious. Not normal anxious, but deeply uncomfortable with the thought of it. It was strange because I really liked him, maybe I even loved him. But the concept of settling down forever felt so wrong! I was in my 30s too, so you can't really say I was too young or anything. It's just who I am.
9 p.m. On the Citi Bike home, I decide to stop for a drink at a hipster bar. I meet a super young dude named T and he offers me a little cocaine. I do the tiniest of bumps in the bathroom. But now I'm grossed out that this dude is doing blow and want to get away from him.
11 p.m. Annoyed that the bump is preventing me from sleeping. Decide to watch the Val Kilmer doc and stay up late.
DAY FOUR
10 a.m. No work. No sister. I get to masturbate in bed the way I like to. In silence!
2 p.m. I decide to strum up some action for later. I text B. He's sort of a tortured chef type and I love his dick. He says he was planning on sushi at home tonight and I'm welcome to join. We both know exactly when this means. Hot, meaningless sex. I tell him I'll be there.
6 p.m. I tell my sister about B and our history. He had a girlfriend forever, but they both had affairs all the time and were always breaking up. I started sleeping with him after eating at his restaurant and crushing on him. Now his girlfriend is gone and he's a lot less interesting to me. But hey, I love sushi and I love his penis so — hello!
8 p.m. Arrive at B's apartment. We drink some white wine that I brought over and eat, and wind up fucking on his kitchen floor. It destroys my (already-destroyed) back but I love the image of it all too much to stop. Plus there is something about his dick that makes me come within minutes of him being inside me.
10:30 p.m. Citi Bike home. Very satisfied.
DAY FIVE
6 a.m. Up from the kid and also I have to get to this work-gig thing.
9 a.m. A woman on this job, P, is flirting with me. She's not really my type but I want to be open. I'd like to get drunk with her and see her skills.
3 p.m. P asks if I'm single and if I want to come to a game-night thing at her house. The truth is, I really don't. So I tell her I'd love to and that I'll text her — knowing this job is a one-off and I probably won't see her again.
6 p.m. I have an evening massage at this bougie place that makes me so, so, so happy.
9 p.m. Crawl into bed without even checking in with my sis.
DAY SIX
9 a.m. I am the only person in my friend group who doesn't have kids or isn't trying to get pregnant. That doesn't bother me, but it gets a little boring listening to these conversations about fertility all day. I'm wondering who, and where, my people are as I grow older and don't fit into the construct of being married with children. I'm not afraid of being a lone wolf out there, but at some point, won't that be a little painful?
4 p.m. I do a Pilates class and don't enjoy it for one second.
6 p.m. My sister, nephew and I have dinner with my parents, who live in New Jersey. They take us to pizza and it's a great time. I love my family and I really appreciate that my parents have never pressured me to have a more conventional lifestyle. Every time I want to thank them for that, I can't find the words. I just hope they know that I truly appreciate it.
9 p.m. I go online to flirt a little. It is a sad, sad world on Tinder. I see maybe one out of 1,000 people who I'd actually be interested in meeting up with. Depressing!
DAY SEVEN
10 a.m. I'm at coffee with a friend who thinks we should go to a sex club. Neither of us has ever done anything like that, and as you can tell, I'm quite picky and feel the sex-club types might not be attractive enough for me. But if they are … then that could be very fun. I tell her if she does the research, I'll be her wing woman.
12 p.m. I come home and masturbate to the image of getting railed at a sex club by the hottest group of men and women.
2 p.m. A work Zoom. Boring! I mean, my job is so cushy compared to most and you see all the days I get off to do nothing. So I won't complain.
3 p.m. B, the chef with the magic dick, wants me to come over again tomorrow. I'm not into the thought of being at his apartment again so I try to think of an alternative. I suggest we go dancing, but neither of us knows where to do that anymore. We land on him making us ironically pretentious cocktails at his place. It's not that creative or romantic or inspired, but fuck it, we all know I'm only in it for the sex.
Want to submit a sex diary? Email sexdiaries@nymag.com and tell us a little about yourself (and read our submission terms here.)