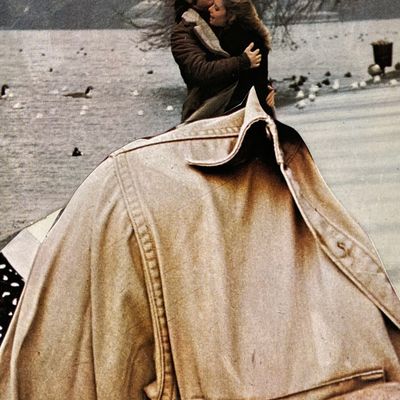 Photo-Illustration: James Gallagher
This week, a man getting busy in a hotel room, in a bathroom stall, and on the street: 37, married, Brooklyn.
DAY ONE
8:30 a.m. I'm doing this jogging thing every morning. It's miserable, but I want to get in better shape. I'm in an open marriage, and I'd like to take more advantage of my situation. In order for me to do that, I need to get my confidence up.
10 a.m. I'm actually in the early stages of my own podcast, so I have a call with a producer about it this morning. We have to figure out the budget. My husband has a big job in real estate, so I rely on him for most of my money. I've had a lot of business ideas throughout the year and feel worried about running this one by him. But if I know what kind of start-up money I'll need, and it's not too much, I won't be as nervous about opening the dialogue.
5 p.m. My husband texts that he's not going to be home until later because of a work dinner. Our openness is, for the most part, "don't ask, don't tell." I assume on nights like this he's meeting up with someone for a quick fuck or maybe a date, but as long as he comes home to me, it's fine. I really don't care. This might play well into my podcast pleas since maybe he'll feel a little guilty later.
9 p.m. I watch some of The White Lotus, jerk off while thinking of A, a past lover, and get myself to sleep.
DAY TWO
8:30 a.m. I think my husband got home pretty late last night. He's asleep in our guest bedroom, which is pretty normal since that room has the strongest AC and he likes it more than our bedroom in the summer. I leave for my run while he's still asleep.
We met about ten years ago at a gay bar in Brooklyn. We've always been open. The week we got married (at a beautiful restaurant in Manhattan), we both fucked other people. We laughed about it then, and we still laugh about it. As for our own sex life, it's very tame. We have sex with each other once a month or so and not much else in between. I mean, we've been together ten years … what do you expect?
4 p.m. While my husband is at the office, I get to work on a new salmon dish. I open some crisp white wine while I cook.
5 p.m. D, a friend with benefits, texts to see if I want to grab dinner later. I love this man because he's got a beautiful body and he's just unhinged enough to be interested. He also never wants anything more from me than some good company over good food and then a great fuck. It's very simple between us. I text him that unfortunately tonight is not good. We make plans for tomorrow.
8 p.m. My husband comes home to a gorgeous table with candles and dinner ready. We have a great meal and a second bottle of wine. I ask him to help fund the podcast, and he says he's happy to. Phew!! I decide not to ask him any questions about his whereabouts last night.
9 p.m. I make him rewatch the new episode of The White Lotus with me. We laugh so hard; it's truly better than sex.
DAY THREE
10 a.m. I actually do have a job. A few days a week, I help an older woman in our building with basic errands. I do her groceries and tidy up for her. We play cards sometimes. I really like her, and her kids all live in Florida so they pay me to be her companion. It's good money and good karma. Today is my day with her.
3 p.m. I'm excited to see D later, so I start preparing for it. I'm insecure about my body right now, but I also have a great new wardrobe thanks to all my recent online shopping. I browse through my closet and get ready to take a shower. It hits me that I'm horny, so I quickly get off in the bathroom before the shower.
5 p.m. I text my husband that I'll be out for a few hours tonight. He puts a heart emoji on my message. He knows, and we both know that he knows, but we don't need to discuss it. It's all good.
8 p.m. D has me meet him at a cool Mexican spot in Brooklyn. He looks great. All Fire Island tan. There's a spicy margarita waiting for me at the table. We catch up on work and life; he asks how my husband is (they've never met, but D seems to get off on knowing I'm married).
D works for a hotel in the area and gets a super-discounted rate on rooms, so after a while I convince him to get us a room so we can fool around there.
10 p.m. We fuck for about an hour overlooking the views of the world. It's very hot. I love being a gay man in New York on nights like this.
11:30 p.m. I kiss my husband goodnight in the bedroom with the good AC and sleep like a baby in the other one.
DAY FOUR
8:30 a.m. There will be no run this morning.
11:30 a.m. I have another call about the podcast, and now I can confirm that I have the budget. This is super-exciting. I can't really talk about the concept, but it revolves around what it means to have a happy life.
12:30 p.m. My husband had a meeting near our apartment so he comes home for lunch. We decide to order in and be very lazy, so we watch TV while eating lunch and it's very hedonistic and wonderful.
3 p.m. When I tell my husband about my podcast updates, he's a little dismissive. It hurts my feelings, but I try not to dwell on it. Sometimes I feel pretty alone in my relationship. The lovers I have on the side aren't really there for me emotionally, and my husband isn't always either. This is one of our longest, most ongoing issues — and frankly, I think it's more about my own sense of self-worth than anything my husband is doing or not doing.
8 p.m. We make big salads for dinner and read books in our respective bedrooms. The night is perfectly boring and fine.
DAY FIVE
9 a.m. I'm at the old lady's house for a few hours today. She never asks me about my home life — I suspect she may be a strict Catholic who is theoretically anti-gay, but we both know not to go there. She's very nice to me, and I don't pretend to be straight or anything.
2 p.m. E is another lover I see occasionally. He's a male model, bartender, and total slut. We met out on Fire Island two summers ago when I went for a few nights with my husband. That trip was interesting as we both fucked other men just a few doors away from each other. It was almost too much even for us, but luckily we had a great sense of humor about it the next day. I guess our relationship works because we're able to laugh about our affairs … or ignore them completely.
I did not fuck E that weekend, but we've had sex a few times since, and we flirt constantly with each other via text. He texts to invite me to an art opening he's promoting at his bar. The event is tomorrow night, and I tell him I'll be there.
4 p.m. I wrap up with the old lady and head to the park for a run. I run and run in the blazing heat until I feel like passing out.
6 p.m. Over dinner, I tell my husband that I'm seeing E tomorrow. He barely looks up from his sushi and says, "He's so fucking hot." We never fight or compete over men, though.
8 p.m. I FaceTime with my siblings, who all live near my parents in New Jersey. They're all together for my Mom's 80th birthday tonight. My husband hops on to say hello to everyone. In some ways, we are very adorable and traditional despite our raunchy sex life!
DAY SIX
10 a.m. I send flowers to my mother's house for her actual birthday, which is today.
2 p.m. I jerk off while thinking about A (again!) and then take a really long shower.
7 p.m. I hop in an Uber to the bar where E works. I'm a little nervous heading there because I realize I might not know anyone besides him and he might not want to hang out with me the whole time. He's also going to be working. I'm not a shy person, but it's a little unsettling walking into a party alone, no matter how confident you are. Why didn't I think about inviting my husband? I guess I was blinded by the allure of sleeping with E tonight.
9 p.m. The party is cool, but I feel kind of creepy hanging out by myself. I text my husband to see if he wants to meet me here, but he doesn't write back. I guess he made plans of his own.
9:15 p.m. I tell E I'm going to go home, and he pulls me into his arms and starts kissing me. He uses a lot of tongue, which I absolutely love. In a flash, we go into the bathroom stall, and he says he wants to suck my dick. Who could say no to that?
10 p.m. I'm in an Uber home and smiling big time.
DAY SEVEN
9 a.m. I slept late. I'm a little hungover and not ready to face the world.
10:30 a.m. Over my first coffee, I FaceTime with my mother so she can show me the flowers that were delivered. She's so sweet, my mother. She asks me what I did last night, and I almost spit out my coffee. "I went to an art show … it was kind of boring," I say to her, dying inside.
11 a.m. My husband is working from home today. He asks how E was, and I ask him if he wants to know the whole story or just the surface. "Um, maybe just the surface," he says. I can respect that. I don't ask what he did last night while I was gone.
4 p.m. I make a big list of things I have to do for the podcast. I'm so psyched. I want to prove to the world that I can be successful at something. I know it's wishful thinking, but it's healthy to set goals.
7 p.m. I walk around my neighborhood listening to different podcasts and calling it research. As I cross the street, I make eye contact with the hottest man I've ever seen. I want to turn around and chase him, but there's no way I can do that without seeming creepy. I take a minute to appreciate that I have the freedom to flirt with him, or anyone else, when the time comes.
Want to submit a sex diary? Email sexdiaries@nymag.com and tell us a little about yourself (and read our submission terms here.)