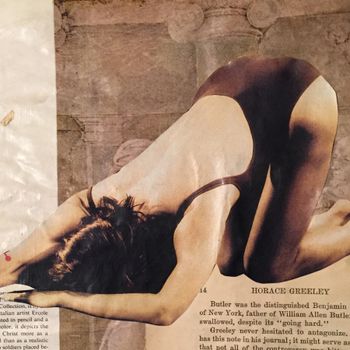 Photo-Illustration: James Gallagher
This week, a woman who meets a terrible single dad, gets a hot new co-worker, and starts feeling hopeful about a paramedic she hasn't met yet: 31, single, Long Island.
DAY ONE
9 a.m. My Monday is everyone else's Friday, sort of. I'm a chef, so I work weekends. Between that and COVID putting everyone's life on hold, dating has been difficult this year.
11 a.m. At work! Unlike most people in the hospitality industry, I've been able to work through this entire COVID crisis, but it also means wearing a mask in front of open-fire grills, ovens, and fryers in a non-air-conditioned space in the middle of the summer. Between the labored breathing caused by the mask and the heat, I threw up the other day. Unpleasant, but at least I have a job.
9 p.m. Tomorrow is my best friend's little sister's 21st birthday, and I promised to bake her a cake and a bunch of hors d'oeuvre. It's only supposed to be a small gathering outdoors.
DAY TWO
4 p.m. Partying with 21-year-olds when you're a decade older than them is hysterical, also sad, but also fun. If it wasn't my best friend's little sister, I wouldn't be at this party, but the kids are really sweet and friendly. I was funneling jungle juice and doing keg stands at 21; these kids are sipping wine like they're the future master sommeliers of America. I put on a TikTok playlist, and they all start synchronized dancing immediately. My friend's dad, astounded, calls me the puppet master.
11:45 p.m. It's almost midnight, and the party's winding down. The little sister begs me to go to the bar with her; she's dying to get her first legal drink in a local pub. I reluctantly oblige because I'm an old lady, but I am also extremely trashed and on the borderline of blacking out, so convincing me isn't that difficult.
1:30 a.m. It's shot after shot after shot, and I'm thinking about ringing my ex, or Single Hot Dad from Hinge, whom I've been steamily chatting with throughout quarantine. It's like drunk-dial roulette. Who's gonna take my drunk ass home?
2:15 a.m. Little sister heads home in an Uber and Single Hot Dad from Hinge drives 40 minutes to pick me up. I think about his dick the entire drive back to his house. I'm also trying to ignore the fact that he has some sort of techno-heavy metal Sirius radio station playing and a vanity plate on his pickup truck that says something about being a Rangers fan.
3:30 a.m. I don't have any memory of walking into the house, but next thing I know, I'm thrust down on the bed and my clothes are nowhere to be seen. I realize I'm way too drunk to be doing this. Am I having some sort of adolescent relapse? What am I doing? I tell him I don't want to have sex, and he's a total dick about it. I turn over and pass out naked.
DAY THREE
11 a.m. Wake up the next morning not remembering much, and not recognizing the ceiling I'm staring at. I realize I'm naked, dread looking over at whomever I'm next to, and see that it's Single Hot Dad from Hinge. I ask him to drive me back to my car at my friend's house, where I'm hoping my car keys are, because they're definitely not in my purse. He tells me it's "quiet time" while we're in the car, and I know in that moment that I will never speak to him again, and, honestly, I'm glad, because I don't like a single thing about him.
3 p.m. The rest of this day is a wash. I chug a Pedialyte, go back to bed, spend most of the day ignoring texts from Single Hot Dad, and finally tell him best of luck finding what he's looking for, because it's definitely not me. I hope I never hear from him again.
DAY FOUR
9 a.m. Shaking off my bad choices and back to work. Nothing exciting happens here — it's not really a fun kitchen. No debauchery, no banter — half the time, management doesn't even let us play music. It's nothing you've read about in Kitchen Confidential. Anthony Bourdain would've hated this place.
11 a.m. Thinking about when I get home tonight and can pop a bottle of Sauv blanc and swipe my heart out for the next dude I'll never get serious with. I say I want a relationship, but deep down, I know I'm way too emotionally unavailable, and I don't trust men. I kind of like just doing my own thing, but I am getting older. It's not that I want kids or am responding to some sort of biological clock, but I guess it would be nice to have a partner to navigate this crazy, crazy world we're living in.
12 p.m. A six-foot-nine linebacker-looking tattooed gallon of water in the desert just walked into my kitchen. Turns out the head chef hired him, and it's his first day. I'm showing him around, and I'm fumbling my words. I don't think I've ever seen such a massive man in real life before; I think he'd make Jason Momoa look small. I feel like a Polly Pocket next to this guy. As I'm going over the walk-in with him, all I can think about is how I would let him do anything he wanted to me, right here, right now, next to the English cucumbers and live lobsters.
5 p.m. We closed early due to rain. Thank God. It's been a long few days, and I need to relax.
DAY FIVE
10 a.m. Oh Hinge, you have got me in a certain way right now. This app is where it's at lately, and this bagpipe-playing FDNY paramedic might be just what I'm looking for.
11 a.m. We matched, and the conversation was fun — that kind of quick, playful banter that puts the butterflies in your stomach like you're a middle schooler. He's pretty cocky, but the confidence is so sexy. He asks me out for oysters and Champagne (my two favorite things), and I cannot wait. I don't ever get excited before internet dates — I usually cancel them the day before — but something feels different.
9 p.m. I don't like getting my hopes up, but they're high-key soaring. I just really hope he doesn't lose interest before I get to meet him — this damn schedule. I swear, being a chef is a major cockblock.
DAY SIX
12 p.m. Tomorrow is my date with the paramedic, but apart from a cute good-morning text, I haven't heard from him yet.
4 p.m. Starting to worry about him ghosting me. I text the paramedic and say, "Hey, hope you're all right."
8 p.m. No answer. Here comes that familiar feeling of being a complete clown and being mad at myself for giving him the benefit of the doubt that, maybe, for once, this guy is different from all the others that have wasted my time. What's with men not texting back? Just say what you feel, man.
9 p.m. He broke his foot at work. I spent the majority of the day writing off a first responder for being busy during an ongoing public-health crisis because he was in the hospital after a work accident. I really need to work on these trust issues, because now I feel like a complete psycho.
10 p.m. I still am unsure if I actually believe the guy. I tell him, "This is a very elaborate story to break off our date." I added a crying-laughing emoji, but I am not laughing; I just don't want him to know how truly distrusting I really am. He didn't think it was funny and was really upset that I didn't believe him. I apologized and backtracked. I hope he's not actually offended.
12 a.m. Still chatting and getting the whole lowdown on what happened. Maybe he is a good dude? No date scheduled yet, but he better be on crutches when I do finally meet him.
DAY SEVEN
9 a.m. I really want to meet the paramedic, but I also really, really want sex. I'm going to try to not sleep with him right away and do the whole good-girl thing. But between the pandemic, my horrible schedule as a chef, the FDNY, and a broken foot, I feel like I'm being cockblocked from every angle. Not sure how much longer I can hold out.
11 a.m. The most frustrating bit right now is that the paramedic won't rain check our date until he gets evaluated by the FDNY doctors and finds out what's happening to his schedule from there. He says it's because he doesn't want to make a promise to me and then let me down. Sounds pretty noble, but who knows?
Want to submit a sex diary? Email sexdiaries@nymag.com and tell us a little about yourself.