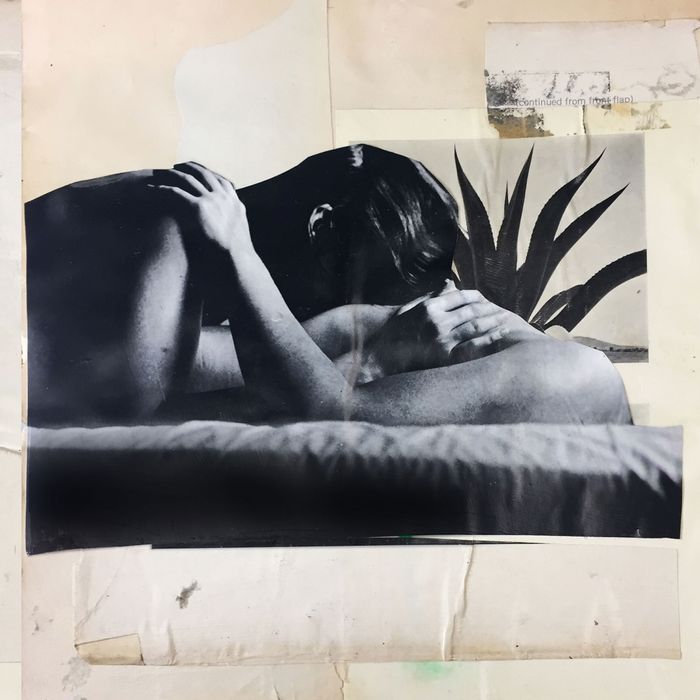 Photo: Photo-illustration: James Gallagher
This week, a woman wondering when she'll go on another date with the 45-year-old she's seeing: 21, single, Manhattan.
DAY ONE
9 a.m. Heading to my Russian lecture. Fall semester just began, and I'm already feeling stressed out. I'm in a good mood, though — I have a date tonight! For a few months now I've been dating N, a wealthy 45-year-old working in health care, and I'm excited to see him. It'll never go anywhere because of the age gap, but we really get along.
5:00 p.m. I take the train to Soho. To kill time, I stop at McNally Jackson and flip through an overpriced book on female pleasure.
7:45 p.m. I feel antsy walking to the "vegetable-forward" restaurant nearby where N booked our reservation. The whole time at dinner, I try to look interested but not too enthusiastic. I don't want him to catch on to how happy I am to be here in front of him.
9:30 p.m. He bought us tickets for a comedy show, so after dinner we walk over to the venue. On the way, I ask him why he texted me the other night saying he was doing whippets. He laughs. "I had a friend visiting the apartment that night and she randomly brought out a whole box of them," he says. I read between the lines and know he fucked her, which is vaguely irritating but not upsetting.
We're the first people in line, which is N's nightmare: He jokes gravely that we'll be targeted by the comedians. I tell him I don't mind.
10:00 p.m. He's right: The comedians do call on us. One asks where we met and we don't answer, because the answer is a sugar-daddy website. Another asks him if I'm his daughter. We cringe and laugh hard at this, but I know we both love it. The age gap is a big part of what makes our dynamic fun. I love pining for his affection and validation, and he likes being seen with a younger girl.
12:30 a.m. He orders me another tequila Sprite and then we walk back to his new apartment, smoking a joint and a cigarette along the way. Then I'm standing in front of his bed and he kisses me and pushes me onto the comforter. Soon enough he's fingering me, then I'm going down on him, and eventually start riding him. Afterwards I sleep over, satisfied with the night.
DAY TWO
7:00 a.m. When I wake up, N tells me that before we went to sleep I curled up right next to him, which he calls "endearing." I stay awake for an hour and think about how much I'm projecting onto him — how much I crave texts from him and how badly I want him to fuck me and take me to dinner and maybe just take care of me, which is the worst of all. Also, I'm hungover as fuck.
10:00 a.m. I get back to my dorm and take a quick nap. Later I pick up some Mediterranean food and FaceTime my mom. She knows about every drug I've ever done and almost everyone I've slept with.
11:00 p.m. I've been invited to a party downtown, so my roommate and I take the 1 train. I'm wearing latex boots and a tight black mini dress with cut-outs, and I feel sexy. The party low-key sucks (they're playing pop music from 2008), but at least we get some free drinks.
1:00 a.m. My roommate and I take a cab back home. Our feet hurt and the night wasn't that fun.
DAY THREE
12:00 p.m. I don't even want to get out of bed.
1:00 p.m. I finally head to the library to get some reading done. While I'm there, this investment banker texts me asking if I have plans for Friday. I've been sleeping with him for a few months now, and it's been getting weirdly intimate — last time, we held hands while he fucked me. I keep telling my friends I want him to want to date me, but we all know I like the idea of a boyfriend better than the reality of monogamy. I take a few hours to respond.
5:00 p.m. I'm bored in my room so I use my vibrator. I come thinking about N.
10:00 p.m. I take the train down to the East Village and meet my friend from NYU for drinks. We go to some dive bar and drink beer and mezcal. While we're there, M's name pops up on my phone. This man is high up at a massive media conglomerate, and he once paid me to go to his apartment, snort his coke, tell him about my sex life, and get on all fours while he jerked off. I haven't heard from him in months, and I'm excited by the opportunity to make a few hundred dollars.
11:00 p.m. I eat buffalo chicken wings on a stoop in the East Village and FaceTime B, who goes to NYU. We've been best friends for almost two years, and we hook up sometimes but still tell each other about everyone we're seeing. I had weirdly intimate sex with him last week and I'm still thinking about it.
12:00 a.m. Decide I should make my way back home and crash.
DAY FOUR
11:00 a.m. I wake up to a sweet text from B. I smile and take a shower. M never texted back.
11:30 a.m. I'm studying all day for a big interview. I prep answers about how my humanities degree actually makes me an amazing candidate for banking.
5:00 p.m. I do the interview and bullshit every answer. I actually think it went really well.
8:00 p.m. I make myself salmon, broccoli rabe, and pastina, and have a glass of wine. I feel really, really good about how things are going.
10:00 p.m. I go to sleep early.
DAY FIVE
9:30 a.m. Grab an iced coffee before my lecture on American politics.
11:30 a.m. N texts me during class about the new Sopranos movie and asks how my interviews have been going. I make the mistake of scrolling through our old texts and can't help feeling like he used to be more enthusiastic. After our first date, he texted I know I'm supposed to play it cool, but when am I seeing you again? Now, he makes reservations the day of and I think he's catching on to how much I like him.
7:00 p.m. I meet a friend for dinner in Soho. We recap my day's sessions over blood-orange margaritas and elotes, and she tells me the newest drama with a girl she's been fucking.
DAY SIX
10:30 a.m. I'm sitting in my Russian lecture and I can't help but feel a little sad that N hasn't texted me about planning our next date yet. I'd been keeping tonight free for him, and now I feel silly for it.
5:00 p.m. Why should my night be disappointing just because I'm not seeing someone? I used to take myself on dates all the time freshman year, and it always made me feel more centered. I change into a black satin miniskirt and a white long-sleeve shirt and take the train downtown.
6:00 p.m. I order prosecco and a salad at a nice restaurant. Sitting at the bar, I alternate between writing in my notebook and thinking about the waiter from this restaurant I hooked up with last year. One day he was giving me my check, and the next he had a fistful of my hair in his hands. I haven't seen him in a long time.
7:00 p.m. I treat myself to a movie at an indie theater. It feels peaceful spending time with myself.
11:00 p.m. Back at the dorm, I smoke a joint and eat a piece of blueberry pie on the couch.
DAY SEVEN
10:00 a.m. Spend my day doing a little studying and catching up on schoolwork. It's nice to have a slow day for once.
6:00 p.m. I meet five friends for ramen in midtown. We drink Japanese beer and I feel like a normal college student and it's just nice.
11:30 p.m. After a quick nap, my roommate and I do our makeup together, take shots, and board the downtown train.
1:00 a.m. My roommate and I meet B at a bar on the Lower East Side. We all do poppers in the bathroom, because it's Friday and why not? Guys are trying to take my hand as I walk toward the dance floor, and I like that B can see me being desired. Later in the night, whenever guys approach me, he turns me toward him and puts his hands on my hips. Recently he's been telling me he loves me right before we make out, but I think it's just because we're best friends and we sometimes have sex.
4:00 a.m. On the walk to B's apartment, a couple asks us for a lighter and we end up talking to them for what must be 45 minutes — about spirituality, gentrification, sex. Then, a random man on the street offers us coke for free and I take a bump off my nail. This is the most irresponsible decision I make all night.
5:00 a.m. We're in B's apartment, and he hands us his bong and kisses me on the forehead.
6:30 a.m. My roommate and I finally get back to our dorm and we're still fucked up. We place a DoorDash order and eat McDonald's while watching the sun rise.
Want to submit a sex diary? Email sexdiaries@nymag.com and tell us a little about yourself (and read our submission terms here.)