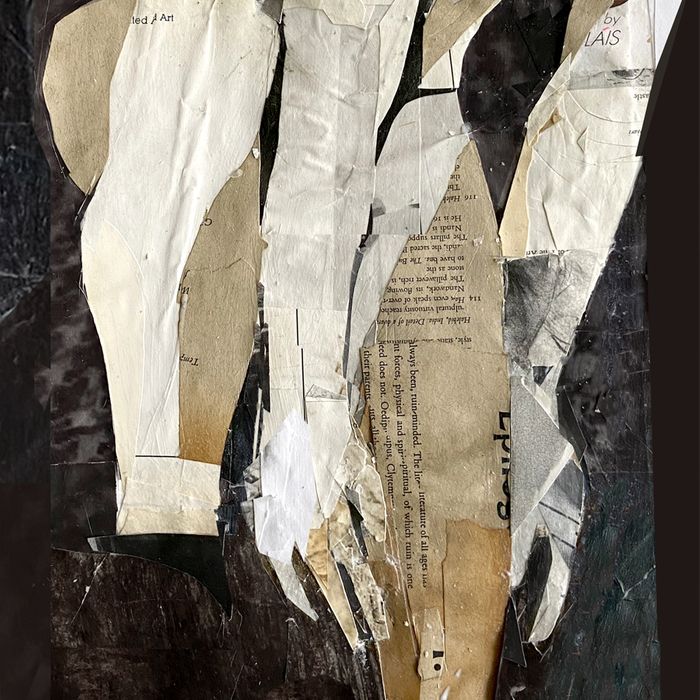 Photo-Illustration: James Gallagher
This week, a woman sleeping with an old fling while deciding if she wants to have kids with her platonic best friend: 43, single, Brooklyn.
DAY ONE
8 a.m. There is nothing I love more than sleeping late. But today I have to wake up early because I have a visitor coming into town, a boyfriend from years past I'll call B. He lives in California now but supposedly has work in New York. Here we are reuniting after not seeing each other for at least ten years.
9 a.m. I shower and make a pot of coffee and start to clean up my place. I live alone and keep my apartment nice-looking but this visit requires a deep cleaning. It's usually just me here. Every few weeks, I'll have a date and a hookup but those guys aren't looking at the insides of my shower.
1 p.m. After my apartment gets into shape, it's time to get myself into shape. I get an eyebrow wax, then I go do a little shopping. All of this happens in Soho — it's the only place I ever go in Manhattan. I worked there for 20 years with a small publishing firm and it's my home away from home. Now I'm freelance and work for myself. I do pretty well, which is to say I can afford a cute one-bedroom with high ceilings and a lot of expensive take-out.
4 p.m. B has landed. He's staying at a hotel, technically, but he's also coming straight to my place (and probably not leaving for a while). So what happened between us? We met more than ten years ago, via Facebook; I forget the details but we had a mutual friend. All I can remember was that I liked him a lot and he was either indifferent toward me, or too busy with work, or something — but I broke up with him because it didn't seem like it was going anywhere. I also remember that the sex was surprisingly good considering he was pretty inexperienced and somewhat "timid" and reserved in general. I know he's had years of experience now, having moved to L.A., gotten very successful, and fucked a lot of hot women (I imagine).
6 p.m. He's here. He looks hotter than I ever remembered him. Bigger, more rugged, stronger in all ways. We have wine and try to catch up. We've both had more relationships than we can count since last seeing each other. I want him …
9 p.m. We're fucking on my couch and holy shit, he's learned some new moves. The sex is fabulous.
11 p.m. I tell him he should go home to his hotel and settle in. That just feels like the right move. I'm not quite sure why but I really want my place to myself.
DAY TWO
9 p.m. What I didn't tell B is that I'm thinking about having a baby with my best guy friend, G. We've been friends since college; we're not lovers but we are both single and wanting families and it's maybe our best (and only) option. I have frozen eggs, but it's still now or never. I didn't tell B because the conversation felt heavy. I might know what he looks like naked and how he feels inside my body, but in many ways, he's a stranger.
11 a.m. I have a quick coffee with G. He also had sex last night. (Hot Vaxx Fall!) We laugh about our situation right now because neither of us knows what to do, regarding starting the process. We've only been talking about co-parenting for the last year or so. It started as a pandemic conversation; we were on the phone, both getting real and deep about our lives and futures when he brought it up. I had been thinking the same thing. We don't want to have sex, and I have those frozen eggs, but we really have to commit. I think we are both scared of pushing the other too much, and yet I also think we both want it very badly.
4 p.m. B is texting about which restaurant to go to tonight. He's at a work conference and starving. He loves New York restaurants and has a whole bucket list of places to check off while he's here. We agree to try a new Thai place.
8 p.m. Over dinner, we talk about why neither of us ever got married or had kids. His stories are the same as mine. Several exciting relationships just fizzled but not before eating up a few of our "good years." Neither of us seems too depressed about it. It's the perfect opening to talking about having a baby with G but I choose not to. B pulls out when we have sex; I think a part of me worries if I say too much, he will wear a condom tonight and think I'm trapping him or something. Maybe I do hope he'll accidentally knock me up. I don't know. I need more alcohol please.
11 p.m. We just fucked over at B's hotel room, which was extremely hot. I love hotel-room sex with all my heart. I Uber home even though he wants me to stay.
DAY THREE
10 a.m. I have back-to-back calls and Zooms. I'm happy to have a busy work day. It feels juvenile to be gushing over B again and then talking about this modern-love fairytale bullshit with G in between. I'm sick of boys and real-life problems. I just want to work.
3 p.m. I haven't had one break from work and I'm starving. I've been curt with B all day so I text to see if he wants to have some epic late lunch somewhere.
4 p.m. Before I know it we're at a bistro with incredible burgers and gourmet Bloody Marys and I'm very, very happy. I love indulging when you're absolutely starving. But there is no way I'm fucking anybody on this full stomach. I lie and tell B that I can't hang out tonight. He has two more days in New York so we can make the most out of the rest of those nights.
8 p.m. Laying in bed, I imagine B going online to find some New York piece of ass tonight. Or maybe to have a romantic date. Maybe someone will fuck his brains out. Maybe he will fall in love. I don't really care either way. I'm not sure if that's because I'm deeply not interested in him anymore, or deeply not interested in love anymore.
DAY FOUR
9 a.m. G wants to have dinner tonight and get to the bottom of our next steps. I tell him I have to see B but that I agree, we can't fuck around much longer. We agree to have dinner the day B goes back to California.
11 a.m. I get a massage, because I can.
5 p.m. A few hours of work and I feel horny and ready for some good food and wine. We decide to do a little restaurant crawl tonight and I get ready. I also throw a tiny new vibrator in my purse. That will be fun.
7 p.m. At the first restaurant, we sit side-by-side and B's hands (which I swear have gotten bigger) are on my thigh, under my skirt. I'm very aroused by this. I show him the vibe and he's delighted by it. The restaurant is just noisy enough that no one notices when we turn it on and put it in my underwear.
9 p.m. I'm drunk and the anticipation to have sex is too much. I tell B we're going back to my place to have sex. He is hailing a taxi the second after he pays the bill.
11 p.m. Very hot sex all over my bedroom. Slapping, biting, feverish sex. I even let him sleep over. He's tuckered out.
DAY FIVE
9 a.m. We wake up a little shy about how nasty our sex was last night. But we're old friends by now, it's no big deal. I send him home so I can do some work.
1 p.m. It occurs to me that B might have cum a little inside me last night. I don't know. I might be imagining it. I was drunk. I'm not mad or sad about any of it. I am ovulating, I think, but I'm sure nothing will happen.
5 p.m. We are both tired. We're texting and trying to rally for one more night out but I'm really not in the mood. B calls me instead.
7 p.m. We have the longest phone date. He confesses to having feelings and enjoying these last few days. He's not pouring his heart out of anything but he says he'd love to keep seeing each other a little (i.e., me visit him in California soon) and I say that sounds great. I'm pretty apathetic about it; that is, unless he got me pregnant. I think my headspace is just focused on having a baby right now and not the trials and tribulations of dating a cute guy from the past.
DAY SIX
9 a.m. I text G to firm up our plans for tonight. He's suddenly busy so we have to plan something for tomorrow instead.
2 p.m. B has left for Cali and I feel al little bit down about it. It was nice having an old fling back in my life. I liked the attention and being back in the city, and looking and feeling really fuckin' hot after the last year or so. Oh well, he's gone now, and unless he miraculously got me pregnant, who knows, it could be another ten years before I see him again.
5 p.m. I think about dinner and am pretty much food-ed out. I decide to make myself a grilled cheese and open a bottle of red wine and call it a night.
DAY SEVEN
10 a.m. I go on a two-hour walk around Brooklyn. I owe it to G to show up tonight with a crystal-clear idea of what I want. I come to some conclusions. I do want to try and have a baby with him. I'm willing to make it my number-one priority. If it works out, wonderful. If it doesn't, I don't want to spend the rest of my 40s struggling with fertility. I don't want to be that person; it's too depressing. We'll give it a solid go and see what happens.
2 p.m. I work and call friends and tell my mother that G and I might try the co-parenting route. She's incredibly supportive, which makes me even more excited for our dinner tonight.
4 p.m. We've been going to the same Italian place for years and I love it there because they have this Caesar salad that I dream of. We decide to meet there. I'm actually a little bit nervous!
7 p.m. We're at dinner. G is on the exact same page as me. We decide to do IVF, because of the frozen eggs I already have, and to split everything 50/50 (as well as get lawyers and paperwork involved, just to avoid anything messy). He has some insecurities about women not wanting to date a single dad in the future but I try to convince him that it will only make him sexier. I'm not even lying when I say that.
9 p.m. We leave the restaurant tipsy from the wine and even tipsier from our decision to try and start a family together. Neither of us know what the future will bring but we both know that tomorrow, we're making some very serious doctor appointments.
Want to submit a sex diary? Email sexdiaries@nymag.com and tell us a little about yourself (and read our submission terms here.)