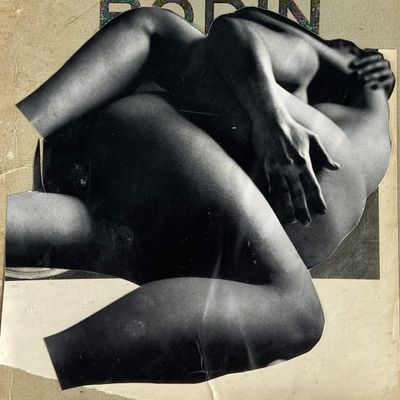 Photo-Illustration: James Gallagher
A woman WhatsApping with her crushes and getting ready to start a new job: 26, in a relationship, Brooklyn. 
DAY ONE
11:30 a.m. Pull myself out of bed. My sleep has been trash lately. I've been having a lot of anxious thoughts as I fall asleep and often wake up several times a night. Some nights I get up and climb into my partner's bed. We have separate bedrooms because I hate sharing a bed and love having my own space. I always thought this meant I'd never live with a partner, but he was okay with it from the beginning.
12:30 p.m. Making coffee while my partner, Alex, shows me how he reorganized the kitchen. We've been together for a little over a year and just moved in together in July. He was in an apartment he could no longer afford, and I was living in my mother's basement while I finished my M.F.A. We had planned on moving in together in October, but COVID and the closure of the film industry (which we both work in — we met in grad school) expedited those plans. Despite sometimes worrying that we moved too fast, I like the home we're creating together.
2:50 p.m. I get photos back from a recent photo shoot and look over them with Alex. I started burlesque training before quarantine, and now that things are opening back up, I wanted to start building a media presence for my show. Don't think I'll be performing in a club anytime soon, but better to be prepared. I like a fair amount of them. Some of them showcase my round face and belly a little more than I'd like, but coming to terms with my body is one of the reasons I started burlesque in the first place.
I don't know if it's seeing myself all done up or watching Alex exercise in the living room, but I ask if he wants to have sex and he leads me to my bedroom. We have a delightful quickie and get back to our days.
9 p.m. Dinner with Alex. He cooks for the first time in a while. We get stoned and watch a joyless movie.
DAY TWO
6 a.m. Around sunrise, someone sets off an array of firecrackers and I jump out of bed. I grab my pillow and climb into bed with my partner. He drapes his body over me and falls back asleep.
2 p.m. I get a call about a position I recently applied for — the job is mine! I call my parents and my sister to tell them the good news. I'm excited, if a little apprehensive. I completed my M.F.A. in May and was hoping for a more creative position, and this job is more logistical. But freelance/contract work can only go so far. This is my first salaried position and that means: vacation days! Sick days! Health care!
8 p.m. Alex isn't feeling well, so I spent most of the day playing nurse. I make a very good roasted-vegetable fettuccine with the veggies from our CSA box, and we watch another movie.
12 a.m. A good-night kiss turns into making out on the floor before moving into my bedroom. One thing I love about my partner is the way he pursues my pleasure. He's eager to use his hands, mouth, toys, whatever to make me come. Sex with him can go from quiet and sensual to rough and back again as he reads my body and what I need. We start and stop, talk and laugh; sex is nonlinear in a way I had never experienced with cis male partners before him.
DAY THREE
1 p.m. A girl I have a crush on messages me on Insta to ask about some herbs I'm giving away from my garden. I'm embarrassed by how giddy it makes me. I met her virtually through the sex society I joined back in February. Alex and I are ethically nonmonogamous, and we were looking for a community. During quarantine, the society started WhatsApp groups and virtual playdates to keep everyone connected. It's not as exciting as it used to be, but I stay in the chats for this girl and a few others I have crushes on. Maybe bringing her some basil will finally take our relationship a little further?
Alex and I had a date night in July, which means we both go on dates with other people. We both got tested and quarantined beforehand. I hooked up with a woman I met from the sex society, and he hooked up with a past partner. Both experiences were kind of lackluster, and we haven't had any partners since. But I'm still WhatsApping girls I have crushes on, and Alex is still on the apps.
2:37 p.m. I smoke a little and am almost immediately horny. There's a certain level of stoned that always results in arousal for me. I go looking for my partner, but he's in the bathroom, so I go use my vibrator in my room. When he comes out, he comes into my room to show me something, only to find me masturbating. He kisses me and rubs my body. I think about the girl I have a crush on going down on me while kissing him and come way harder than I usually do with my vibrator.
4:30 p.m. Our friend Carol gets off work early and swings by earlier than planned. I freak out because our apartment is a bit untidy, and I haven't started dinner, but welcome her in. We hang out and catch up on the past six months. Carol was Alex's friend before she was mine, but she and I have gotten much closer than they are. I serve dinner — seafood risotto — and we spend the night watching weird videos on YouTube and listening to jazz records.
DAY FOUR
10:30 a.m. I have a list of things I need to do before I start my job, but I don't make it through many of them.
2 p.m. Virtual hair consult with a new stylist. I've always wanted to dye my hair lavender and almost succumbed during quarantine but channeled the energy into finding a stylist comfortable doing fun colors on Black natural hair. It's a fun, if weird, experience, and I schedule an appointment for a month from now.
6 p.m. I go meet my friend Liz for a walk around our neighborhood. We head home when it starts to rain.
7:30 p.m. I get home and start to feel sick. My head hurts and my body aches. Alex turns out all the lights and gives me an ice pack. I lie down for a while to no avail and decide to go take a bath. He comes in with lavender oil and some candles to upgrade the experience. I soak for about an hour, listening to music. I feel much better after my bath and crawl into bed.
DAY FIVE
10:30 p.m. I wake up about 30 mins before my first meeting, which is with my best friend Vanessa. We're planning to start an artists' retreat for low-income and underrepresented artists using her family's property in Vermont. We chat about our lives for about an hour and a half before getting down to business. We discuss mission statements, timelines, fundraising, and the like before determining next steps and signing off.
2 p.m. I promise myself I will actually get stuff done today, and I'm pretty successful. I order groceries for the apartment, a couple of dress shirts for work, return emails, and feel the satisfaction of crossing things off my checklist.
4 p.m. I make turkey burgers for lunch and eat while I finish up tasks. I settle into a lazy evening watching cartoons and smoking a little.
DAY SIX
11 a.m. I crawl out of bed and go to make coffee and a smoothie for breakfast. While I'm in the kitchen, Alex and I get into a fight about politics — he thinks I'm too optimistic, and I think he's too pessimistic. We're both very passionate, and it escalates very quickly. I tell him I don't want to talk anymore and retreat into my room so he won't see me cry.
I get dressed and head to my mom's for a visit, still in a sour mood. As I walk the mile to her house, I start to cry again and text Alex. He wants to understand why I'm upset, and we talk about how I'm feeling. I also acknowledge that maybe I was just cranky from not having coffee yet. It's moments like this, when I'm feeling seen and heard, that I feel how much I truly love Alex.
1:40 p.m. Watch TV with my brother at our mom's place. I order Mexican food from my favorite place by here. After a while, our mother returns from socially distanced dance rehearsal in the park. She joined a dance troupe for women over 50 a couple years ago, and she's really enjoyed being a part of it. She brings in groceries she got on her way home and cooks dinner.
9 p.m. My mother offers to drive me home. When I get there, Alex is home watching Star Trek, which I love, so I join him on the couch while he eats dinner.
DAY SEVEN
10:30 a.m. Crawl into bed with Alex and wake him up. I start kissing his neck, working my way down his body. It's his favorite thing for me to do and the quickest way to make him hard. Once he's hard, I take him in my mouth. He always goes down on me, he really enjoys it, but I'm not crazy about fellatio, so I've been trying to make an effort. I climb on top of him and ride him for a while. We try reverse cowgirl and quickly abort — too much effort for morning sex. I make him go get my vibrator and kiss me while I use it. He starts out kissing me but moves to touching me all over my body: pinching my nipples, licking my neck, and grabbing my thighs. I think I'm going to come quick, but it grows and grows until I'm rocked by an intense orgasm.
2 p.m. I cozy up on the couch and work through my list of tasks I need to get done. I get more and more anxious as I go through it.
6 p.m. I start on dinner, but I'm quickly overwhelmed with anxiety. I start to cry, and Alex rushes up to calm me. He holds me and pushes me to identify what's wrong. I realize I'm actually very scared about starting a new job. He comforts me, and I start to feel a bit better; I ask him if he'll sleep in my bed tonight to help make sure I actually rest.
10 p.m. Alex climbs into my bed and wraps himself around me. Even with my anxiety, I'm feeling optimistic. We're going to make it through this time, and hopefully be stronger for it.
Want to submit a sex diary? Email sexdiaries@nymag.com and tell us a little about yourself.