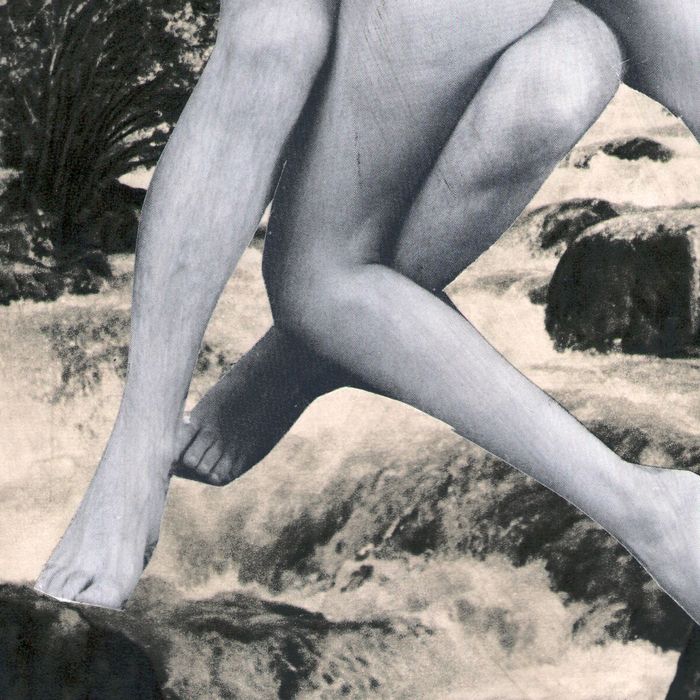 Photo-Illustration: James Gallagher
This week, a woman who moved to be with her boyfriend seeks queer community in her new town: 23, in a relationship, Georgia.
DAY ONE 
8:15 a.m. I can't sleep much past eight in the morning anymore, even if I want to, so after a few minutes of lying in bed, I give up and start my morning while S goes on sleeping. I take my time drinking coffee, watering my plants, and reading before I start blending our daily smoothies — lots of noise to wake him up.
We've lived together for almost a year and a half now after dating for a year before that. S and I were friends back home in Atlanta for a few years before we started sleeping together. Eventually he moved to Athens to start work as a bike mechanic, and neither of us wanted a long-distance relationship, so we tried to live without each other. I was so in love, unashamedly, but I tried to kill that feeling, and dated a guy in one of my undergrad poetry classes while also sleeping with a 38-year-old man I bartended with. Lots of fun. But whenever S was in town I dropped them both completely. He was the only man I wanted. Later, when he asked me to do the thing and move to Athens, I pretended I needed time to think about my answer. But we both knew I'd say yes.
10:30 a.m. We drink smoothies together and plan our day. Some of our friends live on a farm, and they're hosting a bonfire and cookout tonight. I moved to Athens during COVID, and it's been hard to meet people outside of S's group of friends, but these farm parties are always full of the coolest queer women in Athens, and we both know how important it is for me to find my own collection of people.
I was in a long-term relationship with a woman a few years ago and had a few hookups after that. But all my closest friends are lesbians, so even though I'm in a relationship with a man now I still feel connected to that side of myself.
S starts playing with my breasts while we talk. Our couch is so small that it's impossible not to get distracted sitting on top of one another. I grind on his thigh and we make out; his leg muscles are solid from years of riding bikes. I end up with my face in the cushions while he eats me out from behind.
2 p.m. I stay inside and read while S works on his van. He bought it recently for next to nothing and has been steadily fixing it up and teaching himself car mechanics in the process. S is almost always covered in grease and dirt and sweat and flecks of metal. It's so hot, I could never be with the frat-boy type again.
7:45 p.m. I feel nervous as we pull up to the farm, both from a total lack of practice socializing over the past year and from the pressure I put on myself to make friends. S has also been sober for four years now. Being with him, I'm essentially straightedge, too, and sometimes I do miss how easy it is to feel funny and charming when I'm drunk. But it feels important to be S's sober ally in a crowd of people getting drunk and high.
8 p.m. I talk with R, a friend of a friend and the person hosting the party. She's getting her master's in horticulture, and she's tan, strong, funny, and usually wearing overalls. Between shifts manning the grill, she takes me inside for a quick house tour where we look at her collection of VHS tapes up in her lofted bedroom. I feel shy; there's so much intimacy in seeing her unmade bed, and I find myself imagining what it's like to sleep with her.
10:45 p.m. Back home, I massage S's scalp in the shower while we discuss what's more important in a relationship, having alone time or having time with friends. It's time with friends, definitely, we decide.
DAY TWO
7:55 a.m. I crawl back in bed with S for just a few minutes before I have to get dressed and leave for work. S throws his arm across my body without opening his eyes and I kiss his neck over and over again.
8:20 a.m. I work at a nonprofit in Athens. It's my first "real" job out of undergrad, the first job I've worked that isn't waitressing or bartending. Somehow I make dramatically less money doing this than I ever made slinging drinks back in Atlanta.
10:20 p.m. After dinner, we lay together on the couch with our limbs all tangled up and talk about porn, the difference between the feeling of being hard versus the feeling of being wet, our first times masturbating, whether or not we want children, and if we have any fantasies — if there's anything we want that we aren't getting. S says he's completely satisfied. I say I'll have to think about it.
10:25 p.m. I stand under the showerhead and let hot water slide down my back while S soaps up. He says, actually, he's given it some thought, and he knows sometimes I can get in my head about it, but he loves to watch me make myself come and he wishes we could do that more. I say I like knowing that he likes it. I really like watching him get hard as we talk about it.
DAY THREE
10 a.m. I take a break from doing a Meals on Wheels route to sit with a client on her porch and watch birds flit in and out of the kudzu-covered trees across the street. She says she just loves people, she's never understood anyone who doesn't. I totally agree.
12 p.m. I forgot lunch again so I eat a Pop-Tart at my desk.
7 p.m. I slice up ingredients for pico de gallo while S starts rice and beans in the rice cooker. He's telling me about a bike frame his boss wants to weld for him once he comes up with the geometry chart.
8:32 p.m. We have sex on the couch as usual and then I kneel in front of S and touch myself with one hand and jerk him off with the other. He leans in to kiss me and spits on me. I'm turned on just looking at his face looking at my face and imagining how I look. He moves behind me and enters me again just as I start to come, and then he finishes fast, too.
DAY FOUR 
8:43 a.m. I spend the morning harvesting vegetables at our agency's community garden. Thank God for an opportunity to be out in the sun.
3:30 p.m. I do an emergency food delivery for one of my favorite clients on my way home. He compliments my tattoos and says he always wishes he had gotten one. He says he used to be an artist and that he'll draw me a picture sometime.
5:20 p.m. I change into one of my favorite outfits, a '90s apron dress with a T-shirt underneath. S takes my T-shirt off but he insists on leaving the dress on while he fucks me. I start to make myself come again and he eats me out.
DAY FIVE
10 a.m. My best friend, C, texts to invite me to Atlanta on Friday for a dance party at a lesbian bar. She says I can stay with her at her girlfriend's apartment that night. It's been over a year since I last visited this bar. I can't wait.
10:15 a.m. S and I decide to both leave work early today and go to our favorite swim spot on the Chattooga River.
2:40 p.m. I finish registering a few new clients for a program before I tell my co-workers I'm having really bad cramps and need to go home soon. Everyone's totally supportive. I don't even think they'd care if they knew I was lying.
4 p.m. I throw on my bathing suit while S tosses food, sparkling waters, and a towel into his backpack. We hop into the van and take it down to the Chattooga.
5:30 p.m. We hike about a mile downhill to the river and lay our stuff out on the beach. We undress right away and practice swimming against the current. S holds me when he sees my goosebumps. I love feeling his cool, wet skin against mine.
6:37 p.m. We perch on a big rock and eat and watch the river flow while the sky darkens. There are no kayakers at this hour and we have the spot to ourselves. We lay out the towel and S sits while I kneel in front of him and give him a quick handjob.
10:31 p.m. Back home, I finish showering before S and fall half-asleep until he climbs in bed beside me. He holds me and I listen to the sound of his breathing and think about the years in my life where I wanted him so badly that I would do anything to have him. It turns out some things are easy.
DAY SIX 
11:24 a.m. I lean in the doorway of a client's trailer and bake in the sun while we talk. She says she needs to eat frozen strawberries everyday for her heart but not the kind you get from Walmart because she ate those once and it made strawberries start growing on her back.
6:38 p.m. It's about an hour drive to Atlanta. I listen to my dance playlist and try to remember what it feels like to touch a stranger's body.
8:00 p.m. We sit around C's living room with beers while she analyzes S and I's relationship based on the fact that we're both Aquarians. She says that's why we put so much pressure on ourselves to be different, that's why we feel like we have to be doing something interesting every single day or else we're stagnating.
9:15 p.m. It's amazing how much your tolerance drops when you've basically stopped drinking for a year.
11:00 p.m. We meet up with two of C's other friends whom I vaguely know from gay college things a few years ago. Soon after we head to a gay strip club type of place.
12:00 a.m. C buys me a drink. Bodies everywhere. It's anxiety-inducing. I am about to escape the crowd when I feel someone grab my hips from behind. I get in the rhythm of dancing with this person until I feel okay again. I watch the girl onstage who moves with impossible athleticism and has a body like a Barbie. C shoves a bill in her G-string.
12:06 a.m. There's a slight break in the transition between songs and I turn around to finally see the face of the stud who's been feeling me up. We scream our names in each other's ears but it's impossible to hear over the music. We shrug and she pulls my hips against hers again.
12:40 a.m. The girl I'm dancing with has her hands fully up my shirt. C gives me that Are-You-Okay Look from where she's dancing. I smile.
1:53 a.m. At some point my beautiful stud disappears. She must have sensed I wasn't gonna be anything more than a tease. C and I go on dancing. My head feels full of cotton, the music is so loud.
3:40 a.m. I feel like I'm rocking in a boat curled up on C's couch trying to sleep.
DAY SEVEN 
8:10 a.m. Thudding headache when I wake up in the morning. The sun shines directly into C's apartment. I've never appreciated sobriety more than now.
9:30 a.m. C's girlfriend makes me coffee while C makes me a smoothie. It feels just like home. We lounge around talking about an ex-boyfriend of mine who's Twitter famous now. I chug water until my stomach's sloshing.
1 p.m. S is under the van when I pull up to the house. We sit on the stoop while I give a brief summary of last night's events. He knows that I like to go out and have fun. He doesn't care if it doesn't go past flirting/dancing. We're still monogamous. I ask him what he did with his night alone, the first one in a long time with us living so on top of one another during COVID. He says he ordered a big box of Bojangles and gorged himself on chicken and biscuits. He shows me the container in the trash: Jesus Christ, a 12-piece.
Want to submit a sex diary? Email sexdiaries@nymag.com and tell us a little about yourself (and read our submission terms here.)