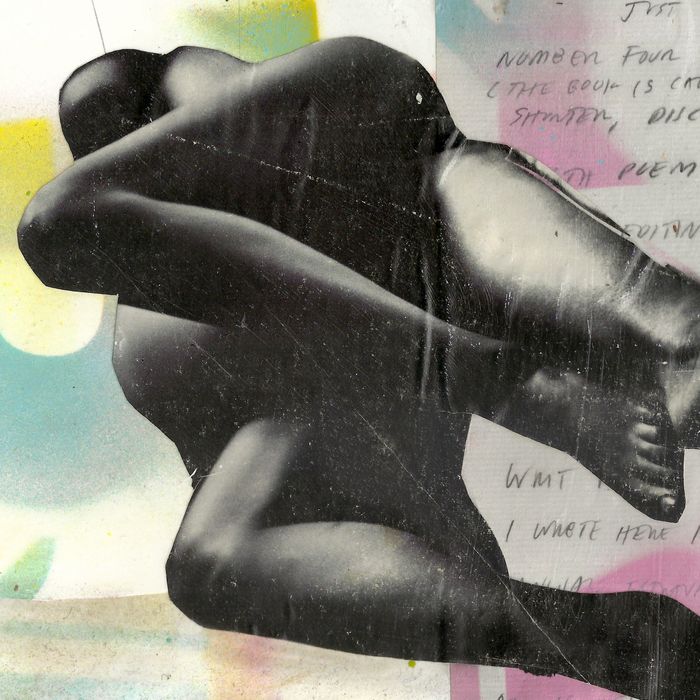 Photo-Illustration: James Gallagher
This week, a woman considering couple's counseling and fantasizing about her rowdy past: 31, in a relationship, Berlin.
DAY ONE
9:15 p.m. I can hear the clacking of the mechanical keyboard through the wall before I even open my eyes. My boyfriend, David, is next door, at work already, in what before this pandemic was my office. It's now "our office," which means it's his office. I get up and make coffee.
12:30 p.m. I mindlessly flick through social media in between fielding work emails and making revisions on a project. I decide to test the waters and change into workout clothes just out of camera range while he's on a Zoom call. No reaction, not even a passing glance. I'll do the same again in 45 minutes, when I'm back from my run, eliciting the same reaction. We've had sex twice since the start of the year. It's a contentious issue. I don't blame the pandemic for this personal inconvenience — it was bad before our lives became confined to the apartment.
4 p.m. I stop working for the day and take my laptop from the living room to the bedroom and shut the door. Not that I anticipate him barging in. Living together for a year, he hasn't walked in on me masturbating once. The clack, clack, clack next door continues. Shortly before moving in, I found out he had had an affair with a co-worker. But with a rental market this tight and my salary as a freelance researcher, and the lease already signed, I didn't feel like I had space to leave. We both bury ourselves in work, just to get on with it.
9 p.m. Watching porn on my own only gets me so far, and the only thing getting me off lately is watching a brunette dominatrix fuck other women with a strap-on.
DAY TWO
9:30 a.m. David is already up when I wake up, and I spend my morning in bed, working.
12 p.m. I'm scheduled for a session and my analyst and I discuss the lack of sex in my relationship, again. He recommends I watch Bitter Moon (1992) as a warning of what might become of my relationship if I allow resentment to grow. I opt for reading the synopsis instead of watching the whole film. He's wrong — at least they're still hate-fucking.
1 p.m. I have lunch with David and ask him what movie caused his sexual awakening as a youth. All he can think of is Aladdin and I leave it at that.
7 p.m. I'm two hours down a YouTube rabbit hole, watching trailers of movies I first saw growing up in the '90s and early aughts. I had a small TV with a VHS player in my bedroom. When I couldn't watch Cruel Intentions (1999) in the cinema because I wasn't 16 yet, I went and loaned Dangerous Liaisons (1988) from the local library, which was stocked with any movie deemed artistically valuable. When I was a teenager with only a dial-up connection, these were the closest I could get to porn.
DAY THREE
9 a.m. It's raining and I decide to just stay in bed all day. A beautiful young couple moved into an apartment across the courtyard last December. They seem to do nothing but watch TV, smoke weed, and fuck with the blinds open. When I go to open the window today, I can see them having sex once again. The scene hits me like a fist to the breastbone and I turn away.
10 a.m. I scroll through Instagram, get an ad for audio porn, and promptly download the app. I make it two minutes into a story labelled with three flames (the hottest rating) before the male hero condescends to the damsel in distress about how exactly to hold a power drill and my body recoils at the mundanity of it all.
12 p.m. I put on Velvet Goldmine (1998), vaguely recalling that it functioned as a gateway to my sexual awakening. It's still kind of hot, and makes me remember all the ways I wanted my sex life to be growing up. And I did grow into exactly that life; for many years I would attend orgies and underground parties, all of it before I met David. We agreed to be monogamous, and I kept my side of the promise. After his infidelity, it felt like my whole life (including me) started shrinking. When the lockdown hit, everything became more constrained, and now there is so little room to hide from what was easier to gloss over while we spent our days apart. I get myself off remembering an especially fun night at a private orgy in London. I've always had a high sex drive, and I have never been ashamed of it, until now.
7 p.m. I have a long phone call with a friend. She recommends couple's counseling and I agree, not telling her that our last attempt ended with the counselor straight up telling us to end it.
DAY FOUR
6:30 a.m. I wake up when David gets out of bed and he insists on kissing me. He's affectionate, but it all feels clinical. When lockdown started we had a long conversation about our shared responsibility for each other, how we were not operating as "one organism," and how we would manage if one of us got ill. I can hear him in the bathroom now, wondering if he's having a wank before showering.
10:30 a.m. I jolt myself awake, having overslept for a Zoom meeting. I log on and let the chatter run on, occasionally unmuting myself to agree or insert a fake laugh or encouragement.
2:30 p.m. I send David a calendar invite titled "Sex?" scheduled for 9:30 p.m. I can hear the clacking of the keyboard next door pausing for a moment, but I might be deluding myself.
5:30 p.m. I still haven't heard back from David and I write it off. I keep these attempts at connection minimal. I know they make me love him less, and I know for the sake of my sanity that I have to keep loving him, at least through this pandemic, at least as long as I can. I start watching The Age of Innocence (1993) to take my mind off things but have to stop about a third in because young Daniel Day-Lewis bears more than a passing resemblance to David.
11:20 p.m. David comes to bed. He's tired and I understand not to push the matter further.
DAY FIVE
8:15 a.m. I get up and get dressed to go on a run. David must have gotten up during the night and is asleep in the office when I leave.
9:30 a.m. Back from my run I hop into the shower and my phone lights up with a message from a guy I used to sleep with before things got serious with David. He's casually keeping tabs, asking how I've been, even if we haven't slept together in four years. I'm tempted to reply, but I know he got married a year ago, and even entertaining the idea of "being the other woman" makes me feel sick. I still check his private Twitter account, the one he uses to post nudes, and get myself off in the shower thinking of him.
3 p.m. My phone has decided to turn itself into a pure doom machine today. An old private-messenger app, installed years ago but forgotten, opens a chat window whenever someone in your synced contacts joins the app. Alex C. has joined. Fuck. He and I shared six tempestuous months together just before I met David. I block Alex's number immediately. A total overcorrection. I know what I'm hiding from.
11 p.m. There's such a huge gulf between understanding a matter rationally and experiencing it emotionally, a state that can be maintained indefinitely with enough energy and will for self-delusion.
DAY SIX
12 p.m. It's the weekend. David and I usually sleep in, and when I wake up he is still there in bed, gently breathing deeply. There is a part of me that still loves him, still believes that he has changed and that he will never hurt me again and that our relationship will heal from all of this.
12:30 p.m. David wakes and rolls over to wrap his arms around me. "I've missed you," he says. I feel like challenging him, "I have been here all week." He just buries his face in my hair and kisses my neck. I move my body against his, wondering if this embrace might lead to something more. It does not.
1 p.m. We get up and David makes breakfast. I don't feel I can talk to him about what just happened, about how angry it makes me feel and how dejected. I am hyperaware of my longing, of how little I can feel entitled to in this relationship.
6 p.m. I suggest we watch a movie together and we agree on You've Got Mail (1998). Too late I realize Meg Ryan's character in it is a carbon copy of the girl David cheated on me with. I feel sick but don't say anything, rooting for Parker Posey's type-A character instead. When the movie is over, David tells me how much it made him miss falling in love and that initial phase of late-night emails and texts. I nod, wondering if all he misses is being with someone new and shiny.
DAY SEVEN
1:20 p.m. I get up and let David sleep, making sure not to wake him so we can both be spared another disappointing attempt at sex.
2 p.m. I unblock Alex's number on the messenger and type, "Hey."
6 p.m. I see his status switch first to "online" and then to "typing …" I flick through my phone, back to when he and I were an item. I get myself off on the couch, thinking about how we used to fuck, waiting for a message to arrive.
Want to submit a sex diary? Email sexdiaries@nymag.com and tell us a little about yourself.