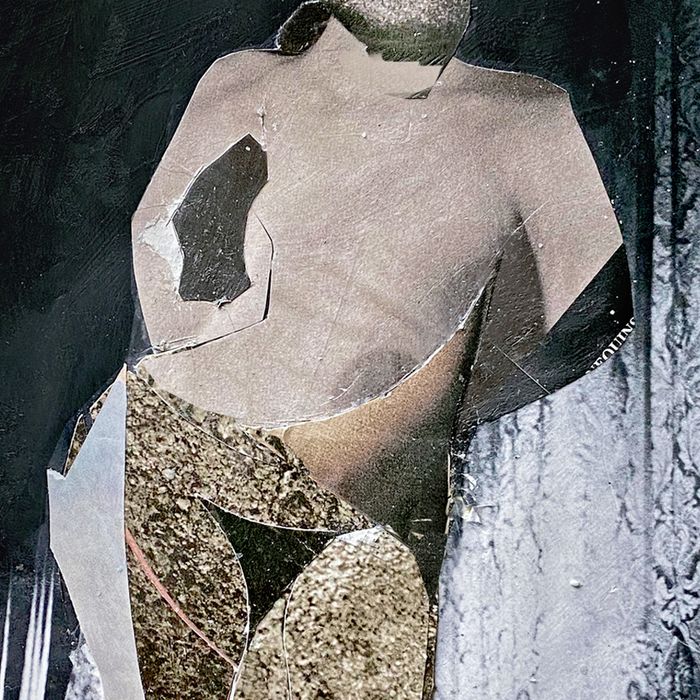 Photo-Illustration: James Gallagher
This week, a woman sexting all day with a man she met on a fetish site: 46, married, Westchester.
DAY ONE
7:15 a.m. Message from J: "Good morning, my gorgeous girl. I hope you have a great day." J is my current and most frequent sexting partner. I'm married with two children, and I have a new addictive (secret) habit. I joined an online fetish website less than a year ago because I was looking for a sexual outlet. I discovered I am quite the exhibitionist and enjoy posting nudes and writing filthy erotica. This is a big deviation from my daily life, and no one would ever suspect me of wanting to explore my kinky desires. What I have found is I take to it really well, and the sexting gives me a form of stress relief I haven't found in therapy, pharmaceuticals, exercise, or meditation.
9 a.m. I leave to meet two friends for our weekly HIIT class. I'm feeling a bit stressed and anxious, and exercise helps take the edge off before I am scheduled to listen in on a doctor's appointment about surgery for my father.
11:30 a.m. Regarding my father, everything is a bit worse than expected. I call my husband and tell him I will need to fly out west for the procedure and recovery. He is supportive and says all the right things, but I want to share the news with J.
4:18 p.m. J checks in, and I tell him the news. He says I can talk to him or he can just shut up. I want to tell him everything. We text for a good 45 minutes while I am home with my youngest.
6:15 p.m. My husband is home, and I prepare him for the fact that I may need to be gone for a few weeks. He is understanding but keeps mentioning his upcoming business trips, which really pisses me off. I now feel less guilty about texting with J.
9:30 p.m. My youngest is asleep, and my husband is with the oldest, heading home from a friend's house. I am feeling super-needy and want some sexual attention. I take a series of naked pictures to send to J. I tell him I am missing our previous text chain, which I deleted so I wouldn't get caught — it was always great for masturbation. I love being what he calls his "obedient little slut."
DAY TWO
8:50 a.m. J has responded. He understands me completely. He tells me I am fucking stunning. My husband never talks to me like this. To get a compliment, I have to ask, "How do I look?" and his response is always "Great." J tells me I am stunning, gorgeous, sexy, his dirty slut, his good girl. He knows all my sexual triggers: praise, dirty talk, and possession.
11 a.m. Everyone is out of the house, so I want to sext and masturbate with J. He is often busy at work, and he's married with a family, too, so these opportunities aren't always available. I start inundating him with pictures of me getting into the shower. He says my nipples are begging for those clamps he picked out a few weeks ago. Before I head to lunch, he texts that I am fucking beautiful. I love all of this.
1 p.m. I feel euphoric as I head to my lunch date with an old friend. J is expecting naughty pictures from the bathroom. I excuse myself and take pictures exposing my body and touching myself. When I am back in my seat, we discuss the past summer, trips we have taken, and what the kids are up to.
4 p.m. I finally get home, and I am so turned on. We have basically been sexting since 9 a.m. with breaks throughout the day, but I haven't had the opportunity to come, and I need to. I start reading back our exchanges and grab my favorite vibrator. J texts me through my orgasm, and I send him some videos. He requests a picture after my orgasm and tells me I am gorgeous — even more so after coming hard for him.
7:15 p.m. Husband is home, and I suggest sushi around the corner for dinner. We have a great family dinner, and I am feeling I can handle the next few weeks of stress, especially if I can have a few indulgent experiences like today.
9:45 p.m. I send J one final text. I express my appreciation for providing me a type of comfort and stress relief not many people would understand without judgement or shame. He responds that he is honored I allow him to understand me like he does.
DAY THREE
7:30 a.m. J usually sends me the first message of the day, but I want to beat him today. I am feeling a bit self-conscious about how much time he dedicated to sexting with me during the workday. I don't want to become a burden. I wish him a good day and hope he isn't behind on work because of yesterday.
9 a.m. I head to the park for a hard run.
10:30 a.m. Coffee with my friend who knows about all my inappropriate behavior. I have told two friends about my online profile and how it has led me to several sexting (but not in-person) relationships. Both were initially shocked and concerned but not completely surprised. They know I am sexual and adventurous despite my outward "good girl" persona. It was a big secret to carry, and I wanted some support in case my husband finds out. These friends have very different opinions on how I should manage this new habit. One thinks I should sext with a variety of men so I never develop an emotional attachment and stay strictly online with distant men. My other friend suggests I fuck her trainer. I don't like either of their ideas, and I am content sexting with J. If he was local, this would be a full-fledged affair.
11:45 a.m. J messages me that he was indulging himself just as much as me yesterday and not to worry about work. We banter back and forth a couple of times throughout the day, and I feel good about everything.
4 p.m. I have a board meeting via Zoom and then a high-school open house. I need to get my mind back to my real world and out of my fantasy world.
9:45 p.m. I text J a poem I wrote, and I know he will read it in the morning. It was my writing that caught his attention online and then the nudes. He is incredibly intelligent, and I know he'll appreciate the poem.
DAY FOUR
8:34 a.m. J messages, "Good morning, gorgeous." I respond with two pictures from my gym's bathroom. The first is of my face and the second is of my tits.
11:10 a.m. Needed to run some errands and ended up by Victoria's Secret. I see I have a text from D, a former sexting partner. I was infatuated with him, but he doesn't have the depth I crave. For some reason, I ask him if he wants to go lingerie shopping with me. I'm having fun looking at things and sending pictures for his opinion. Three of them are very sexy while the other two are more delicate and feminine. He tells me he likes the feminine-and-delicate ones.
6:47 p.m. Dinner at home with the family, and my husband still isn't quite grasping the fact that I need to leave town. Both the kids are really busy with sports, school, and the high-school application process. I am pissed at him but don't have the energy to get into it. I just retreat to our bedroom.
9:30 p.m. Kids are busy, and my husband is watching sports with no clue what I am doing. I take a bath and decide to take some nudes. These pictures are different from the ones I post online. For those, I take multiple shots, trying to achieve my most flattering angles. Tonight, these pictures are just for J with no intention to share them anywhere else. It is a full-frontal nude, and I send it to him with a message that I wanted to say good night, just me and my soft body.
10:10 p.m. J messages back, which is late for him. "I fucking love your body. Every single inch of it." No wonder I am doing this shit. I have never heard anything close to this come out of my husband's mouth.
DAY FIVE
8 a.m. I hit the park for a run to expend the anxiety and sexual frustration I have. My libido is seriously insane. My husband and I are having way more sex since I started posting to my online fetish account and sexting with men, but I honestly can't seem to get enough. He has noticed how horny I am, and I have been asking for more specific things in the bedroom. I feel as though he is reaping the rewards of all my bad behavior, which makes me feel a bit less guilty. Maybe this is good for our sex life?
10:30 a.m. I have a few hours to get ready for a fun, boozy birthday lunch. I am looking forward to this lunch with this group of women, but none of them has any idea what I am doing. I enjoy this illicit behavior and having this secret.
12:30 p.m. Throughout the afternoon, I send graphic photos of myself using some of the items J selected online. He loves it.
2 p.m. Branzino, bottles of Sancerre, and lots of laughter while I sneak away a few times to take naughty pictures. J basically writes me an erotica story throughout the day. I love his language. I tell him I want to actually fuck him. He says he feels the same way.
3 p.m. I hop in an Uber and just want to be alone so I can reread all my messages from the afternoon. My husband is coming home early, and we are going to start going over logistics for the next few weeks. I typically have trip anxiety, but this is next level. No clear return date, just me and my dad, which carries its own stresses. I need to focus and get things in line before I leave.
10:45 p.m. My husband initiates sex tonight. It is usually me, but he may want to fuck before I am gone for two weeks. At the height of the COVID-19 lockdown, we barely had sex monthly. Now we are averaging two to three times a week. He has never really asked why, but then again, I haven't offered much of an explanation.
DAY SIX
8:27 a.m. J messages. He hopes I am feeling okay. I need to focus on packing and getting ready to leave.
12 p.m. I am in a foul mood. If I get my suitcase packed, I will feel less stressed.
4 p.m. I pack some new lingerie. I want to wear it for J or at least take pictures to post online. I am still posting naked pictures a couple of times a week. It has become an addictive habit.
8:45 p.m. I FaceTime with my dad and make plans for my arrival. Seeing him stresses me out. We typically keep our visits to four days max, so this is going to be an experience.
DAY SEVEN
11 a.m. I want to be really present with my husband and kids. I am going to miss them; this is the longest I have ever been away from my family.
3 p.m. I arrive at the airport. I am determined to be the best advocate and caregiver for my dad. I can do this. I have to — there is no one else.
6 p.m. J checks in. His text is nothing too crazy. For some reason, I get the feeling this is the last message I will ever get from him.
Want to submit a sex diary? Email sexdiaries@nymag.com and tell us a little about yourself (and read our submission terms here.)