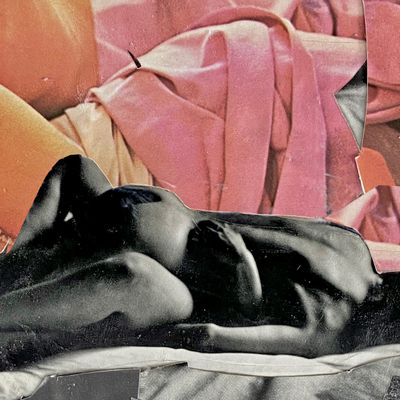 Photo-Illustration: James Gallagher
A woman sleeping with multiple men (and telling her main squeeze about everything she gets up to): 34, single, Michigan.
DAY ONE
8 a.m. I've been lucky enough to spend most of the pandemic at my family's estate in Michigan because I was worried about staying in New York. It's technically a farm; my parents bought it 20 years ago. This is my last week here. I broke up with my long-term partner at the beginning of all this and, well, I'm pent up. If I could, I'd have sex every four hours every day of the year — that's just how I am.
11:30 a.m. A group of my old friends are visiting for the long weekend from a nearby midwestern city, and it's the first gathering we've had in many months. Everyone got tested before coming, and we're mostly hanging out by the pool in face masks. I've been sneaking around for hours now with the chef at my family's estate, a man I'll call R. He kissed me this morning while our friends were otherwise occupied. It was startling and good. We've known each other for eight years and he's been on my 'maybe' list for a while now.
3 p.m. F, a beautiful, caring, nonmonogamous, kinky as fuck 31-year-old man I met online in April is texting me updates about his day: climbing things, working out, eventually wearing some lingerie. "I think I'm going to fuck R," I tell him. "You should!" I ask if he's sure. "You know I don't care about things like that. Be happy."
4 p.m. R and I spent the day coming up with 'errands' that left us alone in semi-private spaces to have sex. I haven't had sex in more than 30 days and it feels so good.
7 p.m. At dinner, I'm dazed and dehydrated, and it's hot to watch him cook for our friends and my family in our beloved kitchen. He keeps handing me glasses of wine, which are not helping me be discreet (or coherent). I'm a lush and a terrible sous chef, but my fingers are intact and dinner is glorious.
11 p.m. Late at night, we walk the property and end up on yet another bed. Finally, he comes all over me; he hasn't all day despite my countless orgasms.
DAY TWO
8 a.m. When I wake up there's already a text — "you up?" R's awake early and stuck in the kitchen with my parents, making breakfast and small talk. It's an odd morning, and I am wildly hungover because of the fucking and the wine. I don't want to get up, but I know I should. The house is quiet; it smells like the bacon he brought with him.
9 a.m. I join in the cooking (to an extent), gluing myself to the espresso machine. My parents leave the room. He touches me in all the right ways — through my clothes, under my clothes.
10 a.m. I sneak to his room and text, 'I'm in your bed. Why aren't you here.' He shows up after making an excuse to go 'get something.' It's totally obvious, but I don't care. His hands are in my pants again, and I give in to the sensations. "Are you seeing anyone?" he asks. I tell him I have a lover who's important to me in New York. He asks if I told him, and I let him know I did.
4 p.m. We sneak off for one last fuck while we "pick up his stuff" and everyone heads home. We plan to meet tomorrow at a hotel.
5 p.m. I am spent, but I go for a long swim and a hike anyway, texting F about the sex I had with R.
DAY THREE
11 a.m. I pack up and leave. I have a several-hour road trip back to New York ahead. I own a PR company, and incessant calls from my staff and clients mean I'm on the phone the entire time I'm driving. I pull up outside a random hotel in the middle of nowhere and meet R in the lobby. We check in at reception while his hands are on my ass.
5 p.m. We have sex for an hour and then he insists on dinner — he's found a great little date spot where we can be six feet apart from everyone.
8 p.m. Wine appears over and over again, and the date is unexpectedly lovely. I hadn't thought about actually dating him before, but now I don't know what to do. He's very monogamous and not very kinky but … something's there. Or we're both so lonely right now anything like this seems perfect.
9 p.m. We retire to the hotel and fuck-cuddle for awhile. I don't remember falling asleep.
DAY FOUR
9 a.m. We dawdle, showering together, eschewing room service to walk around and find something open for breakfast.
10 a.m. We're both dancing around one another, trying to figure out what this is — if it's anything. I don't tell him I have a date tonight in New York. But I'm so sore I can't even imagine fucking anyone else. Not for a few days.
2 p.m. We part ways — I drive east, he goes north, searching for some sort of famous hot dog. Halfway to the city, I text J, my date for the night. "I can't," I say to him. "My lover last night destroyed my pussy." "Cool, but you owe me one," he writes back. We're friends who sext more than lovers at this point, and I think it's going to stay that way.
6 p.m. My apartment feels like a foreign entity, emptied of most of the stuff that's important to me.
7 p.m. F sends me a photo of his legs in hosiery — he's really into cross-dressing — and I spend some time giving him instructions about what to do with himself. He's beautiful. I find my Hitachi for one last orgasm and fall asleep with the vibe still going between my legs.
10 p.m. I wake up to a text from R telling me he had a good time.
DAY FIVE
9 a.m. I reorganize my life a bit and get through an incessant series of calls.
4 p.m. I have yet another date tonight, this time with someone I don't intend to sleep with. He's dating a young woman and starting a business, and I like him a lot. He flirted with me because he thinks he wants someone like me as a play partner, but I think what he really wants is something of a mentor.
6 p.m. We meet at a Mexican restaurant for tequila, and I spend most of the meal masked, drinking through straws.
9 p.m. I text F about my date. R doesn't write.
DAY SIX
10 a.m. S, my masseuse, has a slot open in the afternoon and I text J, the guy I was supposed to meet up with the other night: "Hey, so random question but can you get off work early to come over for massages?" It works out, and our evening plan becomes massages and nudity at my place.
6 p.m. The person who hosts the event where S and I met has started hosting private events again, and I don't think he should have. S says he's planning to go to one of them, and I say I think it's too soon. J is practically bug-eyed. He's just filing for divorce and I am like no woman he's ever met, which is part of the fun.
7 p.m. S keeps grazing my body in a way that makes it clear that we could make this a threesome if my guest was so inclined. He's not. The massage is excellent as always, and the minute S leaves, J is all up in my business.
9 p.m. I show him how to make me come, but I'm not really into the sex, and he's not really sure what to do. Eventually we give up and head out to dinner.
10 p.m. I text F everything about the night.
DAY SEVEN
9 a.m. I'm texting with all three of them — R, J, and F — as I work and pack up my apartment. I'm spending the last days of summer at another summer house I rented.
10 p.m. I have been trying to pack and leave all day but don't get out of the house until very late, arriving at my new place at midnight.
12 a.m. I can barely sleep. Tomorrow I will see F; he lives out here. I force myself not to text him to ask if I can come over tonight. I'll have to wait until morning.
Want to submit a sex diary? Email sexdiaries@nymag.com and tell us a little about yourself.