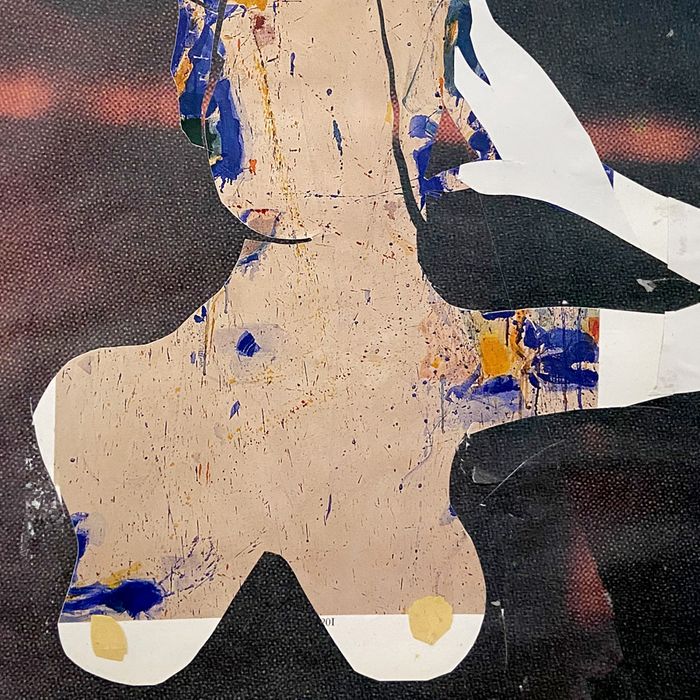 Photo-Illustration: James Gallagher
This week, a newly adventurous woman hooking up with various men from Feeld — and telling all her friends about it after: 29, single, Los Angeles.
DAY ONE
7:05 a.m. I wake up to a text that says, "You are very sexy," from O, who I met a few months ago on Feeld. He knows I love praise. I'm turned on and still in bed, so I take out my vibrator for a quick orgasm.
8 a.m. I sit down at my desk to start my day. Six months ago, I started working remotely as an exec at a New York-based start-up, so my teammates have been going for a few hours.
11:30 a.m. I get a text from A, who I met on Raya. We're supposed to go on a first date tonight, but we haven't made concrete plans yet. Part of me was hoping he wouldn't follow up so I could stay in and have a low-key night, but I work from home, live alone, and he's very tall, so it wouldn't hurt for me to go.
8 p.m. A offered to pick me up on his way to the club, but he's stuck in traffic, so I've been lying on my bed listening to a podcast fully dressed and with makeup on for 45 minutes.
11:50 p.m. I'm finally back home. A didn't do anything wrong, but trying to hold a conversation with him was like was pulling teeth. I swipe on a few dating apps in bed to remind myself that there are other guys out there before falling asleep.
DAY TWO
10 a.m. I go to a boxing class in the morning, and drive past my ex's house on the way home, which reminds me to text him to confirm that he can watch my cat while I'm out of town. I've never been on such good terms with an ex before, but I've also never been so over one. We started dating right as the pandemic hit, and got very serious very quickly. I'm so grateful that I had him in the depths of lockdown, but we started unraveling as soon as we got vaccinated. By the end, I honestly thought sex just might not be for me, and now I can laugh at how wrong I was.
A few weeks after we broke up I started what my friends call my "sexual awakening." For the first time, I decided to date not for relationships, but just for fun, connection, and sex. I downloaded Feeld a few months ago and have learned a lot about the spectrum of sexual preferences, how to be comfortable with my own sexuality, and what I'm into. I've been exploring bondage and submission, and I've also discovered how sexy and confident I feel sexting and sending nudes. I'm proud of how I've come into my own and shed the shame I had. It's led to the best sex of my life by far.
1:15 p.m. I go on a walk and call my best friend, D, to catch up and talk about my date tonight with F. They went to college together, and I actually met him nine years ago through D. I saw him on a dating app when I first moved to L.A. three years ago and we went out back then. I remember ignoring his texts after and feeling guilty, but enough time has passed that I don't remember why. He slid into my DMs last month, and D convinced me to give him another try.
I'm still figuring out how the new sexually confident me fits with the "dating" me. I've mostly gone out with people from Feeld the last few months, and everyone is direct and open, so I don't feel uncomfortable talking about sex or what I'm interested in with them.
5:15 p.m. F picks me up, and we get an early dinner before seeing Licorice Pizza. I had a ton of fun at dinner catching up about the last few years, talking about music, and work. We were cutting it close for the movie, and he decided to valet because he was getting nervous about being late. I'm not sure why, but I found his anxiety endearing.
9 p.m. When he dropped me off, we had an awkward moment where I hugged him good-bye, and he went for a kiss. I don't know why it's so awkward for me — I can ask a guy to tie me up, but I can't navigate the first-date kiss?
DAY THREE
11 a.m. Meet friends for a hike in Malibu, and stop for some food on our way home. My friends love hearing about my love life, or more accurately sex life, but last night was pretty tame.
While we're all hanging out, A texts me. He's in an open marriage; we met on Feeld. We texted and sexted almost constantly before we first met a few months ago. I was the first person he slept with outside of his marriage, which I found really hot. We're very open with each other, but there's a lot about his life I don't know about (and don't want to).
5 p.m. I haven't heard from O, who's been at a wedding, but I'm going to be in his neighborhood, so I text him. He's not back yet, so sadly I won't be having sex tonight.
7 p.m. I head to my friend P's apartment in Silver Lake. We've known each other since high school, but lost touch until she moved to L.A. recently for a job. We talk about how even though our all-girls high school had very progressive sex ed, we still have so much internalized shame around sex.
DAY FOUR
10 a.m. Still texting A. Not making plans though; it just so happens that he's been to the small town in Mexico that I'm going to with friends in a few weeks. He sends me a few Instagram pages of restaurants he recommends, and I see all the disappearing pictures in our messaging history. It's been a while since we were sending nudes, and funny to see how far from that our conversation is now.
2 p.m. One of the side effects of working jobs with high-stress moments for years is that it can be hard to motivate myself without them. I'm surprisingly productive today though, and want to remember this next time I'm shaming myself for not working enough.
6 p.m. I make dinner while texting with O. We talk about the wedding, L.A.'s penchant for awful lawn decorations, and lots of random other things. He's kind, witty, and makes me laugh. He seems really comfortable with himself, which is so attractive. He's one of the only people I've met on Feeld that I could see myself dating.
9 p.m. Fall asleep smiling, thinking about my connection to him and our incredible sex.
DAY FIVE 
8 a.m. Good thing I had a productive day yesterday because it's pouring, and I believe you can't do anything when it's raining in L.A.
10:30 a.m. O texts me about the rain, and wishing we were cozy and making out together. I get turned on, and realize we could make this a reality. I ask him if he wants to play hooky with me, and he says yes! I finish up what I'm working on and make a lame excuse to my team that the rain knocked out my Wi-Fi. I have butterflies in my stomach the whole drive over.
12:30 p.m. Get to O's, and he immediately starts kissing me. I know it's rather PG, but I love a good make out. We move to his bedroom and he goes down on me. He gives great head and loves doing it, which I obviously love, too. When we first hooked up, he told me he doesn't usually like getting blowjobs and having all the attention on him, but he clearly likes when I do it.
I get on top of him, and we start having sex. We go at it on our sides for a while, and then he puts pillows under my hips and fucks me from behind. He plays with my ass while fucking me, and I love it. We take a break, and end up back on the couch and start fooling around again, and I ride him until he comes.
3:30 p.m. The rain stopped, so we go for a walk. When we get back, we sit on the couch and get in one of our favorite positions: me sitting in his lap facing away from him. We kiss over my shoulder, and he fingers me with a view of my breasts. I have a great orgasm, and we lie on the couch for a while before he heads out for dinner plans.
5:30 p.m. Call my friend Z while I'm driving home, and I gush about my day with O. Hearing myself talk to so freely about sex makes makes me realize how much I've changed in the last few months, and I feel a bit of pride.
DAY SIX 
8 a.m. Unsurprisingly I've got a lot to catch up on today at work. I don't mind though; I feel like I'm still on a high from yesterday. I give my friend G a play-by-play of my evening via voice notes.
2:30 p.m. One of the pluses of working remotely and on a different time zone than my team is that my afternoons are flexible, and I can use them however I please. Right now, that means I take a break to masturbate often. It's a real stress-reliever for me.
3 p.m. I go into my room, turn on my vibrator, and pull up some BDSM erotica. I've been into BDSM porn and erotica for years, but I had never considered bringing the interest into my actual sex life until now. I take my time to find a story that I like, and come twice on my vibrator while reading it.
7 p.m. I make myself dinner and text with F to coordinate our date for tomorrow night. He remembered that I like orange wine, and suggests an Italian place with a good selection. I love when guys admit to paying attention. I feel like it's so rare since so many people subscribe to a "the less you care, the cooler you are" mentality.
DAY SEVEN
7 a.m. I wake up to a message from J, who I had a fun night with a few weeks ago. He texted me late last night proposing a threesome. It's obviously too late now, but I love that I'm now the kind of girl who gets propositioned for this sort of thing.
9 a.m. O starts texting me, and we replay our favorite parts of the sex we had a few days ago. His birthday is next week while I'm out of town, so I ask him about his plans. As an absolute birthday monster, I can't help but make a big deal out of everyone's birthdays, whether they like it or not. I start brainstorming what I want to do for him when I'm back.
1 p.m. I get a break from work, and I'm still turned on from my conversation with O, so I get in bed to masturbate. Later I go for a run, shower, and get ready for my date with F.
7:30 p.m. At dinner, I start to realize he's a bit odder than I remembered. I want to give him a chance though, so I invite him back to my place for another drink after dinner.
9:30 p.m. I make us drinks, then we sit on my couch and talk about music. He goes in for a kiss in a not-at-all smooth way, and he's not a great kisser. Again, I chalk it up to his being nervous.
10:30 p.m. We move to my bedroom, and he starts to relax a bit more. I start to give him head, and he comes within 30 seconds. He apologizes profusely, and I wouldn't normally have an issue with it, but I can't help but feel like I'm over bad sex. Not that I've found someone yet who I have incredible sex with and simultaneously want to date, but I know I don't have to settle for one or the other.
Want to submit a sex diary? Email sexdiaries@nymag.com and tell us a little about yourself (and read our submission terms here.)