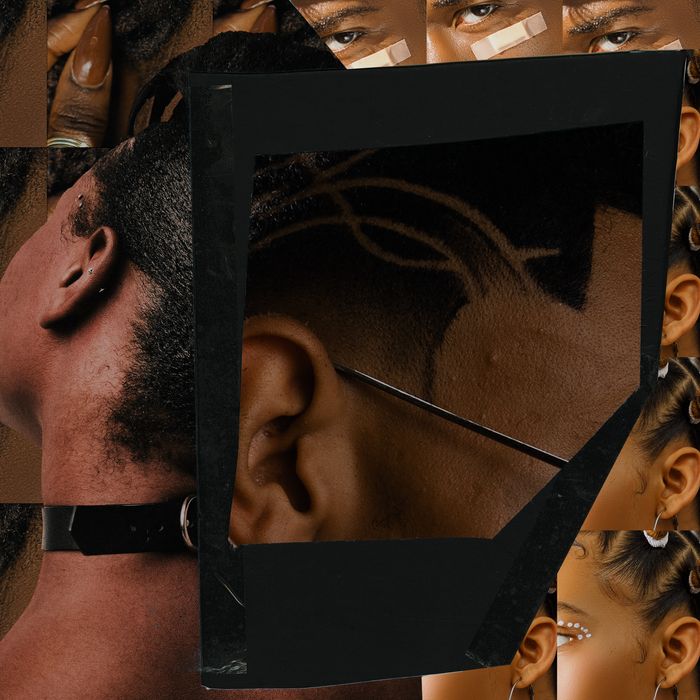 Photo-Illustration: by Marylu Herrera
This week, an aspiring writer tries to decide between two men he's seeing: 23, single, New York.
DAY ONE
1:32 a.m. Just got home from my second date with G. He's 29, recently out of a relationship, a friend of a friend. He's sweet and communicative, though last night the conversation was a little stilted. Still, the sex was surprisingly good. We had penetrative sex and I actually enjoyed it. It was easy; it didn't hurt. I was surprised because it was first time in about a year.
10 a.m. Roll out of bed.
10:20 a.m. I shoot off a couple texts: One to E, my gay college friend, about last night, and another to G, to say we should hang again soon. I'd like to see him again, though maybe next week. My work schedule is packed. I'm a waiter at a neighborhood restaurant in Bed-Stuy that used to be cool but is now sort of lame. We seat until 10:30 p.m., so I'm always there pretty late, past midnight. This week a few servers are out on vacation, so I'm filling in.
10:30 a.m. I also text P, the other guy I'm seeing. He's my age, an actor, and recently moved to the city. Talking with him couldn't be easier. I haven't had a boyfriend before, and think I'm ready for a relationship. P might be the one, though we haven't hooked up yet.
2 p.m. Ran away to a café to work on some writing without roommate interruption. I'm reaching a turning point in my life where I'm learning to prioritize my writing, and it's making things a little crunchy with my two roommates. We're best friends and like to hang with each other, but I'm beginning to want a more structured lifestyle.
4 p.m. Finished writing and now cruising Instagram. A well-known gay writer posts a thirst trap with an invite to a Fire Island party. DM for address, it says.
7 p.m. At work. It's a slow night so I fantasize about my last date with P. We went out dancing, and he sang along with the music into my ear.
11:11 p.m. P is texting me about finding restaurant jobs. I give him some pointers.
Midnight Go home and pass out.
DAY TWO
10 a.m. Sleep a little late, trying to rest after a late night at work.
1 p.m. Write a bunch of pitch emails but don't send anything off. I don't believe in them enough yet.
3 p.m. At work. I spend a little time agonizing about whether or not to text P. I end up not. I consider messaging G but then decide I'm bored by him. He's nice, and I like to date older guys, but he's kind of in a weird place — I was his first date since his breakup.
6:08 p.m. Ignoring my tables at work and feeling sappy. I just realized today marks two years living in New York. I was sleeping around my first couple months living in the city, but it wasn't for me; I'd like to treat sex casually, but there's been some sort of mental block. E recently visited and they met up with someone from Grindr almost every night of their trip. I was jealous but also relieved. I don't know what I want!
7:35 p.m. Still at work. It's 97 degrees tonight. A gay Italian couple sits in my section, and one of them has unbuttoned his shirt to below his sternum. Each time he leans over his plate his nipple shows. It's kind of hot, but then they're both rude to me.
1:23 a.m. Home. P sent me a wholesome selfie. I spend way too long trying to take one in return.
DAY THREE
9:36 a.m. Dreamed I wrote 500 pages of a novel in eight days.
11:22 a.m. Agonizing over pitch emails. I feel like I don't know what I'm doing and I hate it.
1:33 a.m. Sent a pitch email and feel wired and manic. Now I'm on Tinder. After you've been on an app for a couple years in the same city, you start to recognize faces. I swipe for a while, but I'm not really looking. I'm just bored, and using the apps is more of a game than actual dating.
5 p.m. Been swiping on and off all day. Some days are just like this. I get ready to head to work for the rest of the night …
DAY FOUR
10:37 a.m. Lying in bed, thinking about ending things with G. He hasn't texted since our hookup, and I don't want to text him. I just feel like he's hard to connect with. P, meanwhile, is easy. I think I've already made my choice, but I decide to keep G around for something casual.
11 a.m. Thinking about how I always have to choose between two lovers. The last time this happened, I became enamored with a rising star in the literary world, and broke up with a charming publicist I was seeing. Then, on the second date with the lit star I got the ick from his excessive cologne and sloppy kisses, and decided to end things with him. I'm so good at this, right?
12:55 p.m. P texts. We make plans to have a movie night. I wonder if this will be our chance to finally hook up? I'm not sure what P wants from me.
8:19 p.m. Preparing for the movie night: trimming hairs and a cold shower. I don't douche. I say it's on principle — that our bodies are bodies and they will do what is natural, and if natural happens, then you'll clean it up — but really I'm just lazy.
Plus, I only tried douching once, and didn't enjoy it. It was in a frat-house bathroom with the orange-and-green Gatorade squeeze bottles used on sidelines of college football games. That time was enough!
12:52 a.m. P and I sit through a two-hour movie and then watch several Architectural Digest home-tour videos without as much as a kiss. My mind is racing: Is he a virgin? A serial monogamist? Does he have to be in love to fuck? We kiss good-bye outside, which tells me I'm not being friend zoned.
1:07 a.m. Home. P texts: Next time, let's do dinner. Oh. He wants to date date.
DAY FIVE
11:49 a.m. Thinking about P. Wish I was with him. I like the sound of his laugh.
2:01 p.m. G finally texts. He asks to hang out on Wednesday. I'm not working, but I don't respond yet.
5 p.m. At work trying to figure out how to respond to G. I don't really feel like hanging out with him. Maybe we could do a movie? Botanical Gardens? Ugh.
DAY SIX 
10:59 a.m. Wake up late again, tired from working into the night.
1 p.m. Finalize plans to hang with my friend L for an afternoon coffee. L has a boyfriend, but we have a history of flirting. I spend time getting ready because I want to look good for him.
3 p.m. Walking back from a quick coffee hang with L. Short, because he had to get back to work — he's a website designer, and his latest commission is from a failed artist. We talked about his apartment hunt, my love life. I worry aloud that P is too basic. L shrugs. That all can change. It's easy to think of reasons to run.
4:30 p.m. Send off another pitch email. Feeling antsy so I decide to attempt making tortillas in the couple of hours I have left before my shift. I finally respond to G with a vague but committed: Let's do it.
9 p.m. G responds. He wants to get dinner. When am I going to find time for all these dinners?
DAY SEVEN
11:58 a.m. My roommate and I trek to Cooper Park to play tennis. I don't really know how to play. Mostly I like to wear cute outfits and sit out at Win Son Bakery afterward. A guy walking his dog stops to watch our game. His dog finds the ball I thwacked over the fence and into the hydrangeas earlier. They play fetch. We keep locking eyes. I'm pretty sure I'm being cruised.
1:16 p.m. P sends a meme. For dinner tomorrow, G suggests a restaurant that projects movies in the background. Phew, something to distract from the dry conversation.
2:56 p.m. My boss texts. A server is out sick and the restaurant needs coverage today and tomorrow. Now I have an out from dinner with G. I could text him and cancel … It would be so easy! But I don't. Instead, I tell my boss I can't come in, I have plans.
3 p.m. At the doctor for a routine checkup. It's my first time going since the pandemic. I want to be babied and walked step-by-step through these sorts of adult responsibilities. But I also want to come across worldly and knowing. The nurse asks if I need to be reminded how to complete an anal swab for a routine STI checkup. I got it, I lie.
4:19 p.m. Leave the doctor. I feel anxious, angry, and helpless — I didn't even know what questions to ask, what tests to get, any of that. I just feel so young and stupid.
6 p.m. Nothing will fix my mood; not a walk through Brooklyn Heights, not a cookie from a trendy bakery, not a hand-rolled cigarette at the promenade. I walk behind a gay guy in a good pair of shorts. I want to ask him where he got them and where he goes to the doctor.
8 p.m. G texts to confirm our dinner. I respond enthusiastically. For the first time all week, I'm excited to see him.
The Sex Diaries column, which began in 2007, is the basis of a new docuseries on HBO.
Want to submit a sex diary? Email sexdiaries@nymag.com and tell us a little about yourself (and read our submission terms here.)