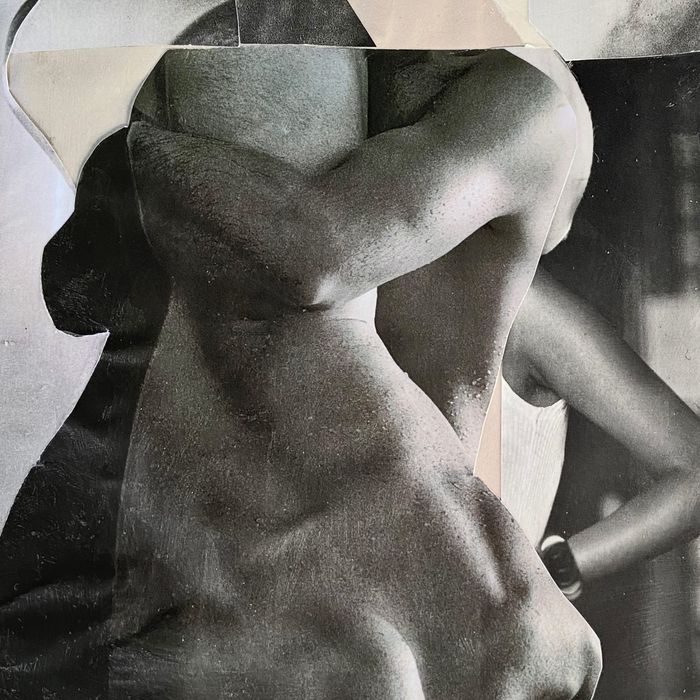 Photo-Illustration: James Gallagher
This week, a woman who isn't catching feelings for any of the people she's seeing: 28, single, New York.
DAY ONE
9:50 a.m. Jenna has already texted to see if we can hang tonight. I've blown her off for the last few weeks, and I feel really bad about it. I'm just so much less excited to see her than the other people I'm dating, all of whom I've met on dating apps. She's so much nicer than the others, and she's a baker (which means free treats), so it's totally messed up that I'm not that interested. We met just before the pandemic started and only just started seeing each other again. Not sure how long that will last, though.
11 a.m. I have a stupid amount of work due today. I'm a lawyer, and because of the nature of my clients, we're busier than ever right now. I go into my home office and try to keep my head down and focus.
2 p.m. Rob texts. He's one of the assholes I'm more excited about than Jenna. He's a banker I've been seeing off and on for about a year now with spurts of more-frequent heat and periods of "I wonder if I'll ever see this person again" distance. I'm into him because he's cocky with a great dick; we like to party and have fun. Jenna is more poetry and artisanal cocktails —sweet but not as exciting.
9 p.m. Both Rob and Jenna want to hang, but I have to work late tonight and when I'm done working, I'm very, very tired.
DAY TWO
9:30 a.m. Jenna is already trying for tonight! She asks if I want to do some virtual wine-and-cheese tasting with her. I tell her the truth which is that I want to run a few miles after work and that's the only goal. She offers to come over and give me a massage after my run; she gives terrific massages. I tell her it's a date.
5 p.m. Work is long and draining. I don't really like being a lawyer, but then again, I don't think most lawyers like being lawyers.
6:30 p.m. Start jogging. First I listen to podcasts but that's not giving me the energy I need. I switch to Hamilton — that works.
9:30 p.m. Jenna comes over and gives me an amazing massage, which leads to a great night of fooling around. Nothing crazy. I go down on her and she has an amazing orgasm and then she goes down on me and I have a pretty good one too. As she leaves, however, I kind of know that I won't see her again. Hanging out together feels like too much of a chore. I'm not sure why.
DAY THREE
11 a.m. Jeff, another guy I've been on a couple dates with, texts that he's around and would love to take me to dinner. I like Jeff a lot. He's cute, smart, funny, successful … and a Scientologist. I guess he's a Scientologist-light, but it's still a part of his life. He doesn't like to talk about it, and I don't want to make him feel judged. I'm very curious, but I tend to bite my tongue to keep from asking more about his background and growing up in the church. I know his entire family is pretty active in it.
7:30 p.m. We meet up at a tapas restaurant and sit outside, of course. Jeff looks great, and I love the way he smells. It's good to see him and not tedious the way it is with Jenna. We drink a lot of Sangria.
11 p.m. We go to his place inside a pretty brownstone and have sex. It's not wild sex but it's regular, straight, "throw on a condom and fuck me" sex, and it feels good. I get off.
DAY FOUR
9 a.m. I'm tired and feel a little weird about last night. I like the idea of casual sex, but sometimes the sex hangover makes me feel unsettled and anxious. I decide to send Jeff to the land of Jenna, which is to say: I'm not going to see him again.
5 p.m. That leaves Rob, the douche banker, but the one I have always wanted most of all. When I'm with him I feel like I'm part of a famous couple in a TV show, as if I'm the bitchy hot bisexual and he's the hot dickhead banker. Our sexual chemistry is off the charts, and we get each other in ways that no one else ever will.
5:15 p.m. I text Rob that we're getting drinks tonight. He writes back instantly, "Where?" I pick a place near me.
8:30 p.m. Getting drinks with Rob is refreshing as always. He's funny and sharp, and I feel entertained by him rather than drained by him.
10 p.m. We go back to my house, and I decide that since I just had sex with Jeff, I should keep it classy and just blow Rob. No sex in my body tonight. So I do it really exceptionally, and everyone goes home happy.
DAY FIVE
9 a.m. Outdoor yoga class. Feels nice to do something kind of normal — even though the masks are not great for deep, meaningful breathing.
11 a.m. A long walk that ends with brunch with some girlfriends. I'm definitely the one who has all the good hookup stories. I'm not ready to settle down, and my work is too demanding to allow me to focus on serious relationships; for now, casual hookups are the best I can do.
4 p.m. I text with a woman I met online a long time ago, Lila. She was in L.A. back then, but she's recently come back to New York to do some modeling. She just flew back, so she has to quarantine for another week before doing anything. I'm excited to meet her in real life though.
DAY SIX
9 a.m. I wake up to a long text from Jenna that she feels abandoned and like I cut her off with such insensitivity. Since we last saw each other, I've been slowly ghosting her, writing back every three or four texts without much enthusiasm. I assumed it would just fade. I want to tell her to get over it!  Why would you want to be with someone who doesn't want to be with you? That's a dynamic I'll never understand.
3:45 p.m. Rob wants to hang. Of course he does — I blew him to pieces in my kitchen the other night and wanted nothing in return. I knew we'd be hanging out tonight before he even asked. I tell him I'm game.
6 p.m. We meet at an outdoor bar with good burgers and start drinking and flirting. It's fun. After a while, I feel a little bloated from the beers and burgers and decide I won't be hooking up with Rob tonight.
8:30 p.m. "Dude, I'm super tired," I say, giving him the hint. He looks bummed but says it's all good and walks me home to my apartment, holding my hand. A very non-douchey move on his part.
DAY SEVEN
10 a.m. My new vibrator arrived today. I ordered it online after reading recommendations. I take it out of the box, and it's so beautiful. I decide to imagine a threesome with me, a beautiful woman, and a man with a huge dick. My imagination goes crazy and I get off after a few minutes. After, I fall asleep and nap for a while.
6 p.m. No one is trying to hang out with me tonight. I might have to find myself a new crop of crushes.
Want to submit a sex diary? Email sexdiaries@nymag.com and tell us a little about yourself.