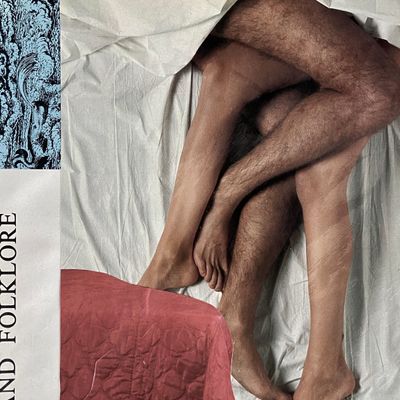 Photo-Illustration: James Gallagher
A woman tanning naked while working from home and pining for a man she loves but has never had sex with: 33, single, Montreal.
DAY ONE
10 a.m. I invited a guy over for a quickie after we matched on one of the apps last night. When he arrives, I see that he's cute just like his photo. He's ten years my junior, with a mischievous smile. We have our way with each other in the living room and then my bedroom.
12 p.m. I lounge in the park with friends, take mushrooms, and soak up the sun. It's been so long since I've been properly social, I forgot how nice it is to be around others. Especially others who are as fabulous as this crew: a model turned interior decorator, a footwear designer, and a graffiti artist visiting from Toronto. We stand out in the crowd of "outdoorsy types" that lines the rocky shore of the St. Lawrence River. After a while I Uber home to shower and change.
6 p.m. Uber to fuck buddy No. 2, The Gymnast, who I also met the night before on an app. This one is my age, extremely tall at 6-foot-6 and absolutely handsome as hell. I wanted him to film me while he fucked my mouth, but he clearly hasn't done that before. We have very different definitions of what "naughty" means.
Although sex with multiple people in a day isn't my usual weekend activity, it has happened on several other pre-COVID occasions. However, sex with multiple people at once is fairly regular. What can I say, threesomes are my favorite. Until now I've only been with a man and woman; I look forward to the day when I can have two men at once and throw wild orgy parties at my fabulous future loft in Berlin. Most men who say they'll fuck you with another man end up backing out. This has happened at least five times. Although maybe they're scared because I always want to film it…
10 p.m. Stroll home along the canal, still high on mushrooms, delighting in the two fucks of the day.
DAY TWO
8 a.m. Rise and shine and go for a run. Nothing feels as good as a quick eight miles after a night of sex and a day of drugs.
12 p.m. Tan naked on the balcony for hours. Swipe through the apps. No, I don't care about the photo of you holding a fish. Match with a hot couple. Chat until I realize that no, they've never invited someone to join them before and no I am not looking to be their first.
4 p.m. I head to the grocery store; it's a small corner type place filled with the best local and exotic produce. I stock up on salicornia from the Dead Sea and mangosteens, origin unknown. I take a selfie of the hot outfit I wore to the grocery store to post on instagram because someone other than the cashier deserves to see how hot I looked.
7 p.m. My Instagram DMs are blowing up with past lovers, girlfriends, and wannabe lovers. I guess it was a hot outfit. One handsome friend requests my presence in Berlin to accompany him to a club. If only the world was open for travel and I could join … add to my "to do later" list and move on.
9 p.m. I go to bed, thinking of The One. Now, he's in London and I'm here in Montreal. No matter who I fuck, I always wish it was him. I don't know how much more being apart I can handle. We've actually never had sex; the first time we met we spent 48 hours together … just not having sex.
It was nine years ago at a hotel pool on Manhattan's Lower East Side. He was visiting New York for the first time. It was love at first sight and the universe has pulled us apart ever since. When the pandemic happened, I reached back out to him. He told me I was the one who got away and that if he could, he would marry me tomorrow.
He is the only person with whom I've had this kind of connection and not immediately slept with. I knew with him it needed to be more than just sex and until recently I wasn't in the right headspace for that kind of love. He is poetic and passionate, dark and intense, and so beautiful.
DAY THREE
5:15 a.m. Wake up, run, get sexy texts from The One.
7:15 a.m. I shower and imagine he is here with me: his hands caressing my body as the water cascades down my skin, holding me against the cold tile and sliding inside me.
9 a.m. The work from home life continues. My first ever 9 to 5 job started just before the shut down. By day I operate as an account executive for a business solutions company. It's just sales, but I'm good at it. In the short time I've been with this company I've received five promotions. One more to go and I'll have reached the top. Boring, but six figures and insurance makes it worth it.
12 p.m. The One and I are sending erotic art photos back and forth. I get so turned on I have to take a break and make myself come.
1 p.m. Tan naked on balcony.
5 p.m. Work is over, the only thing to do is roam the streets of my neighborhood, admiring all the shops that are closed that I plan to patronize as soon as they reopen.
7 p.m. The real work begins. Since lockdown I've been contemplating relaunching an old project — an anonymous sex blog. Two hours later I'm deep on a trip down memory lane, migrating content from the old anonymous platform to the soon to relaunch updated site. A change of the blog title and a whole lot of copy and paste has me longing for New York, past lovers, and future adventures. When can I sit at a bar and seduce a beautiful blond again? A man, a woman, or even better, a couple. Dating apps are becoming dull.
DAY FOUR
5:30 a.m. Same as Monday, but this time on my run I see the old man who sexually harasses me. Off to a great start.
5 p.m. Match with a super sexy man visiting Montreal for a month this summer. Yes he has a pool, yes he has a boat. Yes I think I would like to play with him.
7 p.m. Make myself dinner — bison burgers with a side of radish microgreens. Hold the bun, hold the ketchup, add extra wasabi vegan mayo. Later I bake an impromptu vegan, gluten-free banana bread because why not? While it bakes, I scroll through erotic art on Instagram and send messages to the artists I fancy most in hopes they'll be down to collaborate on the blog.
DAY FIVE
5:20 a.m. Same running routine, but this time I take a new route and fantasize about The One. Variety is the spice of life after all.
10 a.m. Boat Guy has now been added to the mix. We've only been chatting one day, but I can tell he is a man who knows how to get what he wants and is used to getting it. Could be fun.
12:30 p.m. More topless tanning. This time I take topless selfies to send to The One.
7 p.m. Catch up phone date with my bestie who is now in Chicago. I was supposed to visit this summer; who knows when we'll see each other next. The border shutdown is breaking my heart. We laugh about the crazy old times in New York. Running a boutique PR firm in our early 20s was a blast. Together we were unstoppable.
8 p.m. Continue migrating content from the old blog to the new platform. How did I write 96 posts before! This is way more effort than I'd realized and there are definitely spelling mistakes that need fixing; the joys of self editing and self publishing.
DAY SIX
5 a.m. Almost trip on my run checking out my ass in a window as I go by.
12:30 p.m. Lunch on the balcony, shredded chicken with a vegan basil pesto, hand crafted by yours truly, tossed with radish microgreens and extra pine nuts.
6 p.m. Boat Guy calls me. He has a lovely voice. We seem to be on the same page for the kind of kink that will go down up on his arrival. Things are looking up.
7 p.m. Drink a liter of homemade ginger-turmeric bone broth. My knees have been killing me since I began running like a maniac. Hoping this anti-inflammatory mix will rescue me. Nothing seems to help.
DAY SEVEN
5:15 a.m. Love the extra time I have in the morning since we started working from home. Make the most of it with another 7.5 mile run.
9 a.m. Final day of the week grinding it out at work. The sexts start early and this time they are with the Boat Guy.
12:30 p.m. He's keen to meet, and has moved his flight up by five days. Oh yes and he'll be bringing his kids, "You like kids right?" I mean, I do like kids, I just didn't realize I'd be meeting them. This fuck fest we'd been planning now suddenly sounds more like a "family vacation" than the kink of my wildest dreams.
5 p.m. This is my third week of physiotherapy and it's definitely helping. I perform back bends in hopes of loosening my lower back. My therapist inspects my movements and helps me relax the muscles to allow for optimal progress. I'm not sure if I like it for the relief it gives my knees or because it's the closest thing to regular human interaction in months.
6 p.m. With the work week behind me and multiple lovers on the go, things are almost starting to feel like normal. I'm deep in text land with all of them.
12 a.m. The One and I FaceTime while I'm high on mushrooms walking in the park. He is so handsome it's hard to focus on anything else. He is saying all the right things and I am swooning hard. Why does the world bring us together again while COVID forces us to remain apart?
Want to submit a sex diary? Email sexdiaries@nymag.com and tell us a little about yourself.