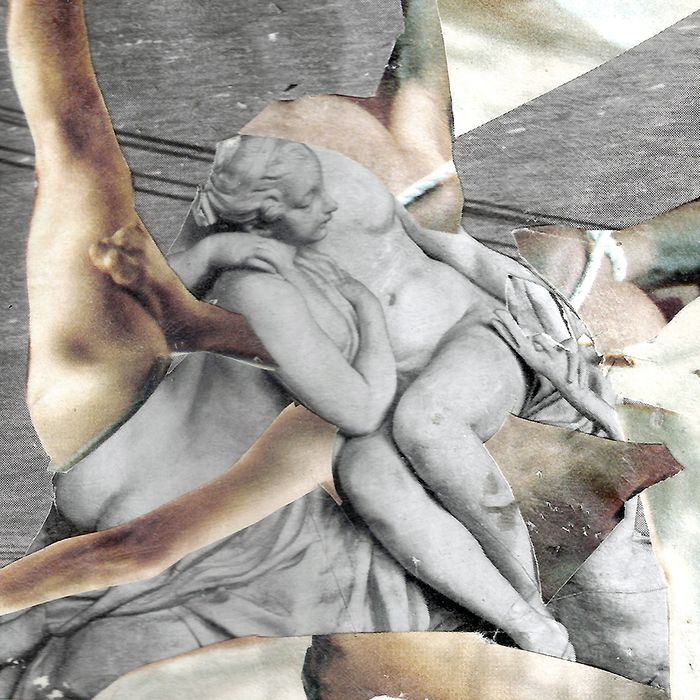 Photo-Illustration: James Gallagher
This week, an assistant to a Hollywood agent worries when the guy she's dating doesn't come home at night: 24, in a relationship, Los Angeles. 
DAY ONE 
8:15 a.m. I am an extremely light sleeper so as soon as Harry rolls over to cuddle me, I wake up. I love when we spoon like this. There's usually a 50 percent chance it'll lead to sex. This time, he jumps up quickly, closes the bathroom door, and turns on the shower. I consider joining him, but decide against it. We're at my place, as usual. He has a key and it feels like he lives here too sometimes.
Harry and I started dating six months ago after meeting at a party and we've been inseparable ever since. Things are pretty great, except when they're not. Which is … often. Harry's an actor, and while I love being with him, he's not exactly boyfriend material. He made it clear up front he wasn't interested in an exclusive relationship but I haven't been with anyone since him. It's not as much security as I'd like but I think it's worth it.
11 a.m. It's Sunday, so we take advantage of the perfect weather and go for a hike, mostly in silence. (It's a very comfortable silence.)
6 p.m. I'm sitting at the kitchen table prepping for work tomorrow when Harry asks me if I've made up my mind about his "proposition." His latest obsession is trying to convince me to attend a sex party with him. Apparently this bimonthly sex party is L.A.'s best-kept secret, and the next party is this weekend. 
Part of me wants to go just to say I did, but I'm apprehensive. I've never even had a threesome, so this group-sex type of thing feels like a big jump. Still, I know Harry could go out and have sex with any number of very beautiful women whenever he wants, so I may as well be involved. I tell him I'm still thinking about it.
10 p.m. We lie in bed watching a movie. We're both naked but not touching. Sometimes I feel like he's only affectionate when he wants to have sex. I lean into him to see if he'll move away. He doesn't. After a few minutes he says he's tired and turns the TV off. Disappointed, but also tired, I roll over and fall asleep.
DAY TWO 
7 a.m. My alarm goes off for work. I work on a high-powered agent's desk at an agency, and it's all-consuming. Harry's fairly successful, but there are wide stretches of time when he's between projects and does nothing all day. I leave him sleeping and head out the door.
1 p.m. I'm finally on my lunch break. I check my phone and open Hinge to see messages from some guys, and I debate whether to respond. Harry and I have never defined our relationship; it's because I know I want to be in an exclusive one, and he doesn't; bringing it up would expose that for both of us. So technically it's not "cheating" if he strays, even though it feels wrong. He slept with someone else as recently as a month and a half ago and my sadness has given way to a desire for revenge. I swipe … but I have no palpable interest in anyone else.
6 p.m. I'm home from the office. Harry comes home from the gym shortly after dripping with sweat.
7 p.m. We swim in the pool in the courtyard of my apartment complex while smoking a joint. Technically every tenant has access to the pool but no one's ever out here. To entice him I take my top off. He swims closer to me and we make out in the pool before going back to my place for sex.
10 p.m. In bed watching Squid Game while I finish up work from the day on my laptop. While I work, I see Harry texting someone out of the corner of my eye. I can't see who it is but I don't like it.
DAY THREE
4 a.m. I wake up to Harry intensely spooning me and kissing my neck. I roll over to kiss him and move to go down on him. He's so quiet during sex it's hard to tell when he likes something or not. I get on top. Afterwards we fall away exhausted and go back to sleep.
7 a.m. My alarm goes off. I'm so tired but satisfied after last night's antics.
2 p.m. Lunch at my desk. Today is relentless.
6 p.m. I go to Harry's after work. He's on his couch watching football. I can't remember the last time we spent a night apart.
8 p.m. We eat sushi takeout and watch Disney movies in bed until we both fall asleep.
DAY FOUR
10 a.m. In the office texting Harry, who is doing press with the pretty actress from his last project. I know for a fact they hooked up at least once before Harry and I met. My jealousy flairs, so naturally I stalk her Instagram and immediately feel ten times worse.
1 p.m. I zoom in on all of her photos to see if she's photoshopped any of them. I hate myself.
2 p.m. I text my friends to complain, and they respond by making fun of me for only reaching out when something's wrong. How did I become this friend? I schedule post dinner drinks with them to ease my guilt.
6:30 p.m. I sit down at a trendy bar in Silver Lake where I meet my two friends, Jess and Hannah. Jess is in grad school and Hannah is a paralegal. Our careers are so different, but we've been friends since childhood. I entertain them with stories about my life with Harry.
8 p.m. I'm home and text Harry to ask when he'll be back. I get in bed and eat chips for dinner.
9 p.m. Still no response from Harry. I'd love to trust him enough not to worry that he went home with the actress, but I just don't. I resist the urge to text him again and put on Keeping Up With the Kardashians to distract myself.
3:30 a.m. I'm half asleep when I hear the front door open. I check the time on my phone and struggle to contain my anger. I hear Harry climb the stairs and quickly put my phone back down. He gets in bed and tries to cuddle me but I pretend to be asleep. There are so many things I want to say to him right now, so many questions I'm afraid to know the answer to, but I'm a firm believer that no argument should be had after midnight.
DAY FIVE
7 a.m. My alarm goes off. It wakes Harry too and he tries to ask me how my night was. "Fine," I say. He asks me what's wrong. I tell him I refuse to be in a relationship with someone who thinks they can get home after midnight, after spending the day with "an ex" and have no questions asked. He's clearly stunned I spoke my mind — it's a rare occurrence — and I storm out before he can respond or see the tears welling up in my eyes.
12 p.m. At my desk trying to distract myself with emails, I check my phone to a text from Harry. "You ok? We just went out for drinks with the rest of the crew." I roll my eyes at his excuse and ask myself if I believe him. It doesn't take much soul searching to realize that I don't.
6 p.m. On my way to Jess's in Silver Lake, I text Harry that I'm not coming home tonight — by home, I mean my place, where he's still at. I'm going to sleep at Jess's. He tries to call me but I let it ring without picking up.
8 p.m. Jess and I are on her couch eating Chinese food and drinking red wine. She tells me she's supportive of my relationship with Harry because he's hot and fun but doesn't see it lasting. She invites some friends over including her colleague Ben, who I've met and flirted with before. He's a couple years older than us and I've always suspected he had a thing for me. We fall into an easy rapport and he asks me if I want to go smoke on the roof. Fully knowing what this implies, I grab my glass of wine and agree.
9:45 p.m. Ben has refilled my glass twice and we've moved closer to each other on the bench. When he leans in to kiss me I let him. The kiss is sweet but I can't shake the feeling that I'm doing something wrong, even if I'm technically not cheating. When he asks me if I'm seeing anyone, I know how easy it would be to just say no. I tell Ben it's complicated, but yes, I am. He looks a bit surprised but covers it quickly and apologizes for not asking before he kissed me. I feel bad but deep down I knew I didn't want anything to happen with him. At least not now.
11 p.m. Ben and his friends have left and I'm scrolling through Instagram on Jess's pullout couch. I finally open my texts with Harry and send him one message: "Let's talk tomorrow."
DAY SIX
7:30 a.m. I grab a coffee at a cute café near Jess's apartment and head to work.
12 p.m. I feel strangely empowered after last night and decide I will have a productive talk with Harry when I get home from work.
3 p.m. I'm busy at work but definitely crafting what I want to say tonight.
7 p.m. I walk into my apartment to find dinner laid out on my kitchen table and Harry waiting for me. He has never, not ever, cooked for me before. I tell him I appreciate the gesture and we sit down. Over the spaghetti Bolognese he prepared, I tell him I can't be in a relationship with so much uncertainty and insecurity. He tells me he understands and agrees we should talk about what we both want "at some point." His response is vague and I have a feeling this may be the compromise neither of us are willing to make but instead of dwelling on it, I surprise both of us and propose we go to tomorrow's sex party. He's surprised and excited — of course he already has the address lined up.
DAY SEVEN
11 a.m. I am out shopping for a new set of lingerie. I want tonight to feel special, and I want to feel good. I send Harry pictures as I try things on from the dressing room. He's very supportive.
6 p.m. Back at home, I tell Harry I want to go over ground rules for tonight's party. I say that I'm nervous, and it's important I feel like he's my partner and has my back. He reassures me we'll be together the whole time and he's excited to try this with me. My adrenaline has already kicked in, and I start drinking.
10 p.m. A couple hours later Harry and I are in the backseat of an Uber on our way to Malibu. I'm wearing a black slip dress with red lace lingerie underneath. I'm pleasantly drunk off a few glasses of wine and I feel sexy. Harry puts his hand on my thigh for the whole drive.
10:30 p.m. We arrive at a modern glass mansion on the beach. We give our names at the door and make our way inside. The house looks like a normal, albeit giant, bachelor pad until we are led downstairs to the basement. It is straight out of Fifty Shades of Grey. The hallways are dark and lead to rooms filled with velvet couches, sex swings, and beds. I grab a cocktail off a tray.
11:00 p.m. Harry and I are in a polite conversation with two beautiful older women. Harry seems to know them from previous parties and it dawns on me that they've probably slept together at one of these events.
12 a.m. Two more drinks in, my vision's starting to blur. I lose track of Harry and find myself in a conversation with a man with blue hair. At a certain point his responses get slower and I realize it's because a woman has started giving him a blowjob. I make an excuse to leave and search for Harry.
12:10 a.m. I find Harry sitting on a bed talking to a gorgeous woman in a latex bodysuit. She tells me her name and asks us if we want to have fun. I nod and she responds by kissing me. We make out and when she pulls away I see Harry watching us intently. She and Harry begin to make out and I'm extremely turned on. Harry kisses me and by the time we pull apart I see that she's gotten completely naked. She asks if she can take off my dress and I let her while Harry strips naked. I'm vaguely aware of a crowd starting to gather around us and suddenly grow very uncomfortable. I stand up suddenly, disrupting the mood, and tell Harry I need to go to the bathroom. He awkwardly looks from her to me and asks if he should stay. I tell him he can if he wants to, hoping the look on my face is enough to tell him he better follow me. Without waiting for his response I make a beeline for the door.
12:30 a.m. I've been sitting in the bathroom in just my red lingerie for 20 minutes. Finally, Harry walks in and finds me. He's holding the dress that I left in the other room. I tell him I want to leave, right now.
1:15 a.m. The car ride back is silent. I can tell he's annoyed with me but I don't care. I can't believe I let him have sex with another woman while I was in the other room. As much as I wanted to be the carefree girl who could go to sex parties, I'm just not.
1:45 a.m. Back at my apartment, we still haven't spoken a word to each other. We don't have to. We silently take off our clothes and get into bed. He holds me and I let him, knowing this might be one of the last times he can.
Want to submit a sex diary? Email sexdiaries@nymag.com and tell us a little about yourself (and read our submission terms here.)