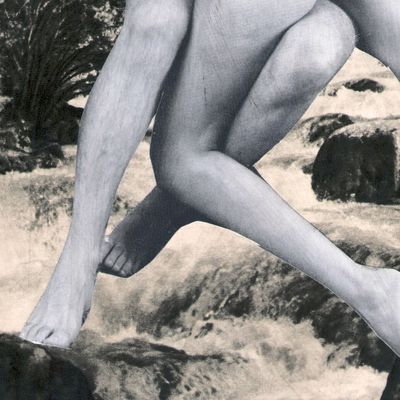 Photo-Illustration: James Gallagher
This week, a woman who spends most of her free time online dating, but hopes to be done with it soon: 30, single, Brooklyn. 
DAY ONE
7 a.m. I do what I do every time I wake up: turn on my phone to see which guys texted overnight and check in on the dating apps. There's a lot on my phone waiting for me today. A few whatever texts from whatever guys, and one text from Max, the one I like the most: "hey sexy," it says. Max is the first guy I've had feelings for after a year of constant dating and fucking around. (I left my boyfriend of ten years last fall and have been sowing my oats, to say the least.) Max and I met on Tinder toward the beginning of the pandemic. He's slightly younger than me, and adorable, and amazing in bed.
8:30 a.m. I have coffee on my little terrace and waste time until I can text Max again. The game-playing in dating doesn't bother me. It keeps it fun. I know I have to wait until late afternoon to text him back and hopefully make a plan to see him later.
10 a.m. Log in to work. I work for a talent manager in the entertainment industry. We actually used to hook up a little; I seduced him just when I broke up with my ex. We were working late, and I broke open some good wine just to see what would happen. We ended up fucking at the office, but it was mediocre. We've tried to find the spark a few more times, but I don't think anything is there, and now we never see each other anyway because of COVID, so it's a nonissue. I like my job, and I like him as a person, so it's all good.
3 p.m. Time to text! I write Max: "Heya. Want to hang later?" Super-casual! He asks if we can see each other tomorrow.
9 p.m. I get into bed and try to read a book but decide to order a trendy new vibrator instead. Enough of this bullshit, I need a vibrator. I've never had one!
DAY TWO
9 a.m. This is embarrassing, but I've been feeling a little uncomfortable downstairs, so I'm going to my gyno this morning. I'm usually careful with condoms, but now you have to be so careful with the masks and then all the COVID questions and precautions that STD precautions and conversations seem to take a back seat. It's like, how many health-care questions can you ask someone?
9:30 a.m. My doc says it looks like nothing, but I do STD testing and regular bacterial-infection tests just in case. It's embarrassing to tell her that I've had sex with a different man about every week lately.
1 p.m. I'm "working" but really going through the dating apps and lining guys up. Also waiting for Max to text about a plan for tonight. It's usually just drinks, then back to my apartment for sex. But the drinks location is always creative and hip on his part.
4:30 p.m. Max suggests a place in Red Hook that has a good wine program. We both love to geek out on wine; he's actually in the wine business.
7:30 p.m. We're together, and I'm remembering how funny he is. He's telling me about a date he went on where a girl tried to blow him with her mask on. I'm laughing really hard but also crying a little on the inside because he has no qualms telling me about some other date. Clearly we aren't exclusive; we've been out maybe six times. But it sort of felt like we were growing into something. I decide to bring this up later … after sex.
9 p.m. We're fucking in my bed and it's so good. I come twice, and he comes crazy hard. Lying in my bed, I say: "So, how many people are you dating?"
10 p.m. It turns out to be a great conversation. We're both dating and sleeping with the same amount of people. I don't pretend to be any purer than I am.
11 p.m. As he leaves my studio, he looks at me intensely and says it was really refreshing to have such an open and vulnerable talk with someone. I hope he means it.
DAY THREE
9 a.m. Breakfast date with a few friends I know from work. They're both married, and they both have guys to set me up with. I'm ready for a relationship; I needed a year to be crazy and get in touch with my sexual side again, but I don't want to live like this forever.
5 p.m. I'm supposed to meet up with a new guy, Caleb, tonight. I'm tired and a little hungover still, but I think that makes me better on a first date; I'm more laid-back. We decide to go to a ramen place with outdoor seating. I can't really imagine hooking up with a belly full of ramen, but we'll see.
9 p.m. The ramen was amazing, but I don't have much to drink, so I'm not nearly drunk or horny enough to bring Caleb home. He was fun to talk to, but we just didn't seem to click.
10 p.m. I didn't text Max today, and I didn't hear from him, either.
DAY FOUR
1 p.m. I'm having lunch with my ex. It's our third lunch since breaking up a year ago. I ended things because I knew in my heart that I needed to explore life more. We met at the end of college, moved to New York together, lived in six different apartments together, and shared all the same friends. By the end of our relationship, I felt like I'd wasted my 20s (and almost my 30s) by doing nothing new or exciting or daring. It all felt wrong. Our sex life was okay. We had sex about once a month, and it was nice but not earth-shattering. Our sex life was a delicate topic for us.
4 p.m. It was nice to see him. He hinted that he had met somebody. I was happy to hear that, which I think says everything. I mentioned Max to him but not all the other men I've slept with recently (nor the fact that Max is MIA).
7 p.m. Max texts! "TMR night? More of the same? XO" I'm very, very happy about this.
DAY FIVE
9 a.m. My doctor calls to say I have a yeast infection. Nothing serious. I hang up before asking her if I can still have sex. I don't think you have to tell a partner about a yeast infection? Do you? I call my best friend; she's a nurse. She says I don't have to tell Max, but I probably shouldn't have sex tonight. Shit! Well, this gives me a good excuse to blow him off and make him ache for me a little.
2 p.m. I text Max that we have to reschedule. I keep it vague so he can wonder. He texts back a bunch of sad face emoji; I love it.
6 p.m. Order in Thai food and spend hours upon hours looking for boyfriend material online as well as texting with the guys my work friends want to set me up with. I really like Max, but I need plan B, C, D, etc. He's only 28, after all. What 28-year-old man in New York City with a great dick and great job would ever want to settle down?
DAY SIX
9 a.m. I have a ton of online dating follow-up to do. One guy, Simon, is so hot and so friendly I can hardly wait to start the banter with him.
11 a.m. Simon and I are chatting and chatting. He is at his parents' place this weekend but says next week we'll meet up. We talk for hours throughout the day. Subjects covered: politics (obviously), exes (he's divorced), food (he considers himself a kimchee connoisseur), etc. I'm enjoying him!
9 p.m. I text Max about hanging out tomorrow night? He says "yes." My hand's tired from talking to guys online all day. But I feel like one of these guys might actually pay off. Maybe I'm almost done with this online dating life.
DAY SEVEN
10 a.m. My vibrator arrives! She's beautiful. I name her Bella.
4 p.m. Spent an hour or so texting with Simon. Okay, so maybe he's a little too available. And chatty. I start to wonder if he's a real person.
6 p.m. I meet Max outdoors at an Italian restaurant. We split some pasta and start in on a good bottle of red wine. He looks so cute. I can see in his eyes that he's crossed over into a place of meaningful feelings for me. How crazy that a little intimacy can do that.
8 p.m. Back at my apartment I introduce Max to Bella. He uses her on me as we have sex and it's mind-blowing. I invite him to sleep over, which I've never done in the past. Before I finish the sentence, he says YES.
10 p.m. We fall asleep in each other's arms, and I feel him get hard again as I doze off. I turn around, and we start to "make love." I hate that expression, but that's what it feels like. We "make love" a few more times throughout the night and again in the morning. It's strange to put this into words but I think he's going to be my next serious relationship.
Want to submit a sex diary? Email sexdiaries@nymag.com and tell us a little about yourself.