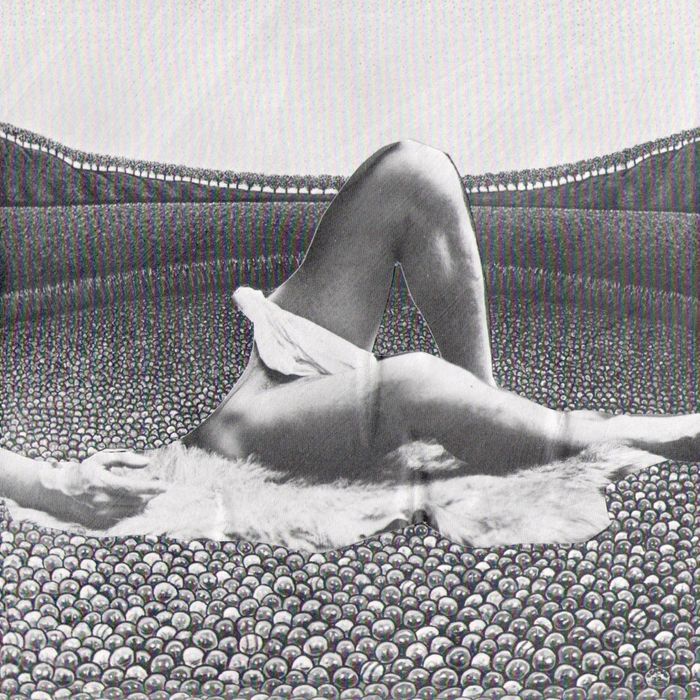 Photo-Illustration: James Gallagher
This week, a woman and her boyfriend eat weed gummies before hooking up, take turns watching porn alone in their shared bedroom, and talk about their sex life: 26, in a relationship, L.A.
DAY ONE
9:45 a.m. I wake up and hear my boyfriend working in the next room. This is my second week of unemployment since I recently got laid off — I worked in the TV industry. I still count myself lucky since my family is helping me out financially and I have some money saved. But still it's unnerving.
9:50 a.m. I make coffee and sit with my boyfriend on the couch as he works. We've basically been living together for the past month, and it's been really nice. When we started dating a bit over a year ago, he was very circumscribed when it came to his alone time. But the longer we've been together, the more comfortable he's gotten spending extended time with me. I am so glad we took it slow in the beginning. This is my first relationship and I think I could have easily wanted to be with him nonstop, which wouldn't have been the best for us.
3:00 p.m. I meet up with my good friend, C, at a nearby park for a socially distanced hang. C wanted to get my advice on a friend she wants to hook up with. She wants my advice because I'm the person who always makes the first move — or I used to be. Now I've been in a serious relationship for over a year. That person who was always making the first move, often against her better judgement, feels far away now.
5:00 p.m. I get home, excited to hang with my boyfriend. We're very physically attentive to each other. We're always touching or hugging or laying on top of each other. We don't have a ton of sex, maybe like one to three times a week. This used to make me anxious — I felt like since we were early in our relationship, we should be having sex all the time. But I've since realized that as long as we have physical affection — which we always do — that's what matters the most. Plus I'm on an SSRI, which has tampered my sex drive.
11:00 p.m. The best part of every day is cuddling with my boyfriend before going to bed. I usually fall asleep in his arms.
DAY TWO
9:00 a.m. My boyfriend and I booked a trip to a nearby mountain range, so we make coffee and get on the road.
3:00 p.m. After a long drive, we finally arrive at the Airbnb. It's really nice! My boyfriend still has to work half the day, so I decide to explore a hiking trail nearby. It says it's less than a mile to the top. That shouldn't be too bad!
3:30 p.m. I think I've lost the trail and I have no water. I get very scared. But I do have cell reception, thank God. I decide to just keep walking on a trail that I've found — it's got to lead me somewhere.
4:15 p.m. I get back to the Airbnb exhausted. He and I watch Avatar.
10:00 p.m. We're still watching TV, but I'm getting restless. I reach over and touch his penis underneath his pants. That gets him excited and he asks me if I want to have sex. I'm on the fence so we decide to finish the episode then go upstairs and see how we feel.
10:20 p.m. We're in bed and he starts kissing me. He's such a sweet kisser. I ask if he wants to have sex — he grabs the lube, which we always use, and gets on top. I like when he's on top because I can see him, but it usually doesn't get me that turned on. We decide to switch to doggy, which is my favorite — the only downside is we can't see each other's faces when we come. We fall back on the bed, both of us covered in sweat, and he holds me. I kiss his forehead and we fall sleep.
DAY THREE
10:00 a.m. Our Airbnb doesn't have AC. It's not that hot, but it's a bit too warm for our comfort, so neither of us sleeps great.
11:00 a.m. We decide to go on a walk along the lake and end up talking about our families' dysfunctions. Bonding over parents who have difficult relationships has definitely been a cornerstone of our relationship!
3:00 p.m. He's taking a nap, and I'm bored so I turn to a common pastime: checking in on guys I used to hook up with a long time ago. I look up a guy who's one of the first people I ever got with. Right after, he started seriously dating a girl that he was with through all of college. I was sure they'd get married. But scrolling through his Facebook I saw that he no longer listed them as in a relationship. And she wasn't in his profile picture — the first time in eight years? I text my friend who vaguely knows the guy and loves the tea. He is equally shocked.
11:30 p.m. We're laying in bed when he comes closer and hugs me. He kisses my breast and I tell him to keep doing it. He does and I start grabbing his dick, but he tells me he's too tired to have sex. Sigh. I'll have to wait until tomorrow.
DAY FOUR
10:30 a.m. Wake up covered in sweat. Cuddle.
11:30 a.m. We decide to go on a nearby hike. It's only two miles round-trip, so shouldn't be too bad. But when we reach the summit it's somehow … not great? Lots of trees block the view. My boyfriend asks me if I want to listen to a Bon Iver or Phoebe Bridgers song. I say no; I'm too hot.
8:00 p.m. We make dinner and both take weed gummies. We both ingest a lot of weed. We are not big drinkers. We decide to watch a movie neither of us has seen in years. We're almost done with it when I start to get horny. Weed always makes me horny, which is one of the reasons I like it so much. I lean over and grab his dick through his pants and start kissing him. I tell him that I want to have sex after the movie. He immediately grabs the remote and turns it off; we start making out.
9:30 p.m. We go upstairs to the bed and continue making out with our clothes on. I start to rub his dick and he gives me direction; I can tell he's feeling really good. I ask if I can get on top and he happily agrees. It's a position I rarely used to do when I was single, but now I enjoy. I pull out my vibrator, but it's too difficult to use so we switch to doggy. I love dirty-talking and feeling submissive in this position. We both finish and lay back down and cuddle. I tell him I noticed he's not nearly as sweaty as he usually is. "That's because you put in all the work," he says.
DAY FIVE
9:00 a.m. Our alarm wakes us up — we have to be out of the Airbnb early. We start cleaning up our stuff and hit the road.
11:00 a.m. My boyfriend and I talk about the way we used to fuck compared to the way we do now. He tells me that when we first started hooking up, it was clear that I'd had a lot of one-night stands. The way I had sex … I was very in control and I knew what I wanted. It was me making myself come, and the other person was just there witnessing it. But now I feel so much more joy in knowing how to make someone else come — feeling connected to someone else's pleasure.
2:00 p.m. We arrive home and collapse, tired from the drive.
DAY SIX
9:00 a.m. My boyfriend gets out of bed to start work. I stay asleep.
10:00 a.m. I pull myself out of bed and look at my computer. I try sending out some emails to find a new job.
6:00 p.m. We order Postmates and curl up to watch more Avatar.
DAY SEVEN
10:00 a.m. I wake up and my boyfriend's already out of bed.
11:00 a.m. I'm bored at my computer and kind of horny. I so rarely feel this way on my own, and I want to ride the wave. My boyfriend's hard at work so I head into the bedroom to watch porn.
12:45 p.m. I go shopping and come back with bags of groceries. My boyfriend's nowhere to be found. I start putting them away when I hear him come out of the bedroom. He tells me that he was jealous of my porn-watching and decided to watch some for himself and get off. Maybe that's the key to our relationship: We feel comfortable telling each other what we need without worrying what the other might think.
Want to submit a sex diary? Email sexdiaries@nymag.com and tell us a little about yourself.