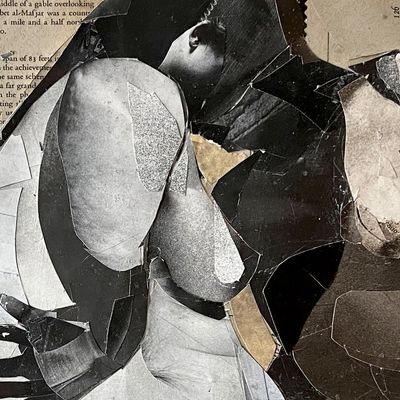 Photo-Illustration: James Gallagher
This week, a woman getting off thinking about movie stars while wondering if an open marriage might actually work: 47, married, Brooklyn. 
DAY ONE
6:16 a.m. When I woke up today, I was unusually horny. I have sex dreams all the time — I have for my entire life, and even now that I'm in my late 40s. Usually my sex dreams are with classically hot movie stars (men or women). But whatever I dreamed about, it's now lost to me.
9:30 a.m. I'm at my desk, all Zoom ready. I sit at this desk Zooming and Slacking all day long. I can't complain. I love my job and get paid well. I'm an art director for a popular makeup brand.
11 a.m. My husband FaceTimes from his trip to Seattle. He's there for work. As careful as he is, it seems inevitable that he will bring home COVID from this trip. I hope not, but what a horrible time to travel. He had no choice, though — work demanded it. I miss him. He misses me. We are at a particularly vulnerable time in our relationship since we are talking seriously about opening things up. Our son is at college; our sex life is not good (more on that soon); and we're curious about what might happen. It's crazy, because these conversations have made us so much closer. It's like, the more we talk about pulling apart, the more we want to pull each other closer.
6 p.m. I always wait until 6 on the dot to have a glass of wine. I have one glass every night. Sometimes I wonder if that's not good or totally fine.
9 p.m. I settle in for a strange but very watchable new movie about motherhood.
10 p.m. Take out my very chic vibrator and close my eyes. I think about having sex with one of the guys from the movie. He's simultaneously shoving his tongue deep down my throat while fingering me in the most animalistic way. It's very hot and I come hard.
DAY TWO
8 a.m. I bundle up to get some exercise before the day starts. Walking helps me figure things out, and I want to have some clarity on things before my husband comes home in a few days.
So here's the situation. We've been together for 20 years. No affairs. No real drama. A lot of happiness and joy. We raised a great son. We worked hard to buy an apartment. We maintained an endless amount of love and respect for each other. However, I stopped wanting to have sex with my husband years ago. I can't explain why. I'm attracted to him — I still crush on him. It's not that he's become like a brother or whatever people say. I'm simply not interested in fucking him. It's weird, too, because I'm a very sexual person. I masturbate constantly. I'm a flirt. I like to watch porn. I know my body and what turns me on.
It's been a year since we've had sex. I heard on a podcast that sometimes the best way to save your sex life is to take sex off the table. So a year ago, I did that (thinking we would take a break for a few weeks, not a year!). I guess it didn't work. My husband wants to fuck. He's not happy. Things get awkward every night around 9 when I say that I'm going to bed without any hint of "come to bed with me." I dread the evenings for this reason. He knows all of this. Communication isn't the problem. Alas. We don't know what to do.
10:38 a.m. I turn off my computer to grab a matcha latte around the corner.
2 p.m. I take another break to masturbate, thinking again about the movie from last night.
6 p.m. We have a Zoom drinks thing, which I personally hate. It's not because I'm older than everyone else; I'd just rather be done working. This kind of thing might be dressed up as fun after hours, but come on, it's still work.
DAY THREE
8 a.m. My best friend has COVID. I haven't seen her, so I'm not worried about myself, but she's worried about her family. This is the pits. I'm over it!
11 a.m. Decide to clean the apartment since my husband comes home tomorrow. I mute my Zoom and turn off my camera and take out all the cleaning supplies. The only way I can clean is if I take a weed gummy (or so I tell myself).
12:30 p.m. One problem: Now all I want to do is order food. I use a stupidly expensive app to bring me two pints of fancy ice cream from one place. I use another stupidly expensive app to deliver me the burrito of my dreams. You only live once.
2 p.m. I'm chowing down, in bliss, and my apartment has been wiped down and vacuumed. I decide to do the rest of my work "offline." I'm the boss … no one can tell me not to.
4 p.m. The gummy did wonders, and while I'm hardly productive, I feel great. I get into bed to masturbate. I think of an actor and imagine it rough. I squeeze my nipples hard and go crazy thinking about him fucking me with some light ass play.
8 p.m. FaceTime with my husband. We decide to have dinner out tomorrow, once he's home, to catch up. I miss him! I still don't want to fuck him, but I miss him.
DAY FOUR
10 a.m. My son calls. Everyone around him has COVID. I'm not insanely worried about him catching it, but I feel sad that this is his reality. He's handling everything well, but these have been some less than ideal years for a young person. He's coming home this weekend (he goes to school on the East Coast, near us), so I'm excited for that.
12:30 p.m. A quick jaunt to the supermarket to make sure I have all my husband's and son's favorite things. I've always been a modern and nontraditional woman in many ways, but I can't help but want to feed and take care of my boys. I don't cook — let's be clear about that — but I am a great grocery shopper of good cheese, beautiful produce, and yummy snacks.
6 p.m. My husband is home. He's tired from flying and hours of airport issues. We decide to skip our date night and order in sushi. We catch up on basic mundane things, work things, our son's latest. It's not the right night to talk about our relationship.
9:09 p.m. My husband is in the bedroom. I hear him go to our bathroom for about three minutes and then flush the toilet. By now I know this means that he just jerked off in there. He doesn't know I know this, but of course I know everything.
DAY FIVE
8 a.m. It's always good to wake up in bed together. I love my husband's warm body, and sometimes, like today, I like feeling his erection against me as we cuddle. It's almost enough to want to fuck him, but then I think: Or I could also go make coffee. That's the thing that's missing. I never crave sex with him to the point where I just can't help myself. I miss that. If we open things up, I'd really look forward to that with someone else — when you're just dying to fuck that person. I know that feeling never lasts.
11:30 a.m. Some drama at work. We have a few employees who can't handle any criticism. I am a very nice and levelheaded boss, and I treat everyone well, but the person who manages most of my employees can be harsh. I understand that she's just a bottom-line person, but her tone must be scary to the newbies.
1 p.m. Husband is only now rising from bed; he needed the rest. He massages my shoulders while I work a bit. We decide to have our nice evening out together tonight, before our son comes home tomorrow. When our kid is with us, it's all about him, and I mean that in a good way.
7 p.m. It's cold, but we head over to a cute pub near us.
7:15 p.m. Husband holds my hands across the table. We gaze into each other's eyes. It's so beautiful watching each other grow older. I'm so grateful for all our history. I just wish the sex thing could be resolved, or just go away. We don't deserve to be reduced to this: a damaged couple who doesn't fuck. We get to talking …
8 p.m. We land on something that feels okay. We're in total agreement on all of it. Neither of us want to go on dating apps. We don't want to go to sex parties or become swingers. We decide to very loosely keep our eyes open. If either of us meets someone we're attracted to, we have permission to pursue that. I personally can't see it happening for me (given how much I work and the amount of alone time I need), but it might. I definitely want to have hot sex with someone again before I die! My husband travels more than I do, so most likely it would be him who sleeps with someone. He's also very sexually frustrated, which he says to me in a way that I don't find insulting at all. I tell him that I'm okay with him sleeping with someone else as long as it's just sex — and I think I mean it. We also agree not to talk about the aftermath of this agreement, but of course, that we can talk about it if we need to and without judgment.
9 p.m. I have no idea if we've come up with something genius or ultimately destructive, but I get into bed feeling okay about everything.
11 p.m. My husband twists and turns all night; I wonder if it means he's anxious about all of this. Then I start to feel anxious. Maybe it was the wrong call.
DAY SIX
8 a.m. My son will be here by lunchtime so I want to have bagels and pastries waiting for him. I put some presents on his bed. I can't wait to see him!
Noon. He's here. My husband and I both hug him and cry some happy tears. We see our son every two weeks at this point, but we still cry a little when we see him and say goodbye to him. We're softies.
3 p.m. I take him shopping. He needs an upgrade. He has a potential new girlfriend whom he tells me all about. She sounds lovely.
8 p.m. Order in our favorite Thai.
9 p.m. TV on the couch as a family.
11 p.m. When I get into bed, I cry a little bit more. Happy, sappy tears. I'm just so grateful for my family.
DAY SEVEN
9 a.m. We can't really do anything today because the COVID numbers are so high. So we decide to organize our boxes of old family memories.
11:30 p.m. My husband is being especially affectionate toward me, and I'm not sure if it's because he's just happy our son is home and we're all together or because the other night rocked him somehow.
2 p.m. We put on a movie and make popcorn. I want to freeze time.
5 p.m. My husband and I open some wine while our son FaceTimes with friends in his room. I take my husband's face and tell him how much I love him. We kiss and it's beautiful.
10 p.m. We get into bed and — I wish I could say we had sex — we hold each other and do this thing that only parents can understand, where you're both smiling from the heart and fighting back the tears until you just drift off to sleep.
Want to submit a sex diary? Email sexdiaries@nymag.com and tell us a little about yourself (and read our submission terms here.)