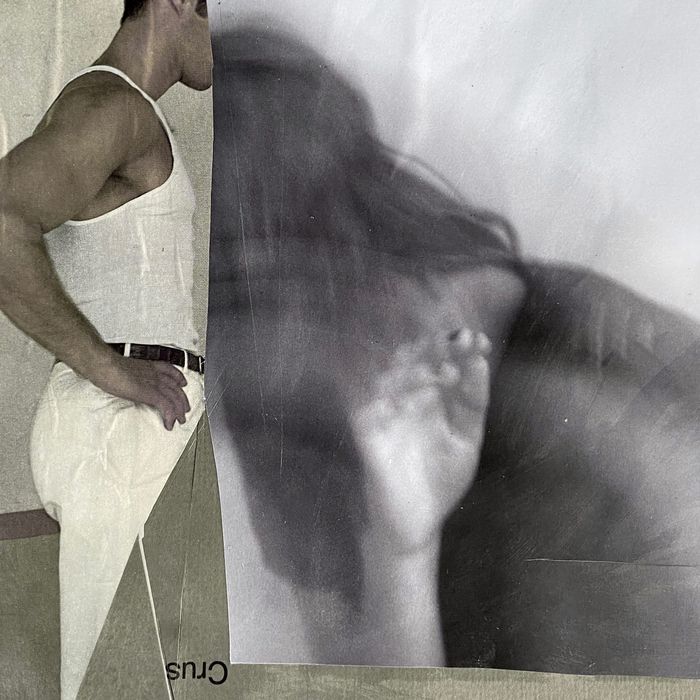 Photo-Illustration: James Gallagher
This week, a woman kissing her fling for the first time while trying to figure out what she wants in a relationship: 43, single, London.
DAY ONE
7 a.m. Get out of bed after lying awake for a few hours. I strongly suspect I'm perimenopausal and one symptom is early waking. I generally drift awake from about 5 a.m., no matter how late I go to sleep.
12.30 p.m. I'm a software developer working from home probably until 2021. I spend my lunch break swiping on all the dating sites I'm on. I broke up with a boyfriend of two years just before lockdown and promised myself six months off men while I tried to figure out what I actually want from a relationship. I lasted three months before I signed up for various dating sites.
8.45 p.m. Chat with a guy I met on Tinder back in May, let's call him M. I'm trying not to get too attached but I really like him. We've been on a couple of socially distanced dates. He's quite hard to pin down emotionally, which is typical for the sort of man I like. I know being attracted to emotionally difficult men is bad for me but they're the opposite of the kind of confident, self-assured men I don't really like. I'm still trying to figure out why, but I suspect much of it is from 20 years of working in an industry filled with egotistical men who want to put me down and push me out.
10 p.m. I go to bed and get off to some porn without worrying about keeping the sound down. One benefit of living alone! I prefer bisexual male threesome porn, as the women in it usually look like they're having fun, plus I love to see two good-looking men fucking.
DAY TWO
8 a.m. I do a strength training class over Zoom. I'm an avid gymgoer but I haven't been back to the gyms since they reopened as I'm still nervous about COVID. I've lost a lot of muscle mass so far in lockdown. I derive a lot of self-esteem from my physical strength; I don't have a bodybuilder type physique but more of a strongman one.
1 p.m. Match with a guy on Tinder who is single but hoping to begin a polyamorous relationship. I'm fine with non-monogamy but I had a bad experience with polyamory in my 20s and the thought of being in a committed relationship with someone who is in a committed relationship with someone else makes me feel weird. I might be up for being part of a couple who plays with others but I'd draw the line at other full-blown committed relationships. We talk for a bit but I don't think we're into each other.
9 p.m. Spend a bit of time journaling and thinking about what I'm looking for. I consider myself a strong, independent woman: I don't want children, I earn good money in a male-dominated field, and then of course there's my physical strength. I tend to like men who are cute and pretty, who don't earn as much as me and prefer their partner to take charge. I don't mean in a dominatrix-type way, I mean in the same way a woman might expect her man to pay for dinner, while she looks pretty for him. I like taking care of men, and I want them to look good on my arm.
DAY THREE
7.30 a.m. Awake from 5 a.m. again but I finally get out of bed. Swipe on Tinder for a while and see a really handsome guy ten years my junior. Swipe right on him but he doesn't match. Bummer.
11 a.m. Turns out he did match with me! We chat for a bit. He's really cute, but it turns out he's in a committed open relationship and looking for other partners. I wish people would be more upfront about that on their profiles but I understand why they're not.
3 p.m. I am also on a casual sex site which I get a lot of messages on. I'm not sure I'd ever meet up with anyone from this site now, although I may have been brave enough to do it in the past. I chat with a cute guy but it turns out he can only get hard via humiliation and pain, and I'm not into BDSM. I enjoy spoiling cute men but it doesn't extend to whipping or humiliating them.
5 p.m. A guy I met on Feeld messages me on WhatsApp. We have been messaging on and off for a couple of months. He is 25 and a virgin and incredibly sweet. I enjoy talking to him but he's too young for me and I feel a bit weird about the scenario of "mature woman takes young man's virginity."
5.30 p.m. I have therapy over the phone. I've been going to therapy since my 20s, although not continuously. The person I see now is somewhere between a counsellor and a therapist — she helps me through scenarios and gives me advice, which my previous psychoanalyst didn't do. We talk about how I can learn to ask for things that I want without feeling like I'm steamrolling over other peoples' needs.
DAY FOUR
11.30 a.m. I got a match on Feeld the other day with a guy who is cute but has launched straight into assumptions of what all women like. I find this really annoying. Unfortunately I seem to match with guys who assume all women want to be orally pleasured for hours, which is nice for sure but ultimately I find it a bit boring. I try to indicate on my profiles that I'm more of a top, although it's hard to do this without men flat-out assuming you're a dominatrix or only into pegging. After a bit of consideration I reply to the guy on Feeld that what he's proposing sounds fun, but that it's more fun to ask women what they're into rather than assume. I have no idea how this will be taken. Some men get angry if you imply they're not the most skilled lover in the universe and that you're not lusting after their magic tongue.
3.30 p.m. Take a break from work to scroll OKCupid. I think about how wedded I am to dating apps and how I use them to boost my self esteem. See a cute guy but he's polyamorous — they always are! I update my OKCupid bio to say I'm open to non-monogamy but not polyamory, meaning I only want to be with one committed partner who's only with me, but we can have sex with other people. They're different things!
8 p.m. Send a tentative message to M. I hadn't heard from him much over the last couple of days and I worry he's lost interest in me. But then he replies! He hasn't ghosted, he's having a rough time mentally at the moment but is pleased to have heard from me. We WhatsApp for a bit and I feel good again.
DAY FIVE
6.30 a.m. Wake up with a mild cough and a sore throat. I book myself an appointment at a nearby testing center to be safe.
12 p.m. I had intended to go to the supermarket tomorrow and possibly have an outside, socially distanced date with M on Sunday, but until I get my test results back it's all up in the air. I let him know I'm coughing and going for a test, as it's only fair he's fully informed — even if my result is negative he still might want to cancel.
8 p.m. No results yet. Pandemic dating is hard.
DAY SIX
8 a.m. I get my test result — it's negative! I'm so relieved, and happy I heard back in only 19 hours.
10 a.m. My date is still on for Sunday. M and I have been on four socially distanced dates already but haven't gone further than holding hands. It feels very middle school, thrilling and sweet but also very frustrating.
11 a.m. I match with a man on Tinder who is expressly looking for older women. I'm usually a bit wary of men who say that upfront as they can be a bit fetishizing. He launches straight into calling me "love" and "dear" which I find patronizing as hell. I ask him if he's used to talking to women, and he says he only talks to them at work. I unmatch.
7 p.m. Post on my Instagram close friends story about my frustration with not knowing the sort of relationship I want. Every time I express to a guy that I'm looking for a head-turning man who likes to be spoiled, they assume I'm a domme, but I'm not. A man who spoils his girlfriend and buys her things isn't automatically assumed to be a dom, so what gives? I hate gender stereotypes.
DAY SEVEN
10 a.m. Wake up late and go for a 5k run.
1 p.m. Meet with M. After two beers each we end up kissing. It's the first time I've been this close to another person in five months. We kiss and hug and touch each other (as much as we can in public), and it's amazing. I find him incredibly cute and appealing but I think we both know we're not boyfriend/girlfriend material. Still, I tell him that if we're going to be physical with each other I won't be physical with anyone else, because of the pandemic. I'm not sure how he felt about that. He didn't really respond.
Normally I'm totally up for dating multiple people at once but right now that is too risky. I'd rather see him exclusively even if we're not 100 percent "right" for each other than take my chances with anyone else. I really fancy him and enjoy his company.
9 p.m. We both go home separately and I get myself off; I haven't really felt like doing that much this week, but kissing M turned me on so much. I half-heartedly watch some porn but really I'm thinking of him.
Want to submit a sex diary? Email sexdiaries@nymag.com and tell us a little about yourself.