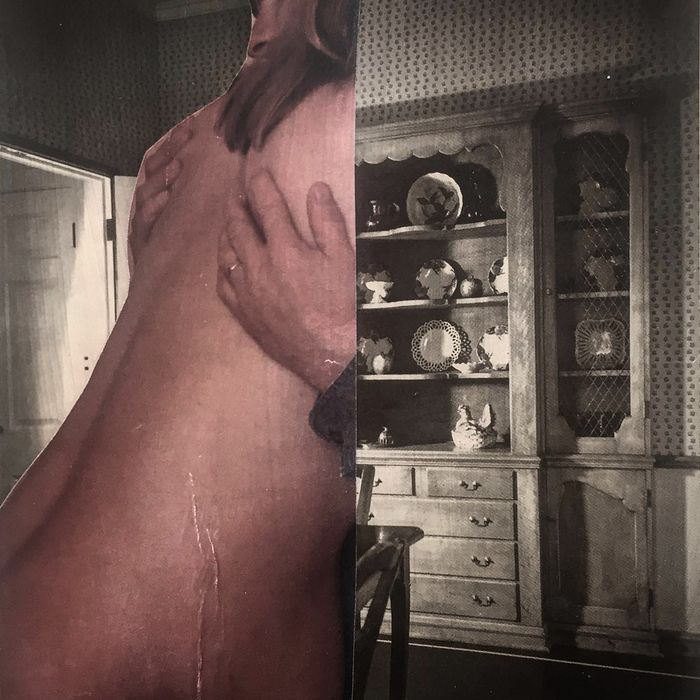 Photo-Illustration: James Gallagher
This week, a woman accepts her husband's infidelities and embarks on some of her own: 28, married, Manhattan.
DAY ONE
7 a.m. We have slow morning sex on the countertop while the bacon is cooking — a risky move considering our kitchen has massive floor-to-ceiling windows. But at this point, I don't really care; it's not uncommon for Adam and me to walk around our apartment naked, so the people in the apartments across the street have seen everything already.
7.30 a.m. I kiss Adam goodbye, trying to get to work a few minutes away while he heads off to the hospital. It's nice to be able to get back to work again; during the pandemic it got quite lonely being in the apartment all by myself while Adam was always out working. I own an art gallery and he works in medicine.
1 p.m. Adam calls me during work, asking if we want to go out for dinner together. I obviously agree. I'm glad he calls me; work is dragging on so much and it's nice to talk to him over the phone. I tell him everything that we're going to do to each other tonight. After the morning sex I can't wait for something more passionate and rougher; both of us are more adventurous when we're drunk.
6.10 p.m. I consider texting Adam to cancel the dinner plans so that we can just fuck. I'm so horny, but I decide not to.
8 p.m. Dinner was amazing — of course it was outdoors. Adam and I are so compatible, he makes me feel so happy all of the time. I cannot wait until we get home.
8.40 p.m. Adam decides to kill the mood by mentioning that my best friend, Lana, and her boyfriend, Mason, have invited us around later this week for a game night.
Adam doesn't know that I know that he's been having an affair with Lana for three out of the five years we've been married, and I always get so jealous when he mentions her.
He doesn't realize that I know they've been closer since the pandemic, that not being able to see each other for so long made them even hornier, and that, since Lana got laid off a few weeks ago, they've been able to see each other more.
10.08 p.m. We're practically ripping each other's clothes off in the Uber back to our apartment. He knows me so well: A mixture of red wine and Champagne makes me the horniest.
10.20 p.m. Adam carries me up the stairs to our apartment; I'm so drunk and horny that I can't even walk straight across the footpath, and the way his skin brushes against my back makes me want him even more. I'm laughing and also crying now for some reason as we finally get to our bedroom to fuck again.
11 p.m. Afterwards, neither of us can be bothered cleaning up; I think Adam might've ripped my backless dress as he attempted to work out how to get it off of me. But, at this point, I don't even care. All I want to do is sleep.
DAY TWO
7 a.m. Embarrassingly, I'm still slightly tipsy when I wake up this morning. I blame Adam for making me finish the whole bottle of red wine last night.
I know we should be getting ready for work because of his alarm but clearly we're both still horny. He fucks me normally, missionary style, on the floor as the bed is still damp from last night's trysts. It isn't as intense as it was last night, but I love it anyway.
4 p.m. Adam texts me at work warning me that his shift has been extended and he's going to be back quite late. I'm disappointed that I won't be able to see him, and I don't know whether he actually has to stay at work late or whether he's going to see Lana.
8 p.m. I'm so exhausted after work that all I can be bothered to do is showering before I end up falling asleep on the couch which seems to happen all too often.
11 p.m. Adam accidentally wakes me up as he carries me upstairs to bed, but I pretend I'm asleep because I think it's so sweet.
DAY THREE
5.30 a.m. I wake up way too early because I slept most of yesterday evening and decide to make breakfast for Adam, whipping up waffles from scratch.
7 a.m. He wakes up too late for us to do anything more than eat breakfast together, which is annoying after the effort I went to this morning. I head off to work feeling unsatisfied.
6 p.m. Adam and I arrive at Lana's house separately. Adam makes sure to bring several bottles of red wine and vodka so he can unwind. All I want to do is punch him.
I know it's hard to understand this situation and how I deal with it without too much anger or resentment. I handle it all by just accepting that it's how Adam is and has always been. He has cheated on me more times than I can remember. At first, I was bitter and angry with him. But, gradually, I realized that this could be good for me too. There was no obligation for me to stay loyal to him because he had already broken our marriage vows.
The cheating we do is an unspoken truth between us. We don't ask each other about our love lives or get jealous about anything because we love each other too much to want this 'arrangement' to end.
As for Lana, it obviously harmed our relationship, and we're not as close as we were in college anymore because of it. But for some reason, I love her too much to lose her over this. Of course I would've preferred if Adam had chosen to hook up with anyone other than her, but he didn't.
9.00 p.m. I start loosening up now, probably because of all the vodka lemonades. Mason and I start dancing around the living-room screaming to our favorite songs from our childhood. We're having so much fun. Meanwhile, Lana and Adam start making eyes at each other, but I don't even care anymore because I have Mason to have even more fun with.
9.30 p.m. It comes as no surprise when Adam and Lana decide to take the car out and drive to a local bakery to get dessert for us. I don't argue with them; I don't care anymore. Mason and I will have fun without them. He's the one who I'm craving tonight, not Adam.
As soon as they leave, we're in their bedroom. We don't even bother to strip each other's clothes off, conscious that they might be back any second.
Mason leans me over the bed, with my ass pushed out sexily. And with no foreplay or anything, he just fucks me in my ass. Both Lana and Adam absolutely hate anal sex, but Mason and I are more adventurous — both with ourselves and each other. Mason's always up for trying something new.
10.30 p.m. Lana and Adam arrive back with Lana's hair looking a lot messier than it did when she left. She's holding a cake that suspiciously looks like a normal supermarket cake, nothing like the cake they were talking about from a bakery across town. The whole trip was pointless really; I'm allergic to egg, which Adam seems to have forgotten. Adam is supposedly on a diet, and Lana just hates cake.
11 p.m. Neither of us is in the mood for sex when we get home (tired from the trysts with Lana and Mason), and so we just climb into bed.
DAY FOUR
8.30 a.m. I wake up late because I'm hopelessly hungover and it's a Friday morning. Adam has left porridge on the stove for me. I throw up in the bathroom; I know it's because of that stupid cake with eggs in it that I ate last night because I was too drunk.
9 a.m. I text Adam that I've thrown up and I'm not feeling very well. He's very apologetic, telling me that he hopes I feel better soon. He even offers to leave work to come and see me, but I don't want him to see me like this. I'm a mess.
11 a.m. Work is slow, and it doesn't help that I'm stressed about the new exhibition that's opening on Monday.
1.30 p.m. My day goes from bad to worse when Adam's mom decides to call me and ask how I'm doing because he told her I had vomited this morning. She even has the audacity to ask me whether I think it's morning sickness because I'm pregnant, and all I want to do is punch Adam for telling his mom about it.
Adam and I have been married for five years, and ever since we got married, all we've had is pressure from both of our families to get pregnant — which is so annoying and unneeded.
I decide to go into graphic detail and tell Adam's mom that he's considering getting a vasectomy (even though he isn't). I then proceed to tell her the horror story of the time Adam managed to displace my IUD during sex which led to a lot of bleeding.
She eventually makes up an excuse to end the call, but it made me feel good to make sure that she would stop calling me like this again.
7:20 p.m. When I get home, Adam is fuming that I lied to his mom and told her he was considering getting a vasectomy. I shout at him and tell him that his family needs to stop pressuring us to get pregnant. The fight ends with him telling me he's going out. He grabs his jacket and keys while I cry upstairs. I know that he's going out with Lana.
8:20 p.m. Mason calls me. It takes him only two short minutes on the phone to convince me to go out with him tonight.
10:40 p.m. By the time we make it back to Mason's house, I'm so horny. He tells me Lana's at her place. Mason isn't that into foreplay — we just make out while he undresses himself and then me. He carries me upstairs into his bedroom, and I make sure to tell him I'm in the mood for anal again. I don't tell Adam I'm not coming home and he doesn't ask anything.
DAY FIVE
8.30 a.m. I wake up snuggled underneath the covers with Mason.
5.40 p.m. Adam texts me saying that he's going out for drinks — this is the first time I've spoken to him since our fight yesterday and tomorrow is his birthday.
7 p.m. I decide to surprise Adam tonight, just wanting our fight to be over. I change into a new set of lingerie that is dark red and crotchless, giving Adam a tease of what he can have if he plays nice. I sit myself on the couch downstairs, wearing the set, and wait for him to come home so we can fuck.
8 p.m. Adam still hasn't arrived, and I'm disappointed. I take out my vibrator and then fall asleep.
8.30 p.m. Adam wakes me up with my favorite tacos and some flowers. After we eat, we're both full and horny. But neither of us can be bothered to head back up to the bed, so we decide to have sex on our leather couch. Adam pulls out a new tub of blueberry lube from his bag.
10 p.m. He carries me up into the bed, half-naked; I could honestly get used to Adam carrying me around everywhere. He climbs into bed with me, and we fall asleep.
DAY SIX
10 a.m. I bring Adam breakfast in bed and sing "Happy Birthday."
12 p.m. We meet our friends for a birthday lunch. Adam keeps nudging my leg and whispering things in my ear; I want him so bad.
8:00 p.m. I give Adam a birthday blowjob.
DAY SEVEN
9.30 a.m. I wake up first and make Adam a post-birthday drink and pancakes for breakfast. We like to do small gestures like this for each other.
3 p.m. It's the weekend, so I have a midday bath. Adam decides to climb into our crammed bathtub with me — which is a terrible idea. It's too small for us to have sex in, so he carries me into our bedroom instead.
10 p.m. We get takeout, and I feel happy. Although we might both be cheating, Adam and I have such a deep emotional bond and physical connection. I know he would never leave me for Lana. I honestly don't care too much that Adam is cheating on me; it makes me feel so much less guilty about sleeping with Mason.
Want to submit a sex diary? Email sexdiaries@nymag.com and tell us a little about yourself.