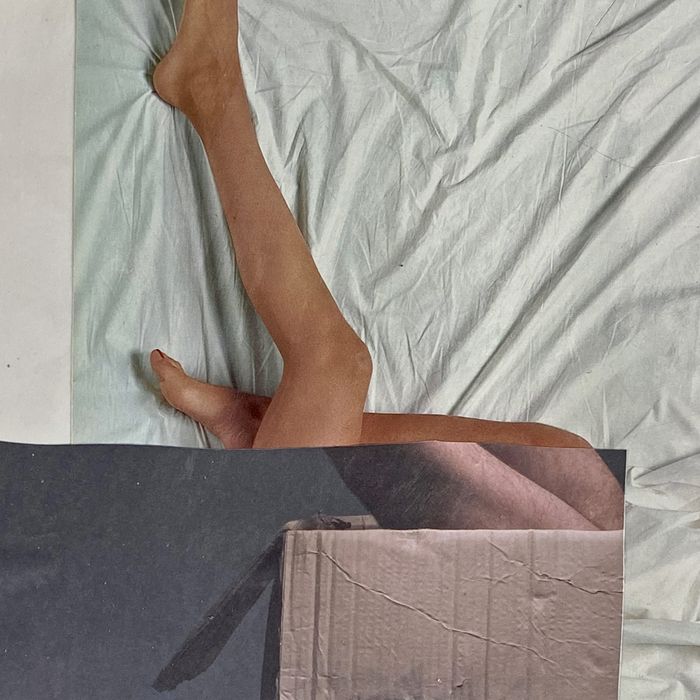 Photo-Illustration: James Gallagher
This week, a Canadian woman flying to Arizona to meet the online boyfriend she's fallen madly in love with: 49, in a relationship, Vancouver.
DAY ONE
10:45 a.m. I shut my MacBook and take a deep breath. Story filed. Being a freelance writer is a hard enough hustle even without a pandemic. But I'm versatile, and I recently upsold strategy work to a fledgling businessman who hired me for content writing.
5:05 p.m. I meet up with friends for physically distanced drinks in a downtown Vancouver park. Tomorrow is a big day — I'm flying from Vancouver to Phoenix, Arizona, to meet up with Z, a guy I matched with on Tinder who's now my long-distance boyfriend — so I don't want to overdo it. 
B passes me a cold IPA. Another writer, she and I have been friends for almost two decades. Her husband and his buddies pause their conversation long enough to say hi — and long enough for N to tell me he thinks I'm fucking crazy when he hears about my upcoming Tinder adventure. K, another girlfriend, rolls up on her bike a few minutes later. Time for girl chat. Of course, they ask me about Z.
I've been divorced for two years now. Since my marriage ended, all my relationships — primarily sexual — have barely been blips on the fulfillment radar. With Z, it's totally different. Our connection has been off the charts. We have similar histories: Both of our marriages ended after more than 15 years. Our exes were the ones who broke them off. Mine had a midlife crisis; his got a girlfriend.
I'm poised on the precipice with Z. We've spent an insane number of hours video-chatting; we've hauled hideous skeletons out of our respective closets. We've said "I love you," which seems batshit crazy, but feels beautifully real. We've had some intensely sexual encounters of the digital kind. (He even made me a video — a first for him and me.) Despite both being in our 40s (he's nine years younger than me), we're like hormonal teenagers. If all goes well when we meet IRL, I plan to stay indefinitely.
8:45 p.m. The sun has turned deep orange, and I'm feeling antsy. I say my goodbyes, and K and I walk out of the park together. If things don't feel right with Z, she says, don't be embarrassed. She's been a steadfast friend for years, and I trust her judgment. If it doesn't work out, I'll just get back on a plane, quarantine, and begin anew.
DAY TWO
6:30 a.m. I can't sleep, so I get up and write in my journal. My suitcase and tote bag are packed. I'm all set for my late-afternoon flight. The last time I got on a plane, I embarked on a 40-hour journey from Asia back to Canada. I'd lived in China for almost three years, lured there by a job opportunity and the chance for a fresh start after my marriage ended. When the pandemic hit, I was in Thailand and effectively "locked out" of China when it suddenly closed its borders. I had little choice but to come back home. Since then, I've been in limbo, staying with family and house-sitting for friends around the city.
Since my marriage ended, I've felt untethered — especially after my transient expat life. I didn't hate being single, and I've always supported myself financially; living abroad and traveling solo have been empowering. But I've been longing to put down new roots and coupling up with Z has felt natural.
9:48 a.m. Z messages: "Good morning, beautiful. Today's the day!" I immediately message him back, using way too many exclamation points and emojis.
7:45 p.m. It's 104 degrees Fahrenheit in Phoenix! I'm waiting on the curb for Z. He messages: "I see you." Eek! A truck pulls up and he hops out. He's bigger and taller than I imagined, but just as gorgeous, with the ice-blue eyes, tendrils of grey in his beard, and megawatt smile I've grown to love. He gives me a quick kiss and hug, but we can't linger at the airport. Seconds later, we're on the highway, Z holding my hand while driving. We're both beaming.
8:20 p.m. He pulls into a gas station and parks. He leans over the console and pulls me close, tracing his fingers across my cheek. "Yup," he says in between kisses. "This is gonna work just fine." Everything feels electric.
10:30 p.m. We arrive at the condo Z booked in Sedona for a few days. We've often talked about how our first moments alone will unfold. Will we just kiss and paw at each other and fall asleep? Or claw off each other's clothes and have sex like wild animals? We do the latter — after an extended make-out session.
I stretch out on the king-size bed and my dress rides up, exposing my tanned thighs. Z climbs on top of me. "Damn, you're even sexier in person," he whispers. We spend what feels like an hour just kissing, talking, and touching each other. My body is on fire, and it's sweet relief when our clothes come off. Our bodies fit together beautifully. We finally have that next-level intimacy we've both been craving.
DAY THREE
6:30 a.m. I open my eyes. Z is staring at me with those baby blues. "I love you," he says. Our limbs are tangled together, and we spend a long time kissing. I can't remember ever feeling so happy — or horny.
7:15 a.m. I peel myself away to make us coffee. We lounge in bed, naked, sipping and chatting. We're both starving, but hungry for more of each other first. Z leaves a wet trail of kisses on my breasts and makes his way down my belly. The man has a way with his tongue.
11:30 a.m. Is brunch our first official date? We're holding hands across the table at a Mexican restaurant. It's strange that we've professed our love for one another, had sex, and are only now having our first meal together. (Although, as avid cooks, we've shared a ton of food pics over the past few months.) I snap a photo of him across the table and text it to B, letting her know I'm very much alive.
6:30 p.m. We go for a drive to catch the sunset over Sedona's red rocks. We pick up food at a grocery store, and it feels natural roaming the aisles together and catching each other's eyes smiling above our masks. Who knew that the typically banal task of selecting avocados and comparing coffee beans could be so sweet?
7:45 p.m. We skip dinner and have more sex.
DAY FOUR
10:30 a.m. We do need to eat actual food, so I make avocado toast. We want to lounge by the pool before it gets too hot, but I discover it's monsoon season when a downpour keeps us inside and otherwise occupied.
3:00 p.m. My head is spinning. What the fuck have I done? Am I insane for rushing into a relationship with someone I barely know? Up until now, I've had few reservations about me and Z. His post-breakup life is still kinda messy (his adult sons are disaster zones right now), but he and I are crazy compatible — soul mates, he's said. We communicate well and have vowed to be open, honest, and respectful. I've told him things about my life that I've never told anyone. Plus he's supersmart, generous in spirit, and has a wicked sense of humor. And the sex is hot. So what's the problem? I don't know.
4:45 p.m. Z plops half of his burger on my plate and takes the other half of mine. My ex was bad at sharing. I gorge and regroup, realizing that the stress leading up to the trip (and having more sex than food!) messed with me. My freakout is over.
5:45 p.m. I'm in my element hiking with Z. We take photos (we both have real cameras!) and a few selfies. The bliss is back.
11:30 p.m. I'm a little drunk. We have some bourbon, followed by a slightly raunchy sex session and sleep.
DAY FIVE
11:25 a.m.  We're on another sweaty hike, this time to one of Sedona's vortexes, which are thought to radiate their own concentrated "spiritual energy." Neither of us really believe in that, though. Besides, there's already plenty of electricity between us. The heat is searing, and my throbbing brain feels dehydrated from last night's bourbon. We sit on a rock and talk about our future — finding a house with a big garage for his tools and space for me to do some desert gardening. It feels good to plan.
3:45 p.m. Pool time. There is a family around so we have to behave, but as soon as we're back inside, Z strips off my bikini and his swim shorts. This man is perpetually hard. He blames me; I don't mind one bit.
6:00 p.m. We get dinner outside with some of Z's friends who live nearby. He's known them for a long time, and they're excited to meet me. I'm nervous, but they turn out to be welcoming, chatty, and very happy for Z and me. They're obviously deeply in love. The four of us make plans to go camping sometime. When we get back, Z and I get into bed and fuck for a long time with me on top. I'm constantly amazed at his staying power.
DAY SIX
11:30 a.m. "Welcome home, baby." After an hour's drive we arrive at Z's bachelor pad, where I'll be living for the foreseeable future. It's familiar from our video chats and we waste no time christening the bed.
2:00 p.m. I squeeze in some work while Z is at the chiropractor. A freelance editing gig has come up at a publishing house — no interview, but I have to do two edit tests. It's easy for me to disappear into work, but I miss my sexy guy. It's our first time apart since he picked me up at the airport curb.
5:45 p.m. We get takeout Chinese. My ex hated the Chinese food I loved, so the Beijing beef is extra indulgent. I haven't thought about my ex in a long while. We are not in touch at all, not even on social media. And now I'm thrilled that asshole dumped me. Did I mention that I'm having the best sex of my life?
DAY SEVEN
3:00 p.m. Z has to go back to work in a couple of days. It's been fun settling into "our" place and, of course, having constant IRL sex.
5:00 p.m. Today's been a lazy day driving past potential rental houses (a bigger place to move into together!) and grocery shopping. There's so much comfort in the quotidian.
8:00 p.m. I overhear part of Z's phone conservation. Someone asks him how long I'm staying. His answer? "Forever."
Want to submit a sex diary? Email sexdiaries@nymag.com and tell us a little about yourself.