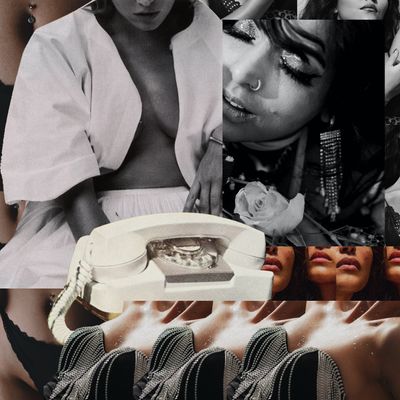 Photo-Illustration: by Marylu Herrera
New York Magazine's "Sex Diaries" series asks anonymous city dwellers to record a week in their sex lives — with comic, tragic, often sexy, and always revealing results. The column, which began in 2007, is the basis of a new docuseries on HBO.
This week, a woman eases back into intimacy with an Italian consultant who once worked for her company: 28, single, Tokyo.
DAY ONE
7 a.m. I'm up early, thinking about last night. I went out with A, a former colleague who's become a (somewhat random) new friend. He's visiting from Italy, supposedly for business, though the timing is awfully convenient — we recently started talking more, and things have heated up between us. We met up last night, walked around the city, but nothing happened sexually. I told him there was "no chance," but I do have a little crush on him and I'm curious what will happen tonight.
I said "no chance" because I have a complicated relationship to sex. Several years ago, I dated a much older, powerful man who was really into kink and pushed me into some experiences I wasn't comfortable with. It kind of numbed me sexually, and I've had a sort of ban on sex since then. I'm open to changing my mind, but it's going to take a beat.
11 a.m. At my office. I'm a marketing coordinator at a tech company, which is how I met A. I hired him virtually in 2021 to consult on a project I was working on for a few months. When his contract ended, I didn't think about him, really. Fast forward to last Halloween, when A calls me out of the blue after I post a rare Instagram Story of myself doing gymnastics, and he starts asking me all kinds of questions about my past as an athlete and my life in Japan. I didn't think much of the conversation but did my best to seem bubbly and interesting. We talked for about an hour and a half. Last month, he texted me that he was thinking about visiting Tokyo. A day later, he sends me his itinerary on WhatsApp, and here we are.
4 p.m. I decide to take A to one of my favorite bars tonight. It's in a neighborhood filled with thrift shops and trendy cafés.
6 p.m. We're here drinking beer and talking about soccer. I like him and am charmed by him but unsure about letting my guard down.
8 p.m. We both start to loosen up. I hint at my conflicted feelings about intimacy, which he responds kindly to. I tell him I'm unsure I'll want to have sex with him, or anyone ever, for that matter, but that it's not totally off the table. It's complex, and I'm working through it still — I don't say all of this to him, but I definitely put it out there.
9 p.m. We hunt for a nice sushi restaurant to no avail and end up at an Italian bar in my neighborhood, knocking back negronis and gin-and-tonics. At one point, he scoots around the table to try to sit closer to me and I let out a yelp. "No!" I'm just not sure if I'm ready to be so flirty with him.
10 p.m. I surrender to the fun of it all, and the rest of the night we're flirty and we rub shoulders as we walk along the canal back to my apartment after midnight. I know he wants to come up, but I insist that he go back to his hotel.
10:30 p.m. He calls himself an Uber and we decide to meet again the next day.
DAY TWO
10 a.m. It's the weekend, so I sleep late and relax at home.
1 p.m. Texting with A. We decide to go to a hot-spring resort, which is a few hours away by train.
3 p.m. On the train ride there, we have a good long talk about relationships, therapy, and our friends and family. I'm enjoying getting to know him but not sure where this is going. We're sharing a hotel room tonight — it has two beds, but still.
7 p.m. A and I arrive at the hotel after sundown, starving. We end up walking around for about an hour getting turned away from restaurants that are either closing or at capacity, and we start to grow worried. We're silent as we walk around in the cold wondering if we'll eat that night, and I start to regret renting a hotel room in the countryside with someone I met in person only two days ago. Finally, we find a convenience store where we grab food and beer and make the walk back to our hotel room.
I start to get a sinking feeling and ask him not to try to have sex with me when we get back to the room. He listens and says he understands but seems a little disappointed, I think.
9 p.m. We get into the private hot spring in our room and have some beer. I'm kind of shocked to see him fully nude, though I don't feel uncomfortable walking around naked in front of him. Afterward, we pick at our food and talk some more.
11 p.m. We're both nestled in our separate futons side by side, and I fall asleep almost instantly.
DAY THREE
8:30 a.m. I wake up A so he can see the mountains from our window. He says it reminds him of home. We shower and get back into the tub. I make myself tea and him a drip coffee.
9:30 a.m. He's lying on his futon while I sit at the table. He shows me some new music he's been working on. From our work days, I remember him telling me that, in addition to being a consultant, he's a producer and DJ. I put on his EarPods and listen. His music is melodic and calming; it calls me back to the futon, and I lie down. He rolls toward me and asks if he can kiss me. I say yes, and he does. It's nice, but I don't make any moves back. He starts kissing my neck — I think to myself that he's pretty good at this, but there's no arousal on my end. I tell him that we need to pause and that I just have to take this really slow.
10:30 a.m. We check out and head back to Tokyo on the bullet train and plan out the rest of our day. He's leaving the next evening, so we want to have a nice dinner. As we talk, he lets me rest my head on his shoulder. We are holding hands, and at one point I drape my legs over his. He comments on how small my hand is inside of his own and tells me that he really came to Tokyo for me, that the business meetings were an afterthought.
1 p.m. As the train screeches to our stop, I wake up in a daze and notice that I drooled on his sweatshirt. I start furiously wiping it off. A glances at me and smiles. He says he's glad we're really comfortable now.
5 p.m. We are on the hunt for sushi, and it leads us to a long queue to get inside a popular conveyor-belt restaurant. He orders a lot. Then I take him to a bar where I used to work when I was a student. I'm afraid A's not enjoying it because he keeps mentioning how bad it smells. At one point, my friend N texts me and I invite her to join us. We drink more as we wait for her and joke about introducing him as my husband. We're being really flirty, and I let him rest his hand on my knee even when she's around.
11 p.m. We call it a night. A's leaving earlyish tomorrow. He pays for everyone's drinks and calls an Uber. I go with him when it arrives, and we end up back at his hotel room.
11:30 p.m. We're lying on the bed together, but I'm too tired to do anything, even if it's our last night together. We drift off after a while.
DAY FOUR
9:45 a.m. When I wake up, A's already up getting ready. I feel awkward about everything and want to go home. But he suggests we go to a café near the train station before he departs, and I go with him.
11 a.m. I have a coffee float, and he has a poke bowl. He says if he ate what I had, he'd be running to the bathroom, which has become a recurring joke between us. I love coffee and ice cream together. I think I'm slightly bonded to him now and happy that he's picked up on one of my habits. I start to feel genuinely sad that he's leaving.
12:20 p.m. I stay on the platform until his train is out of sight and I can no longer wave to him. I start thinking of what to write to him since I could only muster an "It was nice having you, hope you had a good time" as we hugged good-bye.
1 p.m. I start composing a long, heartfelt message to A while I'm on my way to get farewell margaritas with a friend who's moving back to Louisiana after three years here.
5 p.m. He writes back! "I miss you already." I have a tender moment staring down at my phone in my apartment.
8 p.m. It's been a long, emotional day, and I head to bed early.
DAY FIVE
10 a.m.  A calls me to say hi. We start reminiscing about the past few days together. He says if I want to come to Italy, he'd be happy to host me anytime. We fantasize about the possibility of me flying there today or tomorrow — I have a few days off work — but decide to hold off. I need to think about it.
11:30 a.m. Well, what the hell. I book my flight to Milan for tonight! I know it sounds crazy. I send A my itinerary. I feel really giddy and adventurous. He says he'll take care of everything once I land.
2 p.m. I head to the airport. I have a long flight ahead.
7 p.m. On the flight, I sleep, and when I'm not sleeping, I think of A.
DAY SIX
9 a.m. Most of this day is spent in the air. I feel good about going and proud of myself for being open to evolving and pushing myself.
2 p.m. My heart flutters when I spot him at the airport. It's a little surreal. I shrink back when he first hugs me, then ease up while we start walking to his car.
3 p.m. After we put my luggage in the trunk, we slide into the car and have our first real, deep kiss. We hold hands on the drive to our Airbnb in Liguria.
11:30 p.m. It's late. We check in and have some nice wine, then I take a bath. We watch the news and fall asleep spooning.
DAY SEVEN
10 a.m. We wake up and go downstairs to a café for espresso and a bite to eat. A tries to teach me the correct way to pronounce pistacchio in his native Italian before we head back to the car. He has a plan for us in wine country.
12:30 p.m. We check into a cute little apartment. Once the host leaves us, A and I lie down and start to have intercourse for the first time. When he actually penetrates me, I think to myself, Wow, this is actually totally fine! It feels good, but I also feel a little shy and performative.
1 p.m. He suddenly remembers he has a Zoom meeting with a client, and I unpack while he's taking a call.
4:45 p.m. We're both showered, then we have sex again. This time slower and more sensual, with me on top. I ask him for cues constantly. This feels really new for me and quite foreign.
6 p.m. I feel special and grateful about everything that's happening. I want him to know that I'm into this.
9 p.m. We cuddle, and I shed a few tears telling him that the time we've spent together has started to heal me a bit. Soon we'll have to talk about what all this means. But for now, I'm proud of myself for coming this far.
Want to submit a sex diary? Email sexdiaries@nymag.com and tell us a little about yourself (and read our submission terms here.)