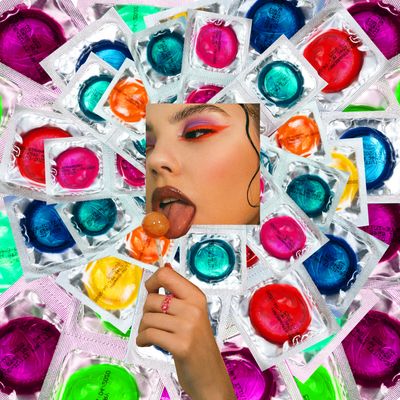 Illustration: Marylu E. Herrera
This week, a social-media executive tries to distract herself from a situationship by having some fun: 29, single, Vermont.
DAY ONE
8:30 a.m. I finally force myself out of bed after my (second) alarm goes off. I worked from home even before the pandemic, so I've completely ruined my sense of urgency and morning routine, though I'll sometimes go into the office. I work in social media and digital marketing for a celebrity-owned start-up. It's not my dream job or anything, but it's very flexible and just the right amount of challenging. My computer boots up, and I immediately leave my desk to go make coffee.
12 p.m. I give myself a lunch break and text one of my best friends, R. We've known each other since fifth grade. I don't love that I still live in our hometown — there's never a single day that it's not overrun with tourists — but at least the childhood friends I keep up with have to come home eventually. Like for holidays. I need to pick her up from the airport later and want to make sure her flight is still on time.
I kind of wanted the distraction to keep my mind off the situationship I'm in with B. I feel we're perfect for each other, but he is very commitment-phobic. He was badly burned by an ex he thought he'd marry.
3 p.m. R and I get drinks after I pick her up, and we have a nice catch-up session before I drop her at her parents' place.
7:30 p.m. I get home and see I have a text from M, a guy I met while out with friends a few weeks ago. He's been begging to fuck me, but I've really not been that interested. B and I are not "together-together" so we still see other people sometimes, and we each know that, but I'm just really unimpressed by everyone else that's not him. I think I'm getting too old for casual dating. I tell M I'm out but to text me in a bit to buy myself some time.
9 p.m. M texts me again. I give in. I don't feel forced or worn down by him — just bored enough to entertain the idea of a hookup. He says he'll be over in 15 minutes. That 15 minutes flies by, and all of a sudden, he's here. He's actually very sweet and a little shy.
We very quickly make it to my bedroom. He's great with all the flattery and tells me I'm superhot and he loves my body. He takes off my shirt and sucks on my nipples, which makes me ecstatic. I have very large tits that I love to have played with. Luckily, M obliges for a few minutes before we're both completely naked, and he's begging me to suck his dick or get on top of him. I do a little of both, and he comes almost immediately after I start riding him. He seems embarrassed in a really sweet way, so I tell him it's no problem (and it genuinely isn't one).
10 p.m. M gets ready to leave. He still seems a little embarrassed, but he asks me if I am around tomorrow. I tell him I have plans but should be home by nine and he can text me if he wants. He agrees, and we say good night. I immediately strip my bed and do a load of laundry. I'm such a clean freak.
DAY TWO
10 a.m. I finally respond to B's texts from the other day. He's not a great texter, but that's because we text the way most people talk — multiple messages about all sorts of things — so nothing we say is ever that urgent that it requires an immediate response. We used to text every day like this though, and that definitely has decreased with time, which makes me sad.
I met B through a guy friend I've had for ages — one of the few people in this town I regularly socialize with. He made all the first moves and made it clear he was very interested in me, but I wasn't sold at first. As I got to know him better, I realized he was exactly what I was looking for — classic stuff, I know. As I started to reciprocate feelings, B seemed to back all the way off. Now we're in some weird stalemate. He doesn't want to be exclusive, but he still very much acts like a boyfriend in my mind. Friends have noticed it too, so I guess I'm not (that) crazy. If he fully wants out, then I think it's on him to let me know that. I've made my feelings toward him clear, and instead of running the opposite direction, he's … stayed exactly where he's always been.
2 p.m. My car dealer is an hour away, and I have an oil change to get to, so I leave to get there on time.
6 p.m. Finally home from the dealership. I quickly change before leaving the house again to catch a movie by myself — another thing to keep me busy while not seeing B this weekend.
9 p.m. Movie's out. I text M to see if he still wants to come over. Otherwise, I'll probably get in bed when I get home. He responds pretty quickly saying he's still out but he definitely would love to come by. I tell him to do it before midnight or else I'm going to sleep. I'm a bit older than him, and it shows most in the way we spend our free time.
12 a.m. M's left me on read, so I go to bed annoyed.
DAY THREE
8 a.m. I wake up to see I got a text from M about 2:30 last night. He just apologized for drinking too much and losing track of time. I ask if that's him asking to reschedule, and he just likes my question. I roll my eyes and get out of bed.
1 p.m. FaceTiming with a college friend I haven't seen in years. It's been a long time since we've talked, because she doesn't use any social media, which I am definitely jealous of, having to use a bunch of different apps just for my work.
7 p.m. Against my better judgment, I text M. He says he'd normally love to come over right now, but he has a work event that will go late. I tell him I'm bummed but it's no big. "I know — I definitely wish I was fucking you right now instead," he replies.
11:30 p.m. I have work tomorrow, so I call it an early night. Normally, B and I would at least FaceTime after not seeing each other all weekend, but he can't tonight. He has a family event in a town a few hours away he has to get to during the week, so he's been busy preparing. Understandable, but it makes me exceptionally sad. I don't want to lose him forever.
DAY FOUR
8 a.m. I've been trying really hard to get a sourdough starter going with very mixed results. I scroll through a few baking blogs for some tips before feeding mine this morning.
12 p.m. My office has our weekly all-hands meeting. It's always way too long and right in the middle of the workday. It feels like I never get anything done on these days because of it.
6:30 p.m. I hear from M. He says he'd love to come over later, and I tell him that sounds good, but after the other night, I don't get my hopes up. I have stuff to do anyway, so it's fine if he doesn't make it.
10:30 p.m. M's officially bailed. I roll my eyes and open Tinder. It might sound outrageous, but I genuinely feel too old for casual dating. I swipe on a guy who makes it very clear in his profile that he has a massive dick, and we match. B has surfaced and texted me some really sweet things about us, like how he was bummed that we didn't see each other this week, and some more vulnerable things about what he does and doesn't enjoy about big family get togethers. I wish I wasn't such a sucker for his sweet talk, but I feel better about us than I did the rest of the weekend.
12 a.m. I get into bed and see I have a notification from the Tinder guy with the huge dick. He wants to sext over Snapchat. I give him my username but tell him I'm exhausted so I may not reply tonight. Then I go to sleep.
DAY FIVE
8:45 a.m. I actually have to go into my office today. I take my time getting up and out. When I finally get in my car, I realize I have a new Snapchat friend request from P. I accept it and hit the road.
10 a.m. I show up to the office and get settled in a spare cubicle. I've gotten three or four snaps from P already this morning. He wants to come over, but I tell him I'm working. He asks about tonight, but I'm busy. It says on Tinder that he's actually kind of far away from me, so I figure that's that, but he asks about coming over tomorrow instead.
Turns out he's actually willing to cross state lines to fuck me. I decide to let him; I can blow off work anyway. He seems thrilled, then immediately asks me to send him some snaps of my boobs. Luckily, I keep some photos of them on hand for moments like these. He immediately tells me they're huge and that he loves them. I love it when guys obsess over my breasts like this.
4 p.m. Dashing home from work to get to a holiday party.
9 p.m. Home from the party, I put on Netflix and clean up a bit before P shows up tomorrow. He has the day off and wants to be here by mid-morning, since he's coming from so far away. I still can't believe he wants to, but I'm not going to turn down a guy who's that dedicated to seeing me.
DAY SIX
9:30 a.m. I wake up when P texts me to saying he's headed my way. He gives me his ETA, and I start to wonder why I said he could come over. No turning back now, I guess. I head straight for the shower.
12 p.m. P is here. He definitely lied about his height, which I find amusing. But I quickly discover that he certainly was not lying about the size of his dick. I nervously joke about how much of him I can take, which he, of course, loves hearing.
We're kissing in my bedroom, and he's obsessing over finally getting to see my breasts up close. I go to suck his dick but genuinely can't get more than just the head in my mouth. I get on top. and surprisingly. it's not as difficult as I expected. I ride him and come pretty quickly.
1 p.m. We jump in the shower, and he asks if we can cuddle before going for round two. I kinda just want him to leave. But not more than I want the chance at another orgasm, so I say yes.
2:30 p.m. P is finally leaving. We went at it again for another 45 minutes or so. He takes forever to come, and I'm over it. I shower yet again after he leaves and throw my sheets back in the wash.
4:30 p.m. I need to get on the road, because I'm visiting my extended family for dinner, and they're an hour's drive away. I'm feeling incredibly sore everywhere, but I suck it up and get in the car.
10 p.m. My family members all go to bed super-early, and I'm exhausted enough after the day's events that I could have gotten in bed myself two hours ago. Time to sleep.
DAY SEVEN
8 a.m. I wake up and see I got a text from M around midnight last night asking if I was around. I tell him I'm back tonight.
10:30 a.m. I'm getting ready to head home, and I see that B has texted. He's once again making me melt with what he's saying — he jokes about comparing notes on our family gatherings this week and wants to know when I'm free to see him, so we can watch the movie we've been talking about for ages. I genuinely don't have time to reply, so I leave it for later and get on the road. I have to be home to meet some friends later for their World Cup watch party.
7 p.m. I drunkenly text M while I'm on my way home from the party. I decide to change into PJs and watch a movie while waiting for him to arrive.
11:50 p.m. He finally arrives and can't keep his hands off me. We barely do any foreplay, but amazingly, I'm into it. I'm super-close to coming almost right away while he's on top, but I'm not getting all the way there. I ask him to let me on top, where I come almost instantly. Maybe I could get used to sleeping with M … while B gets his shit together.
Want to submit a sex diary? Email sexdiaries@nymag.com and tell us a little about yourself (and read our submission terms here.)