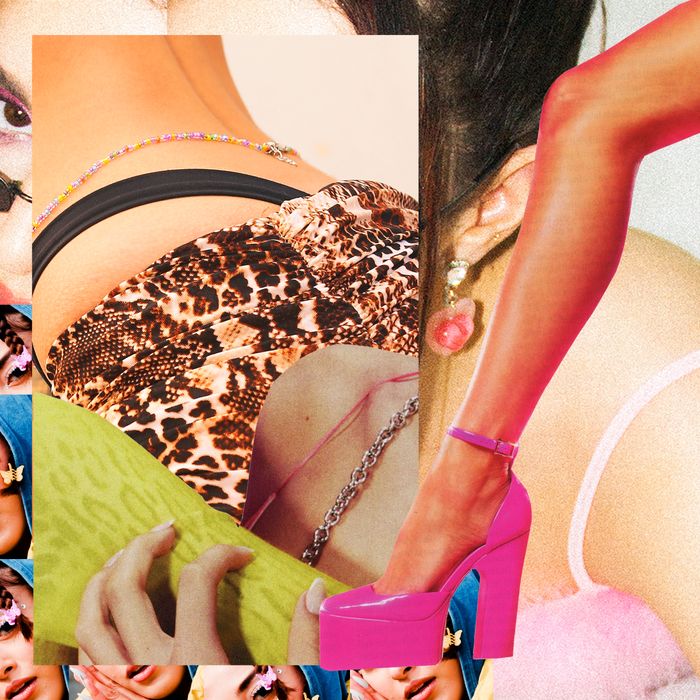 Photo-Illustration: by Marylu Herrera
New York Magazine's Sex Diaries series asks anonymous city dwellers to record a week in their sex lives — with comic, tragic, often sexy, and always revealing results. The column, which began in 2007, is the basis of a new docuseries on HBO.
This week, a woman returns home to her family, and her favorite new lovers: 36, single, Florida. 
DAY ONE
6 a.m. I wake up alone in my Brooklyn condo wanting sex as badly as I do almost every morning. I get out a toy. I turn over on my belly and think about the last time I was with K (about a month ago), whom I met on Feeld (which I joined a few months ago) when I was in Florida with my parents.
8 a.m. I am so tired. For the past six months, I've been traveling to Florida every week to take care of my dad, who's sick. But managing the travel and trying to keep up with my work as a wine sales rep was too much; I gave notice last week. Since I ended my seven-year relationship around a year ago, it feels like my life has been on fast forward.
8:30 a.m. I force myself to get on my yoga mat for a few minutes. I have to leave for the airport in an hour to go back to Florida.
10 a.m. At LGA waiting for my flight. I see the family restroom across from where I'm sitting and can't help thinking of C.
He was my first Feeld match; we met over the summer. He's hot, muscular, tattooed, blond with blue eyes, kinda old punk-kid vibe, which is not usually my type. He was also incredibly charming, smart, and on "the narcissism spectrum," which is very much my type. He also fucked me for an hour nonstop, which most men are not able to — and maybe not even interested in.
Anyway, family restroom. Sometime last Fall, he flew me to meet him in New Orleans for a weekend and when we were flying back out, I convinced him to fuck me in the family bathroom. He put me on the counter, and with my jeans around my ankles and sneakers on, he lifted my legs over his head and fucked me as I held myself up with my arms.
I wanted a hot love affair at the end of the summer and fell in love with him. Then things went south. He started saying things like he loved me, he wanted to marry me, put a baby in me. But he has two children in school in LA, an ex-wife, a girlfriend, and dates three to four other women at a time in addition to constantly meeting new people for sex … like, daily. I was in a little too deep, but I got out before it really fucked me up.
4 p.m. Rental car company didn't have a car for me despite having a reservation and now I am in a $75 taxi to my parents' condo. That was another reason I couldn't keep going back to the city for work; it's just too expensive. I loved my job, but it's not like I am saving lives or making millions of dollars. I need to be with my family right now, and I know I'm incredibly lucky to be able to make that decision. I'm planning to move here and live off of savings, though I don't have it all figured out yet.
I don't know, after 14 years in the city, it could be nice to live here. It's warm, you can drive to the grocery store — plus there are guys like K here and this incredible couple I met, J and N.
8 p.m. K texts that he will be around. I tell him Wednesday can work.
DAY TWO
7 a.m. Wake up and get a cold brew.
I am really looking forward to seeing K again. The first time we met up, I was absolutely astounded by how much more attractive he was than I expected; he's six-two, a full foot taller than me, which you can't appreciate in the photos. We hugged hello, and I followed him into his hotel room, trying to make casual conversation. He sat on the edge of the bed and I put down my purse. Neither of us wanted to talk but we made it through a few words before I walked over to him, face to face with him sitting on the bed, and took my top off. He put his arms around me and kissed me like we were already lovers.
9 a.m. Have to take the dog to the vet, and apparently my mom has three appointments I need to take her to and from today.
4 p.m. It's a good thing my manager said "just do the bare minimum right now" because that is definitely what today was like, but I did just spend the last 40 minutes in the car outside my mom's therapy appointment sending emails and texts and checking stock and putting in orders. I look at my cycle app and see that I'm almost ovulating. I always try to schedule something fun for when I'm ovulating. I can always get into it but why not do it when I'm at my most insatiable? I text J "I just got back — are you and N around this week?" He responds almost immediately that he'll check with N. I look back at his last message to me, after the last time: "You were incredible and we want more. We are big fans of yours, pretty girl."
7 p.m. Making dinner for my folks.
9 p.m. I get ready for bed. J hasn't texted me back yet. I go back through the texts a little further to pictures he sent after the second time. There's this six-second clip that N took of me reverse-cowgirl on her husband, and it's so hot. There's also this sweet emotional component to my dynamic with them that I love and was so unexpected. Like, I heard him say "Your pussy is so good" to his wife of 15 years. He has always fucked her before me every time; I don't think it's a rule, just what he wants. They are clearly doing something right, and it feels lovely and warm to share that energy with them.
DAY THREE
6:15 a.m. I feel like I could die from horniness.
9 a.m. I feel behind on work. I try to prioritize and get some orders in.
12 p.m. I want to get a Brazilian wax before I see K tomorrow. I need to get my nails and highlights done too.
1 p.m. I tell my folks I'm going to the grocery store to pick up the few things we need, then go into a waxing place in the strip mall. This seems better than the last place I tried here.
4 p.m. Wax was actually great; I am always amazed that you can pay someone to do that when they have mad skills and can get it done in, like, ten minutes.
8 p.m. Last few hours were productive, work-wise, and J texted me back — Friday night, 10:30? Yes!
DAY FOUR
6:30 a.m. Seeing K tonight. I get out of bed a little more easily than usual.
12 p.m. I told my parents I was going to stay with a girlfriend. I definitely feel a little guilty, but I know they want me to be happy and content.
5 p.m. I made a roast chicken and potatoes for my folks and then left and got my nails done. I told K I would get the hotel room so I could have some space to myself to work tonight and tomorrow morning.
7 p.m. K is almost here. I get super-nervous, like maybe I made up how incredible the first two times with him were and now I just invited a serial killer to my hotel room. I pop a bottle of a really good small-production Champagne that was inexplicably on sale at Whole Foods and drink most of the Styrofoam cup by the time he knocks on the door. I open it and am again amazed by how hot he is. We kiss and my clothes come off and he feels so good. He picks me up and I instinctively wrap my arms and legs around him.
8 p.m. After we fuck, we lie next to each other for a few minutes. I roll up a spliff and ask if he wants to come take a walk outside. We smoke, or really I smoke — he takes a few hits.
9 p.m. We go back upstairs and I put on "Disco House Party" on the TV's music channel. I start giving him head, and I know he is totally loving every second. We fuck again, cuddle a little and then I get into the other bed and curl up to go to sleep. I always sleep better alone.
DAY FIVE
7:20 a.m. I see him when I open my eyes and am very pleased that he is there.
9:20 a.m. We cuddle, fuck, go downstairs for the free breakfast. It's probably the most relationship-feeling situation I have been in since my ex. Sitting with that man in a hotel lobby watching him eat a bagel and scrambled eggs.
11:30 a.m. He heads home, and I do a workout at the hotel gym.  
2 p.m. Go to the grocery store for my parents.
8 p.m. K texts me, "I don't know if I told you this but I have a vasectomy so if you're down, we may be able to ditch the condoms in the future," and offers to get tested first. I will say this is probably the most rational request to fuck me raw that I have gotten in a while.
DAY SIX
7 a.m. Wake up so excited to see J and N. I come using only my fingers and immediately feel this pull inside me; I want J so much. His cock is so nice, it hits my G-spot perfectly. The first time with them, I got on top of J while he sat up against the headboard. A minute later I felt like I was gonna come, and then I started gushing everywhere, grinding on him, holding her, kissing them both. I cannot wait to see them …
12:30 p.m. Making lunch for my folks while I check emails (and the 35 Teams posts that my phone has been beeping about since 10 a.m.).
4 p.m. I didn't get to go to the gym today; I get on my yoga mat and stretch, then shower and start getting ready.
6 p.m. I take a mirror selfie after I put on the little bit of makeup I wear and text J "so excited to see you and N!"
10:30 p.m. I pull up to their house, this cute Spanish-style home. He comes out and I hug him and follow him inside to their bedroom. I sit on the couch and she comes in looking so cute in this dark orange jumpsuit. We hug and kiss. They ask how I am, and I tell them the truth — I'm stressed, I just gave two weeks' notice, all of it. They are so warm and tell me they've been through all of it, including sick parents. They tell me they've always made time for "this" too, at least once a month. I love that because of course not everyone could understand me meeting up with strangers for sex while my father is seriously sick. They understand though.
She suggests a tequila shot, which seemed so cheesy to me the first time but feels like such a sweet ritual now. I tell them I'm grateful for them and ask if I can suck J's cock. They say yes and I'm on my knees. She joins me and then we move to the bed. It's so fun. So hot. So seamless.
12:30 p.m. I leave and drive home feeling like I'm on the best drugs. I hit every green light, no traffic. I think about how anything can happen. I think about how hot she is. I think about how good his cock feels.
DAY SEVEN
6:15 a.m. Wake up feeling high still.
9 a.m. I feel optimistic about whatever happens with quitting work, deciding to be here with my dad for however long.
12:30 p.m. J texted me a pic he took of me and N, both of our lips on his cock. And then … N's phone number! That feels like the biggest compliment, that she wanted me to have her number. I know she reads my texts with him but she said she usually has him do all the communicating with other people.
5 p.m. I feel relaxed all day. I think about her eating me out from behind while I sucked his cock and I'm just like, Wow …
10 p.m. I go to bed and think about how much I love sleeping alone, but I know I'm going to wake up tomorrow feeling just a little bit jealous that N has J right there next to her.
Want to submit a sex diary? Email sexdiaries@nymag.com and tell us a little about yourself (and read our submission terms here.)