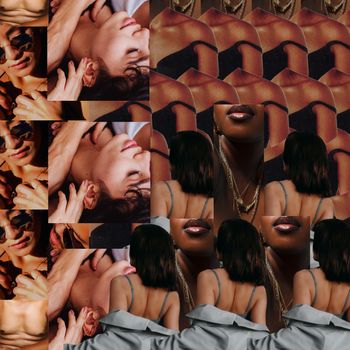 Illustration: Marylu E. Herrera
This week, a therapist kisses someone new for the first time in six years: 32, in a relationship, Manhattan.
DAY ONE
7:30 a.m. It's the first day of nonmonogamy for me and my boyfriend. We came to this conclusion last night following weeks of fighting over it and fighting over us. I wake up feeling drained and more worried about how I'll get through the workday than how I'm going to feel in this new chapter of our relationship.
8:30 a.m. On the subway. I'm a therapist. Every day is different, but today I see clients from a private office I rent.
2 p.m. I obviously can't discuss my clients, but let's just say I've had two very interesting sessions so far and both were about sex. Sometimes I don't know if sex fucks us all up or if sex is the thing that makes us excited to be alive. Of course, I guess it's both.
4:40 p.m. Subway home. I look forward to pouring some wine, ordering some food, and not thinking about anything all night. I just need a night off from all the heavy stuff.
Long story short, we've been together for six years. Happy-ish. Totally monogamous. But lately, we're fighting all the time. We're off track. We're totally disconnected. But we don't want to break up. We both want to ride things out a bit. Since I haven't had interest in having sex with my boyfriend — because I'm always mad at him and we're always in a fight about nothing — I suggested we explore nonmonogamy. I understand the risks. He could meet someone else. I could too. But it also might just offer the reset we need. In any case, I don't want to think about it right now.
6:15 p.m. My boyfriend comes through the front door. He works in marketing for a TV network. It's not the most interesting job (he wanted to be a producer), but this is stable and pays pretty well. He says hi and we both kind of smile at each other like "I know, weird day." He looks really tired. It's cordial. He starts making himself dinner.
9 p.m. I get into our bed with my laptop and watch a movie. I wonder if he's in the other room downloading some dating apps. We barely spoke tonight. It's not hostile, we're both just tired.
10 p.m. I masturbate quickly and mindlessly, no toys, just myself, and go right to bed.
DAY TWO
10 a.m. I work at a private school on this particular day of the week. To be honest, it's not my favorite. A lot of entitled parents and a lot of spoiled kids. But go figure … I get paid more here than anywhere else.
2 p.m. Home from work (short day) and decide to download some dating apps. I've online-dated before so it's not like some culture shock, but it does take a minute to adjust.
6 p.m. Went way down the rabbit hole. Damn that ate up the whole day. After four wasted hours, everyone I saw was creepy, gross, or fake. Perhaps I'm not ready for any of this. I'm not worried about what my boyfriend is doing. He's probably finding the same issues. It's too soon to tell how any of this is really going to feel.
8 p.m. My boyfriend isn't home yet and has texted me something vague about going out for drinks. Could he be on a date? Already? I honestly don't really care. I'm not compelled to search his emails or anything. To be honest, I kind of hope he's out flirting and having fun. We've been under a lot of pressure lately.
When we fight, it's about his family, my family, money, domestic responsibilities, you name it. Sometimes it feels like a whole lot of nothing; other times it feels like really heavy material. But it's been really draining for a really long time.
10 p.m. In my bedroom, I watch some porn on my phone, muted, in case my boyfriend comes home. Every video I click is just too raunchy. It doesn't turn me on. I think I need to switch it up and find some new sites.
DAY THREE
6:30 a.m. I'm up early for work and have no idea when my boyfriend came home last night. I don't remember him coming to bed. I must have been in a deep sleep. But he's sleeping next to me so at least he got home safe.
8 a.m. On the train to a workshop I'm leading. I'm excited to see some people I know professionally and to reconnect. I also feel really sexy in my outfit: black leather pants, a cashmere sweater, and high boots.
12 p.m. There is no one at this workshop who I want to flirt with, sadly.
3 p.m. I check my dating apps during a break and start chatting with this guy, Tommy, who seems cool and "normal." I didn't get into the specifics of my dating status on my profile, so I have to explain it to Tommy. He tells me he's not interested in someone with a partner. I understand, but I still feel a bit dejected.
5 p.m. Work drinks with people from the workshop. It's nice to let loose. But the only cute guys in this bar look like they're about 24, and that's too young.
7:30 p.m. My boyfriend and I order dinner together. As we eat our sushi, we joke a bit about our new situation. I ask him if he had a date last night. He says, "not at all." I believe him. I ask if he downloaded the dating apps. He said, not yet, but he will soon. I lie and say "same."
9 p.m. Get into bed with my laptop. He's watching a game. It feels natural and nice at home tonight. It's been 2 months since we've had sex and there's a part of me that's feeling it at the moment. It was a nice night at home together. But I don't initiate anything because … well, I don't know why. Maybe I don't want to complicate anything. Or maybe I'm horny but … just not horny enough.
DAY FOUR
9 a.m. I have two private clients today. But tomorrow is a good friend's wedding, so I have to do some things to prepare for that too. Luckily, I know the one place in my neighborhood that gives manicures and pedicures at 9 a.m., so I'm there now.
1:30 p.m. I have to do some shopping for tomorrow, so I blow off a few hours and spend money I should not be spending. I need shoes. My boyfriend needs a tie. I text him a reminder of the time and place we need to be. We haven't told any of our friends about the new situation … it's just been too much to text. I assume we'll have some drinks and spill the beans tomorrow night.
7 p.m. My boyfriend texts that he's going to be out late tonight. Wow. This time it does feel like he's meeting girls or on a date. We haven't established how much we tell each other yet. We wanted to feel it out, see what our needs were after trying everything on for size. So far, I don't feel the need to know any details.
10 p.m. I've been swiping so much that my eyes are stinging, and my fingers hurt. This is no way to live! I'm flirting with a few guys. No one gives me the tingles or anything close.
DAY FIVE
8 a.m. This time I heard my boyfriend come home and it was LATE. He smelled of beer and cigarettes and I think he was drunk. I know this because I heard him fart in our living room, and he only does that that loudly when he's wasted.
9 a.m. As I leave for work, he's still asleep in the bed. This morning feels dark. Did he get drunk and fuck someone? I'm curious more than anything and still feel pretty unemotional about it. Unemotional and somewhat repulsed. We're too old to get drunk-drunk, in my opinion. Also, I'm a bit pissed that he's going to be hungover at my friend's wedding tonight. Maybe he'll rally.
2 p.m. Do a bit of work stuff. Emails, invoices, calls, zooms, etc.
3 p.m. We have to be dressed and at the event space by five, so soon I'm going to start getting ready. My boyfriend "worked from home" today, which means he woke up around 11 a.m. and went to play basketball (his hangover helper). Now he's home and showering. He seems fine. I haven't asked about last night yet because I've been working and I guess I don't want to know, after all.
5 p.m. We walk to the wedding venue, which is a few blocks away from our apartment. As we walk, we hold hands. We both look great. I'm excited to have some Champagne and see my friends. I'm not that concerned about how my boyfriend and I will handle things. I'm assuming we'll just drink, dance, have fun and keep it light. If the timing feels right, we'll tell people that we've opened things up, but I'm not sure that will happen.
7 p.m. A beautiful ceremony. Our friends are queer and true soulmates, and the wedding was touching and moving. Now it's time to party!
7:30a.m. We're seated at a table with some friends we like but don't know that well. I've had a bit to drink so I tell them that we are trying nonmonogamy. The reaction isn't weird at all. They're like, "Good for you! That sounds fun!" My boyfriend is a pretty private guy, so I sense he's cringing through the conversation, but then we get up to drink more and dance.
10 p.m. We get home from a great night out. We're both drunk. We start making out and then have sex. It's kind of sloppy, but it's also good. I come quickly and it takes him longer. When he's done, he goes down on me to make me come again. Eventually we just cuddle and fall asleep holding each other.
DAY SIX
9 a.m. We're both hungover. But there's a familiar warmth in our apartment. I like it. He likes it too. It's the weekend and we're drinking coffee and browsing our phones. He looks really happy.
11 a.m. I get a text from a friend, Jamila, that they heard we opened things up. I don't love that people are gossiping about us but I know the intentions are good. I just don't want to text about it — that feels weird. I suggest we meet up later, and we make a plan.
4 p.m. I have a hungover mimosa with Jamila, who wasn't at the wedding but knows the same people. She's super sex positive and has lovers and men and women and the whole thing. We talk about boundaries and rules and how my boyfriend and I need to communicate if we're really going to be open in a healthy way. I tell her it's all been a blur. We're so busy, and this is kind of the calm after the storm from all the fighting … I think we just don't want to deal with all our issues. Jamila says she's "concerned," which I find a bit annoying. Like, You do you, I'll do me, honey.
7 p.m. My boyfriend and I order some food and watch a friend's new documentary. Then I take a bath before bed. My boyfriend asks to join. We used to do this all the time. Not tonight, I tell him, but we'll do that again soon. It sounds hopeful and we both feel good about that.
DAY SEVEN
9:30 a.m. A few friends are hosting a wedding brunch for the happy couple. I'm in charge of catering so I have to arrive at the space early and make sure everything arrives and looks good.  So that's where I'm going now. My boyfriend isn't coming to this one.
12:30 a.m. The brunch is fun. There is a random guy there who's connected to one of the brides. He's gorgeous … and he has a girlfriend back in Australia, where he's from. We're flirting. I feel a little bit sick about it knowing the flirting is real — it's not like a dress rehearsal. I'm not obligated to hook up with this guy, but it's heading in that direction as we continue to drink and hang.
4 p.m. He asks if I want to go back to his hotel room with him. By now, he knows my entire life story (including the newfound nonmonogamy) and I know that basically he'll be cheating on his girlfriend if we do this. I'm tempted by that, but I also know better. I tell him I won't go back with him because he's in a relationship. He understands. It's a bummer for both of us, but the flirtation was fun enough.
4:45 p.m. As we walk to the subway, he pulls me in and we start making out. It's super fucking weird kissing someone new. The kiss isn't great, either. He kind of does this lizard thing with his tongue. But it's silly and a fun moment. And then we go our own ways … both smiling.
5 p.m. I ride the train home in a state of WTF. But I'm okay with it. I'm okay with everything.
8 p.m. Watching a show with my boyfriend, I'm tempted to tell him I kissed someone today. But I can't find the words. You'd think someone with my professional experience would be better at this, but I'm human, and this is new, and … we'll have to see.
Want to submit a sex diary? Email sexdiaries@nymag.com and tell us a little about yourself (and read our submission terms here.)