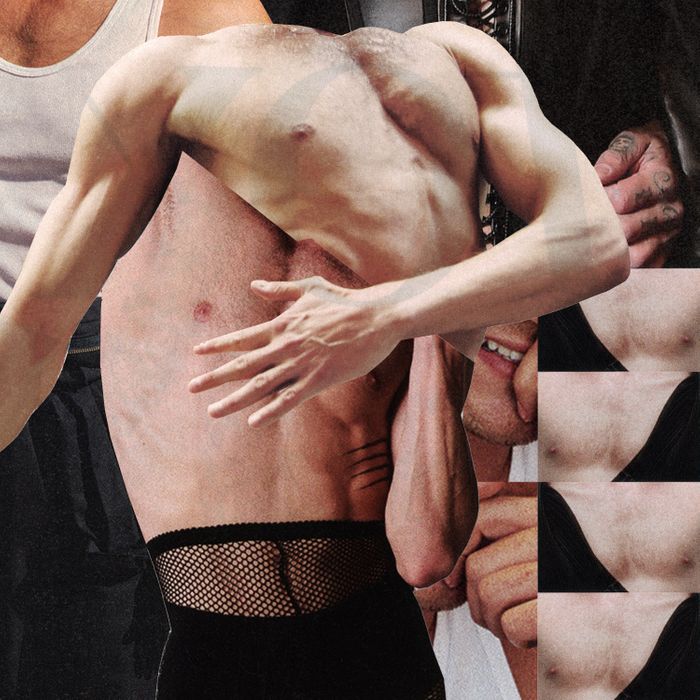 Illustration: by Marylu E. Herrera
This week, a woman takes a break from her workday to crawl into bed with her boyfriend and a vibrator: 27, in a relationship, New York.
DAY ONE
9 a.m. Ugh, back to reality. Yesterday my boyfriend, H, and I got back from a week in Colombia. It was my birthday present to him. Neither of us had been before, so we didn't really know what to expect but we had the most incredible time. I met H on Hinge about a year ,ago and we've basically been inseparable since we started dating; we moved in together just a couple months later. He is truly the most incredible man I've ever met, and I feel so lucky to be with him.
12 p.m. I walk my dog and grab some lunch on the way. Even just the 20 minutes away from my computer is stressing me out, since I have so much to catch up on since being away. I work in fundraising for a nonprofit, and I absolutely love it. We have our big annual gala in two months, so it's full steam ahead.
5 p.m. Even though I only worked two days this week, I am so ready for the weekend. I wake up early most mornings anyway, but knowing that I can sleep in tomorrow if I want just makes me feel better. I open a White Claw and plop down on the couch with my dog and watch TikTok as I wait for H to wrap up his last call.
7 p.m. We usually go grab a happy-hour drink and app on Fridays, but we're both too tired. I make a super-easy dinner of crispy chicken thighs and couscous. I love to cook, and doing it for two people is just so much easier than doing it for myself was when I was single. Before I met H, I used to go out pretty much every night. Sometimes I miss that lifestyle, like when I see my friends' Instagram stories of them at fancy restaurants and clubs, but on a night like tonight, I am so happy that I have someone to just cuddle up and chill with.
8 p.m. The Elizabeth Holmes show was just added to Hulu so we binge the three episodes that were released. I hate that they release all the episodes at once. I want more!!
DAY TWO
9 a.m. Wake up and take my dog for a walk. This is one of my favorite times of the day because it is just me and my dog. I live in a small apartment with my boyfriend, and alone time is very hard to come by these days. I get a coffee and we take a nice long walk by the water while I catch up on my favorite podcast.
10 a.m. I crawl back into bed and cuddle my boyfriend. We are both still pretty exhausted. We kiss and cuddle for a bit before he falls back asleep. While he sleeps I head into the living room to catch up on the Real Housewives (my guilty pleasure).
12 p.m. H invited one of his friends over for dinner tonight. He's going through a hard time in his marriage, so I think he's happy to get out of the house. One of the best things about our relationship is how close I've gotten with his friends. In the past, I had always just dated people within my friend group, so when we started dating I was nervous to have to integrate myself into a new group. He has always been in long-term relationships, so I used to worry that I was always being compared to someone else, but all of them have told me that I'm their favorite.
1 p.m. I walk to Eataly to pick up things for dinner. Alone time twice in one day! This rarely happens. I decide on making a salad, chicken Parmesan and fresh pasta. H is big into mixology, so he is planning to make some fun cocktails. I wander around the store restraining myself from buying expensive Parmesan, and as a reward for that I treat myself to a glass of wine at the bar.
3 p.m. Before we left for our trip, H bought me a bunch of new panties, and they've just arrived. I get out of the shower and he picks out a pair for me to wear before I get dressed. There is something so hot about anticipating sex and not knowing when it will happen.
3:30 p.m. I tidy up the apartment and sit on the couch to relax before I have to start cooking.
4:30 p.m. H calls me into the bedroom and we start fooling around. H puts on some porn while he starts to undress me but leaves the panties on. Before me, H was not as sexually adventurous, but he has definitely come out of his shell. He had never used toys or watched porn with another partner before, and now it's one of his favorite things. He goes down on me and I come so fast. He then pulls me on top of him and I ride him until I come again. One of the most amazing things about H is that he can last forever. The bad thing is I am now behind on my cooking schedule.
7 p.m. Our friend arrives, and we have such a fun evening. I really like his friend, let's call him S. His wife decided that she wanted to take a break from their marriage and moved out about two months ago. It feels good to have him here and see him looking happy. We spend the night playing goofy games and watching dumb YouTube videos.
DAY THREE
9 a.m. Feeling a little groggy after last night. We stayed up very late and had a lot of cocktails.
12 p.m. The weather is dreary. I usually never fall back asleep after waking up, but today I did. When it's raining, I rarely have the motivation to do anything.
3 p.m. The weather has cleared up, so we decide to go to the dog park. Our dog absolutely hates the rain, so it's good for him to get some exercise since he did not want to walk far this morning. He quickly tires himself out and comes over to us signaling that it's time to go home.
7 p.m. Despite having so many leftovers in the fridge, we both decide that we're craving pizza. Even though we live by a bunch of amazing pizza places, we always end up ordering Domino's. It was something both of our families always ordered growing up, and we love it. (I swear it has improved.)
10 p.m. We're both pretty tired, so we head to bed early.
DAY FOUR
8 a.m. I wake up and take the dog for a walk. It's so warm out I regret wearing my jacket.
9:30 a.m. H is still sleeping after my first work call. He is in between clients, so his schedule isn't as busy. I spoon him for a few minutes before he moves my hand down and I can feel that he's hard. I rub his dick over his shorts for a minute before he lays down and I start to go down on him. H loves when I suck just the tip of his dick.
12:30 p.m. I've been so busy with work today. H heats up some leftover pizza, and we sit and have lunch together for a few minutes before I have to jump onto a call. Despite living in a small one-bedroom apartment we don't really have any issues working in the same space.
6 p.m. I'm finally done with work, and H makes me a fancy drink from his new cocktail book.
8 p.m. We watch a new cooking show, which is incredibly entertaining after a few cocktails.
11 p.m. Head to bed and kiss a bit. Both of us are too tired to do anything else, so we fall asleep pretty quickly.
DAY FIVE
8 a.m. As per usual, I wake up, take the dog for a walk and get home just in time for my daily staff call.
10 a.m. After my call and sending off a few emails I come back into the bedroom where H is still sleeping. I'm so jealous that he has this downtime, but he's usually so busy he deserves the break.
I climb into bed next to him and we begin making out. He lifts my shirt up and starts rubbing my nipples. I go down on him for a few minutes to get him hard before climbing on top of him. I ride him until I get off then he rolls me over onto my back. I wrap my legs around him, which he loves.
6 p.m. I get a very exciting email. About a month ago, H and I started looking at engagement rings and I think we finally found the diamond. It's a big decision and an expensive purchase, so we want to make sure it's absolutely perfect. We continue to sit on the couch watching our new cooking show, but something tells me I will be doing some "thanking" later tonight.
11 p.m. Both of us are sad after watching hours of news about Ukraine, where I used to spend time with family. Both of us go to sleep feeling down.
DAY SIX
11 a.m. This morning, I'm crazy busy. I finally stop for a minute to make a quick cup of coffee before hopping on meetings for the rest of the day.
4:30 p.m. I'm having dinner with a new group of girls! It's kind of exciting to go out with new people. I'll never get to go on another first date again, so this is the next closest thing.
6 p.m. H had to go into his office today, which is right by where I'm having dinner. I have him meet me for a drink beforehand. We've been trying to eat at home more, so it's fun when we get to go out, plus he looks so handsome when he's all dressed up in his suit.
7:30 p.m. The girls arrive! It is so much fun just having girl time. All of us work in different industries, went to different schools, and are in different places in life, but it feels like we've been friends forever. Between COVID, the winter, and how busy I've been at work, I really haven't made any time to see friends.
DAY SEVEN
9 a.m. My daily morning call is super-quick, so I hop back into bed and start making out with H because I'm super-horny. We break out our special vibrator; whenever we use it, H's goal is to have me get off as many times as possible. This morning, it's three.
1 p.m. We both end up eating leftovers for lunch but decide we needed to get out of the house for a few minutes so we take the dog on a walk. It sounds so cheesy, but I used to look at couples walking their dog together, holding hands, and being cute and just pray that I would find that someday.
4 p.m. While cuddling with the dog this morning, I realized he was way overdue for a bath, so I pop him in the tub. He doesn't like getting baths but doesn't fight it; he just stares at me with his big eyes. I swear this dog saved my life. I got him about a month before I met H, when I was in a really bad place. I was only supposed to foster him, but after three days I knew I could never give him up.
7:30 p.m. We order chicken sandwiches from one of our favorite places and settle in for the night. While we wait for our food, we make an appointment to go see our diamond in person later in the week. Although we've been talking about getting married for a while now, it's finally starting to feel real. I really cannot wait.
Want to submit a sex diary? Email sexdiaries@nymag.com and tell us a little about yourself (and read our submission terms here.)