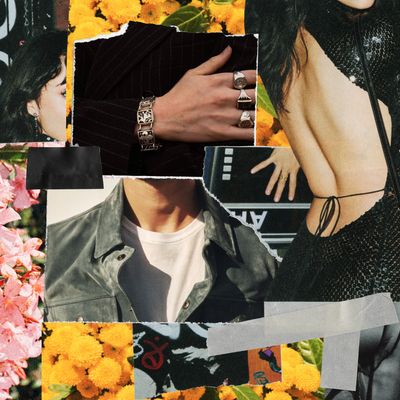 Photo-Illustration: Marylu Herrera
This week a film editor and her boyfriend open up their relationship and share every detail with each other: 33, in a relationship, Brooklyn.
DAY ONE
8:30 a.m. It is my first week being in an officially ethically nonmonogamous relationship. I'm 33 and have never been in any relationship that wasn't just "typical boyfriend and girlfriend." I'm still wrapping my head around it.
9 a.m. Log on my computer to start work. I'm an editor for film and TV. The day's task requires a ton of concentration so I try to focus myself.
1 p.m. I need a break. I guess now is the time to log into all the dating apps again. I've been with my boyfriend for eight months and it was so nice not being on the apps. Yet, here we are. The reason we're opening things up is simply because we're both curious about that lifestyle. We consider ourselves highly sexual people. We've both felt trapped by monogamy in former relationships. It just seems like we both want to try something new, relationship wise, and we're excited to try it together.
2:30 p.m. By the time I log into all the apps and fish around a little, I realize I really have to get back to work.
5 p.m. Start to wind down. My brain hurts.
7 p.m. My boyfriend comes over with dinner. We talk about logging onto the apps and how it made us feel. He felt more turned on by it, while I felt somewhat burdened by it. This is going to be a lot of work. I'm trying to see it as a fun experience — no harm done — but there's definitely a part of me that's like, "Why add all this new chatting and scheduling to my life?" I share those thoughts with my boyfriend, and we both laugh about how the communication aspect of it all is not going to be our issue. We love talking and getting deep and real with each other … it's a turn-on …
9 p.m. Which is why we have hot sex tonight. He wears a new cock ring I bought for him. It makes me feel all kinds of crazy. We fuck really hard and fall asleep happy.
DAY TWO
7:30 a.m. My boyfriend slept over, as he often does. I have the nicer apartment. I do well at work, financially. He's a bit scrappier. He's a struggling-artist type. Very sexy, very broke. Right now, I'm okay with it. At some point, I might not be. I do want kids and stability, but I'm giving myself until 35 to get serious about all of that.
9 a.m. I kick my boyfriend out because I need silence at home to work.
11 a.m. I'm starving, which always happens to me the morning after really great sex,  and order an embarrassing amount of food from my favorite Israeli takeout place.
2 p.m. I'm starting to get several messages on the apps. I list myself as bisexual because I'm trying to be as open-minded and expansive as possible. Truthfully, I've never even kissed a woman. I like pretty basic sex, but I like it a lot. I mean, I prefer having sex every night of the week. But I'm not into BDSM much, and besides a cock ring and a vibrator, I don't want to play with much else.
5 p.m. Get a message from a ridiculously hot guy, Z, who wants to take me out for a drink. He seems grounded and "normal" and like a good starter for my ethically nonmonogamous new life. We make a date for tomorrow. I text my boyfriend about it right away. He hearts the message, and writes back that he has a date tomorrow night too? Strangely, I'm okay hearing that. I'm more or less like, "Oooh, good for you, babe!" in a genuine way.
8 p.m. I have to work late tonight. My favorite late-night work ritual is to drink really good red wine and light candles and just get into the zone.
11 p.m. In bed, I masturbate to the idea of Z going down on me. I'm testing the waters to make sure I want this, so I play it all out in my head. I come in like 20 seconds, so yeah, I think I want it.
DAY THREE
10 a.m. I'm all showered and caffeinated and back at my desk, working on my projects. Right now I'm editing a documentary about Ukraine.
1 p.m. My boyfriend swings by. He does this a lot … we make lunch together, have a nice coffee, and usually have some quick afternoon sex. I love it, because I love him, but of course there's always a part of me that is like, "You should be buried in work right now, like I am." His freedom and flexibility is as much of a turn-on as it is a turn-off. This is one thing I've yet to communicate to him.
2 p.m. We give the details of our dates tonight. He's meeting up with a 26-year old musician. I look at her pics. She's beautiful and much younger than me. I take a deep breath and try to focus my thoughts and then I simply express to him that it's nerve-wracking how young and hot she is, but I hope he has fun and I can't wait to hear the details. I mean it, too. Then he looks at Z and says, "Yeah, he looks like a putz." We laugh. It's light and fine, and then we quickly have sex because I have a deadline.
6 p.m. My date is in an hour and I'm nervous!
7 p.m. We meet at a restaurant in Greenpoint. Z is as attractive in real life as he is in his pictures. He's very charming and flirtatious. He knows about my situation and isn't fazed by it, saying that everyone is ENM and it's "not even a thing." I guess it makes me feel like I'm part of the club now, but I'm also like, "Well, no, many people are monogamous and it works for a reason." I guess I just want him to acknowledge that it actually is a big deal, at least for me.
9 p.m. Heavy drinking seems like a must tonight. I'm on my third margarita and having fun with Z. I'm horny and ask him if he wants to come over. He pays the bill quickly and we leave.
10 p.m. In bed, Z is a totally different animal from my boyfriend. He's way passionate. Deep kissing. Slow everything. He's one of those guys who goes down on you for an hour, which seems excessive to me. I'm more of a bunny rabbit in bed and so is my boyfriend — we go fast and hard and then it's done.
11 p.m. Z leaves and I'm tipsy and sweaty and trying to process what just happened. It was fine, but if I could rewind, honestly, I would have just stayed home and watched TV with a cup of tea. I text my boyfriend. He doesn't respond.
DAY FOUR
6 a.m. Wake up and vomit. I drank too much last night. I chug water and try to go back to bed. But first, I look at my phone, so strange that my boyfriend hasn't written back. UGH.
11 a.m. Wake up again and feel okay. I'm starving. I order a huge breakfast and make some coffee. Open up my windows for fresh air.
1 p.m. My boyfriend calls. He sounds totally normal and says he's JUST getting home from his date. I try to regulate my voice. "Tell me everything!" I say. I'm secretly in a terrible mood and not thrilled about any of it, but I don't know if it's the hangover speaking, so I try not to say much. Here are the takeaways: She was sexy.
She was wild. She had cocaine. They tried to fuck but his dick wouldn't get hard.
So they partied more. Eventually they fucked and it was good but felt a bit forced for him. They didn't fall asleep until 6 a.m. He's wrecked now. He loves me and misses me.
When he's finally done talking, I tell him that I have a Zoom and will call him back in a few hours. I'm just not in the mood for any of this.
4 p.m. The hangover won't go away. I order more greasy food. I text my boyfriend a bit about my date. Basically that Z was super sexy and sweet and we had sex but it was very slow and melodramatic and ultimately, I wasn't that into any of it.
8 p.m. I'm on my couch ready for some marathon TV. No guys. No phone. No sex.
DAY FIVE
8 a.m. Wow, I feel like a new person. I slept really well.
9 a.m. I have my annual gyno appointment today. My doctor does routine STI tests and we talk about my new lifestyle. I tell her that I'm trying it on for size, but I'm already kind of sick of it.
11:30 p.m. On the subway ride home, I try to do some correspondence on the apps. There are a few women who want to meet up. I'm only somewhat interested in one woman, R, who is kind of giving me Rachel Maddow vibes. Who knew I was into that?
5 p.m. I cleaned my apartment all day and did some closet cleanup. Just need to feel refreshed.
6 p.m. My boyfriend comes over with ingredients to make dinner. I love that he does this. He's a great cook. I open some nice red wine. We start talking about our dates from the other night. He doesn't think he wants to see her again and he's "too old for that shit." I make him promise me a hundred times that he used protection, and he swears he did. And then we just move on to other topics. We solidify our Thanksgiving plans.
8 p.m. It's kind of crazy to me how easily we can have sex with other people and then just be "us" again. It's a change, for sure. I'm not sure it's actually enhancing anything in my life, but I do think I'm okay with it.
10 p.m. We have sex and I take note of how much I love fucking him. And then I fall asleep wondering what to wear for my date with Rachel Maddow in two days.
DAY SIX
9 a.m. My boyfriend and I head upstate in my car. We decided to do some house-hunting recently. I have enough in savings to buy something small. He is very handy so he can take on a big fixer-upper. We're meeting with a realtor who is taking us to about seven different properties.
2 p.m. The houses are mostly dumps, but it's nice to see how my boyfriend can envision the potential and how he's motivated to help create a beautiful little home for us.
5 p.m. The drive home from upstate is a bit tense only because we have to really talk about the fact that he has no money. He's 39 and lives paycheck to paycheck. His apartment is basically a house-sitting situation (it's his rich friend's studio that he bought for his nanny, but now they don't need a nanny anymore). I'm not being critical but it's just a hard truth. It will always be me earning money. He says if we ever have kids, he will happily be the Stay at Home Dad. I tell him to be careful what he wishes for.
8 p.m. We sleep at our own places tonight just because today was draining, and I'm tired. I text with R about tomorrow. We are both really excited. My first date with a woman!
DAY SEVEN
7 a.m. I wake up and go for a run, which I never do. This week was a lot. So much to process.
9 a.m. Grocery shopping. It's so funny but I want my apartment to look good for R, in a way that I never care about with men. I buy fresh flowers. Good chocolate.
2 p.m. I close my eyes to nap on the couch when there's nothing good left to watch.
5 p.m. Shower for Rachel. Again, I think harder about how I'm going to smell and the softness of my skin. I blow dry my hair with a product that smells amazing.
7 p.m. We meet at a fancy wine bar. It's dark and very adult. Rachel comes in and looks like the world's most perfect lesbian. She's very butch. She's wearing a custom-designed suit, basically. This is all so new for me. My stomach churns. My voice is shaky. I tell R to order for me since she's like a serious wine connoisseur.
7:30 p.m. As the drinks arrive, R makes a toast, "I know this is new for you. I've got you. You're safe here." It honestly brings me to tears.
9 p.m. We end up not hooking up at all. But I really, really like her. It's too soon to tell if it's a romantic like, or a friendship like. At the end of the date, we hug, really tight.
10 a.m. Back home, I call my boyfriend to talk about it. I tell him that I'm not sure how I feel about dating her. I'm not sure if I'm too straight to take up her time. I'm not sure about any of this …
The Sex Diaries column, which began in 2007, is the basis of a new docuseries on HBO.
Want to submit a sex diary? Email sexdiaries@nymag.com and tell us a little about yourself (and read our submission terms here.)