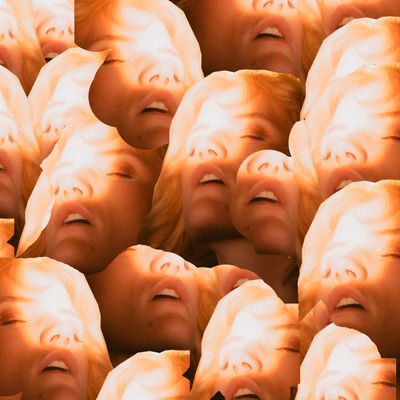 Illustration: by Marylu E. Herrera
New York Magazine's "Sex Diaries" series asks anonymous city dwellers to record a week in their sex lives — with comic, tragic, often sexy, and always revealing results. The column, which began in 2007, is the basis of a new docuseries on HBO.
This week, a woman worries about the lack of sex in her marriage while trying to initiate it in her sleep: 36, married, Portland.
DAY ONE
10 a.m. I sleep in again. It's our third winter in Oregon, and the sexy newness of it all has worn off a bit. My husband and I left New York right before the pandemic and moved here because it was the only place we could both agree on — a coastal-ish place that wouldn't give him a heart attack, an even playing field where we both had to start fresh. But recently I worry I made a terrible mistake.
10:30 a.m. Finally get out of bed and realize I'm naked. That's odd. I hope I didn't do what I think I did, but I don't ever sleep naked. I get dressed, let out the dogs, and feed the kitten.
11 a.m. My husband, R, is watching the news. He owns a landscaping company and makes his own schedule, so he's around at random hours. I'm currently unemployed. My dad worked on Wall Street and died when I was a kid. He left me everything. As long as I don't overdo it, I don't have to stress about paying my bills.
R asks if I remember last night. I don't. He tells me I tried to have sex with him three times. He pushed me off, but apparently I wouldn't give up. I have no recollection of any of it. We laugh about my persistence, but I can tell he's annoyed he didn't get a good night's sleep. He takes sleep more seriously than anyone I've ever met.
2 p.m. I Google "Why do I try to have sex with my partner in the middle of the night and not remember it?" Surprisingly, that gets me somewhere. Some articles about "sexsomnia" pop up. Apparently, it's a rare and understudied sleep disorder similar to sleepwalking. And according to the internet, there's nothing I can do about it.
4 p.m. R is running an errand, and I use the time to visit my vibrator. After last night, there's no way we're having sex today.
I think about a time years ago near a river. R and I put down a picnic blanket and had sex outdoors where no one could see us. We've been together for five years, and even after all this time, I still want R just as much as I did at the beginning. He has a perfect dick, a clever sense of humor, a bad temper, and he's a tradesman. I've cheated in every serious relationship I've ever been in except this one. The problem is our sex life is a disaster and we're not talking about it. I've stopped initiating because it never goes well. Our sex life always ebbed and flowed after the initial honeymoon phase but really took a turn for the worse when we got into the thick of this move. I'm angry, but I still don't have any desire to cheat, which I find surprising. Cheating used to be my defense mechanism.
6 p.m. I make us a very laborious chicken parm as a sort of apology. Whenever I cook, I feel grateful for the size of my kitchen and, most of all, for my sink's garbage disposal. I know I'd lose both if I moved back home. One point for Portland. Over dinner, I tell R about my sexsomnia. His response is just "Welp."
10 p.m. In bed and hoping that I can keep my hands to myself. He has an early morning tomorrow.
DAY TWO
5:30 a.m. R kisses me good-bye. We're renovating a house two hours outside the city, and he's headed to work there. I'm going to meet him there later for a meeting with our contractor.
7:30 a.m. I complete the morning routine with the pets and pick up around the house. I'm pretty much a housewife with pets instead of kids. I'm not proud of it, but I'm pretty good at keeping myself busy, and I still haven't downloaded TikTok, which feels like a victory.
11 a.m. I get in the car to drive to the house. My best friend back in New York texts with an update about a new person she's seeing, so I call her and we chat all the way there. This guy sounds perfect for right now, but he works in crypto. We both agree this has to be a red flag. Still, I love living vicariously through her. I love the security of my marriage, but I miss accidentally staying out until 4 a.m. with someone new.
2 p.m. I count seven trucks in our driveway. There are a lot of construction workers here. The meeting feels productive, but I ask a question about a barn door and everyone looks at me like I'm an idiot.
4 p.m. One of the workers who showed up after me has to move his truck so I can pull out, and he's supercute about it. I'm allowed to look at least.
6 p.m. Back at home, and R is tired from the day. I know not to try again.
8 p.m. We catch up on The White Lotus. R hates this season because the relationship between Ethan and Harper makes him uncomfortable. Ethan, like R, denies Harper's advances. Harper, like me, feels stuck. Personally, I'm relieved to finally feel represented. Everything else on television portrays the same old trope of horny man versus disinterested woman.
DAY THREE
10 a.m. Pets. Coffee. Today is couples-therapy day. We started going before we got married, just to preemptively deal with any issues that might come up, but once we had our therapist's help, I couldn't function in our relationship without it.
12 p.m. We go to the park to walk the dogs together. I resent the dogs. They're leftovers from his last relationship, and they're too big and poorly trained. They're very sweet, but they cost a fortune and take up too much space. R seems to reserve endless amounts of affection for them, and it's more than he's ever given me. I feel like I didn't sign up for all the walking, the vet visits, the doggy-day-care drop-offs. I do love our walks as a family, though.
3 p.m. Our therapist is from Jersey, like my mom, so she is very much my people. Our sessions always go one of two ways: They're either superintense and uncomfortable — whenever I bring up sex, R feels attacked and gets defensive — or we chat about nothing and it's relaxed but unproductive. Bringing up the sexsomnia would mean acknowledging our faulty sex life. Nobody seems to be in the mood for all that. So we spend the session bitching about how passive-aggressive people are here. Everyone agrees Seattleites can't drive.
4 p.m. On the way home, I feel disappointed that I wasn't more firm about communicating. From prior conversations, I know that stress and lack of sleep are both big turnoffs for R. He thinks I don't understand his stress level because I don't work, which makes me feel like he doesn't respect me.
I don't think he's cheating. Of course I've considered it, but I think I'd know if he was. He doesn't have the time. I do think he's bored, however. Fuck, I'm bored — I don't blame him. I just wish we could bond over our shared boredom. I've offered to mix it up, but he never wants to talk about it.
5 p.m. I ask R if he wants to take a shower, and he says he wants to take a nap first, which means it's not going to happen.
10 p.m. A big glass of red wine, the kitten on my lap, and a book in bed while R sleeps. The next best thing.
DAY FOUR 
5:30 a.m. A kiss from R, who is headed to the house again.
8 a.m. Coffee, pets, at-home workout.
11 a.m. I have a Zoom call with my wealth advisers. I hate these meetings. They have prepared a presentation with a lot of graphs, spreadsheets, and projections about interest rates and the market. I half-listen but mostly add wallpaper samples to my cart. I feel patronized and just miss my dad by the end. Probably because I didn't listen.
1 p.m. The meeting is finally over. I know R will be tired tonight, so I head to my bedroom and fantasize. I once had an affair with my professor. I think about a crisp October afternoon when we drank a bottle of red wine together outside at dusk, and he brought me back to his Upper West Side walk-up and fucked me as he held me up against the wall. I think about that time a lot. I feel a little better.
3 p.m. I'm already ready to go again. This time, I think about R and the time I was cooking lasagna and he came into the kitchen and fucked me from behind. I miss that.
7 p.m. Tonight I'm going out with two girlfriends to a new tapas bar. Both women have kids, and we spend far too much time talking about day-care enrollment. I do love kids. But I've recently encountered too many overwhelmed parents, and I am not sure if I want to become one of them. Watching friends raise toddler-age children is truly terrifying. I do think R would be a great father, though.
9:30 p.m. I update R on the dinner gossip and we head to bed.
DAY FIVE
2 a.m. I wake up to find that I'm rubbing R's back. He turns toward me and I start stroking his dick. He finishes, and we clean up and go back to sleep.
8 a.m. R is in a good mood. I still feel creepy. Also kind of bummed — I wish he would fuck me in the middle of the night.
10 a.m. We have a ton of errands to run for the house. Plus holiday shopping. At the mall (I hate that I shop at malls now), we both admire a woman's ass. I like looking at other women together, and I'm not sure why.
4 p.m. R asks if I want to take a shower. I'm over this whole routine, which he knows, but at this point I'll take anything. I don't feel like I can ever say "no," which is pretty suffocating. We start fooling around and he comes immediately. This is not uncommon. He promises he'll make me come tomorrow. But that doesn't really mean anything.
5:30 p.m. R goes to grab weed from the dispensary. Time to take care of myself. I think about the doorman at the building I grew up in. We used to fuck in the boiler room and in his car parked somewhere nearby. Oh, what a life I once lived.
9 p.m. Wine and a book in bed again.
DAY SIX
8 a.m. It's snowing, which means the city is shut down.
10 a.m. R makes us waffles. The kitten is super into batting at the snowflakes falling outside the window, and it's cozy and nice to all be inside together.
2 p.m. R recently bought ear candles, and we decide to try them. It's very satisfying and disgusting.
4 p.m. We're in a deep YouTube hole. Turns out ear candles are a hoax! R is very endearingly disappointed.
5 p.m. Now we're deep in a rabbit hole looking at dining-room tables. We discuss the merits of several. I notice how much better we've become at communicating when it comes to the house. Disagreements about tile were once full-on battles. Now we're able to compromise. Maybe progress in this arena means that progress in the bedroom might be possible?
8 p.m. We watch Fire Island. Bowen Yang! My heart!
It's been a lovely day, except for that one thing that's missing. I guess he forgot his promise and it would lose its appeal if I reminded him. I'm not really in the mood anyway. It's not a loveless marriage — just sexless.
DAY SEVEN
6:30 a.m. Today we're going hiking with two other couples and their respective toddlers. We will also be microdosing mushrooms.
9 a.m. We arrive at the trail. It's quiet, snowy, and peaceful, and the kids look adorable all bundled in their snowsuits. Maybe I do want one?
9:30 a.m. We eat the mushrooms. Parents can still be cool.
10 a.m. Toddler meltdown — never mind.
11 a.m. The walk is beautiful, the mushrooms are working but not overwhelmingly, and I love that nature like this is only an hour from my house. Maybe I love it here?
3 p.m. Hot chocolate and a lazy afternoon at home. Still no sex, though.
10 p.m. I lie in bed and think how it's been a few days since I last started something mid-sleep. I wonder when I'll strike next.
Want to submit a sex diary? Email sexdiaries@nymag.com and tell us a little about yourself (and read our submission terms here).