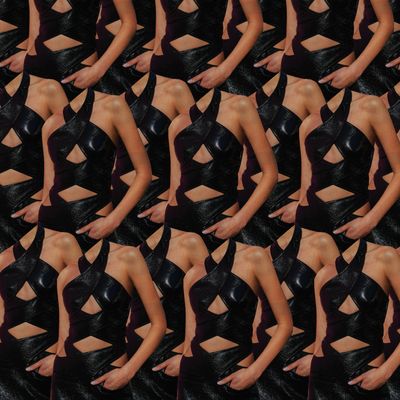 Illustration: Marylu E. Herrera
This week, a marketing executive connects with a man over their family heritage, then boards a first-class flight with him: 36, single, Long Island.
DAY ONE 
8 a.m. I arrive at my infrared-sauna appointment ready to meditate for a half-hour before work. As a marketing executive for an international fashion brand, I find that listening to high-frequency tones in the sauna helps raise my vibration and clear my mind.
Noon In the office break room, checking Hinge while making toast. "Hola, bonita," my latest match says. J is handsome and chatty. After some back and forth, we discover we're both descended from Spanish political figures. "Our ancestors probably smoked cigars together," he says. I smile, thinking how badly he must want to get laid. But what if it was written in the stars? We make a date for tonight.
6 p.m. I'm heading to the UWS to dinner for a co-worker's birthday. J and I make plans to meet at a dive bar after my dinner.
9 p.m. "You are gorgeous!" he says when he gets my selfie leading up to our date. This is going to be a fun night.
10:30 p.m. Okay, he's hot. And speaks Spanish to me in a way that's simultaneously familiar and new. "Your energy is amazing, mujer." He lays it on thick, but I decide to be nice because I already really like him. I recently read a book that encourages some initial restraint when dating, so after a couple of drinks, we drive around in his car listening to '90s R&B ballads and then part ways. I'm not a patient person, but I'll try anything once.
12:15 a.m. The parking garage where I left my car is now closed. He loops back around to scoop me up, and I spend the night at his apartment uptown. He's newly separated from his wife, so it's a total bachelor pad. He offers to sleep on the couch, but we end up cuddling in his bed. "I'm going to take my time with you," he says as I practically undress him. We fuck twice, and it's insanely hot. I have bite marks on my ass, and I like it.
DAY TWO
8 a.m. J wakes up early to go to work and leaves me breakfast and orange juice on the kitchen counter. "Stay as long as you'd like," he tells me. I sleep off my hangover and try to make sense of this. He's very trusting of a stranger in his home, but we do feel oddly comfortable, which I attribute to the connection from the homeland from which we both descend. After a while, I rouse myself to head back to work.
1 p.m. "Do I have to wait until next weekend to see you again?" he asks, telling me I've been on his mind. I tell him I can swing a babysitter for Tuesday or Thursday, and he sort of demands both nights: "I need to see you on both days." I smile and make arrangements.
3 p.m. Start editing a financial prospectus for some big shot at my company, but my mind keeps going back to the night before and how my life has changed in an instant. I meet my friend H for coffee, and she warns me to take it slow. I know she's right, but I don't want to hear it.
7 p.m. He texts, "I know it's early, but I want you to come with me to Vegas this Thursday for a bachelor party." What? I've only known him a few days. I tell him I worry that those are typically reserved for men. Then I think about it more. Why not just take the risk and be bold? I know it's not rational, but you only live once.
Once I decide to go, absolutely dirty thoughts flood my mind. I'm insanely turned on in a way I haven't felt since before my marriage 15 years ago.
DAY THREE 
10 a.m. My phone lights up: "Good morning, hermosa. Can't wait to slide my dick inside of you while you sit on top of me." Well, that's one hell of a way to wake up. It's Sunday, and I spend the day online shopping for Vegas and making appointments for highlights and a spray tan. We're staying at the Wynn and going to pool parties and Michelin-rated restaurants, so I want to look my best.
Noon I call my bestie H and regale her with the most exciting news I've ever gotten to tell her. She's thrilled for me but knows I've attracted a lot of weird dudes after my divorce and says this sounds like love-bombing: too much too soon. I get what she's saying, but damn it feels good, and I want it. Badly.
2 p.m. It's time for my weekly session with my therapist. "We believe the lies we tell ourselves," she says, pointing out that I don't often notice red flags. I know she's right, but she also told me to create new stories to distance myself from the traumatic old ones, and this is that. A new story. A fresh chapter.
7 p.m. I have dinner with my mom, who is thrilled that I met someone with shared heritage. "Your ancestors are smiling down upon you," she tells me. She also warns me to be careful in Vegas. "What happens in Vegas," I reply. Mum's the word when it comes to mi familia and my sex life.
DAY FOUR 
8 a.m. "I'm so enamored by you. I can't even begin to tell you," J texts. It's a dreary morning at work in my office, and I'm in and out of meetings with him on my mind. "El mismo, babe," I reply, indicating that I feel the same way. I lift up my corporate pencil skirt just slightly in the stairwell at my office building and send him a snap, gazing all doe-eyed behind my clear-framed Warby Parkers. Tomorrow is Tuesday, and he's taking me to dinner at Minetta Tavern. Bone marrow + a bone sesh = heaven.
3 p.m. This day is dragging, and I'm daydreaming constantly about our upcoming trip to Sin City. He booked reservations at all the best places and sends me a link to a new entertainment venue where we will be playing virtual golf and exploring something called Meow Wolf. Fuck Coachella and Burning Man! This guy knows how to hit all the immersive spots.
10 p.m. J calls me on his way to a poker tourney in Brooklyn. He has an addictive personality — which is yet another red flag — but maintains a sober lifestyle, which is a good sign. I tell him to win big for play money in Vegas. "Anything for you, chica," he says.
DAY FIVE 
7:30 a.m.  J texts to say we are "locked and loaded" for Vegas, so the tournament must have gone well last night.
12 p.m. My workday is easy — we have a brainstorming session and then team lunch at a spot with an amazing arugula-and-endive pear salad.
4 p.m. "Ready to blow this joint?" my co-worker L texts. We leave our desks on the sly, five minutes apart, so no one realizes we left a bit early. We take the subway together and catch up. She says she just came back from London and let a guy eat her out in an alley. "And you didn't fuck?" I ask. She explains that she didn't have a condom. Safety first.
7 p.m. J is almost home from work and left a set of keys with the doorman. There's a small gift bag with a hot-pink lace teddy in it. This is feeling very 50 Shades of Grey. I decide to stop questioning his motives and live in the moment. I'm wearing clear heels with my new lingerie and waiting in the bedroom when he returns. We start fucking immediately; he enters me slowly and mixes up the tempo, keeping me trembling for the next hour. This is what happiness feels like, I decide. I'm never letting him go.
9 p.m. We return from our late dinner and watch a few episodes of TV together until we fall asleep. He holds me like he means it, kissing my forehead a few times before I close my eyes. I'm starting to fall in love, which would normally scare the hell out of me this soon. But how could I resist?
DAY SIX 
8 a.m. I wake up to J rubbing against my ass, rock hard. We have a wild sex session and both of us are drenched in sweat. I hang my legs out his fire escape and we smoke a cigarette out the window with his arm around me, smiling stupid with that inner glow.
8:07 a.m. J's in the shower when I notice a woman across the street looking in my direction. Then I remember him telling me he moved across the street from his ex-wife to be close to his children. She has two little blonde toddlers with her with perfect little bows in their hair. "Shit," I mutter, throwing the cig out the window and shutting it fast. This feels messy. This feels like a red flag.
11 a.m. I'm staying at J's to prep for our trip while he's at work. He's a trader, so I decide not to bother him and interrupt his workflow.
1 p.m. "Missing you," I send around lunchtime. He responds that it took me too long to text him this morning. I've been cleaning his apartment and feel unclear why he's peeved. Another red flag I choose to ignore.
8:45 p.m. Still at J's. We pass out early to make our flight tomorrow.
DAY SEVEN 
4 a.m. We wake up for our flight and make it to JFK, where we try to board a tram to the right terminal. "Can you make yourself useful, mujer? I'm on a call," he demands with AirPods in his ears. He does virtual AA meetings several times a day, and I don't like the way he snaps at me but oblige anyway and make it to the Delta lounge. We have a chorizo egg scramble and a cappuccino. I've never flown first class before and I feel like a kid in a candy store, giddy with excitement.
1:36 p.m. A car service takes us to our hotel, where we meet up with a very pretty woman in the lobby. "This is my co-worker," J explains. "I invited her last minute to keep you company while I gamble with the boys." What? I feel violated that he didn't run this by me. It all feels very strange.
2 p.m. I call H for advice. She tells me to book a flight home, but I decide to stay.
4 p.m. G and I go for a pedicure, and she says she'll be staying in our room. She assures me it's all very platonic. This is a very strange trip already, and I'm out of my comfort zone, but … that's where the most memorable moments in life are supposed to happen, right?
2 a.m. Dinner, partying, little chairs by my feet to hold my Chanel bag … it's a lot. J's friends are telling him it's weird that G is sleeping in our suite, but by now I'm kind of over it. He says he genuinely thought she and I would like each other and become friends. I'm honestly not sure if it was intended to be a sexual thing for him or me or any of us.
3 a.m. Make the best of it and fuck in the hotel room. J covers my mouth so we don't wake G, who is sleeping soundly in the other room. When we're done, I decide to fly home the next day. I promise myself I'll never forget the week when I went all in on a Hinge match and walked away from an attempted threesome.
Want to submit a sex diary? Email sexdiaries@nymag.com and tell us a little about yourself (and read our submission terms here.)