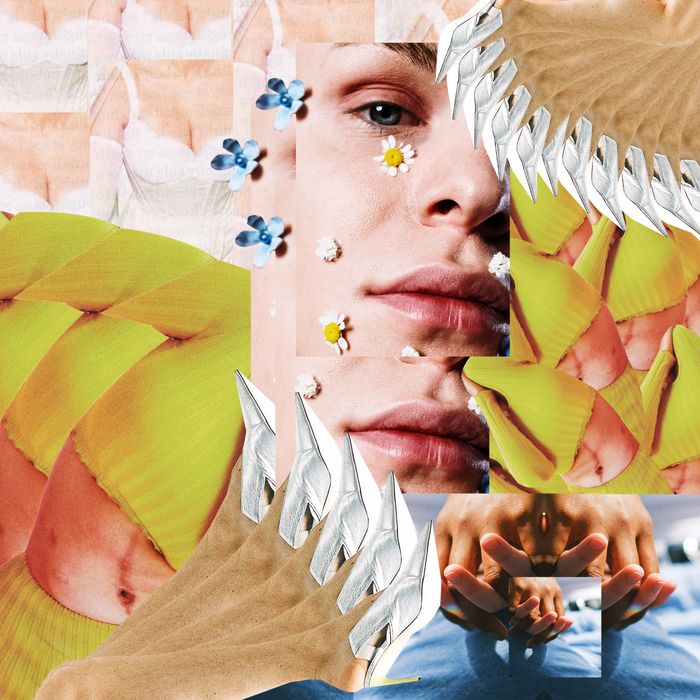 Illustration: Marylu E. Herrera
This week, a woman takes a trip to visit friends — and makes a new friend with benefits in the process: 34, single, Los Angeles. 
DAY ONE
6:17 a.m. Wake up at M's place. We've had a pretty good FWB situation for the past year. My flight to L.A. is in a few hours and I want to hang out with him before I go. I'm very excited about the trip. Before I moved to New York full-time, I lived between here and L.A.
7:36 a.m. Arrive at JFK. I was able to safely bring my vape pen. Hours of Googling and being on Reddit confirmed how to do so.
8:45 a.m. Once we do takeoff, I write my morning pages and watch Everything Everywhere All at Once and half of The Unbearable Weight of Massive Talent.
1:39 p.m. After landing at LAX, I hop in a cab and arrive at C's place in South Central. He's a comedian I met in New York around this time last year. The moment I saw him, I knew I wanted him, but I'm very shy and nothing happened. When he ended up moving out to L.A. a few weeks ago, I didn't know how I'd fulfill my fantasy with him, but then an opportunity immediately presented itself when he offered to let me stay at his place until my friend J gets here tomorrow.
1:45 p.m. As I settle in, I ask C if I can give him a tarot reading. I don't do this professionally — I make a living assisting companies with social-media and writing projects. I've been practicing tarot on and off since I was 18 but I didn't get serious until a few years ago. Eventually, I want to give readings to others more regularly. C agrees to the reading. He just moved in a few days ago, and there's not much furniture. I light all the candles and am pleased that I got a vibe going. The cards say that if C wants to continue being successful, he has to put in the work, which he's been skimping on. He is creeped out by how accurate the reading was. The plan is for me to sleep on the couch tonight, but we both know that's not happening.
5 p.m. I end up napping for two hours. Apparently I'm very tired. C continues to work.
8 p.m.  We order Mexican food and go to a supermarket while we wait for it. I didn't realize how tall he was — he tells me he's six-foot-two. I think he might actually be taller. We get high and watch most of season one of the Righteous Gemstones while we eat. He lightly touches my leg and I let him, but we do not have sex. We sleep separately after all.
DAY TWO 
6:31 a.m. I wake up early because it's very bright outside.
9 a.m. C gets some work done.
3:28 p.m. Arrive at a restaurant downtown to meet A. We used to work out of the same building in New York when I was someone's assistant and she was another person's assistant. I always wanted to be friends, but was very intimidated by her. She's beautiful and talented. We get complimentary champagne and she tells me what she's been doing out here. Hearing her talk about building her brand and struggling a little bit makes me remember that she's not perfect. She's human.
6 p.m. While we're walking back to her place, where she has a private pool. It's very nice. We head into her apartment, which she insists is super tiny but isn't, and smoke a little. We talk about sugar daddies (and the couple of people we know who have them). It's a big topic in L.A.
7:44 p.m. Back at C's place. We watch a few more episodes of The Righteous Gemstones and then fall asleep in his bed for a few hours.
3:42 a.m. We both wake up after falling asleep early, and the sexual tension is very obvious. I ask him if he finds me attractive. He says yes. I change subjects because I don't really know where to go from here. I can be very awkward sometimes. Finally, we nudge closer and closer until we are making out. He goes down on me for a good half hour before he puts a condom on. We have sex for hours. Literally, hours.
8 p.m. This man has no refractory period. He comes, goes down on me again until I come in his mouth, then fucks me again. It is magnificent.
DAY THREE
9:43 a.m. I get ready to head to J's neighborhood, where I'm staying for the rest of the trip. I really don't want to leave, but a change in scenery will be good.
1:44 p.m. Settled in Highland Park, which looks very different from South Central. There are lots of crystals and other things around J's apartment. After we catch up I sleep on the couch in the living room for a little bit.
5:04 p.m. I meet up with another friend, R. We met through a screenwriting class a few months ago; she's been here for two years. I tell her I want to cast her in a web series I've been working on. She's down.
5:29 p.m. We get mochi dogs, tacos, and dessert. She tells me about juggling odd jobs while being here and pursuing her acting career. She connects me to one of her friends who helped her with producing a short, and drives me back to Highland Park later.
8:55 p.m. I get back to J's place, it's somewhat chaotic. A fallen tree branch has blocked the entrance to the apartment building. The dog in the front unit starts barking and I'm a little scared, but the owner comes out and lets me in. I pretty much go right to sleep.
DAY FOUR
6:45 a.m. I wake up and go back to bed. I have jet lag and generally need to sleep a lot.
12 p.m. Still indoors. Trying to write and just process the trip so far.
5:12 p.m. Meet up with T at a bar in North Hollywood. He's a rapper I know from Brooklyn who moved here a few months ago. I make the mistake of getting a 16-ounce rosé cider instead of the 5-oz. I say I will not drink the whole thing, but do so anyway. I took last year off from drinking, just to see if I could do it. I have never had a drinking problem, but I became very uncomfortable with drinking culture. Since then, I've slowly started drinking, but I think I may go cold turkey again.
6 p.m. The food-truck guy comes by the bar and I order some tasty tacos. T's friends show up. They invite me to a party this weekend.
7:32 p.m. I am sufficiently tipsy and feeling a bit naughty and call C and ask him if we can hang out. He says yes. After finishing a few losing rounds of Connect Four, I head out. The excitement of doing this is too much. There is something beautiful about seeing the moon on a Friday night and knowing I'm going to have a night of great sex.
9:28 p.m. Most of the tipsiness has worn off by the time I arrive at C's. We watch a few episodes of The Rehearsal and start making out on the couch. I take time to really check out his dick. It is a tree trunk. We move to the bedroom and fuck for an hour and a half.
DAY FIVE
7:30 a.m. We wake up early and have sex again. After round one, I confess that ever since I first saw him at a comedy show I wanted him but then he moved away. We have sex for another hour.
10:13 a.m. Back in Highland Park. I cancel the movie tickets I got earlier to see a comedy show later with J and her sister.
1:55 p.m. Get Chinese food and snacks. It's 103 degrees outside so I stay indoors. I play some video games for a few hours to pass the time.
6:29 p.m. I head out to a comedy show in Echo Park. C texts me that he has a deadline he needs to focus on, but wants to meet on Monday.
9:55 p.m. The comedy show is good but not sure if it's as good as New York comedy.
10:13 p.m. J and I drive back to HP. We talk a lot about attachment theory and how as anxiously attached people we are attracted to avoidant types. I tell her my last ex was extremely avoidant, which made me extremely anxious, and I hope to never go through that again.
DAY SIX
7:34 a.m. Wake up and do my morning pages. I also do a tarot reading for myself and a friend over Zoom. Why did I pull the Death card again?
1:33 p.m. I get ready to see my new friend A at her pool.
3 p.m. In the pool, I finally tell her how I always wanted to be her friend and she's like, "What took you so long!" So I guess we're friends now. I'm happy.
5:26 p.m. Meet up with the friends I met the other day at a gay bar for food. They are a cute queer couple who recently got married. I love West Hollywood. A man stops me and says, "I'm going to call the police because you are too hot!"
6:52 p.m. We head to another gay bar and I try dancing. I always feel like a fraud when I'm not two-stepping.
8 p.m. We go to a friend's place to pregame before heading to the party. I have some wine. They play Renaissance and various Beyoncé hits.
10:30 p.m. We get to the party late and the line is super long. My friends end up going to another party but I head home because I'm fighting sleep.
DAY SEVEN
9 a.m. It's my last day here! I get a text from C saying he won't be around until five or six this evening.
10 a.m. J drops me off at a coffee shop where I meet H. She's a mentor I found on IG. I love her! She's a tiny Jewish woman in her 60s who's covered in tattoos and jewelry. We talk about writing stuff and doing consistent work.
11:36 a.m. Go to a thrift store and buy a cheap shirt. Everything seems too small or too expensive.
12:11 p.m. I arrive at J's to a wonderful discovery: my period. I listen to some podcasts while packing most of my things.
6 p.m. C says he's done and is heading home. I'm feeling jittery and also trying to be cool. This is weird. I like him.
6:54 p.m. We almost watch the Elvis movie but it's too long, and end up watching Curb Your Enthusiasm instead. I can't believe he's never watched this before.
7:30 p.m. We are both sufficiently high and giggling a lot. I finally tell him my period started earlier today, but that it's really light. I don't particularly care for period sex, but I'm extremely horny and I want to have as much sex as possible before I leave.
8 p.m. We make out for a very long time. He keeps telling me how much he wants to fuck me. I want him to fuck me too, but I think he's hesitating because of my period, so I don't pressure him. He tells me he wants me to put my mouth on his dick and I happily oblige. It is quite big. And uncut. My favorite.
We move to the bedroom and fuck for a few hours. He keeps telling me how good my pussy is. He uses my vibrator on me and I come pretty hard. Then he fucks me again. I ask him how many times he came. I think two or three. He says he lost count.
10:30 p.m. Curb is still playing in the background. We go back to the living room and smoke a bit. Then we fuck again. On the couch. Standing up. On the floor. He keeps telling me how much he can't stop fucking me. How he wants to fuck me over and over. I love his stamina and how vocal he is and how good he makes me feel. I consider staying another day but I know I can't.
12:15 a.m. We make out in the kitchen while I wait for my Lyft to arrive. I really don't want to leave in the morning.
12:45 a.m. Fall asleep dreaming of the next time I can visit.
Want to submit a sex diary? Email sexdiaries@nymag.com and tell us a little about yourself (and read our submission terms here.)