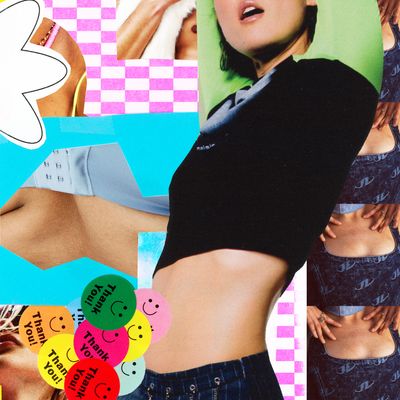 Photo-Illustration: Marylu Herrera
This week, a woman hooks up with a mysterious stranger while at a bachelorette party: 30, single, Miami.
DAY ONE
8 a.m. Take one more sip of coffee and head out the door to get to JFK. I'm going to Miami, bitches!
10 a.m. My best friend, Laura, is waiting for me at our gate. We're both 30 and grew up outside of Boston. It's her bachelorette weekend — she's about to marry the love of her life, and I'm newly single. I'm a yoga teacher and own my own studio. That's how I met my ex — he was a client.
1 p.m. I try to read on the plane, but I keep replaying things with my ex. We broke up a month ago after three years together; I suspected he was cheating. He still denies it, but I have enough evidence to stand my ground: When I borrowed his phone to Google something, I saw a dating app. My heart sank. Then I posted on that Facebook group — "Are We Dating the Same Guy?" — which women use to vet their dating-app matches. It turns out that a couple of women had met up with my ex and even slept with him during our relationship. It was a sickening revelation. I almost start crying on the plane thinking about it.
4 p.m. All checked into our hotel. Laura and I are having a margarita at the pool. The other girls are coming tonight. A lot of our friends are lesbians, including almost everyone who is meeting us in Miami for the weekend.
7 p.m. Everyone is here. We go to a nice dinner and catch up. The only single ones are me and two of my college friends, who are both lesbians and both looking to party with hot ladies. We can't figure out where to go to check all our boxes, so we decide to have a few more drinks at our hotel, rest up, and go hard tomorrow.
11 p.m. Laura and I are in our suite, in our own beds, and she's talking about her dreams for a future with her fiancé. I'm trying so hard to be there for her, but my heart is literally aching.
DAY TWO
10 a.m. A celebratory brunch for Laura! Mimosas, coffee, and pastries on the beach. We all go around and tell Laura how much we love her and how we can't wait to see her family grow and bloom. It's very sweet.
11 a.m. My friend Tina and I go on a swim together. She tells me that she knew my ex was cheating on me because he matched with her roommate on a dating site a few months ago. I am shocked — why is Tina just now telling me about this? Like, I'm really fucking pissed.
12 p.m. Back in my room, trying to cool off from the Tina news. I take out my vibrator, put it on the highest level, and fuck myself hard with it. I come so hard and so loudly I'm sure the entire floor hears.
5 p.m. Laura and I are getting ready for dinner and she asks me to please get over the Tina thing. I'm annoyed but she knows if I don't let this go, the trip will be ruined. I promise to try.
8 p.m. We meet at a cool restaurant. We're wearing tiaras and have penis whistles and it's pretty damn cheesy, but I go along with it. There's a group of guys at a bachelor party at the table next to us. They're all overly tan, with bad tattoos and huge muscles, and they are very loud. I try to decide if any of them are fuckable. Sadly, I think not.
10 p.m. At a semi-empty gay club dancing with the girls. A hot guy is watching me from the bar. I wonder if he's straight? I go over and order a drink next to him. He introduces himself: Jose, from Puerto Rico, moved here a year ago to be a model. He's very attractive and seems sweet and cool. And he's flirting with me? I ask him if he's straight — he says he's "heteroflexible." I am honestly not sure what to make of that, but I give him my number and go back to the girls.
11 p.m. Two of the girls have met other girls and they're hooking up. I decide to go back to the hotel. It was fun, but I'm drained.
DAY THREE
9 a.m. Spa day. Yay!
1 p.m. Crying at the spa. We're all having a sound bath and the healer is asking us to let go of the pain of our past. I try to hold back the tears, but obviously, that's impossible. I was so in love with my ex, and I thought we were perfect. I was totally and utterly blindsided by his affairs.
3 p.m. My friends say heteroflexible means that Jose is bisexual, more or less. I haven't heard from him, anyway.
5 p.m. We have drinks at a few neighboring hotels. Most guys we meet seem a bit sketchy. One guy, Terry, has potential. He's in Miami for work and he's divorced. He lives in New York, like me. He seems rich and aloof. We chat and I give him my cell, but I don't have high expectations.
8 p.m. Another groovy restaurant in Laura's honor. Tonight we play a game of "never have I ever," and I'm shocked that I'm the only one who hasn't had anal sex! I'm fine keeping it that way.
8:30 p.m.  Laura and I venture off to a high-end hotel to have Champagne by the pool, just the two of us.
9 p.m. A text from Terry! He asks if I want to have a drink at his hotel. This is very clearly a booty call. Laura thinks I should do it. I agree, but suddenly I want to throw up. I'm nervous!
10 p.m. Terry is waiting at the bar. He looks so good. I'm still nervous. My voice is quivering. We have some Champagne and the convo is awkward, but he's flirty. I am not totally sure if Terry really is divorced or wealthy or even a New Yorker. I have no reason to assume this man is a liar, but the thing about getting cheated on is that you don't trust anyone afterwards. I try to relax and enjoy myself.
11 p.m. In Terry's room. It's a beautiful suite. He's undressing me, and it's pretty fucking sexy. He's respectful, but horny for me, which turns me on. He puts on a condom and we have really good sex; his body is amazing. He comes first and because I didn't come, he goes down on me for another ten minutes until I do. At the end, we hug good-bye, laughing at our cliché Miami fuck session. I go back to my hotel with no regrets.
DAY FOUR
9 a.m. Telling the girls all about last night. I feel the best I've felt in months, emotionally. That orgasm was pretty powerful. It's like it reset me somehow.
11 a.m. We are all lazy by the pool today. Some of the girls have to fly home. Laura and I have one more day.
4 p.m. We order cheeseburgers to our room and watch reality TV. I know Laura misses her fiancé, and I feel a bit less sad hearing about how much she loves him today. I do not hear from Terry, nor do I expect to.
6 p.m. Laura and I do some research on Terry. I only have his first name, so we can't find much. I wonder if he has a wife and was using a fake name? Whatever. I had hot sex with a handsome, mysterious stranger. All is well.
10 p.m. Laura and I both pass out. The trip has worn us down.
DAY FIVE
9 a.m. Pack up our room to head home to New York.
11 a.m. As we're waiting for an Uber, four hot guys pull into the hotel. They're all there for a boys' trip from New York. They're so cute and I recognize one of them, Caleb, from my neighborhood. He's the chef at a restaurant I sometimes go to and we have some mutual friends.
The guys are like, "You girls are checking out? Stay! We'll pay for your room for one more night." Laura is obviously like, "Nope." I'm tempted because Caleb is hot. He quickly gets my number, and I head to the airport.
6 p.m. Finally get home. I'm kind of obsessing about Caleb. He was so sexy and so friendly today.
8 p.m. You know what? It's the first time all day I am thinking about my ex. That is progress! I'm compelled to text him, but I don't let myself.
9 p.m. Instead of texting him, I take out my vibrator and think of Caleb. He has BDE. Don't all chefs?
DAY SIX
9 a.m. I'm at my yoga studio. I have six private sessions today. Thank goodness I got a good night's sleep last night. I'm going on a cleanse today. No drinking or unhealthy food for a week.
12:30 p.m. Caleb texts! He wants to know if I'm missing Miami yet. I text him a picture of me in my sports bra standing in my studio.
4 p.m. In between clients, I stalk Caleb's Instagram to try and figure out his dating history. It looks like he had a girlfriend up until a few months ago. She is a singer-songwriter who looks like a model. I immediately feel insecure.
8 p.m. I'm home watching TV and eating a salad in a huge glass bowl.
DAY SEVEN
9 a.m. On my way to the yoga studio, and get a text from Terry! He's back in the city and would love to take me to dinner. That's wild. This dude is a legit person in the world? I decide to ask him a few things via text before agreeing to another date.
12 p.m. Caleb texts me a picture of him at a pool. He says, "What are we going to do in New York that's as fun as this?" Then he sends me a list of date options and tells me to pick one. He's so playful and adorable. I think he's going to be my next boyfriend.
3 p.m. I ask Terry if he's really single, and he promises me he is. Then I ask him for his full name, which I know makes me sound neurotic, but I really need to make sure he's not a creep. He sends it and I Google it, and he comes right up. The job checks out. The divorce checks out. Nice!
10 p.m. Get into bed excited about these guys. It feels like my karma has shifted a bit. I'm almost ready to turn the page. The worst, I hope, is over.
The Sex Diaries column, which began in 2007, is the basis of a new docuseries on HBO.
Want to submit a sex diary? Email sexdiaries@nymag.com and tell us a little about yourself (and read our submission terms here.)