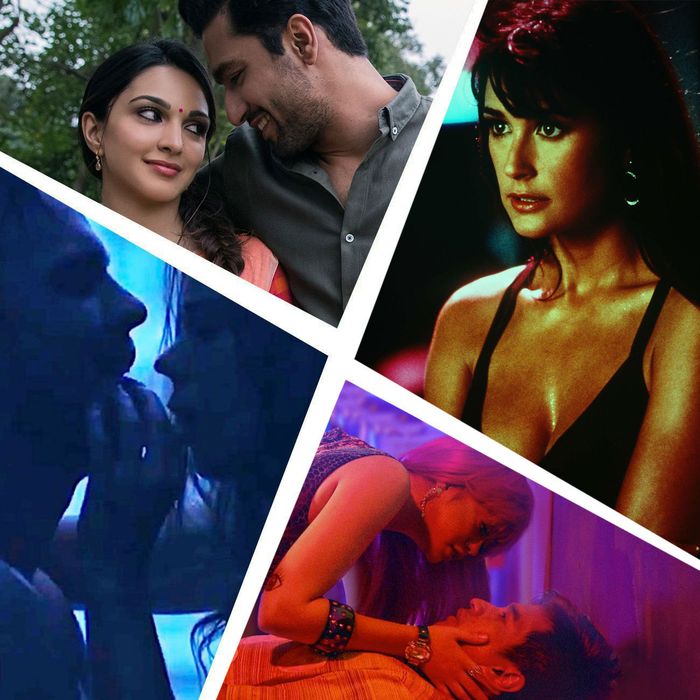 Photo: Netflix, Shutterstock, Lost City
When getting ready to Netflix and chill, either solo or with a partner, it can help to have a few options at the ready so you don't waste precious time looking for the perfect pick. From classics like Striptease to newer fare like The Babysitter and Yes, God, Yes, the following movies are packed full of the kind of sexual tension you could cut with a knife — and all available on Netflix.
1. Yes, God, Yes (2019)
Stranger Things' Natalia Dyer stars in this sexual coming-of-age film as Alice, a Catholic teen facing shame, confusion, and pressure surrounding sexual desire. Things spin out of control when she begins to explore her sexuality. Amid rampant rumors, resentful best friends, and boys she can't rely on, Alice sticks to her intuition when everyone seems to think they know what's best for her.
2. American Pie Presents: Girls' Rules (2020)
Much like the American Pie series that came before it, this film explores nascent teen sexuality with humor and irreverence. Each character is faced with a different crossroads in their love lives, but they all manage to reach satisfying conclusions through the help of their friends and crushes.
3. MILF (2018)
This 2018 French flick centers on three women in their 40s who meet a group of young men in a sailing club while on vacation. The men are quite excited at the prospect of hanging out with the older women, and their age gaps prove to be thrillingly complex.
4. Striptease (1996)
This American erotic dark comedy is perfect for those who want a plot to make their heart race in more ways than one. Demi Moore stars as a mother who begins stripping to make the money she needs to regain custody of her daughter.
5. Lust Stories (2018)
This collection of four short films from prominent Indian directors include tales of intimacy, sex, and the complexities of love. From a passionate affair gone sour to the discovery of self-pleasure, the stories all focus on the point of view of Indian women in the realm of love and sex.
6. Elisa and Marcela (2019)
This period flick is packed with tension as Elisa Sanchez Loriga masquerades as a man in order to be with the woman she loves. Set in Spain in 1901, this is the perfect choice for those wanting a dash of passion, sex, yearning, and historical fiction.
7. Horns (2013)
If you ever had a crush on Harry Potter while growing up, you might be interested in watching Horns. Daniel Radcliffe plays a boy mourning the mysterious death of his high school sweetheart and who begins to grow horns out of his forehead. As the horns manifest on his physical form, everyone around him begins to reveal their most personal desires.
8. The One I Love (2014)
If you're looking for something that doesn't necessarily involve two people that are passionately in love, this movie with Elisabeth Moss and Mark Duplass might suit you well. A couple that's sunk into a bit of a funk takes a weekend away to spend time recouping together. Suddenly they come face to face with versions of each other that are alluring and passionate, and they become filled with lust for each other. They soon find out that the house they're staying in might have something to do with their newfound energy.
9. Duck Butter (2018)
Two women, played by Alia Shwkat and Laia Costa, connect and strike up some immediate sexual and romantic chemistry and decide to go on an epic 24-hour date.
10. Newness (2017)
A modern take on the meet-cute film that's packed with sexual tension. This couple falls for each other after meeting on a hookup app, and try to stay in love while also seeing other people.
11. Cam (2018)
Fans of horror and thriller movies might love Cam for a hot, suspenseful, and unnerving experience. In the movie, a cam girl discovers that a doppelgänger has taken over her account; she must track down the perpetrator and reclaim her identity and growing fan base.
12. The Feels (2017)
This movie follows two women, Andi (Constance Wu) and Lu (Angela Trimbur) celebrating their bachelorette weekend with friends ahead of their wedding. When Lu admits that she's lacking in some aspects of their sex life, they must work together to find a solution.
13. The Babysitter (2017)
Fans of adventure, suspense, and horror will be intrigued by this Netflix original in which a kid realizes his hot babysitter is part of a Satanic cult. Perfect for anyone who was ever presented with the simultaneous gift and curse of a hot babysitter.
14. Oh, Ramona! (2019)
Andrei is a dorky high-school student who pines for his mesmerizing classmate Ramona until he meets an alluring woman named Anemona on a vacation and is forced to choose between them. This coming-of-age movie perfectly captures just how much lust can consume your attention.
15. You Get Me (2017)
Tyler and his girlfriend are the perfect high-school couple until one fateful night out at a party when they fight and break up. He takes home a girl named Holly (played by Bella Thorne) and spends a passionate weekend with her before returning to school and making up with his girlfriend. But when Holly shows up pretending to be a new student, all hell breaks loose in this steamy thriller.
16. Dry Martina (2018)
A former singer grappling with the end of her career, Martina has lost touch with her sensual self — that is, she meets a handsome young couple who remind her of her once robust libido. So begins a journey that leads her to Chile and a better understanding of her own sexuality.
17. Cuddle Weather (2019)
This steamy Filipino romantic drama finds two sex workers in a sensual fling. Things begin to heat up further when they realize that they want more than their existing friends-with-benefits situation.
Additional reporting by Jordan Larson.