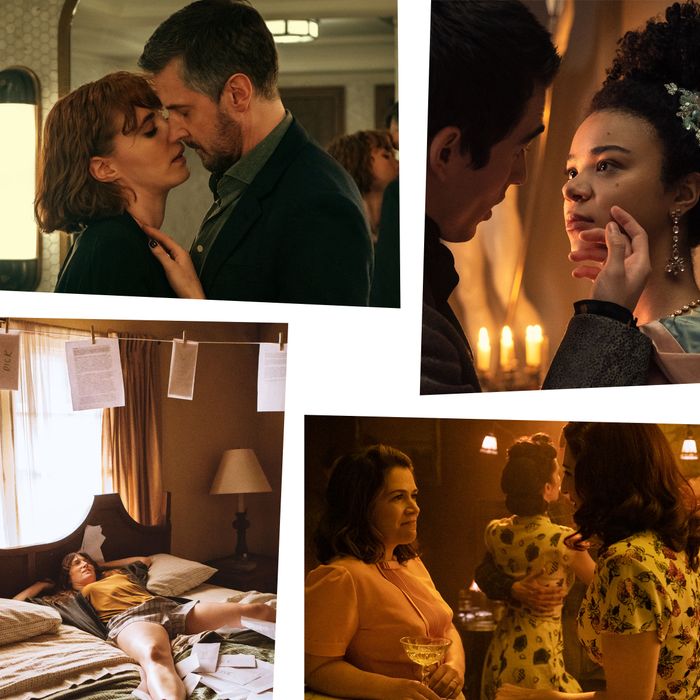 Photo-Illustration: by The Cut; Photos: Netflix, Prime Video, Everett Collection
If the pandemic taught us anything about television, it's that some shows are better watched alone in your room. (Shout out to anyone who watched Normal People during the 2020 lockdown with their parents and are still talking about it in therapy.) Especially since all the newest shows are a lot sexier than they used to be. Now everyday shows are also erotic masterpieces that range across time periods, countries, and languages. What a time to be alive! Some of these TV series are works of art that reveal bigger truths about the world, and others are mindless sexy binge-watches: the best of both worlds. Here are 21 options if you're new to the genre (or looking for something to revisit).
1. Queen Charlotte: A Bridgerton Story (2023)
Much like Bridgerton (see below), this prequel does a lot of things well, including casting very beautiful people who have amazing chemistry, specifically the young Queen Charlotte (India Ria Amarteifio) and King George (Corey Mylchreest). The series also explores female desire more vividly than it has in any other Bridgerton season — when a young Lady Danbury (Arsema Thomas) begins a spicy affair with a married man, you'll see what I mean.
Stream on Netflix.
2. Bridgerton (2020–present)
Inspired by Julia Quinn's historical-romance novels, the series follows the eight aristocratic Bridgerton siblings as they try to find love in 1800s London high society. The first season follows the eldest daughter, Daphne (Phoebe Dynevor), and her love story with the extremely attractive Duke of Hastings (Regé-Jean Page). Plenty of castle sex ensues and some spoons are even licked … sensually.  While season 2 has far less sex, it features my favorite romance trope of all: a slow burn, enemies-to-lovers arc between Anthony (Jonathan Bailey) and Kate (Simone Ashley) that I found plenty sexy, even without some spoon play.
Stream on Netflix.
3. A League of Their Own (2022-present)
Based on the film of the same name, the series retells the classic tale of a 194os professional women's baseball team with a few notable twists — like there are lots of lesbians (thank God) and, therefore, lots of sneaking and fooling around between the closeted players on the Rockford Peaches.
Stream on Amazon Prime.
4. Normal People (2020)
Where to even begin? The BBC adaptation of Sally Rooney's best seller left viewers weak and obsessed, even inspiring a 22-minute edit of the sex scenes for all of us to watch and re-watch. The series follows Irish couple Marianne (Daisy Edgar-Jones) and Connell (Paul Mescal) as they weave in and out of each other's lives from high school through college and touches on topics of abuse, mental illness, and class.
Stream on Hulu.
5. P-Valley (2020–present)
If you liked Hustlers or Zola, this is the show for you. Adapted from a play by Katori Hall, the show revolves around a Mississippi strip club called the Pynk and the workers who make a living there. The first two seasons highlights Black artists and destigmatizes sex work, all while featuring some steamy scenes. Multitasking!
Stream on Starz.
6. Vida (2018–20)
Two Mexican American sisters (Mishel Prada and Melissa Barrera) return home after the death of their mother only to find out that … maybe they didn't know their mom as well as they thought. (Turns out, among other secrets, she married a woman and the family business was in dire trouble.) Directed and produced by a Latinx cast, the show is an earnest portrayal of queer identity and relationships (and even some ass eating). It features one of my many celebrity crushes, Roberta Colindrez, who plays a laid-back bartender and love interest.
7. Sex/Life (2021–present)
Suburban mom Billie (Sarah Shahi) starts daydreaming and journaling about her steamy ex while her husband and child linger over her shoulder and her conscience. Filled with plenty of steamy scenes, the show focuses on female desire and lots of sex.
Stream on Netflix.
8. The Sex Lives of College Girls (2021-present)
With scenes that will make you cringe and want to redownload Tinder, Mindy Kaling's Sex Lives of College Girls is young love at its best. Centering around four college freshmen, the girls (Reneé Rapp, Pauline Chalamet, Amrit Kaur, and Alyah Chanelle Scott) quickly learn what they can about sex, relationships, and surviving on their own.
Stream on Max.
9. Minx (2022-present)
Say hello to the first (fictional) women's erotic magazine. It's 1970 in Los Angeles and feminist writer Joyce (Ophelia Lovibond) reluctantly joins a porn publisher Doug (Jake Johnson) to create a thoughtful — yet still very sexy — magazine for feminists everywhere. That means lots of full-frontal penises, but don't fret, it's all about the female gaze.
Stream on Starz or the Roku Channel.
10. Outlander (2014–present)
A historical drama that has been compared to Game of Thrones, this show follows a woman who's transported back in time in Scotland from 1945 to 1743. Forced to adapt, she marries and falls in love with a rebel warrior. Consider this your go-to if you have a time-travel kink or have always had a thing for Jon Snow.
Stream on Netflix.
11. Elite (2018–present)
In this Spanish spin on Gossip Girl, a trio of working-class teenagers enroll in a prestigious private school in Madrid and have their lives turned upside down. Featuring mystery, some throuples, and lots! of! sex!, the show does everything right. Plus, its seventh season is set to air in October, and it might be the most seductive season yet.
Stream on Netflix.
12. Industry (2020–present)
What can only be described as a hornier, Gen-Z version of Succession, Industry follows a group of recent college graduates as they begin their jobs in a prestigious investment bank in London. Their new lives are full of  pressure, but that means they've learned how to properly blow off some steam.
Stream on Max.
13. House of the Dragon (2022-present)
Some shows that are not overall sexy have a few very sexy scenes that make them worth it. In the fourth episode of this Game of Thrones prequel, a young Princess Rhaenyra (Milly Alcock) sneaks away to a brothel with her uncle, and the two makeout (though it's incestuous it's still steamy, say what you will!). It might make some people's skin crawl, but her uncle, the handsome Matt Smith, does a great job at making you want to forget they're related.
Stream on Max.
14. Virgin River (2019–present)
Looking for a fresh start, a nurse (Alexandra Breckenridge) moves to a remote town in Northern California to become a midwife. While adapting to small-town life, she's challenged to forget her past and find new love. I think of this as the Nicholas Spark-esque series on the list.
Stream on Netflix.
15. The Cook of Castamar (2021)
In this sexy period drama, a widowed Spanish Duke finally remarries, only to fall in love with his chef. Originally from Spain, the show has the very thing we love the most: forbidden love.
Stream on Netflix.
16. Obsession (2023)
This limited series about a London surgeon having an affair with his son's fiancé is only four episodes and is best described by one review that called it "one 'adult' scene after another with minimal plot in between." While it may not be the most aesthetic and complex show to ever grace your screen, it does the whole erotic thriller thing pretty well.
Stream on Netflix.
17. Fleabag (2016–19)
Phoebe Waller-Bridge rose to fame with her raunchy comedy about a woman on a journey of love, sex, and self-discovery, all while breaking the fourth wall. Did we mention that there is a hot priest and a provocative church scene that I think about almost every day?
Stream on Amazon Prime.
18. The L Word: Generation Q (2019–present)
Set ten years after the original series, this sequel follows a group of lesbian and bisexual women in Los Angeles. With some reprised roles and plenty of new characters, it explores relationships and love within the LGBTQ+ community.
Purchase on Amazon Prime.
19. Shameless (2011-2021)
This one's for all the Jeremy Allen White fans out there. While we never really get to see his character get it on in The Bear, the Gallaghers — siblings abandoned by an alcoholic father in Chicago —  sure do have a lot of sex, including White's character, Lip. You're welcome.
Stream on Netflix.
20. The Great (2020-present)
I'm a huge fan of a good satirical drama, and The Great makes 18th-century Russia not only interesting but sexy. The chemistry between Catherine (Elle Fanning) and Peter (Nicholas Hoult) is palpable even as the married couple spends most of the show as political enemies, often debating whether or not to kill one another. Or, you know, having sex.
Stream on Hulu.
21. I Love Dick (2016)
Based on the novel by Chris Kraus, the show follows Chris (Kathryn Hahn), an unsuccessful artist from New York, who begins obsessing over her husband's art fellowship sponsor (named Dick, fittingly) when they move to a remote part of Texas. Chris begins to write Dick (Kevin Bacon) erotic, explicit, and confessional letters, though their interactions in real life remain frustrating, which of course end up impacting her whole life.
Stream on Amazon Prime.