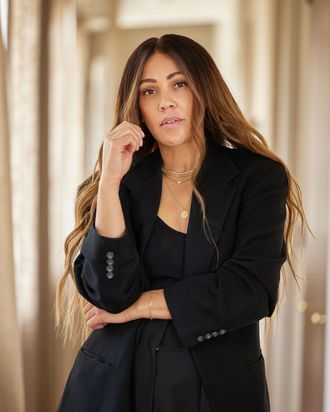 Photo: Frankie Marin/Courtesy of Shani Darden
With such notable clients as Kelly Rowland, Jessica Alba, Shay Mitchell, and more frequenting her chic Beverly Hills studio, aesthetician Shani Darden has surely made a name for herself — not to mention her namesake skin-care line she launched in 2013, which is beloved for its best-selling Retinol Reform Treatment Serum. "Working with my clients' skin and developing products are my favorite parts about what I do. So luckily they go hand in hand, the New York–born, L.A.–based beauty expert says. "
Darden got her start in the industry in her 20s when she was scouted by a modeling agent in New York. After pursuing modeling in L.A., she quickly learned it wasn't for her. "But I had an obsession with skin from a young age, so I decided to become an aesthetician," she says. Darden credits a lot of her skin-care knowledge to working in a dermatologist's office after graduating from Marinello cosmetology school in L.A. "It was the best experience for me to learn about different skin types and skin conditions," she says. Throughout her time there, Darden was also inspired to launch her own product after realizing she couldn't find a good retinol treatment on the market that didn't cause dryness or peeling. Ten years ago, she took it upon herself to launch Retinol Reform and since then has launched five other incredible products, most recently her Hydration Peptide Cream
When Darden isn't creating coveted beauty products, sharing skin-care knowledge on social media, or seeing clients in her L.A. studio, she makes it a point to refill her cup via treadmill walks, a hydrating skin-care routine, and LED masks. "Making time for myself is always essential for managing stress. Sometimes it's a longer skin-care routine, and other times it's a long call with a friend or a walk," she says. "It doesn't always look the same for me, but the important part is taking the time to do it."
.

Here, Darden's a.m. routine:
6 a.m. I usually start my day by walking on the treadmill.
6:30 a.m. After a quick walk, I'll shower and head into my skin-care routine.
6:45 a.m. I start with my Cleansing Serum, a gentle gel cleanser that doesn't strip your skin. It helps add moisture with glycerin and sodium hyaluronate.
6:48 a.m. To start my day lifted and glowing, after cleansing I love a quick Facial Sculpting Wand session. I usually try to work in a session with my LED Light Mask, too. Sometimes I'll do that in the morning, and other days I'll do it at night.
6:58 a.m. Next up, I will apply a vitamin C serum such as iS Clinical's Pro-Heal for antioxidant protection.
7 a.m. Next up is eye cream! My Intensive Eye Renewal Cream is a luxurious formula that melts into the skin. It's formulated with peptides to plump and firm, silk-tree extract to brighten, squalene to hydrate, and niacinamide to fight wrinkles. It softens the appearance of crow's feet and dark circles, leaving the eye area visibly firmer and brighter. It works great underneath makeup.
7:02 a.m. The last step of my skin-care routine varies a bit depending on whether I'm wearing makeup. If I'm not, I love Supergoop's Play Everyday Sunscreen. It's lightly hydrating yet doesn't cause skin congestion. I wear sunscreen every single day, no matter what.
7:04 a.m. If I am wearing makeup, I'll use the NARS Pure Radiant Tinted Moisturizer, which has SPF 30. Its nice lightweight finish provides great coverage while letting your skin shine through. I always apply it with a Beautyblender.
7:08 a.m. I have been loving Jamie Makeup's Blighlighter, a highlighter-and-blush combo for a gorgeous, subtle glow. You can easily apply it with your fingers when you need a little touch-up.
7:09 a.m. The mascara from Honest Beauty is a mainstay in my makeup bag. I don't wear a ton of makeup, but this is one thing I cannot live without. I've used so many different mascaras over the years, but this one is the best — long, full lashes with no clumpiness.
7:11 a.m. I usually finish off my morning makeup routine with a little lip gloss. I always have a tube of the Glosshood Lip Gloss on hand. It's deeply hydrating and adds lots of shine without being sticky.
7:15 a.m. Once I wrap that up, I like to do a little house cleanup. I start by sageing my house, vacuuming, checking on my animals (three dogs, three turtles, and one chameleon), and trying to get everything in order before the kids are up and the chaos begins!
.

Darden's p.m. routine:
4 p.m. I usually get started with my skin-care routine pretty early, as soon as I get home from work. I start with Garnier's Micellar Water to remove makeup, sunscreen, etc., before cleansing with my Cleansing Serum.
4:02 p.m. The next step is my Sake Toning Essence, which helps refine the look of pores.
4:04 p.m. Retinol Reform — the most important step! Twice a week, I'll exfoliate with the Dr. Dennis Gross Alpha-Beta Peel Pads in place of Retinol Reform.
4:06 p.m. If my skin is a little more on the dry side, I like to use a hyaluronic-acid serum like Dr. Nigma's Serum No. 1 to plump and deeply hydrate the skin. Sometimes, this is all I need, especially in the summer.
4:07 p.m. Following that is my Intensive Eye Renewal Cream, which I use morning and night.
4:08 p.m. I finish my routine with my Hydration Peptide Cream, a rich, oil-free, noncomedogenic moisturizer.
.

On the beauty industry:
I'm hoping there will be more opportunities for people of color to build their brands and succeed. It can feel insurmountable to build a brand and know what to do to scale it. There isn't a book or a set of guidelines for how to make it happen. I just started the second year of my mentorship program, and I'm so excited to get started with this new group of amazing women and help them grow their brands.
.

On beauty trends:
Anything involving skin suction is a trend I do not recommend. Retinol sandwiching is a good trend if you're new to retinol and need an extra buffer while you're acclimating to it.
.

On the skin-care ingredient she avoids:
Personally, I tend to avoid anything oil-based because I have an oily T-zone, but that's not to say I avoid it at all costs. I just prefer to use products that are noncomedogenic and formulated without oils. They don't often hydrate the skin as much as they say they do and can cause skin congestion.
.

On the beauty services she swears by:
I love to have my hair done! I see Kristen Hasselbach for trims and blowouts regularly.