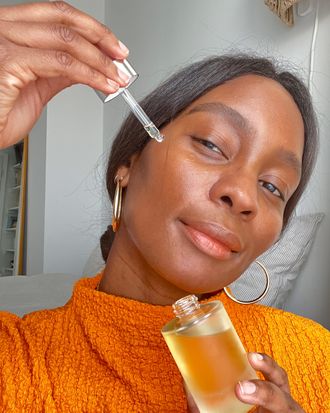 For holistic aesthetician and writer Shani Hillian, helping people is what's most important to her. "When I see the progress someone is making with their skin, the consistency and work they've put in, I bloom," says the New York–based beauty guru, who has written for Elle, Bustle, Byrdie, and more. "I have the privilege of helping folks feel more confident in themselves. That act of pouring love into someone else gives me great confidence."
Surprisingly enough, Hillian didn't imagine she'd end up working in beauty, as she started out as a professional model at age 15. "But beauty always intrigued me over the years," says Hillian, who was raised in Philly. Eventually, in between her fashion jobs, she worked as a hairstylist for two years at Bubbles Salon in her hometown. At age 25, she began taking skin care more seriously and furthered her education in aesthetics at the International Dermal Institute and studied herb medicine under two local herbalists.
These days, when she's not writing or giving facials, Hillian's working on launching her ethically sourced skin-care brand and wellness platform Groov — launching this year — which aims to "help others go inward in order to treat skin in conjunction with topical care," she says. Her on-the-go schedule has proven to her why self-care is so important. "It's a way to show yourself love and TLC," Hillians says. "As women, especially Black women, we give so much to others, and self-care is truly a way to say to yourself, I love you. You deserve time and care, no matter how small or grand the ritual is."
.

Hillian's a.m. routine:
7:00 — I wake up between 7 and 8 a.m. daily, depending on what time my daughter wakes up. I tend to her first, get her some breakfast, and then I take that uninterrupted time to do my a.m. skin care.
8:00 — I've been oil cleansing with my oil cleanser, Every Mood, which is coming soon and is super-nourishing and calming to the skin.
8:02 — Then I follow up with the Epilogic Even Balance Toner to clarify and then the Mad Hippie Vitamin C serum because it's natural, gentle, and works well.
8:07 — I go back in when skin is still damp with my oil; it also doubles as a moisturizer. If I have time, I will perform a five-minute gua sha routine to drain and promote further oxygen to the skin, which is what we need to have healthy functioning skin. All of my gua sha tools are from Lanshin.
8:09 – I end with the Young Living Mineral sunscreen to protect my skin. I love it because it doesn't leave a white cast.
8:10 — I'm truly a minimalist who wears little to no makeup on a daily basis, but when I'm heading out, I always fill in my brows with Anastasia Brow Wiz and top it with her Brow Freeze.
8:13 — I also can't leave the house without applying the Ami Colé Lip Treatment Oil. 
.

Hillian's p.m. routine:
9:00 — Makeup or no, I double cleanse with my oil cleanser.
9:03 — I might throw in a five-minute aloe mask. I cut a fresh piece from a plant. This boosts hydration and reduces any inflammation from the day.
9:08 — I exfoliate at night two times a week with a DIY papaya-and-manuka-honey mask. Papaya contains natural enzymes that promote cell turnover, and the honey has natural exfoliating properties. I also love the Activist Manuka Honey mask.
9:20 — After toning, I use the Epi Logic Master Plan Serum to help boost collagen and hydration, especially during the colder months.
9:25 — I finish with my same oil again. I tend to do this routine with my 2-year-old daughter because she likes to mask and tone as well. I like to also play some groovy tunes and wind down more intentionally.
.

On the beauty-marketing ploy that makes her cringe:
There's an assumption that all clean-beauty products are actually clean and natural. It's false advertising, and I've seen a great deal of damage in people's skin because they fall under the marketing spell of "clean beauty."
.

On what she's proud of in the industry:
I'm proud of the progress toward sustainability, and becoming plastic free has also been popularized in recent years. There's a lot of brands shifting toward refillable packaging and glass versus the old-school plastic waste filling landmines and harming the ocean. Waterless also. I love to see that.
.

On how she hopes the industry will change:
I would love to see more regulation in regards to what is acceptable in beauty products in the U.S. Germany, France, the U.K., and most of Europe have such strict regulations, and I love that. The E.U. has banned over 1,300 ingredients they deem unsafe and cannot be included in any beauty product, whereas the U.S. has banned only 11. That's a stark difference and a problem. If an ingredient in a product I apply topically to my face or body daily has the potential to cause cancer down the road, it should be banned.
.

On beauty and TikTok:
I'm not a fan of TikTok trends in general LOL. It's all "trends" dermatologists and aestheticians have been preaching for years with a cool new name. Skin-cycling, skin-flooding, skin-slugging, etc. They're great but not new trends.
.

On the ingredient that's overhyped:
Witch hazel. I used to hype it up myself years ago but found it's not the best toner for your skin and it's drying. There's so many other amazing ingredients to tone with other than witch hazel, such as rosewater.
.

On the ingredients she absolutely avoids:
Artificial fragrance, parabens, and phthalates.
.

On her favorite ingredients:
I gravitate toward hydrating and oil-balancing ingredients such as aloe, manuka honey, most plant oils, hyaluronic acid. These are ingredients that don't disrupt the microbiome (acid mantle) and keep it nourished.
.

On the hero products in her routine:
I have two hero products that I'm obsessed with as of late. The first one is my own product that's in its final stages of formulation, which is an oil cleanser–moisturizer hybrid product (the oil I'm holding in the photo). It's not completely done but nearly, and I am loving the process of developing. I've been using it consistently for a couple of months and my skin has never felt better. It's called Every Mood, and I created the product to help folks reduce inflammation, combat "moody" skin conditions most of us have experienced at some point such as acne, eczema, dermatitis, all while resetting their skin to its natural state to help maintain balanced and healthy skin. My second favorite is Even Balance Toner by Epilogic. Hands down the best toner I've used in many years. I was introduced to it by a fellow aesthetician, Sam Simms, who works for Dr. Chaneve Jeanniton at her studio, Brooklyn Face & Eye, in Brooklyn. I'm in love with how gentle and hydrating it is. With my hybrid oil and Even Balance, I only need to pack three facial products anywhere I go (including sunscreen) and I'm always set.
.

On the beauty services she swears by:
Go see a dermatologist once a year for an annual skin check. I love facials and think everyone should get them quarterly that parallel with seasonal changes. The temperature changes, and so will your skin, so facials help skin reset and adapt to the upcoming climate. Go see a board-certified dermatologist or licensed aesthetician for a skin evaluation if you have major concerns and refrain from seeking advice on the internet from influencers. There's nothing wrong with taking notes, but please do your research before changing products or incorporating any new ones, especially active ones. Frequent trims are a must.That's the old hairstylist in me who will always swear by quarterly hair trims. I see Renée Gadar, the global texture director at Aveda, and she is magic.
.

On the routine she must do even in a rush:
Skin care always. I don't wear makeup, and I can mask my hair with a hat. But I can't mask a crusty dusty face that hasn't been cleansed haha. So skin care always.