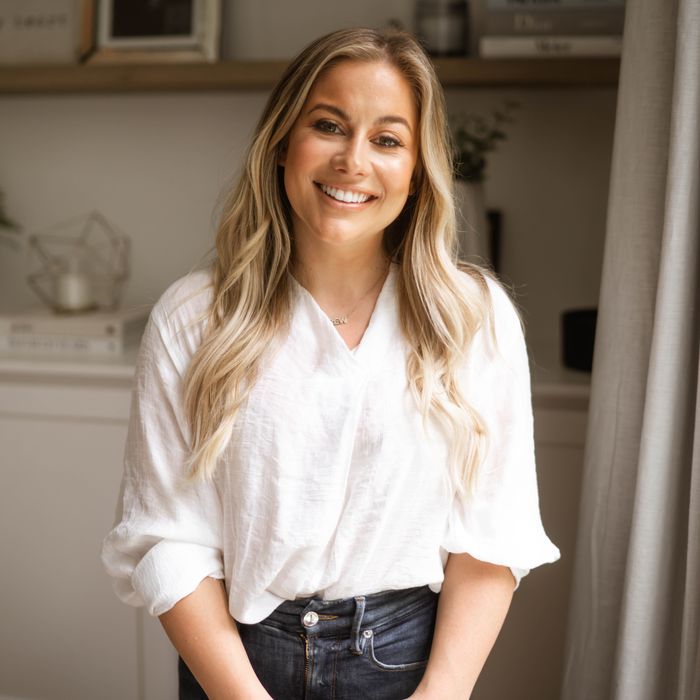 Photo: Courtesy of Shawn Johnson East / TULA
In the eight years since Shawn Johnson East announced her retirement from gymnastics, the Olympic gold medalist has gone on to win Dancing With the Stars, become a New York Times best-selling author with her memoir, Winning Balance: What I've Learned So Far About Love, Faith, and Living Your Dreams, and amass more than 1 million subscribers on YouTube. What's left on the bucket list? Creating a limited-edition scrub inspired by her mom's pumpkin bread, obviously.
Earlier this month, Johnson East launched the So Pumpkin Exfoliating Sugar Scrub with the beauty brand TULA. Like her mom's recipe, it features sugar (to gently exfoliate) and pumpkin (to soften skin). It also includes the brand's signature probiotics (to improve texture) and fruit enzymes (to dissolve dirt). It's effective but unintimidating, a crucial factor for Johnson East, who admits she wasn't familiar with the ins and outs of skin care until she was 18. "In gymnastics, makeup was much more important than skin care," she says. "Then, it was all about just getting the makeup and sweat off my face with a basic cleanser. Now, I make sure I'm hydrating and protecting my skin — all the good stuff I was missing. I wish I had learned it sooner!"
At different points in her life, she's also dealt with dry skin, melasma, freckles, discoloration, and lately, she says, wrinkles. Ultimately, she's learned the key is prevention. "My melasma has gotten better as I've gotten older, especially as I've introduced some great products into my routine and started wearing SPF every day," she points out.
Below, a look at Johnson East's full skin-care routine, including the serum that has significantly brightened her dark spots, the eye cream that she relies on to fake a full night's sleep, and the face mask that makes an "immediate difference."
The Double Cleanse
"I switch between a couple different cleansers, but this is one of my consistent favorites. I start with it to break down any makeup and buildup — it leaves my skin feeling clean without stripping it. The texture isn't oily or greasy, and it preps my skin for the second step in my double cleanse."
"After my Elemis balm, I go in with the TULA Cult Classic gel cleanser, which I absolutely love. It's my go-to recommendation for people to try because it works with all skin types. I started double cleansing to really make sure I was getting all the makeup and buildup off my skin and properly cleansing my skin. It leaves my skin feeling so soft."
The Scrub
"This is my current favorite part of my routine. It's a super-gentle sugar scrub that exfoliates my skin, leaving it feeling supersmooth. I am obsessed with everything pumpkin related. It smells so good. I cannot get enough of it!"

The Serum
"Melasma, sun damage, freckles — in terms of dark spots and discoloration, you name it, I've had it. This SkinCeuticals serum has totally helped even out my skin tone and brighten up my complexion. I love the hydrating texture and feel, as well as how it targets my dark spots. I've seen such great results with fading discoloration and really recommend it."
The Eye Cream
"In addition to lots of coffee, this eye cream is key to making it look like I've gotten a good night's sleep, which doesn't happen all that often with a toddler, to be honest. I always keep an eye cream in my routine to help with puffiness and dark circles, and this one tackles both."
The Moisturizer
"I struggle with dry skin even in the summer, and this face cream has aloe, antioxidants, hyaluronic acid, and all kinds of other hydrating, glowing goodness. It doesn't make me oily either!"
The Lip Mask
"Speaking of dry skin, there's nothing worse than dry lips. Filming our podcast, Couple Things, and videos for our YouTube channel, I feel like I'm talking all the time, and I just can't keep my lips moisturized enough. I leave this mask on overnight a few times a week, and I wake up with smoother, softer lips every time."
The Face Mask
"This one is definitely more of a splurge, so I only use it every once in a while, but it makes an immediate difference. It's a cool gel formula that reduces dark circles and fine lines and gives you a really pretty, natural glow. You mix the packets together, apply it to your face, and let it dry before peeling it off — it definitely gives an at-home-facial feeling."