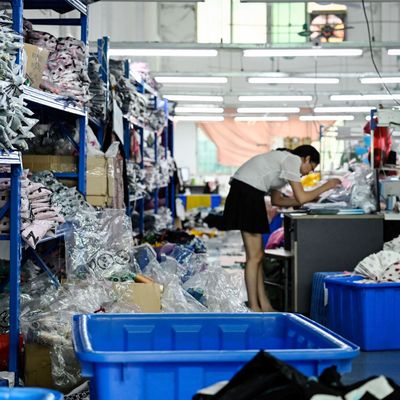 Photo: JADE GAO/AFP via Getty Images
Last month, Shein, the Chinese fast-fashion giant with a history of labor abuses and environmental destruction, took a group of influencers on a sponsored trip to some of the company's China-based warehouses. Several attendees posted footage and glowing testimonies about the trip, praising the company on their social-media accounts. The content, which did not address Shein's business practices, led to immediate backlash online.
What is Shein?
Shein is a China-based fast-fashion retailer that produces garments and accessories, adding up to 10,000 new items to its app every day. The brand's low prices, fast production, and popularity on TikTok have cemented it as a Gen-Z favorite. It is one of the biggest fast-fashion companies in the world with a valuation of $66 billion, greater than that of Zara and H&M combined.
What exactly did the influencers say about Shein?
Last month, Shein, in what seems like an attempt to rehabilitate its public image in the U.S., flew a group of social-media influencers to China to post positive content from its warehouses. Influencers gushed about tidy factories and happy employees. "Upon interviewing the workers, a lot of them were really confused and taken back with the child labor questions and the lead-in-the-clothing questions," influencer Destene Sudduth told her 4 million-plus TikTok followers. "They weren't even sweating. We were the ones sweating!"
Another influencer, who goes by Dani DMC on Instagram, posted a now-deleted video about her trip, which includes footage from the inside of several factories — including one she calls the "Shein innovation center." Dani, who describes herself as an "investigative journalist," explains that after conversations with Shein workers, she was "excited and impressed to see the working conditions" and what "a developed and complex" company Shein is.
"I think my biggest takeaway from this trip was to be an independent thinker, get the facts, and see it with your own two eyes," she says at the end of the video. "There's a narrative fed to us in the U.S. and I'm one that always likes to be open-minded and seek the truth. So I'm grateful for that about myself, and I hope the same for you guys."
After facing backlash online, Dani posted a video defending her comments on Shein, which she then proceeded to delete. In a more recent video posted last week, she apologized to her followers and said she had terminated her partnership with the company.
In a statement to the Cut on June 23, a representative from Shein commented on the brand trip, noting that the influencers' "social-media videos and commentary are authentic, and we respect each influencer's perspective and voice on their experience. We look forward to continuing to provide more transparency around our on-demand business model and operations."
What do we know about Shein's business practices?
Shein has repeatedly come under fire for poor working conditions, high levels of toxic chemicals in its clothing, copying independent designers' items, and mishandling customer data.
Last October, in an investigation conducted by the U.K. broadcaster Channel 4, an undercover worker filmed inside two factories in Guangzhou that supply clothes to the fast-fashion giant.
In one factory, Channel 4 found that workers receive a base salary of 4,000 yuan per month — roughly $556 — to make 500 pieces of clothing per day, and that their first month's pay is withheld from them; in another factory, workers received the equivalent of four cents per item. Workers in both factories were working up to 18-hour days and given only one day off a month. In one factory, the outlet found women washing their hair during lunch breaks, and workers were penalized two-thirds of their daily wage if they made a mistake on a clothing item. The reported hours and working conditions violate China's labor laws.
In a statement to Business Insider last October, a representative for Shein said: "Any non-compliance with this code is dealt with swiftly, and we will terminate partnerships that do not meet our standards," which is what it has said when it has been accused of illegal labor practices in previous years.
This post has been updated.