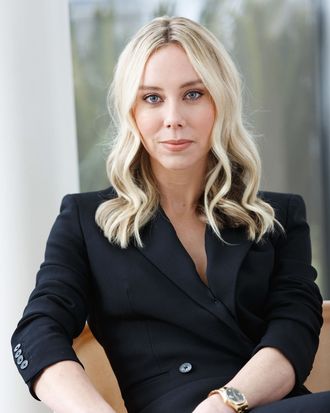 Photo: Courtesy of Jessica Richards
Jessica Richards didn't intentionally set out to have a career in beauty, but you wouldn't know it from her résumé. She worked at Lucky magazine alongside Eva Chen and Gillian Gorman Round, helped Free People enter the beauty and wellness space, and launched third-party wellness brands at Goop, all within the past decade. Throughout that time, she was also running her own store, Shen Beauty, which she founded in 2010 after becoming pregnant and taking a hiatus from her styling job at Vogue.
"About four months after I had my son, my face cream broke. I realized I was always going into Manhattan to get a new one, which wasn't as easy with an infant, so I decided to open a beauty store in Brooklyn focusing on 'organic' beauty products from around the world that were not sold in the U.S.," she says. "Last year, I had a moment where I was exhausted and wanted to come back to my roots to grow Shen Beauty with all the knowledge I had obtained along the way. The old store was dated — after all, I started before Instagram even existed." The new 1,750-square-foot shop, located at 138 Court Street, features two brow stations and four treatment rooms where customers can enjoy facials and microblading treatments, alongside its curation of clean beauty products.
Shen was born out of her own personal philosophy: "Little to no makeup, great skin care, and focusing my best efforts to use as many clean products as I can, while not shaming myself for loving, liking, or trying a product that isn't," she explains. "Beauty should be a place where you come to enjoy and explore — not a place where you feel shamed." Just stay informed — she looks to the EWG Skin Deep Database and "lots of Googling" — and approach everything with nuance. She points to parabens, a common preservative in the beauty industry, as an example. "Parabens are an interesting topic because there are parabens that are plant-derived. Most people just say no parabens, but they aren't educated enough to know the difference," she says. "Certain products with stabilizers in them are super important — you certainly don't want mold growing in your products after just touching them once."
Below, take a look at Richards's current routine — it changes often as she tests new products for Shen — including the toner she relies on to treat maskne, the two-step pigmentation treatment that she uses religiously, and the moisturizer that made her believe in lifting creams.
The Double Cleanse
"The thing that sets this brand apart is the focus on eliminating potential endocrine disrupters — chemicals that some people think could interfere with your hormone system. The products are not only efficacious, but eliminate many of the harsh ingredients that get absorbed into our bodies.
This one in particular is a physical scrub. I normally stay away from those, but to get off dead skin or city grime, I find that it really works! This will create micro tears, as it's a strong exfoliator, so it's not ideal for someone with dry or very sensitive or acneic skin, but once in a while, it's really great. I love it most on my neck and back. It doesn't really have a scent, and it leaves the skin feeling like a baby's butt."
"This is the complete opposite of the Goldfaden MD Scrub, as it is incredibly gentle and calming and not exfoliating at all. I love using it after to clean the skin and to make sure all the dirt and eye makeup comes off gently. It has a lovely, calming scent, almost like what you would imagine a baby drinking a warm bottle would smell like — it's barely noticeable and feels so calming on the skin.
Irene and I met through a mutual friend, and I immediately fell in love with her and her brand. It's sustainable in every way you can think of: All ingredients are grown in Italy, the lab is in Italy, the packaging is made in Italy, and it's all organic and recyclable. Being sustainable in a beauty industry that has few to no standards can mean many things. Most people use the term as just another marketing claim, and in most cases it might refer to the bottle or a couple of ingredients. But for Irene, it's everything: the bottles, the packaging, and the ingredients being sustainably harvested and produced."
The Toner
"Not only do I love Carla Oates and all that the Beauty Chef stands for in relation to creating a healthy microbiome, but the concept behind this product is just genius! The Probiotic Toner is the runoff from her award-winning ingestible GLOW, which helps with gut health and creates a clean gut that results in clean skin. The Probiotic Toner helps your skin's ecosystem and strengthens its barrier to lock in moisture. It has lactic acid formed during our Beauty Chef's Flora Culture™ fermentation process.
It's a total unknown hero product we tried and got everyone hooked on! It smells a bit like apple-cider vinegar, but is unreal at helping to calm, hydrate, and keep bacteria at bay (think: getting rid of maskne). I also use it on my armpits as a detox when switching deodorants, as it eats the bacteria that makes you have BO."
The Serums
"Fatma, the founder, is lovely and so knowledgeable. She is an aesthetician herself, and it shows in the efficacy of her products. I have been going through so many bottles of this as I'm using it all around my mouth and chin from wearing a mask all day long. It doesn't really have a smell and is a superlight texture that absorbs super quick into the skin.
It's great for acneic skin, as it has mandelic acid (which helps to remove dead skin cells, allowing the skin to breathe), biosulphur (which helps to dry out excess oil and unclog pores), and ferulic acid (which drives good ingredients to the cells and takes away the bad)."
"I grew up in Southern California as a sun worshipper wearing no sunscreen! How I wish I could take back my ignorance now, as it's left me with some pigmentation issues. I am religious about this product. It comes with two separate ones in a box. You use a pump of each, rub in your hands to activate, and then apply to the skin. You start to notice a difference after three full months, but I can tell you from experience and being religious about it that it truly works with help from its two main ingredients: geranium robertianum (herb robert) extract, cynara scolymus (artichoke) leaf extract."
"This entire range is based on the regenerating effects of sleep, which most of us do not get enough of! And since I have perpetually dry and dehydrated skin, I am constantly on the hunt for a great hyaluronic, but I hate ones that are sticky and don't absorb into the skin properly. This serum has eight strains of hyaluronic in it and doesn't smell at all."
The Moisturizer
"I have dry skin and love a superthick cream, and this one leaves my skin incredibly hydrated and supple. I don't believe in creams that say they lift the skin, but I might have found the one! It feels super luxe. Plus, it has no added scent, which is so nice."
The Eye Cream
"I'm not a lover of eye creams. Typically, they manage to get into my eyes and burn them, but this one doesn't. It's a cross between a gel and a cream formula and feels so nice and cooling but also hydrating.
About five years ago, I found out I have vitiligo, an inflammatory disease where your skin loses pigmentation — I have it on my back, under my armpits, around my eyes, and around my mouth. When I first found out, I went gluten-, dairy-, sugar-, caffeine-, and alcohol-free, as that's what the doctors told me helped, but I became so angry. I mean, how can I not have an ice cream with my kids or a glass of wine with friends? Happiness is more important to me. So I just do everything in moderation. Meanwhile, my skin-care routine hasn't changed much because I still have to use tons of products and test them for the shop, but staying away from harsh chemicals is advised. The Sturm Eye Cream has purslane, which is naturally anti-inflammatory, and it has helped to not cause any more spreading of the vitiligo — but it hasn't repigmented my skin."