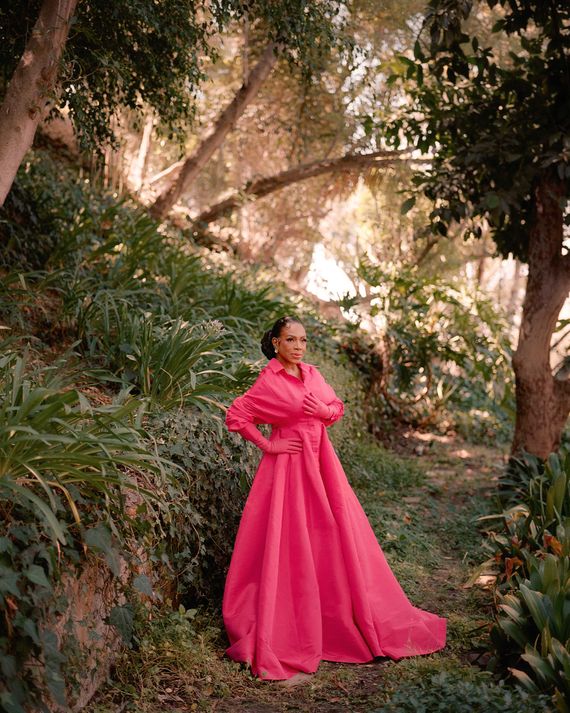 Valentino
Pink PP Gown and
Garavani
Pink PP Gloves,
available at Valentino boutiques.
Bulgari
Divas' Dream Earrings,
available at bvlgari.com.
Photo: Erik Carter
Actress, singer, and Hollywood icon Sheryl Lee Ralph welcomes me into her home as if I were one of her children. At her Hancock Park–adjacent residence in L.A., a sweeping set of stairs leads to her front door. Opening it, she looks every bit the fabulous woman who starred as Deena Jones on Broadway in Dreamgirls. I expect her place to be nothing short of chic, chic, chic.
And it is chic, but it's more in keeping with the style of a mother who has nurtured us through a television screen for decades. It's not cold — this house is lived in. She purchased it in the early 1980s with the money she earned from her first series contract role on TV, ABC's It's a Living. It feels like I'm in my own mother's home or in the home of any Black woman who has been a mother figure, guardian, or babysitter throughout my life. I'm shocked the furniture isn't preserved with plastic, but I suppose she can afford to remove a stain from her couch if necessary.
Since the birth of the family sitcom, America has had any number of surrogate mothers. Black sitcom characters like Florida Evans and Vivian Banks took up the mantle of June Cleaver and Carol Brady. To paraphrase Oprah Winfrey, they are the mothers we never had.
It's rare that an actress gets to be a surrogate mother twice in her career, or even once with any lasting impact, but television history will remember Moesha's Dee Mitchell and Abbott Elementary's Barbara Howard, two matriarchs portrayed by Ralph. On the former, we saw Ralph as the stepmother of the Mitchell clan, keeping her eye on a rebellious Brandy Norwood. On the latter, we see Ralph act as a guardian — hopeful, hilarious, kind, and cynical all at once — to her students at an underprivileged Philadelphia elementary school.
At home, there are photos of her families everywhere. In the living room, naturally, there's a large portrait of the Dreamgirls cast — Ralph alongside Jennifer Holliday and Loretta Devine. A glass coffee table is crammed with translucent awards. ("I don't want no more glass awards. I've got enough!")
I ask Ralph where she's going to put her potential Emmy Award, since it is decidedly not made of glass. "That's going right next to my bed," she says, laughing but not joking. "If I'm so blessed, I want to open my eyes the next morning and know that it was all real. It all happened, and it was all worth it." Ralph is nominated for Outstanding Supporting Actress in a Comedy Series. Despite a four-decade career in television, this is her first Emmy nomination.
"This happened in God's time," she says. "And it was perfect because I'm in the perfect show in the perfect role and the perfect time with a bunch of people."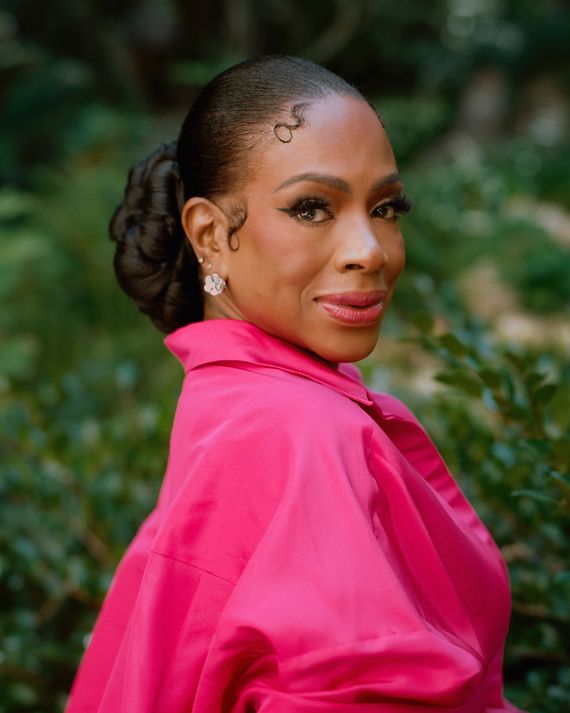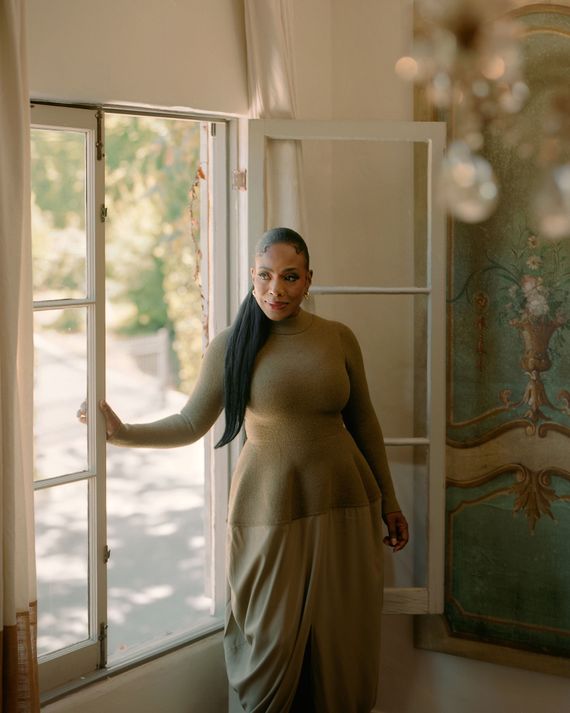 In Black circles, Ralph's name alone is almost holy. Still, she nearly quit the business. "About 15 years ago, I was feeling like I ought to just pack this in," she says. Vincent Hughes, her husband, has been a state senator representing parts of the Philadelphia area since 1994. "I was thinking I'll move to Philadelphia, I'll get a little local talk show, and that'll be that. I had given Hollywood everything and thought, Maybe it's just not going to happen." By "it" the actress means recognition on par with white actresses who are spoken of as legends in the same breath.
In 1982, when she was nominated for a Tony Award at the age of 23 after originating the role of Deena in Dreamgirls, Ralph knew she would not win. "It was amazing. The way I'm sure Hamilton must have been, it was an explosion around the world. People were coming from Paris, from London, from Germany, everywhere to see this show," she says. "But I knew I wasn't going to win the Tony because I was nominated for lead actress with Jennifer Holliday. That song alone" — "And I Am Telling You I'm Not Going," obviously — "was going to do wonders; she was going to be able to live off of that one song."
Ralph came to Broadway again; a friend was trying to set her up with her now-husband. "I went to Broadway to do Wicked. He had come to New York for some gathering and told my friend he wanted to have dinner with me. I was like, 'Oh, goddamn.' " The story gave me the kind of warmth you'd feel watching a sitcom mother tell her child about the moment she fell for the love of her life. Then Hughes pops his head into the living room to correct her. It wasn't Wicked (that was later); it was actually Thoroughly Modern Millie. And he'd been told it was a meeting for a children's hospital. They take turns finishing the story of how she didn't get that Tony nomination either.
"You know when you cry and your nose is hard? I cried like that, and he held me in his arms. I cried for so long I fell asleep and he fell asleep. When I opened my eyes, he was still holding me fast asleep, and I was like, I love this man." She attended the Tonys anyway, and that night, Hughes rushed from his son's baseball game in Philadelphia to hop on a train to New York, changing into his tux en route. They've been together ever since.
It was Hughes who convinced her to keep working. Sure, the fire has always been there in Ralph, but sometimes it just needed a little stoking. Not long ago, a well-known casting director spotted her taking her daughter to school. Ralph told her she was no longer working much as an actress, and the woman confronted her. "Do you know who you are?" Ralph remembers her asking. "Because if you know who you are, the only reason you are not working is because you don't want to work."
That moment pushed Ralph to get new representation and give it her all again. "Everybody has those down times," she says. "But do you stop? Or are you fortunate enough to have others who see you for what you really are and encourage you to carry on? Do you believe in yourself enough to encourage yourself to carry on? If I didn't encourage myself to carry on, I'd have missed out on Abbott Elementary. Now, can you imagine?"
More From the 2022 fall fashion issue
See All