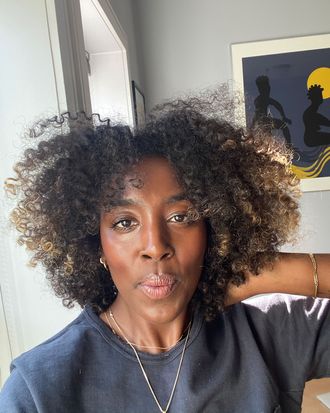 Photo: Courtesy of Siraad Dirshe
Like most skin-care obsessives, Siraad Kalila Dirshe's skin-care routine has gone through a lot of changes. In high school, she was the only one in her friend group using anti-aging products. "My philosophy then was that offense is the best defense, which kind of makes me chuckle now," says the writer, water-sports enthusiast — she's an advocate for women of color to try activities like swimming and surfing, and is working on a few related projects, including a short documentary — and social content manager for Flamingo. "I was the weirdo at the Clinique counter instead of the M.A.C one."
Her routine catapulted beyond the Clinique counter when she discovered K-beauty expert and Then I Met You founder Charlotte Cho's blog in 2015. It was also how she began writing about beauty — and later joined the Essence magazine team as a beauty editor. "I became obsessed with the idea of creating a routine and regimen around lots of products," remembers Dirshe. "I ended up writing about how Black womxn could adopt this method, since I didn't really see any stories about that, and taking a trip to Korea a year later." At its lengthiest, her routine included as many as 15 steps.
Dirshe still prizes K-beauty's innovation, but in the past three years, she's focused on paring down her routine by combining high-and-low price points and weighing her products' efficacy. The impetus, she says, was turning 30. "I used to hold onto products (for months!) simply because they were pretty even though they didn't really work on my skin — I was that obsessed." Her current morning routine for dry skin that is "legit like a desert" is six steps and features both a $7 face oil from Trader Joe's and a three-digit moisturizer from La Mer.
She also saw a remarkable change in her skin when she realized the difference between dry and dehydrated skin. "Dry skin is a skin type, while dehydrated skin is a condition that anyone can experience," she explains. "The biggest difference is that dry skin means your skin needs more oils, while dehydrated skin means your skin needs more water." She incorporated ingredients like hyaluronic acid and water-based skin-care products, and, she says, "my glow went up like ten notches." It also helped that she committed to drinking a gallon of water a day after hearing that Kelly Rowland and Tracee Ellis Ross did the same. "Their skin is literally like brown butter. It's been a big help with keeping my skin hydrated from the inside out."
Below, a look at Dirshe's morning routine, including the face mist that doubles as a toner, her go-to vitamin C serum, and her favorite $7 face oil.
The Micellar Water
"I only got into using micellar waters when I was working as a beauty editor a few years ago. Before then, I thought they were a wasted step, but after seeing the dirt and grime on the cotton pad, I was convinced. Now it's an absolute must in my skin-care routine. I picked up this one at the drugstore mainly because of the price, but I really do like it. I've tried super expensive cleansing waters and this one works just as well, and best of all, it's not tacky or sticky.
In the morning, I will soak a cotton round and swipe it across my face in lieu of washing my face, unless I've worked out. I used to wash my face every morning, but I really didn't notice a difference in the appearance of my skin so it felt like an extra unnecessary step, and I've been all about paring things down. I usually go to bed super slick and greasy thanks to all the oils I put on, so this step ensures I'm starting with a clean canvas in the morning. I'll keep swiping soaked cotton rounds, swapping for new ones, until it remains clean, so like two times. I can't put skin-care onto dry skin — it gives me the same feeling as nails on a chalkboard — so this is critical."
The Toner
"This product is a newer addition to my routine. I've been a long time fan of Caudalie's Beauty Elixir but had never tried this one until it was gifted to me a few months back. While I typically use face mists as a refresher product throughout or as the last step in my makeup routine, I recently started using it in place of a toner in my a.m. skin-care routine, and I've been loving it. It feels like a big glass of electrolyte-infused water for your face! It has rose extract and orange flower water, which give a boost of hydration. There's also a bit of mint in there, which gives my skin an amazing cooling and minty sensation. In the morning, it literally wakes up my skin.
The mist is concentrated enough that one to two pumps gets your face nice and hydrated, but it's also light enough that you're not completely soaked using it. It also doesn't really have a smell (which I like!) and lasts for a really long time (which I love!)."
The Serum
"I like to apply at least one active serum in my morning routine, and for the past few months, this one has been it. In the past, I've been super cautious about applying vitamin C serums during the day because they can make your skin photosensitive, but I've been using this with no problem.
A good friend of mine, Desiree Verdejo, launched this skin-care line and was super particular about the formula and ingredients she decided to use, so I knew it was going to be good. It was designed to help fade hyperpigmentation, and while that's not a concern I currently have, it's been great at boosting the overall radiance and glowiness of my skin.
While I've typically had what I call tough skin — I could apply any and all kinds of products to my skin — it has become a lot more sensitive as I've gotten older, but thankfully, this serum is not too harsh. I use one to two pumps, and let it completely soak in before I put on my oils."
The Oil
"I found this product by total accident! But thank goodness I did. I LOVE the beauty section of Trader Joe's and am a big-time fan of the vitamin E oil. The last time I went to TJ's, they sadly didn't have the vitamin E oil so I picked this one up instead, and boy, am I glad I did.
I really love to layer oils. My skin is super dry so it's important that they aren't individually too greasy or sticky. I'll use half to a full dropper of this oil on my skin before a moisturizer — I know this isn't technically the correct order, but it just works for me — and pat it into my skin. Having a bit of a slicker base helps my (very expensive) moisturizer glide on easier, which means I can get away with using less of it. While it's a lighter oil, it packs a punch and leaves my skin feeling supple and looking glowy. The best part of this is that I can even add a drop or two on top of makeup to give me an extra glowy boost. Oh, and it doubles as an amazing cuticle oil!"
The Moisturizer
"It really is as good as they say it is! It's super thick and heavy, like the most luxurious Vaseline you can imagine, but that's just how I like my moisturizer. A little bit goes a seriously long way. I use a pinky nail amount and it slips and glides over my entire face. It's by far the most expensive product in my routine, but I think it's worth it.
I had tried the lighter version of this a few years ago and kind of forgot about it, but a friend of mine was working for the brand maybe a year ago and reminded me just how great the products are. I bit the bullet and tried it but went for the heavier one this time around. With this cream, my skin stays moisturized all day long, literally. There are some days where I try to skip it, but by 12 p.m., my skin is dry and begging for some more moisture. My skin is also just more supple and softer since using it, which is something I didn't really think I needed a moisturizer to do, but it's now non-negotiable.
Also, I know a lot of folks say that Nivea is a comparable dupe, but I have never tried it. I've used it on my hands and body but not my face. Once this jar of La Mer runs out, I may need to give it a try."
The Sunscreen
"I go back and forth on sunscreen, as in there are times I am super vigilant about applying it and other times I'm a bit more laissez-faire. Right now, I'm in a period of applying it pretty much every day, and this Supergoop! one is the one I'm grabbing.
At first, I was a bit weirded out by the texture. It's like a matte jelly, and while I'm vehemently opposed to anything matte in my skin-care routine, this works because I apply so much oil and moisturizer in the other steps. By the end of my routine, I'm usually looking pretty greasy so this is a way to bring things down a notch and ensure I don't end up looking like a slick baby dolphin.
On the days I decide to wear a tinted moisturizer or foundation, I'll drop one to two drops into this sunscreen — I'm all about combining products to cut down the number of steps in my routine."