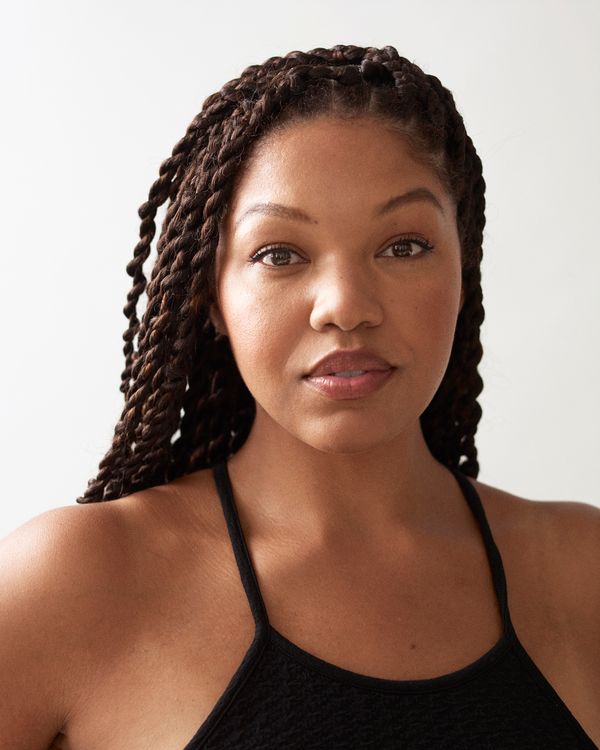 Photo: Photographed by David Schulze / Courtesy of Chalia La Tour
Want more skin care? Join The Beauty Group.
Acne is a new experience for actress Chalia La Tour, who has just come off a successful run as Teá in Jeremy O'Harris's Slave Play. Consider that she performed two shows a day, totaling more than 250 performances over the past four months, it makes sense that her skin would experience a big change. Still, La Tour takes the shift in stride.
"This change in my body makes me more curious about what's going into it, what actions I take throughout the day to relieve stress and embrace proper amounts of rest," she explains. "I love that my body is giving me this new thing to focus on, especially as my career and personal life is getting busier and more of my time is being demanded. It's actually a lovely reminder to slow down, and it's so appreciated."
Right now, she's finding that each day's skin-care needs are different. "Some days I have an early film shoot, so I'm going to bust out that chilled rose quartz roller to alleviate puffiness because I know I feel more confident and alert after," she says. "During a two-show-day at the theater, that may mean putting a little serum under my foundation since I'm going to be wearing heavier make-up than I'm used to, twice a day." As a general rule, she steers clear of any products that are advertised as "quick fixes."
Below, take a look at La Tour's current skin-care routine. "The products I've listed are tools so I can present in a way that makes me feel confidently myself," she explains. They include a sensitive-yet-effective facial scrub, a face cream that evens out texture, and an alcohol-free toner.
The Cleanser
"This is my go-to cleanser. It seems to have just the right amount of acne-fighting power without drying out my skin. I've used this product off and on since I was a teenager and it has been tried-and-true. I'm also a huge promoter of staying well-hydrated and getting a proper night's sleep. They're the true first steps to any healthy skin-care routine."
The Toner
"I've always used witch hazel as my facial toner. I've found that many toners have a lot of alcohol added to them (yikes!) so I was so happy to find this product. Plus, the added bonus of the aloe vera and rose petal feels so calming and soothing after wearing a day of makeup on set or at the theater."
The Serum
"Building my skin-care routine, I wanted a serum that promoted moisture retention. The hyaluronic acid in the Derma E Ultra Hydrating Serum seems to draw into my skin the full quality of my moisturizing products so that I am getting their full benefits."
The Moisturizer
"I found this product by getting a free Sephora sample and then had to have the real deal. I LOVE this moisturizer! Truly, I have no idea the full science behind the protein power of this polypeptide cream, but my skin adores it. When I moved to the East Coast from California, the harsh change in weather really affected my skin. Using this consistently has made my skin texture more even and firm, in a way I hadn't seen since my move a few years ago."
The Eye Cream
"I was introduced to this eye cream on set. My skin-care routine was wayyyy lacking at the time. It has a concentrated amount of avocado oil that leaves the area around my eyes feeling moisturized, leaving my delicate skin protected without being overly oily. My makeup goes on smoother and more evenly after using this cream, too."
The Face Roller
"I pop this in the fridge and use it in the morning to depuff around my face and promote circulation throughout my skin. Also, I find the motion of the rolling really calming and relaxing at night. I will use it as I'm putting on my final products and breathe deep as an aid to ready myself for my nightly meditation."
The Face Scrub
"As someone who is prone to breakouts, this facial scrub is gentle on my sensitive skin but still moves away dead cells and such. Also, the sea kelp in the product helps with dark spots that appear after any breakouts. And I love that the base for the scrub makes it feel like I'm applying a moisturizer."
If you buy something through our links, New York may earn an affiliate commission.