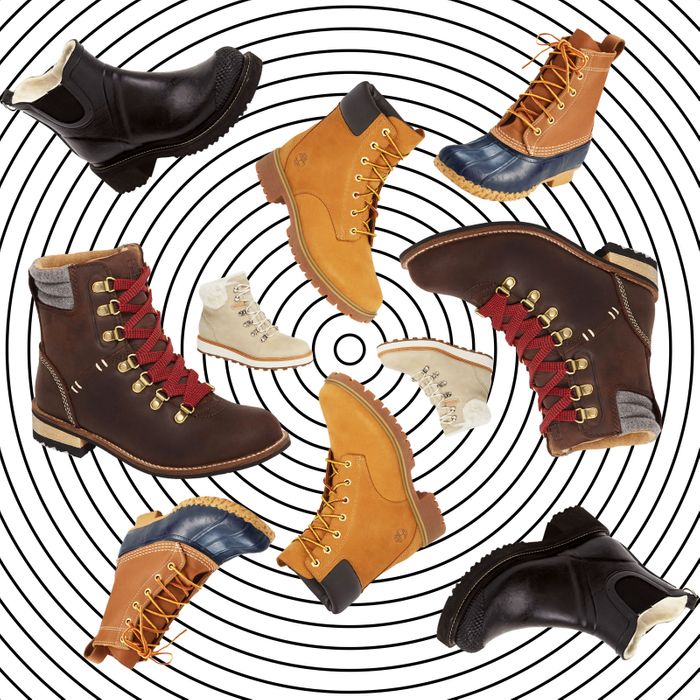 Photo: Courtesy of the Retailers
Fall temperatures are finally starting to hit the East Coast, which means winter and this year's snowmageddons are sure to follow close behind. Now's the perfect time to buy winter boots for the season so you can break them in before the first bomb cyclone hits. When it comes to practical winter gear, aesthetics often take a back seat, but we managed to find 16 pairs of genuinely warm snow boots that are reasonably cute. Here are the best winter boots for keeping the cold and snow out.
The Snow Boots With the Best Reviews
People really, really, really like these snow boots: There are almost 2,000 five-star reviews on Amazon alone. Reviewers say these boots are great for those with larger calves, since the tops are adjustable. The faux-fur lining is made to retain your body heat, so your toes won't get cold even in the most frigid conditions.
Available in sizes 5.5 to 11.
The Best Short Boots
These boots are a lower-cut, lightweight version of Kamik's Momentums. After all, most people don't need super-tall snow boots — in most environments, they're just a recipe for sweaty legs. These have a classic "Arctic explorer" feel and come in red if you want a splash of color.
Available in sizes 5 to 11.
The Classic New York City Boot
New York's gray slush puddles have ruined many a shoe but not Timbs — they're the rare pair of boots that look cooler when they're beat up. This style is slightly more streamlined than the original six-inch boots, so they're less heavy and bulky. Choose between the classic wheat colorway or a more low-key matte black. You'll need a few wears to break in the leather, but soon enough it'll be buttery soft.
Available in sizes 5.5 to 11.
The Ones to Wear in Jackson Hole
These are the ultimate practical boot for wintry vacations because they do so well in cold and snow. Reviewers say that while they're a little clunky to walk in, they're worth it for the incredible heat retention and the ease of getting them on and off your feet. They're comfort-rated for temperatures down to -25° F, but the fleece lining is removable for when you just need a watertight boot in warmer weather.
Available in sizes 5 to 12.
The Ones That Feel Like Sneakers
If you'd rather wear sneakers all year but don't want to face the consequences of slipping on black ice, these North Face booties might just do the trick. One reviewer said, "These things keep my feet nice and dry even when walking through snow, ice, and slush," while another added that the booties needed minimal break-in. And they're insulated, so you can wear them with normal socks.
Available in sizes 5 to 11.
A Sleek Black Winter Boot
These booties are cute and waterproof, two vital traits, but they also have memory insoles to ensure that your feet are comfortable all winter. The chevron-patterned traction on the soles mean you won't slip and slide all over the sidewalk, and high-pile fleece lining will keep your ankles warm.
Available in sizes 6.5 to 10.
The Trendy Vegan Boots
Ilse Jacobsen's 'RUB 47' rain boots are a Danish classic. The Chelsea-style boot is easy to slip on and off, and the thick soles keep your feet elevated high above the cold ground. They're a great choice for when you have to step into suspiciously murky slush water, as you can simply wipe down the rubber upper after the fact.
Available in sizes 36 to 41 EU.
White Winter Boots, If You Dare
Though black snow boots reign supreme in the practicality department, sometimes you just want something more light and fun. These beige boots are a true neutral you can wear through snowdrifts and gray, snow-covered streets. They're also fully lined with genuine shearling, so you can wear them without socks and still feel cozy.
Available in sizes 5.5 to 11.
Ultrawarm Affordable Boots
More than 4,800 people have reviewed these snow boots from Columbia with a nearly unheard-of 82 percent of reviewers granting five stars. One attached a picture showing snow up to her ankles and wrote, "They've kept my feet warm and most importantly DRY during 2 past winter storms in the Pacific Northwest." These run small, so most reviewers recommend sizing up a half size.
Available in sizes 5 to 12.
A Rugged Pair of Uggs
Unlike your high-school Uggs, these are made to withstand the most frigid temperatures: They're rated to -32 degrees. Reviewers say they're warm and comfortable enough to be worth every cent of the $250 price. Avoid super-deep slush puddles, however, or risk ruining the shearling on the outside.
Available in sizes 5 to 12.
If You Like the Look of Hiking Boots
These waterproof insulated boots have a nice outdoorsy feel, complete with a wood-finished heel. The red laces are a fun touch, but they also come with black laces if you want a more neutral look.
Available in sizes 5 to 11.
The Boots That Will Probably Sell Out
L.L. Bean's duck boots have sold out so many times in the past decade that in 2017, the company announced that it would be scaling up production to meet demand. Still, you'll want to jump on these now. The hundreds of reviewers on L.L. Bean's website all agree that these are worth the hype. Writes one, "Everyone should own Bean boots."
Available in sizes 5 to 11.
The Versatile Punk Classic
Combats boots are back! And Dr. Martens 1460s are some of the most classic combat boots out there. The leather upper holds up surprisingly well to the cold and snow (just make sure to lace them all the way up to keep your feet dry). These boots do take a while to break in, so take that into account before you don them for an all-day adventure fresh out of the box.
Available in sizes 5 to 11.
A Warmer Twist on Docs
These boots are fully lined with shearling to keep your toes warm but still have a classic grunge feel. They're tough and weathered on the outside, Über- soft on the inside. Wear them as an alternative to the ubiquitous duck boots.
Available in sizes 5 to 11.
The Best Boots for Slush
A lighter-weight version of the winter duck boot, the Sperry Saltwater boots are great for "first snow" or "last snow" weather. The rubber construction keeps water out, while the microfleece lining and textile upper add some warmth without making your feet sweaty. If you're planning on wearing these on colder days, reviewers recommend pairing them with thick wool socks.
Available in sizes 5 to 12.
The Boots for Your Inner Jessica Jones
Sometimes you want a snow boot that doesn't look like a snow boot. These are crafted from waterproof Italian leather, so they look like classic moto boots. But what makes these a winter lifesaver are the shearling inserts and insoles that you can swap in and out as the weather changes. Just make sure to size up, as reviewers note they run small.
Available in sizes 5 to 12.
If you buy something through our links, New York may earn an affiliate commission.