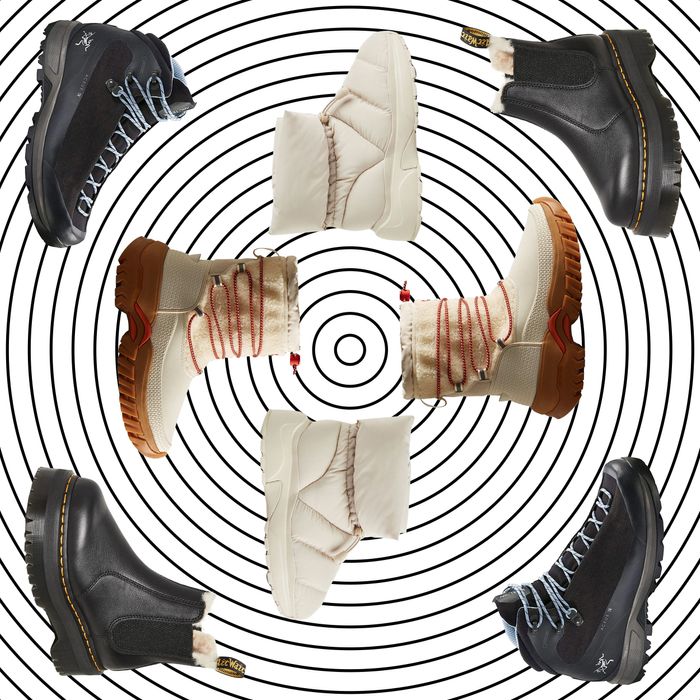 For more of the Cut's favorite fashion, beauty, and home finds, sign up for the weekly Cut Shop Newsletter.
Along with a good winter coat and a Lenny Kravitz–esque scarf, you'll need the best snow boots out there to be adequately bundled from head to toe. Whether you dare to take on the cold with an outdoor-dining experience or a snowy walk, here are 17 pairs that are stylish, cozy, and practical for snowy weather.
The Trendy Pair
You've probably seen a version of these moon boots on your social feed. They are one of the most trendy boots of the season and provide all the warmth you need. While they may be huge to wear, they aren't heavy on feet. The nylon boots make you feel as if you were walking on clouds with their cushioned footbed, and they keep your entire leg warm. A round of applause for fashion and function.
Available in sizes 35 to 41.
A Warmer Twist on Docs
These boots are fully lined with shearling to keep your toes warm, but they still have a classic grunge feel. They're tough and weathered on the outside and Über-soft on the inside. Senior shopping editor Bianca Nieves shared that her pair of Dr. Martens saved her tropical feet when she first moved to the city.
Available in sizes 5 to 11.
The Best Winter Boots for Snow Days
One of the most classic snow boot styles out there, these can handle both cold and snow with aplomb. Reviewers love how durable they are and say they're worth the price thanks to their incredible heat retention. They might be on the bulkier side, but like the Moon boots, they're not too heavy to walk around in.
Available in sizes 5 to 12.
The Best Winter Boots for Hikers
These Gore-Tex boots are made for multiple days of trekking in hard terrain or walking around all the snow slush in New York City during the winter. Made with durability in mind, these shoes are extremely lightweight and waterproof. Senior fashion writer Emilia Petrarca swears by them.
Available in sizes 5 to 10.
The Best Affordable Winter Boots for Hikers
These boots are functional and fashionable, whether you're going on a weekend hiking trip to Bear Mountain or walking through a mountain of snow on the sidewalk after a storm.
Available in sizes 5 to 12.
The Padded Pair
Not only do these boots look like clouds, but they feel like them too. Pair them with your favorite puffer and you're committing to a full look. Made from nylon, these quilted boots feature fleece lining and insoles on top of a chunky rubber sole for any winter terrain.
Available in sizes 4 to 11.
The Boots With a Dedicated Cult Following
L.L.Bean's duck boots have sold out so many times in the past decade that in 2017 the company announced it would scale up production to meet the demand. The hundreds of reviewers on the L.L.Bean website agree that these are worth the hype. Writes one, "Everyone should own Bean boots."
Available in sizes 5 to 11.
The Winter Boots That Feel Like Sneakers
We love a comfy sneaker for walking and running, and these waterproof HOKAs are that and more. They'll keep your feet dry and comfortable while hiking up a mountain or running errands on a wet winter day.
Available in sizes 7 to 11.
A Rugged Pair of UGGs
Unlike your high-school UGGs, these are made to withstand the most frigid temperatures: They're rated to -32 degrees. Reviewers say they're warm and comfortable enough to be worth every cent of the $250 price. Avoid super-deep slush puddles, however, or risk ruining the shearling on the outside.
Available in sizes 5 to 12.
The Boots for Tackling Slush Puddles
If you have your trusty Hunter rain boots, you should also consider the brand's snow-boot selection. These temperature-rated winter boots will leave your feet feeling snug throughout the colder months, while the shearling exterior and fun color patterns add some pizzazz to any snow-day outfit.
Available in sizes 5 to 11.
A Technical But Cute Pair
The North Face is one of the best outdoorwear brands on the market, so of course its snow boots made it to this list. These in particular are lightweight, waterproof, and feature insulation to keep your toes toasty. A pair of lavender snow boots does sound (and look) nice, no?
Available in sizes 5 to 11.
The Punk-Inspired Winter Boots
These faux-leather platform boots will keep you several inches above the freezing sidewalk.
Available in sizes 5 to 11.
The Pair for the Maximalist
Behold a pair of snow boots that isn't your typical neutral color. Satisfy the maximalist in you with these green and printed boots from Adidas that are insulated and have a thick rubber role.
Available in sizes 5 to 11.
The Faux-Fur Boots for Extra Warmth
These sneaker boots are adorned with faux fur and an edgy sole that'll add excitement to any outfit, even on the rainiest or snowiest day.
Available in sizes 6 to 11.
The Insulated Boot
For those extra-cold days, insulation is needed. These waterproof boots feature Thermolite insulation to keep your feet warm all day, and the rubber shaft keeps feet dry no matter how wet the climate is.
Available in sizes 6 to 11.
The Y2K-Style Boots
The UGG renaissance is here to stay. Compared with the classic silhouette, this mini option is easier to pull on and features an updated cushioning and traction. While they are not waterproof, with a little bit of waterproof spray, these comfy winter boots upgrade to snow boots.
Available in sizes 5 to 11.
The Pair Worth Investing In
"These Rick Owens boots are perfect for function in the snow and stylish enough to wear to a gallery opening or a dinner without looking sloppy from the NYC weather," says designer Jérôme LaMaar. With a thick, 2.5-inch rubber sole, you'll be able to stomp around in the winter weather while wearing some of the cutest boots out there. Because the top is not waterproof, LaMaar suggests using a protective spray before wearing them out and about.
Available in sizes 39 to 45.