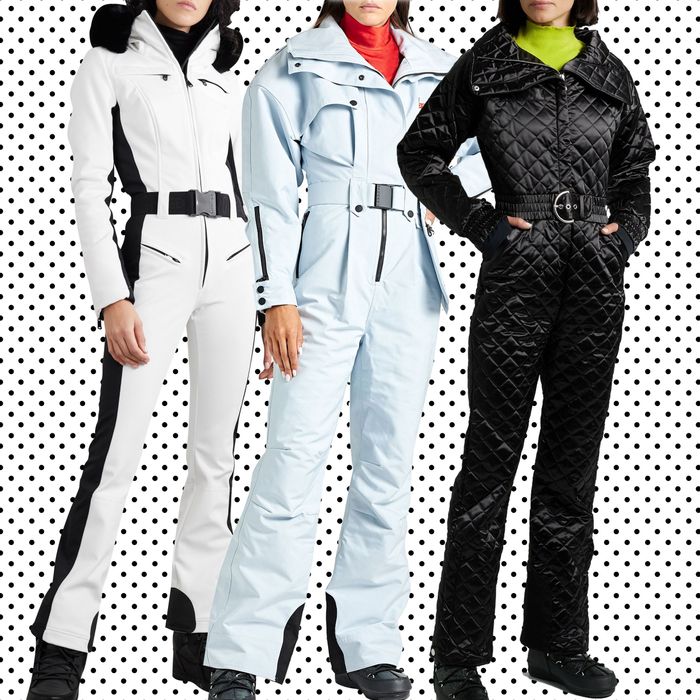 Photo-Illustration: by The Cut; Photos: Retailers
For more of the Cut's favorite fashion, beauty, and home finds, sign up for the weekly Cut Shop Newsletter.
The first thing that pops into your head when you imagine a snowsuit might be poor Randy in A Christmas Story being so bundled up in one that he can't put his arms down. Or is that just us? Rest assured, snowsuits are much more stylish and sleek these days (sorry, Randy).
Snowsuits are thought to be a lavish purchase, but some are no more expensive than a winter coat — with the added bonus of keeping you warm from head to toe. Whether you're walking in the park after (or during) a rogue snowstorm, hitting the bunny slopes or black diamonds, or simply want something stylish to sip your hot toddy in, we picked 11 of the best snowsuits in a range of styles that'll keep you cozy all winter long.
A Quilted Snowsuit
You might have heard the buzz about Free People's Pippa Packable Jacket (or have seen at least 20 people wearing it on any given chilly day), so it makes sense the brand made a full-blown snowsuit with the same idea.
Available in sizes XS to XL. 
A Sleek Black Snowsuit
Bundle up in this streamlined suit that has a cinched belt and faux-fur hood to protect from the elements. Its thumbhole cuffs help your sleeves stay down and keep that frigid snow out.
Available in sizes U.S. 0 to U.S. 14.
An Essential Everyday Snowsuit
For a relaxed look, try this warm, practical coverall.
Available in sizes XS to XXL.
A Sporty Snowsuit With Lots of Pockets
It's the North Face. What else do you need to know?
Available in sizes XS to XL.
A Body-Hugging Snowsuit
This buzzy label has snowsuits in tons of eye-catching shades, but this forest green spandex bib is pretty hard to pass up. It's available in both regular and short lengths, comes in a wide range of sizes, has four-way stretch, and features side-leg gusset zippers to go over your bulky boots. They really thought of everything.
Available in sizes XS to 2X.
A Printed Snowsuit
For those who aren't afraid to stand out while skiing down a black diamond — or waiting in line outside of the bagel shop on a Saturday morning. Just note it runs small, so size up.
Available in sizes XS to L.
A Metallic Ski Suit
Presenting the wearable version of your favorite quilted blanket. This style comes in an eye-catching platinum for some shine but is also available in lilac and black.
Available in sizes XXS to L.
A Retro Snowsuit
We didn't have "Hey, let me check out the Tipsy Elves site" on our 2022 bingo card, but here we are. I am pleasantly surprised at how cute this '80s-inspired rainbow snowsuit is, and the reviewers have nothing but amazing things to say about the fit, quality, and style.
Available in sizes XS to XL.
A Less-Expensive Retro Snowsuit
All the same '80s vibes at a slightly lower cost. You won't get lost on the slopes in this bright aqua number.
Available in sizes 0 to 14. 
An Etsy Best Seller
Bodycon is a weird word to use when describing a snowsuit, but this one definitely has a flattering, form-hugging appeal.
Available in sizes S to 1X.
An "I Don't Ski, But I Look Like I Do" Ski Suit
Made from 100 percent upcycled fabric, this fashionable ski suit will fit comfortably over your base layer of clothing. Perfect for hitting the slopes or lunch outdoors in 20-degree weather.
Available in sizes XS to L.
A Fancy White Ski Suit
Simply by wearing this white snowsuit, you'll convince everyone that you holiday in the French Alps. The black contrast makes sure you won't fully blend in with the snow, and you can pair it with moon boots to lean into the whole look.
Available in sizes U.S. XXS to XXL.