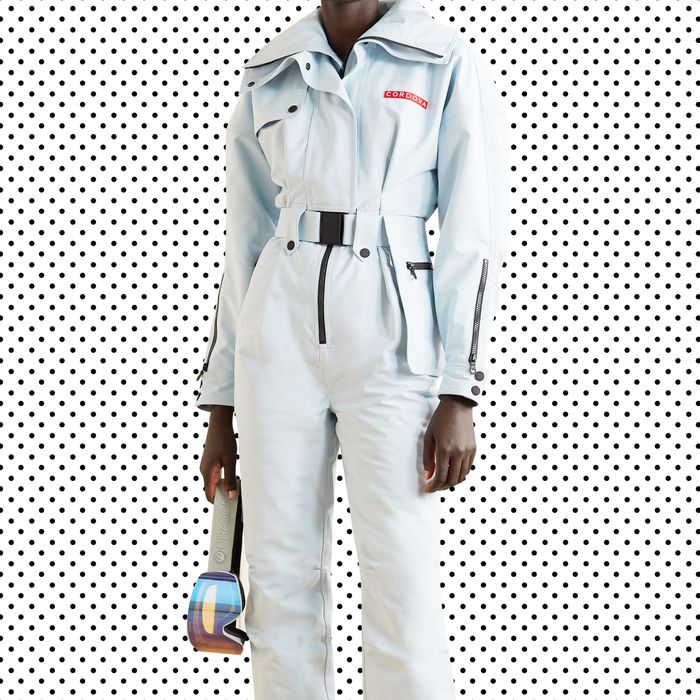 You might think of a snowsuit as something you put on to go sledding when you're in elementary school, but with the pandemic pushing our social lives outdoors, it's basically the new going-out top. The best snowsuits for adults have a cute, often retro aesthetic and can keep you warm while you're sipping a hot toddy outdoors or taking a frigid walk in the park. (Nothing kills the vibe of a first date quite like frostbite.) But while warm one-pieces might be trending, it can be hard to find ones that are functional, chic, and not overly expensive. Below, we've culled a range of colorful styles that could keep you going all winter long.
A Sleek Black Snowsuit
This streamlined suit will keep you warm on a quick strut to the bodega, but it would also be a sexy look for a COVID-friendly first date.
Available in sizes U.S. 0 to U.S. 8.
An Animal-Print Snowsuit
This ASOS 4505 jumpsuit is water-resistant and stretchy and will help you bring personality to any outdoor activity.
Available in sizes U.S. 0 to U.S. 12.
A Retro Snowsuit
Who doesn't love fashion from the '80s? Put on the Pointer Sisters' $2 1984 mix of "I'm So Excited" and bundle up in this for a throwback vibe.
Available in sizes U.S. 0 to U.S. 12.
A Snowsuit in a Trippy Print
For those who aren't afraid to stand out while skiing down a black diamond — or waiting in line outside of the bagel shop on a Saturday morning.
Available in sizes 1X to 3X.
The Etsy Bestseller
Bodycon is a weird word to use when describing a snowsuit, but this one definitely has a flattering, form-hugging appeal.
Available in sizes S to 1X.
The Essential Everyday Snowsuit
For a relaxed look, try this warm, practical coverall.
Available in sizes XS to XXL.
A Sporty Snowsuit With Lots of Pockets
It's the North Face. What else do you need to know?
Available in sizes XS to XL.
A Fancy White Ski Suit
These slim-fit overalls say, "I just got back from two weeks in Gstaad" (and weirdly, they say it in a French accent?). Pair them with white moon boots for a full look.
Available in sizes U.S. 2 to U.S. 10.
The "I Don't Ski, But I Look Like I Do" Ski Suit
Made from 100 percent upcycled fabric, this fashionable ski suit will fit comfortably over your base layer of clothing. Perfect for hitting the slopes and/or lunch outdoors in 20-degree weather.
Available in sizes XXS to L.