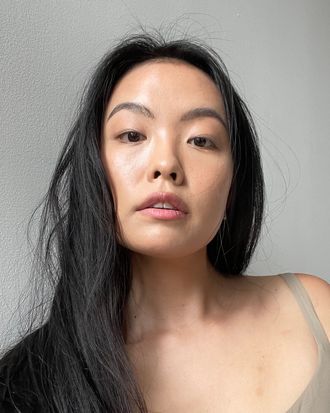 Photo: Courtesy of Rebecca Zhou
Want more skin care? Join the Beauty Group on Facebook.
Planning a wedding is stressful no matter how zen you try to make the process. For Offhours co-founder and Glossier alum Rebecca Zhou, the stress was compounded when she went on the hunt for a wedding dress that fully covered her back. The decision to look for that specific style came not necessarily by choice but due to her experience with both fungal and bacterial acne on her back.
"I have pretty bad acne scars, and I wanted to find a wedding dress that didn't expose my back. Because I was getting married in a warm climate, I couldn't wear a long-sleeved dress, and that turned into a real challenge — most dresses that are sleeveless are also backless. I kept thinking, do I want to wear my makeup on my back, which seemed extreme, and I was also looking into getting laser treatments, but I was worried about lasers because they can sometimes backfire and have the opposite effect on my skin tone."
Eventually, she went with an X-cross wedding dress designed by Rosie Assoulin that was both sleeveless and covered the majority of her back. "I didn't have to worry at all during the wedding, but [that stress and embarrassment] is not normal by any means."
The experience led Zhou to join forces with fellow Glossier alum Annie Kreighbaum to found Soft Services, their recently-launched skincare line designed to tackle common body conditions like backne, keratosis pilaris, and tinea versicolor. "As we talked with each other and asked friends and went in the comment sections of sites like Reddit, we realized that there weren't choices that could really help us fix the 'problems' on our body in the way that we could on our face," she says. "Annie was using products meant for the face on her back, but it's not really practical to use a $90 serum on your body, and even in terms of educational information, there's a lot of haziness."
Ultimately, Zhou hopes Soft Services can treat these conditions while also breaking down the stigma attached to them. "Around 40 percent of adults have keratosis pilaris, and similarly, 40 percent have body acne — these are just the numbers that actually report it," says Zhou. "The point is: These conditions are totally normal! The U.S. as a country is more prude about bodies, and maybe because you can cover up your body with clothing, they feel like shameful secrets and niche issues, when they're not even issues at all — but that cultural shift hasn't happened yet."
Below, the co-founder breaks down the products she relies on for both her face, which is also prone to acne, and body, including the sunscreen that works well under makeup, the $12 gel she trusts for fungal acne, and the mist she sprays on her back after workouts.
The Double Cleanse
"Because I wear heavier makeup, I'm really conscious of making sure that I'm doing a really good cleanse. I found this at oo35mm in Chinatown. It has such a good texture, kind of like sorbet. I find that other cleansing oils or balms tend to be a little drying once you fully get them off, but not this one."
"I follow the Beauty of Joseon balm [above] with a gentle face wash like Glossier's Milky Jelly Cleanser to make sure all the balm is off and to reset my skin."
The Moisturizers
"I did some work with Peach & Lily on overhauling their website a while back. I love [founder] Alicia Yoon's approach to skincare because it's very research-based. They had the Glass Skin Refining Serum and Glass Skin Veil Mist, both of which I liked, but I was really excited when they came out with this gel moisturizer because besides trying to keep my acne at bay, I try to keep the rest my routine relatively simple and not having to do a serum and a moisturizer is really great.
Probably four years ago, I realized that a water-based moisturizer is best for me because I need hydration. Moisturizers that are oil-based tend to make my acne worse. I've rotated through a lot of different gel moisturizers, and I really love this one because It's very lightweight. I use it mostly in the summer, and in the winter, I'll probably switch to something a little heavier."
"Because the Peach & Lily moisturizer [above] isn't too heavy, I will pair it once or twice a week with their Overnight Star Mask, which is a sleeping pack type of product. It's a pretty blue color, and it has squalane. I'll typically use it when my face needs a little extra hug. The texture is so hydrating and not greasy so I'll put it on my neck at night, as well."
The Sunscreen
"This is one of those purchases where I was trying to order something else, and everything I would normally use was sold out — I like the Bioré Aqua Rich SPF50+ and I used to use Purito Centella Green. I had used the snail essence line from COSRX before, and I needed something that was SPF50+. This one is light, it doesn't feel greasy, it doesn't leave a white cast for me, and it goes well under makeup. It was a total accidental purchase, and now it's my sunscreen of choice."
The Acne-Fighting Tools
"This smells like something that you would clean a hospital with, which in a way, I'm like, 'Good. Clean my face.' I was introduced to it when I worked at Into The Gloss, but I also go to Rescue Spa once every two months to try to do what the topicals can't and they carry Biologique Recherche. Over the years, I've bought so many travel-size versions of the product because it's expensive and it's easier for me to deal with that cost. It really helps with hyperpigmentation."
"This product is from this guy named F.C., who runs a skincare blog called Simple Skincare. He has done a ton of writing about fungal acne over the years, and he takes a very nerdy, scientific approach to skincare. When he released his line, Malezia, my friend bought it and it didn't work for her so we did a product swap in the office. Based on some blood work I got done recently, a functional medicine doctor let me know that I'm more prone to fungal issues, so I was excited to use this product. It's really great and not too drying. I will usually put the gel on my whole face when I start to see redness or if I feel like pimples are coming up."
"Paula's Choice is an incredible brand because it's so research-based. When they put their name behind a newer ingredient like Azelaic acid, I'm like, 'Okay, I really trust you guys.'
Even though it's a 'booster,' it kind of feels like a moisturizer. In theory, it's kind of like a serum, and it's incredible at calming any inflammation, hyperpigmentation, and keeping breakouts at bay. When I'm not using any other acids, I'll use a little bit of it all over my face."
"I reach for this when I feel overly congested. Typically, I will use it twice a month, not too frequently because it's not the cheapest mask. I'll put it on before I shower and I take it off in the shower because it can be so hard to get it fully off over a sink, and then it gets on your towels. The smell isn't actually that bad — there must be something to help to balance out the scent of sulfur."
The Body Duo
"The Clearing Clay is a multi-use treatment for body issues related to sweat. It has the texture of a paste and it comes in a tube. You can use it as an in-shower wash. I put this on right after I've used hair conditioner and stand away from water for a little bit so the active ingredients can really work. Then I wash it off. You can also use it as a spot treatment. So if I get a chest breakout, I'll put a few dots on before I shower and let it dry down. You can use it as a full mask, too, which I sometimes do when my back is really acting up — I'll put it all over my back, let it dry, and then take a shower.
The hero ingredient is sulfur, but it also has zinc-PCA, which helps with both bacteria and fungus. We also added some nice, soothing ingredients like aloe vera and arnica in the formula. It's all-around great for blackheads, inflammation, and even scarring.
The great thing is that it doesn't smell bad — sulfur products usually do, and I think that goes along with the taboos around these types of issues. If you're using a medical solution that smells like chemicals to deal with bacterial and fungal issues, it can make you feel like something's really wrong with me, but this clay feels so luxurious to use."
"I usually use the Clearing Mist after the shower. If I went out for a long walk and carried a bunch of boxes up the stairs and I'm sweating and don't have time to shower, I'll lift my shirt and spray it in the areas that I'm prone to breaking out. The hero ingredient is salicylic acid, but it also has zinc-PCA and niacinamide to reduce the appearance of scars."
The Scalp Product
"I've dealt with scalp issues the past few years, and I'm pretty sure it has to do with my predisposition for fungal issues. My scalp can get itchy or I'll get some breakouts at the nape of my neck.
Scalp Renew is a really cool product. It has salicylic acid in it, and it comes in a tube with a little pointy tip that you run along your scalp. Before you shower, you let it sit for a few minutes then use your shampoo and conditioner. When I started using the Act + Acre shampoo and conditioner before this, I definitely saw an improvement in my scalp, but I was still feeling some itchiness, and then once I introduced Scalp Renew, there was a huge difference. I've tried a bunch of other products, from dandruff shampoos to apple cider vinegar, whatever the Internet might suggest, and this is the only product that stopped me from worrying about my scalp."
The Make-Up
"This foundation comes in a tube, and it looks like a concealer. I learned about it when I worked at Into The Gloss — it was an office favorite. I'm always looking for a heavy coverage foundation that doesn't look like makeup, and I started using this in 2014 — it's probably the product that I've bought the most consistently. It's amazing because it really does give you heavy coverage, but it doesn't look heavy or cakey. I've used so many other foundations, and I've never been able to replace it."
"Right now, my hyperpigmentation isn't as bad as it's been in the past so I mix my Iluminare foundation [above] with this slightly lighter foundation to water it down — I used to water it down with the Perfecting Skin Tint from Glossier — but I really like the VDL because it has SPF in it. I mix them together and that's the base of my skin. A lot of people who have commented on my skin think that I don't wear makeup — they're very surprised when they hear that I do — because it literally looks like real skin."
"I'm like, 'Maybe I can lean into my hyperpigmentation and make it look like the scars are freckles.' Overall, I go for a slightly more tan look, so I'll put this highlighter over my cheeks, forehead, and nose, where a lot of my scarring is anyways. It's the perfect color for this because it's this bronzer-meets-blush kind of shade and really gives me that sun-kissed look I like."