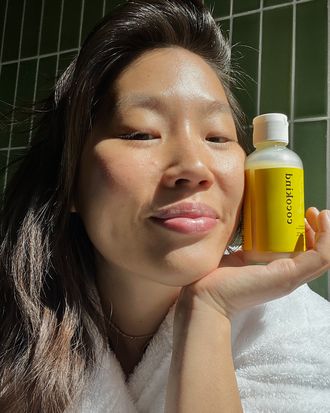 What keeps journalist Sophia Li going? "Testing societal norms, pushing boundaries, and questioning everything," the Minnesota-born, New York–based climate activist says. These days, she has done so through educating her community on what sustainable fashion is, taking over the green carpet at the CFDA Awards, writing about topics such as "regenerative travel" for British Vogue, and talking to Gemma Chan about "saving humanity" for a Porter cover story. "But in all honesty, sustainability doesn't have to be this far-reaching goal," she says. "I think it all starts with making sure you feel harmonious from within."
Looking back, Li always had a fascination with storytelling and the environment. "Being around my Buddhist grandparents in China when I was younger, I learned a lot about the importance of living in equilibrium with all living things," she says. "Growing up in an immigrant household, sustainability was just the norm." After studying fashion merchandising and media at Virginia Commonwealth University, Li went on to intern in the realm of trend-forecasting, working at fashionista.com and, later, as an entertainment editor at vogue.com, where she helped launch the site's social and digital voice. "I remember after the 2016 election, a lot of our coverage started to pivot into more impact work. I was really passionate about covering things like Standing Rock and COP 21," she says. "But I also remembered these stories not performing as well as some of the others. I thought maybe it would be best to go freelance and focus more on these topics."
These days, when she is not writing for major magazines, she's putting her energy into a web3 project. With the type of work Li does, she knows how important self-care is and even sees it as an extension of her environmental-justice work. "In general, I think self-care is marketed as a bubble bath and things like that. But to me, it's really about doing an audit on your internal energetic and spiritual levels," Li says. "I realized if I'm not being sustainable with my own energy and time, I can't expect to do that for the work I do, either."
.

Here, Li's morning routine:
8 a.m. I wake up between 7 and 9 a.m., as I tend to be a night owl and get some creative work done in the depth of the night. The best time to meditate is between 4 and 6 a.m., so if I'm traveling, I'll wake up for a long meditation and then fall back asleep. My superpower is definitely sleep. It's why I'm not a coffee drinker — I wake up ready to tackle the day.
My morning routine revolves around grounding my spirit: Morning Pages (à la Julia Cameron's The Artist's Way) while listening to solfeggio frequencies, ten-to-20-minute meditation, and then a quick prayer at my ancestral altar while lighting incense. I then drink hot water, sometimes with lemon, even in the height of summer — it's my mom's secret to hydrated skin and to boost digestion in the a.m. — and take a Seed Daily Synbiotic. I believe a good amount of skin problems stem from the microbiome.
8:32 a.m. I apply Tatcha's The Essence directly with my hands to plump and hydrate. While my face is still slightly damp, I'll apply Clarins Double Serum, as it has the best ratio of oil for my combo skin, or rotate with Cocokind's Ceramide Barrier Serum.
8:33 a.m. In the winter, I'll spray with Violette_FR Boum-Boum Milk. It's heavier than an essence but has enough oils to keep my skin feeling dewy throughout the day.
8:34 a.m. I finish off with a moisturizer. A year-round favorite is Circumference Active Restorative Moisturizing Cream. I love that the formula is comprised of the brand's "Waste-Not" initiative, which sources discarded grape leaves from vineyards and combines it with mushroom extract. My skin eats this up.
Another favorite is Dieux Instant Angel. Charlotte, one of their co-founders, is a dear friend but also an ingredient and transparency wizard. Her co-founder, Joyce, made the formula, and it's the Holy Grail moisturizer that checks so many boxes: ceramides, hydration, fatty acids, lightweight yet rich, and gentle enough for sensitive skin.
8:36 a.m. I end with SPF — rotating between Cocokind's Daily SPF mineral sunscreen, La Roche-Posay Anthelios sunscreen, or SkinCeuticals UV Defense sunscreen — and slick my baby hairs back with a dab of Ceremonia Pequi gel. 
11 a.m. I rarely wear makeup during the day. If I have in-person meetings, I'll use Saie Hydrabeam concealer and Saie Glowy Super Gel in Sunglow, a quick swipe of Gen See's Spectator Sport Mascara, and Kosas Brow Pop on the eyebrows. I'll add some Chanel waterproof eyeliner in Brun Agapé to my bottom waterline and some Tata Harper cream blush in Lucky to the cheeks. Clarins Lip Comfort Oil in Chocolate is the perfect hint of a brown glossy lip tint. Usually, I do this on the subway or in the car, as makeup tends to be my last priority.
.

P.M. Routine
6 p.m. For dinners, events, or date night, I'll use Ilia True Skin Serum Foundation in Tavarua and add some color to my eyes with Kulfi eyeliner in Rain Check with some Violette_FR Yeux Paint in twinkling Bleu de Minuit.
On my lips, I am obsessed with La Bouche Rouge lipstick. La Bouche Rouge is the first luxury sustainable makeup brand I've seen; each product is 100 percent refillable, reusable, and considers the end of the product's life cycle, prioritizing circularity in design and production. They also prioritize ocean health, biodiversity, and partner with organizations like Eau Vive Internationale association.
9 p.m. I start winding down, and a few times a week, I'll use Ceremonia's Aceite de Moska before showering. Babba, the founder, is like a sister to me, and it's been incredible to use this product as a sample, to directing their campaign launch, to now seeing them in Sephora stores globally. Supporting and championing friends who are female founders is one of the greatest joys of living in a city like New York, where the norm can be quite competitive. Babba and I helped run this female community called "Her NYC" for this exact reason.
In the shower, I'll shampoo and condition from Uni; they're a completely refillable product line made from aluminum (that is infinitely recyclable) with each purchase going toward coral restoration. I use Nécessaire The Body Wash — love that it's fragrance free but still has a crisp smell and lathers while not stripping my skin. Once a week, I'll use Ceremonia Papaya Scalp Scrub and Mascarilla de Babassu — it's made me rethink hair care entirely, and I love the Bolivian pink salt in the scrub.
9:05 p.m. I usually wash my face in the shower, too, with Tata Harper Regenerating Cleanser. I like that it's a gentle yet an effective exfoliant cleanser. In the winter, I will end my showers with Natura Maracujá Triple Phase Shower Oil to lock in moisture — I swear by it in January to prevent dry, itchy winter skin.
9:07 p.m. Out of the shower, I lather my body with Natura Tukumã or Ucuuba body lotion. I'm such a big fan of Natura; it's a Brazilian brand that was founded on the principles of regeneration before sustainability even became a marketing term. Their ingredients are sourced from the Amazon rain forest while working with the local communities to conserve biodiversity and prevent deforestation.
9:10 p.m. I put a few dabs of Cocokind's Turmeric Illuminating Solution on a reusable cotton pad as an end-of-day exfoliant and toner all in one. I worked with Cocokind on including a "sustainability facts" on the packaging, much like a nutritional label on food. This effort took about half a year as we worked with carbon accounting firm Carbon Calories to calculate the numbers. I am proud of the work we did together to show transparency in carbon emissions and production for each product. The most sustainable thing a brand can do is show us their numbers, not use vague terms like eco or green. No product is going to be 100 percent carbon neutral or carbon free — that's actually impossible, and I believe carbon offsets are just a temporary Band-Aid solution.
9:12 p.m.  I finish with a lighter serum and moisturizer at night. Currently, I've been loving Sulwhasoo First Care Activating Serum and their Concentrated Ginseng cream. All my Korean friends swore by it, and now I understand the hype: Their products have two-plus decades of research supporting each formula.
During humid times of the year and when upstate, I will skip the serum and moisturizer once a week and finish with Tower 28 Daily Rescue spray. I've never been a big AC person, so I'll just open the windows and sleep with the fresh air and let my skin breathe overnight.
And then I always have a travel bag ready with the essentials: Ned CBD Sleep Blend, a homemade hawthorn tincture from my fiancé that combats colds, Tiger Balm for mosquito bites, and Kora Organics Rose-Quartz Heart Facial Sculptor with a travel size of the Noni Glow Face Oil to help depuff.
.

On the beauty marketing ploy that makes her cringe:
Definitely the beauty brands that market themselves as sustainable only because they have refillable packaging. They're basically just increasing the packaging output. I think this distracts from true environmental impacts: sourcing, human rights, labor, and supply chains.
.

On deciding which products are worth trying:
I try to look at what brands stand for. I look at how they're contributing back to the movement — be it environmental or human rights — and also how they're giving back to their communities.
.

On how she hopes to see the beauty industry change:
I hope we change the use and transparency around beauty filters that perpetuates this disconnection we have from nature and ourselves. Sixty-one percent of youth today say beauty filters make them feel worse about their real-life appearance. There's now Snapchat dysmorphia, where plastic surgeons say that clients used to bring in a picture of a celebrity (i.e. "I want Jennifer Aniston's nose"), and now they bring pictures of their filtered faces and want plastic surgery to look like that version of themselves. For Mental-Health Awareness Month in May, and as the sustainability adviser to Cocokind, we're working with mental-health nonprofit #HalfTheStory to stand up to unrealistic social-media standards to directly combat this.
I think this all stems from a larger problem where we are so disembodied as a society, fueled by fleeting microdoses of validation from social media and filters, which ultimately contributes to our disconnect from the climate crisis. If we don't even feel harmonious within ourselves, or with our faces, because society tells us our eyes need to be bigger, our cheekbones higher, then of course we are disconnected from nature at large and ultimately the climate crisis.
.

On the ingredient that's overhyped:
Charcoal in skin-care products and especially charcoal toothpaste. I'm not a fan of any ingredient that guarantees to extract all bacteria. Bacteria is good for us; it's a natural part of our systems and microbiome. We don't want to strip our bodies of our good bacteria.
.

On the ingredient she avoids:
Oxybenzone, which is mostly found in chemical sunscreens and is an endocrine disruptor. I stick with mineral sunscreens. Also, I'm sensitive to artificial fragrances — it's something brands aren't legally required to disclose, so you'll just see fragrance or parfum on the ingredient label, which acts as an umbrella term for hundreds of chemicals to mimic a natural smell
.

On her favorite ingredients:
I'm a big ceramide fan. Ceramides enhance the skin's outermost layer, locking in hydration and sealing out pollutants. Ceramides are like the skin equivalent of having personal boundaries, in my opinion.
.

On her new favorite product:
My friend Zoey Gong, who is a registered dietitian and traditional-Chinese-medicine chef, sent me her digestive tincture she made with Elix. I take it before meals and love that it's nonalcoholic, sugar free, with TCM herbs like hawthorn to ease digestion. If I have proper digestion and sleep, then I know my skin is happy and glowy.
.

On the beauty services she swears by:
I like to get a facial as the seasons change to reset and help get my skin adjusted. Onda Beauty in Tribeca has the best facial as a splurge moment. My fiancé put me on to and swears by the Mario Badescu facials on the UES; they're accessible and consistent in extractions. The most memorable aesthetician, whose advice I still follow years later, is Kristyn Smith, who just opened up her own studio in Tribeca: Practise NYC.
I also love acupuncture and truly believe in traditional Chinese medicine: If you're having skin problems, you're probably also having issues elsewhere in the body, too, that's interconnected. Wthn is a great option as a walk-in for acupuncture.
Generally, I just remind myself all the time that our skin is our biggest organ: It's a living, breathing evolving organ that is reflective of the state of our spiritual, mental, and physical health. A well-packaged skin-care bottle won't be the answer. The answers are within.
.

On the one routine she must do, even in a rush:
I would do breath work or meditate. I would just at least take three deep breaths or meditate depending on the time. I would also give thanks to my ancestor altar. That's literally what I did the other day: I had to go from upstate to the city, and the last thing I did was give a little something to my ancestral altar and was like, Okay, thanks! Good-bye.