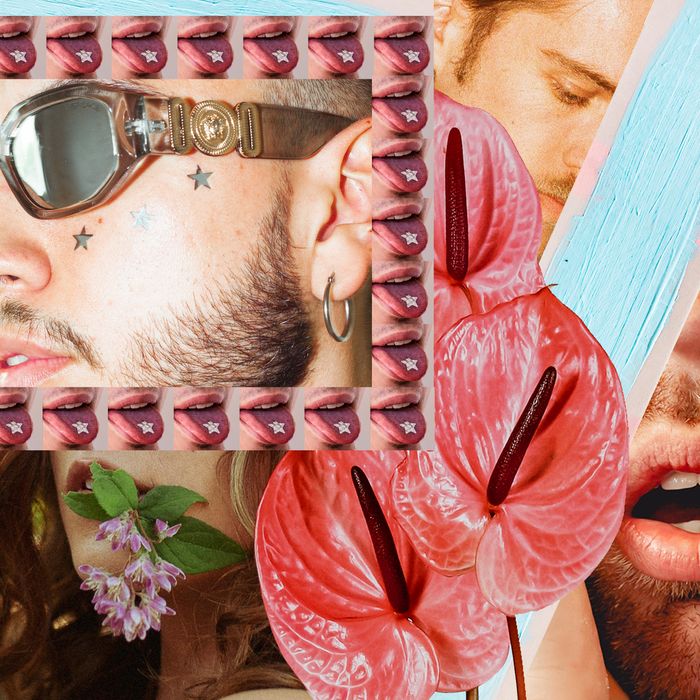 Photo-Illustration: by Marylu Herrera
New York Magazine's Sex Diaries series asks anonymous city dwellers to record a week in their sex lives — with comic, tragic, often sexy, and always revealing results. The column, which began in 2007, is the basis of a new docuseries on HBO.
This week, a woman who moved back home after breaking up with her boyfriend of ten years returns to the city for a wild weekend: 32, single, New York.
DAY ONE
7 a.m. Wake up, journal, meditate, and go downstairs for coffee. I'm living with my parents back home in a small town in the South. Earlier this year I broke up with my boyfriend of a decade and moved out of New York. It was the hardest thing I ever did, but the relationship just dimmed after all those years. I wanted to grow and evolve and find myself.
9 a.m. Open my laptop and send off a few emails. I work remotely for a clothing company, doing their marketing. The job is fine. It's like a pillar of stability after I uprooted my life.
10 a.m. Go for a walk then sit back down to work.
4 p.m. My Rent the Runway has arrived! I got clothes for an upcoming trip to New York. I planned a visit because I need to get laid. I'm not dating or hooking up with anyone right now because I'm at my parents' house and the prospects are grim in this town.
6 p.m. I try on everything: a black velvet corset, baggy low-rise black pants, a black dress with a bunch of cutouts (maybe too many?), and a plaid suit. I like it all.
10 p.m. Get into bed thinking about my trip. I'm ready to seduce.
DAY TWO
7 a.m. Repeat yesterday's morning routine. Life here is slow, but I like it that way.  I need the stillness to help me work through my breakup.
11:30 a.m. Thinking about my trip again, specifically about L. He's a 40-something former model who's now a bartender. I met him on my last visit after I'd broken up with my ex. We locked eyes when I walked into the bar he works at, and I went home with him. I message him to let him know I'll be in town.
4 p.m. Decide to test out hot-rolling my hair. I usually go for a natural look, but the clothes are calling for bombshell volume. It doesn't turn out exactly as I'd envisioned, but I do feel sexy.
7 p.m. I text my friend S, who is also from the South and now lives in New York. We make plans to get drinks for her birthday this weekend. We text for hours about our outfits. We're southern gals and love getting dressed up.
DAY THREE
7:30 a.m. I pull a card from my tarot deck. It's something I started doing a few months ago: I'll ask for a card to guide me throughout the day, or, in this case, to inspire my trip. Today's card is "the frog," which represents "clearing, cleansing, healing." It's not exactly speaking to me, but maybe it's saying that the shenanigans I intend to get into this weekend will heal me somehow.
10 a.m. Work time. It's not very busy, which usually stresses me out, but it's perfect now because of my trip.
5:30 p.m. Do a Melissa Wood Health workout. I'm looking forward to having this body be appreciated this weekend.
7 p.m. Dinner with my parents. My mom cooks dinner for my dad and I every night. We sit down and chat, kind of like what we did when I was a kid, but now I actually want to talk with them.
8 p.m. I put on all my outfits and parade around for my parents like I did when I was a little girl.
DAY FOUR
7 a.m. Game day! I wake up super excited to go to New York.
12 p.m. I leave for the airport. My sister texts me to "go forth and be sexy." I post it to my Instagram Stories so the people know the energy I'm bringing.
6:30 p.m. Land in New York and post a photo of myself to my Instagram Story. I'm hoping that C sees it. I met him at a bar last time I was in New York and gave him my number. We text sometimes, and he seems interested. I don't totally remember what he looks like, but I think he was cute?
8 p.m. Success! C has responded to my Story just as I'm arriving at my friend N's apartment in Brooklyn. I'm staying with her while I'm here. C calls me while we're on the way to dinner. I like that he calls instead of texts, but I don't pick up because my phone is about to die and I just want to hang with N.
10 p.m. We stop by another spot to hear our friend DJ. The music is so good! We have fun dancing, but my energy starts to dip. We head home.
11 p.m. L texts me. He asks me to swing by his bar this weekend.
DAY FIVE
8 a.m. N and I take her dog on a walk. It's one of those rainy, misty New York mornings that feels magical.
1p.m. I reply to L's text from yesterday. I tell him I'm going to a show tonight and will swing by after.
5:30 p.m. Time to get dressed! N also loves clothes, so it's super fun to get ready together. I wear a tight, stretchy going-out top that makes my boobs look fantastic.
7 p.m. On the subway I text C to see if he wants to meet me after the show. He gets back to me right away saying he's in.
10:30 p.m. Show is so much fun. Afterward, N and I grab a drink and dinner in Chelsea. The martini is so darn good I want another, but I limit myself because I want my wits about me for what I'm hoping will be an eventful night.
11:30 p.m. C suggests we meet at what I suspect is a very uncool bar. I arrive and my hunch is correct. I realize that I really am not sure what he looks like, but a cute guy walks in, and I'm guessing it's him, so I walk over and give him a kiss on the cheek. (It is him, yay!)
12 a.m. We both know the bar sucks, so I suggest we walk downtown. I take C into a bar that I've been to once before and we get to chatting.
1:30 a.m. C tells me I'm incredibly sexy and goes in for the kiss. It's not great, but it's not bad. I think there's potential.
2:30 a.m. Okay, it's getting late and if I want to see L, so I better call it a night with C.  I tell C it's been fun, but I gotta go home because I'm turning into a pumpkin.
3 a.m. I arrive at L's bar. It's really late, and the energy is low. Yikes. What am I doing here?
3:05 a.m. Spot L at the bar. I walk over and say hi. He seems happy to see me, but the conversation is a bit stilted. He makes me a drink and introduces me to his friend T. T is pretty, but dressed in a very boring outfit. Still, I decide to befriend her so that I have someone to talk to while L is working.
4 a.m T is telling me how much she likes L and I realize that they're together (this is unexpected!), but then she shyly propositions me to go home with them. (This is really unexpected!)
4:15 a.m. I say I'm in, and the two of us start giggling like high-school girls. We start discussing what we're both comfortable doing. I look at T — really look at her for the first time — and it hits me that she's beautiful. We start kissing, right there at the bar. I've never kissed a woman before. L brings us a bottle of Champagne. I have a couple of glasses.
4:30 a.m. L gets off and the three of us head to his place. When we get there T immediately starts to undress. I climb on top of her and take in her body. It's soft and feminine. She's got a little roll on her belly. I love it.
4:45 a.m. L joins. We've agreed that we won't be having sex, which is a bummer because that's what I really want. (He has a really nice, girthy dick.) Still, we're all kissing and touching and it's really hot. T comes and lets out the sweetest little sounds when she orgasms.
5:00 a.m. I realize it's time for me to go. It's been fun, but now I'm over being "the other one." I want to be the main attraction.
DAY SIX 
12 p.m. After sleeping on N's couch all morning I pull myself together and get out of the house. I stop at a boutique and buy a sexy black thong, a top that I'd describe as a "milkmaid's corset," and a silk skirt. I post a selfie wearing the top and skirt in my Instagram Stories, and C immediately texts me and asks if I'll wear it for him. Excellent.
4:30 p.m. Okay, so now I'm crashing. I sit on the floor of N's shower and try to steam some life into myself. I need to rally for S's birthday drinks!
9 p.m. At birthday drinks. After drinking two espressos and one espresso martini I'm feeling better. S and I bar-hop for awhile, then I text C to come pick me up.
12:30 a.m. Wow! C's place is palatial. He opens up a bottle of red wine, I sit on his countertop, wrap my legs around him, and we chat. At some point, my clothes come off. His reaction to me in just the corset and thong is very satisfying. (I love dressing to be undressed.)
3:30 a.m. We have sex — it's really hot. Afterward, C suggests we hop in the shower, and then we lounge around in bathrobes listening to music. I'm thinking I could really like this guy?
5 a.m. Finally go to bed. C passes out, but I'm hopped up on sex (and all of the caffeine I've consumed within the past eight hours).
DAY SEVEN
10 a.m. Wake up feeling strung out. I would love another go with C, but he's dead to the world. I pop out of bed and start gathering my things, hoping he might register that I'm leaving. He stays asleep.
10:30 a.m. I drag myself to the subway and hop on the train back to N's.
11 a.m. Crash on N's couch.
5 p.m. Rally to go to S's birthday dinner in Manhattan.
8 p.m. I make it through dinner, a shell of myself, and then limp back to N's in Brooklyn. I go to bed feeling accomplished.
Want to submit a sex diary? Email sexdiaries@nymag.com and tell us a little about yourself (and read our submission terms here.)